Perfectly cooked roast tri tip prepared easily in your oven. This low-fuss recipe only requires a few ingredients for the marinade, and turns out amazingly tender with a nice, crispy exterior. Check out the recipe along with some summer entertaining menu ideas!
This post is sponsored by Lenox.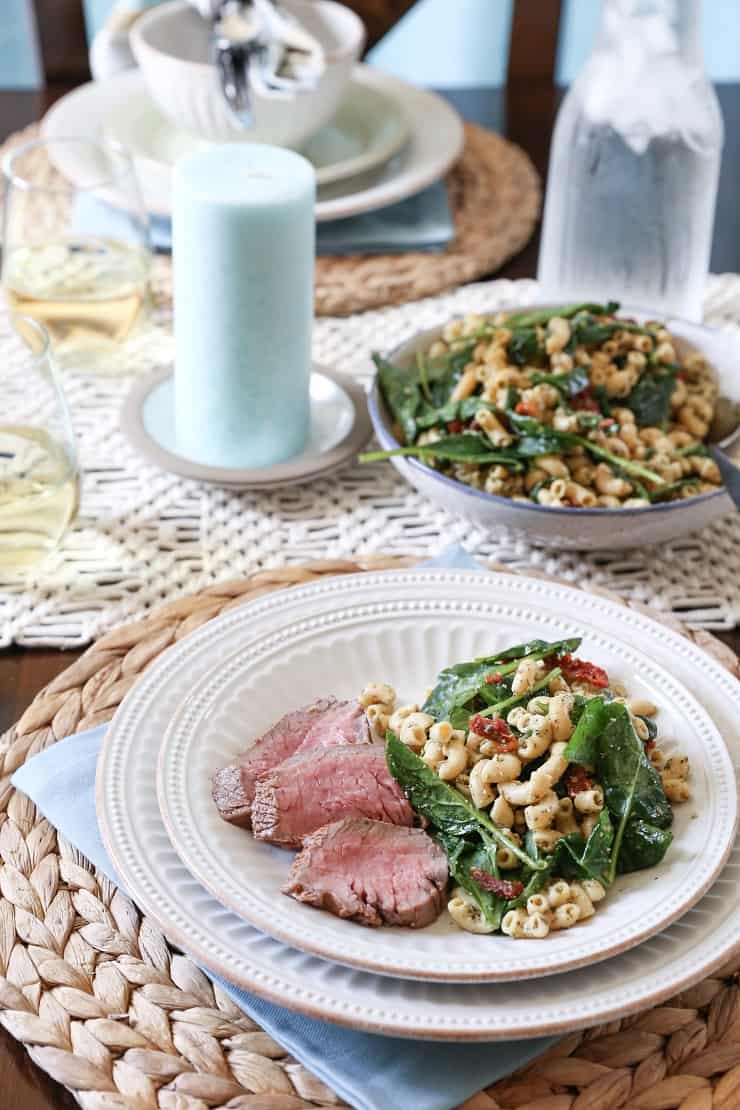 On a scale of Zach Galifianakis to Martha Stewart (or 0 to 10 if you're more objective v. subjective), how are your entertaining skills these days?
Spoiler alert: I fall somewhere between a Seth Rogan circa Pineapple Express, and a Kristen Wiig circa Masterminds. As in, I'm a bit challenged in the hosting department.
The older I get, the more important I think it is to build and maintain my community. While my friends and I will go out to dinner from time to time, it's rare that I intentionally form a gathering in my home to bring everyone together. For shame! No excuses.
I've been threatening to turn over a new leaf for quite some time and start hosting BBQs or dinner parties somewhat regularly because a.) they're fun and help decompress, b.) they're so healthy from a community standpoint, and c.) I could seriously work on my domestic skills #goals.
So, all this to say, there's room for improvement; but, I have good news! For those of you who are well-versed in the art, and/or are looking to make improvement waves, have I got a post for you?!
Not only am I sharing my all-time favorite method of cooking tri-tip (<- crowd pleaser), but I'm also sharing a healthy summer entertaining menu and introducing you to my new dinnerware, which steps up the entertainment game from 0 to a solid Paul Rudd… or do I dare say, a George Clooney? <- one can only aspire.
So let's talk about this tri tip.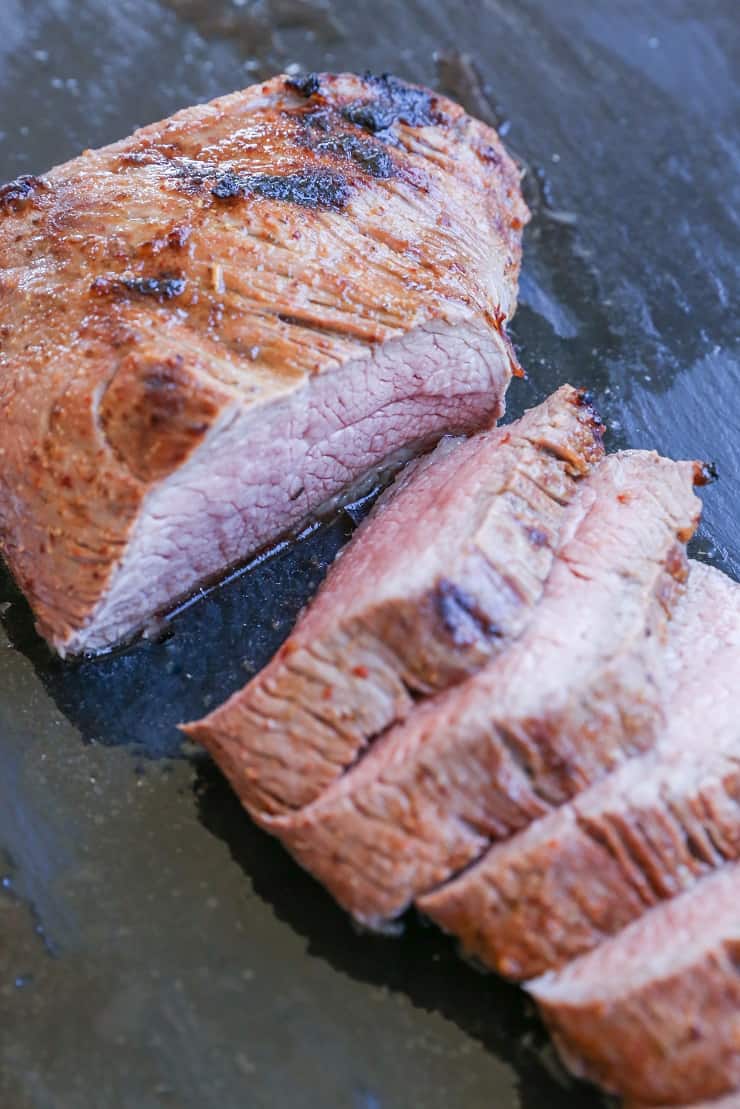 As you've noted by the lack of it on this site, I don't eat beef very often, but I recently had a moment with tri-tip that I felt I needed to share with you. I whipped up a super simple marinade using coconut aminos (you can use liquid aminos or low-sodium soy sauce), lime juice, and a few spices. That.is.it.
Bake it in the oven or toss it on the grill, and you're looking at a flavor-blasted beef that'll illicit a marriage proposal. It's also paleo-friendly. Make it Whole30 by omitting the pure maple syrup! (Psst!: If you checked out my Baked Chicken Spinach Salad recipe, the marinade is almost identical!)
When I've made this recipe, I've only let the meat marinate for about 2 hours, and it still turned out so perfectly juicy, tender, and flavorful. If you allow it to sit overnight, it will turn out even better!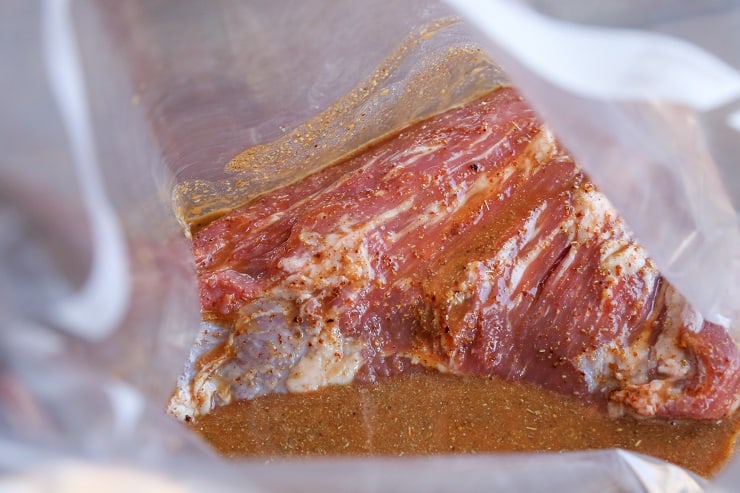 I made this pasta salad to go along with the tri-tip, and of course we had Grain-Free Ice Cream Sandwiches for dessert.
Alright, so here's that mega awesome tri tip recipe I was telling you about, but stick around until the very end for summer entertaining menu ideas!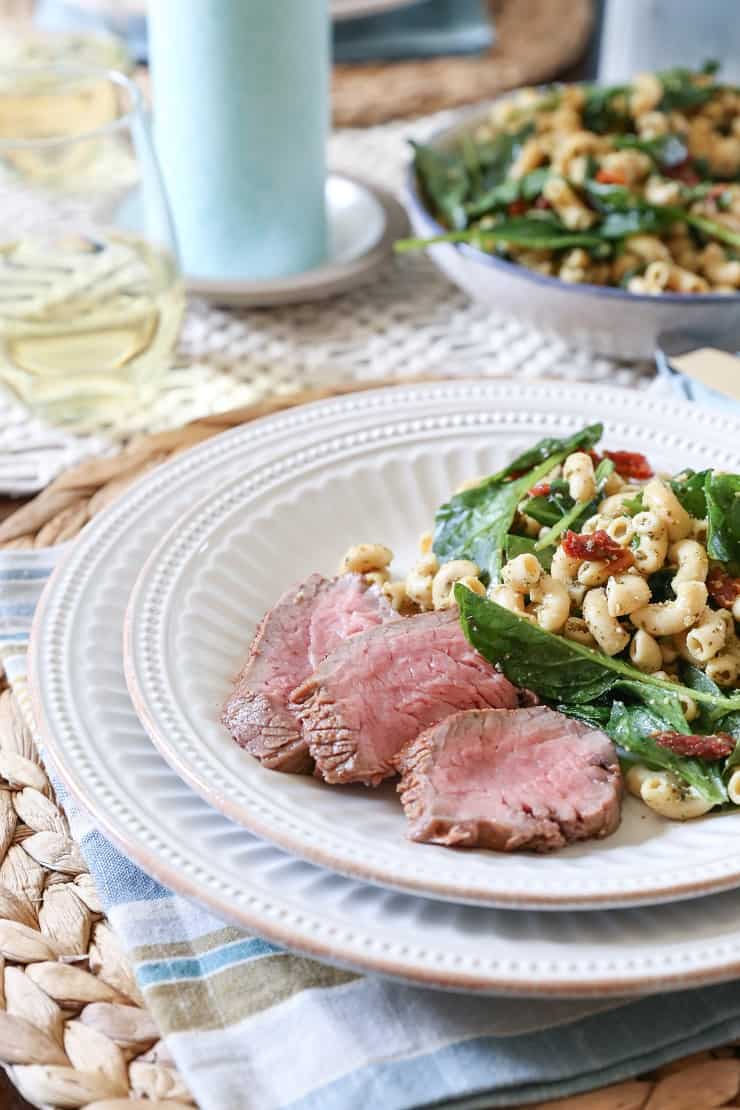 My cookbook,
Paleo Power Bowls
, is now available! CLICK HERE to check it out. Thank you for your support!
If you make this recipe, please feel free to share a photo and tag @The.Roasted.Root on Instagram!
The BEST Roast Tri Tip
How to roast tri tip in the oven for amazing results every time!
Servings:
4
pound tri tip
Instructions
Add the ingredients for the marinade to a blender and blend until completely smooth. Transfer the raw tri tip to a sealable bag or container and pour the marinade in. Seal the bag and move the meat around until it appears like the whole thing is coated in marinade. Refrigerate for at least 2 hours (up to 10).

Preheat the oven to 325 degrees F. Place the meat (along with the marinade juices) in a large casserole dish and allow it to sit at room temperature while the oven is preheating.

Roast the tri tip on the center rack of the oven for 25 minutes. Change your oven to the high broil setting and move the tri tip to the second to the top shelf of your oven. Broil 10 minutes, or until tri tip is golden-brown and crispy, and has reached desired doneness (note: this will produce a medium-rare tri tip. For rare, roast for 20 minutes and broil for 8).

Transfer the meat to a cutting board and allow it to rest 15 minutes. This will allow the juices to evenly distribute throughout the meat and will help the meat tenderize.

Slice tri tip in desired thickness and serve with your favorite side dishes
Notes
You can replace the coconut aminos with regular liquid aminos, or low-sodium soy sauce. If replacing with regular (not low-sodium) soy sauce, omit the salt from the marinade.
Nutrition
Serving:
1
of 8
|
Calories:
270
kcal
|
Carbohydrates:
2
g
|
Protein:
32
g
|
Fat:
14
g
Okay, so now let's talk menu options.
There's still plenty of warm weather ahead! If you're looking for inspiration to throw a summer dinner party, BBQ, or picnic, I've gathered up a list of my favorite recipes, from which you can pick and choose. This menu is the perfect healthy go-to for all around nutritious eating, as well as a great resource for catering to those with dietary restrictions.
Summer Entertaining Menu:
Drinks:
Appetizers:
Sides and Salads:
Main Dishes:
Dessert:
And there you have it – your beginner's' guide to summer entertaining! Enjoy!!