The only grilled salmon recipe you'll ever need! Crispy and tender perfectly cooked grilled salmon with a grilled zucchini and tomato salsa.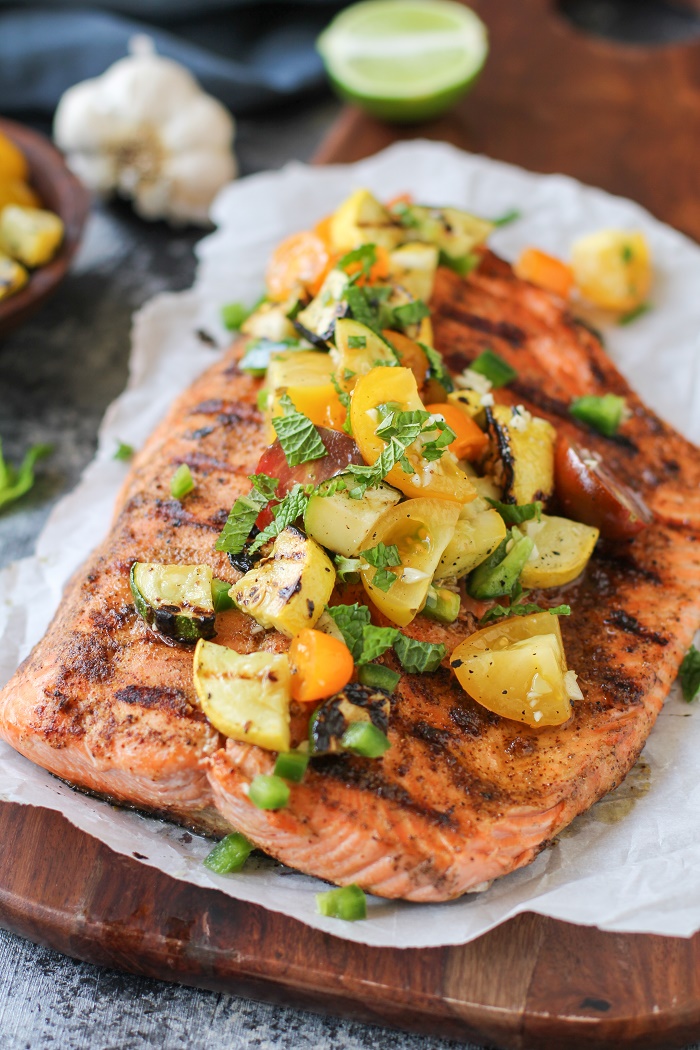 Okay, okay, so maybe this isn't the only grilled salmon recipe you'll ever need, but it's a pretty great go-to.
Because I'm savagely into salmon in general and grilled salmon in particular, I figured I would devote this entire post to providing resources for achieving the ultimate grilled salmon.
I'm giving you my go-to recipe that works (for me) each and every time, bombarding you with grilling tips and tricks, and also providing suggestions for how you can spruce up your grilled salmon so that it never ever becomes a snooze fest.
Way I see it, grilling should be easy peasy, and always produce succulently delicious results.
Having a good quality cut of meat or fish fillet is essential to winning at the BBQ thing.
Really what you're going for is choosing animal protein that speaks for itself and really only requires a dash of salt and pepper, and/or minimal spices for flavor.
Let's dive right in..
How to Choose a Good Salmon Fillet:
The grilling process begins not when you fire up the BBQ, but when you acquire your fish. Not all fillets are created equally! Here are some tips for choosing your next fillet for grilling:
Choose a skin-on fillet. Grilling salmon without skin can be a mess, as the flesh sticks to the grill and falls through the cracks. Sure, you can grill seafood using a foil packet, but in order to get uber awesome crispy-on-the-outside, tender-on-the-inside smoky BBQ flavor, you're going to want the skin.

A lot of the seafood you see at the grocery store is farm-raised and/or imported. Whenever possible, I select sustainable, wild-caught, and domestically-sourced fish (more on sourcing in a minute)

Know the differences in the various types of salmon so you know the kind of flavor and texture you're going to achieve. For instance, Both Sockeye and King salmon have rich flavor, but Sockeye salmon is much leaner than King salmon. In addition, Coho salmon has delicate flavor yet firm texture. When given the option, I always choose the fattiest salmon that will yield the moistest result, but that's my own personal preference.

Pay attention to color and fat marbling. You're going for uniform light pink fles, free of discoloration or tares with visible, generous streams of fat throughout the fillet. The fat keeps the fish moist and tender and also gives it a great deal of flavor.

If you're feeding a lot of people and choose a large, long salmon fillet, simply cut it in half (or quarters, or serving-size peices) prior to grilling it. This makes the grilling process easier when you go to flip the fish.
Sourcing Your Salmon:
I want to give some extra attention to sourcing your salmon, as it's a subject about which I'm pretty passionate. Knowing where my food comes from and feeling content with my ingredient selections is half the fun in cooking for me. I get a feeling of satisfaction each and every time I buy local or domestic goods from a quality source, knowing I did my part in promoting sustainability. Plus, I find fruit, vegetables, and animals that have been grown and harvested with care always yield the freshest, tastiest meals.
Copper River Salmon (an organization of fishermen in Cordova, Alaska that brings freshly-caught salmon from the Copper River and Prince William Sound to market) sent me a huge (3-pound) fillet of King Salmon – fresh off the boat! – last week.
You may have seen my instagram post of the gorgeous salmon fillet before it hit the grill. King Salmon is known for its super rich flavor, brilliant texture, and high oil content. It has the highest content of omega-3 fatty acids of all the wild salmon species.
Put simply, it melts in your mouth.
I was so excited upon its arrival that I instantly knew what I wanted to do with it: 1.) Grill 2.) With friends. And wine.
All a fillet of this caliber needs is a sprinkle of sea salt and pepper, since the flavor of the fish is so fresh and buttery. I did add some spices to the fillet prior to grilling, but kept them pretty light.
Because the fillet was long, I cut it in half in order to make it easier to flip on the grill. The other half, I broiled in the oven, which also turned out magnificently.
Visit Copper River Salmon's site and learn more about the organization and its commitment to sustainability. You can also find CRS near you by using their store locator.
You'll be seeing more delicious salmon recipes in the future, courtesy of the folks at Copper River Salmon.
ALSO, stay tuned, because I'll be visiting Cordova, Alaska in September to see the Coho salmon run!
And now on to…
Seasonings For Salmon:
My go-to seasonings for a dry rub are: garlic powder, onion powder, chili powder, paprika, cayenne pepper, and sea salt. Boom, that's all.
Simply lightly coat the flesh with olive oil, sprinkle on your seasonings, and you're ready to grill! You can totally use your favorite spices and dried herbs, or drizzle the fish with lemon juice when it comes off the grill.
Store-bought seafood seasoning blends? Those totally work, too!
Salmon marinades? I rarely do them.
Not because I don't like salmon that's been marinated, but because I enjoy my spice rub routine so thoroughly that I don't even think to plan out a marination session.
If you want to try a marinade, make The BEST Salmon Marinade, or even my Best Steak Marinade recipe. It is also great for salmon and includes olive oil, liquid aminos (or soy sauce), fresh ginger, fresh garlic, sea salt, pure maple syrup or honey.
How to Grill Salmon:
Most of the time when I barbecue, I do the lazy thing and don't even brush the grill with a wire brush before plunking down the food. I'd avoid taking that approach when you go to grill fish. Take a wire grill brush and get all the leftover food particles from your last grilling experience off.
Brush or spray the grill generously with olive oil (do this step BEFORE preheating the grill to avoid any fire flare ups).

Preheat your grill to a medium-high setting (around 400 to 450 degrees F works well!) and be sure the grill is all the way hot before placing the fillet on the grill

Place the fish skin-side down on the grill, just over the flame. Cook for 3 to 6 minutes with the cover down without touching the fish. Use a spatula to carefully flip the salmon and cook an additional 2 to 4 minutes, or until the fish reaches desired done-ness. For a 1-inch salmon fillet that is rare on the inside, cook for a total of 6 to 8 minutes. For a 1-inch salmon fillet that is perfectly cooked all the way through, cook for a total of 8 to 10 minutes. For salmon that is thicker than 1-inch, you'll likely need to adjust the grill time to be closer to 10 to 12 minutes total. Only leave the fish raw on the inside if it's sushi-grade and can safely be eaten raw.
Serving Options:
I love serving salmon with a fresh seasonal salsa/chutney. Fruit salsas with mango, pineapple, and/or strawberries are amazing in the summer, and I'm also a fan of a simple Avocado Salad.
For this particular recipe, I grilled up a zucchini and yellow squash, chopped them up, then added them to a salsa with heirloom cherry tomatoes, garlic, jalapeno, fresh mint, and lime juice. This is just a fun way of taking the experience to the next level.
You can also whip up a homemade dressing, vinaigrette, or sauce and drizzle it on the grilled salmon, or simply leave it on the side for dipping if desired.
Serving the salmon atop a bed of greens and fresh veggies and fruit as a salad is always awesome. Steaming up some rice and roasting some vegetables is always a choice option, too.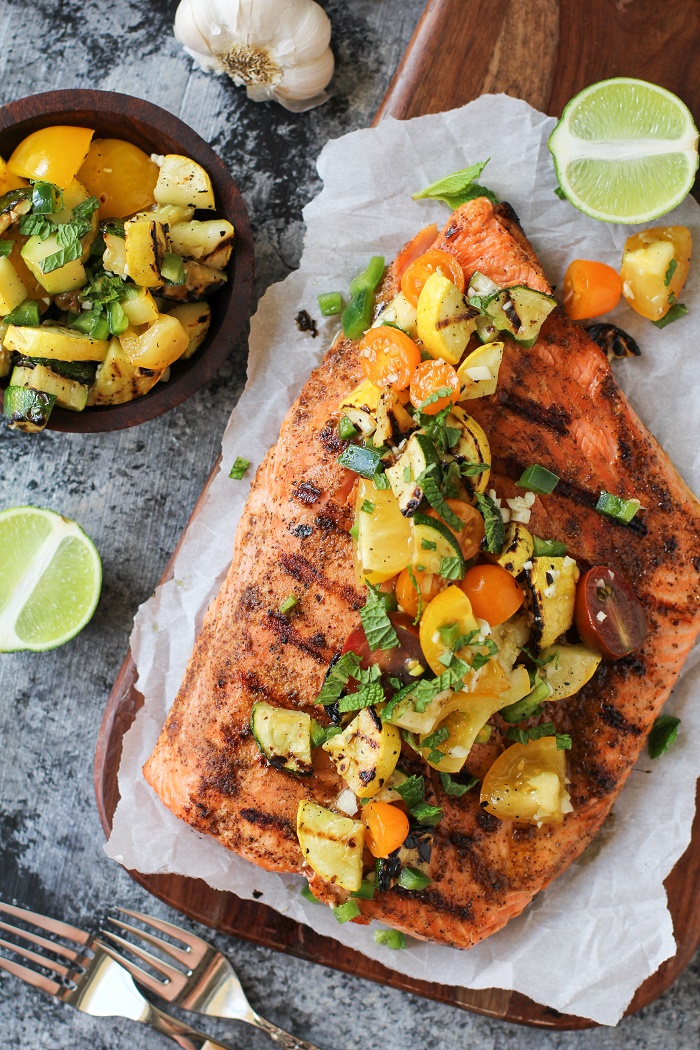 My cookbook,
Paleo Power Bowls
, is now available! CLICK HERE to check it out. Thank you for your all your support!
Here's that recipe I've been talking about..
The Only Grilled Salmon Recipe You'll Ever Need
An easy, goof-proof grilled salmon recipe that results in amazing salmon each and every time!
Ingredients
Grilled Salmon:
1-½

pounds

skin-on salmon fillet

2

tablespoons

olive oil

1

teaspoon

garlic powder

1

teaspoon

onion powder

1

teaspoon

chili powder

1/8

teaspoon

to ¼ cayenne pepper

¼

teaspoon

sea salt
Grilled Zucchini Tomato Salsa
1

medium zucchini squash

grilled and chopped

1

medium yellow squash

grilled and chopped

1-½

cups

cherry tomatoes

halved or quartered

1

jalapeno

seeded and chopped

1

clove

large garlic

minced

1/4

cup

red onion

finely chopped

4

leaves

large mint

finely chopped

3

tablespoons

lime juice

2

tablespoons

olive oil

2

teaspoons

agave nectar
Instructions
Prepare the Salmon:
Brush your grill with a wire brush to remove any food particles, and coat or spray the grill with cooking oil. Preheat the grill to medium-high (400 to 450 degrees F).

Mix together the seasoning and salt in a small bowl until well-combined. Drizzle the fish with olive oil and use your hands to gently coat the full surface of the flesh. Sprinkle the seasoning blend over the fish. NOTE: If you're performing this step ahead of time, store salmon in a seal-able container or plastic bag in the refrigerator until you're ready to grill.

Place the salmon fillet on the grill skin side down (I put it over the hottest part of the grill) and cover. Cook for 3 to 6 minutes, or until the skin is super crispy and fish is opaque. Carefully flip and cook an additional 2 to 4 minutes, or until salmon reaches desired done-ness. For rare-in-the-center salmon, cook about 2 minutes per side. Adjust the grill time up for salmon fillets that are thicker than 1 inch.

Transfer salmon to a serving platter and serve with grilled zucchini salsa!
Prepare the Salsa:
Grill the zucchini and yellow squash while you're grilling the fish. To do so, cut the zucchini into 1/4 to 1/2-inch thick rounds, lightly coat with olive oil, and sprinkle with salt and pepper. Place zucchini on the grill and cook until grill marks appear, about 2 minutes. Carefully flip and cook on the other side until grill marks appear, another 1 to 2 minutes. Transfer to a cutting board and chop when cool enough to handle.

Transfer the chopped grilled zucchini and yellow squash to a mixing bowl. Add the remaining ingredients for the salsa and toss until well-combined.
Nutrition
Serving:
1
of 4
|
Calories:
407
kcal
|
Carbohydrates:
1
g
|
Protein:
31
g
|
Fat:
29
g
This post contains affiliate links, which means I make a small commission off items you purchase at no additional cost to you.