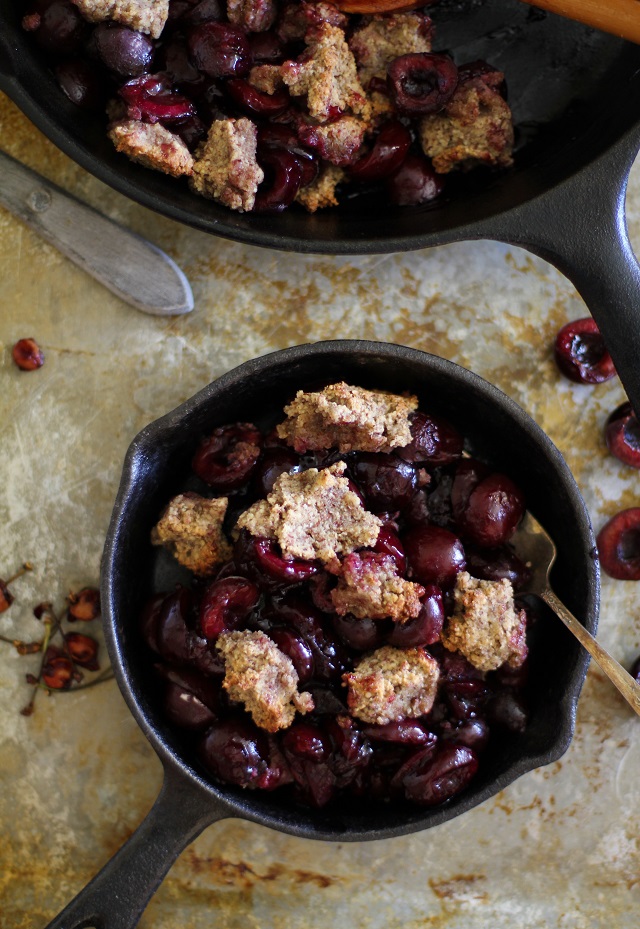 Sometimes we need a vessel in which to put all of our over-purchased fruit, and that vessel is the crumble.
Slash cobbler if we're into biscuits.
A couple of weeks ago (mmmhmmm, weeks, sons and sistas), I purchased one too many bags of cherries, and the entire thing traveled with me up and down mountains on three weekends, sitting untouched on all the car rides and in all the refrigerators. Until finally, I was like, "I had better do something about this entire dreadful bag of cherries that keeps following me around slash tempting me to make ice cream, chutney, muffins, scones, stop it you devilish little pitt mongers, you."
So I made a crumble. Bangity boom, there goes the good part of a bag of cherries.
This cherry crumble is baaaasically the same recipe as the Raspberry Hazelnut Crumble I showed you a couple of months ago…and also puh-retty much the same as the Paleo Strawberry Crumble that broke the internet last year. Same thang, different name.
Alls you do is pitt the crap out of 5 cups-worth of cherries…it's an exercise in patience and also very therapeutic…music pairing suggestions: Salt n' Peppa Pandora radio. …And then mix said cherries with a few ingredients like tapioca flour (for thickening) and pure maple syrup (for sweetening). The crumbleage topping is nothing more than some hazelnut flour (or almond flour), coconut oil, and pure maple syrup. It's basically the easiest thing you ever did since breaking up with your middle school boyfriend. <- Don't tell him I said that.
Slam it all down in the trusty ol' casty (that's my new way of saying "cast iron skillet" in case you don't speaketh the Julia yet), bake 'er off in the easy bake (that's my age-old way of saying "oven" in case you don't speaketh….nevermind), and the rest is between you and the crumbs.
So eat it for breffest is what I do! But lunch, too. Maybe linner. Brinner. Brunch. What have you.
You can top with coconut whipped cream, serve with ice cream, maybe get a little yogurt action in there…or go plain jane, which is always fine by me.
Get your cherry antioxidants, get your hazelnut proteins, your healthy fats, your dessert vitamin. It's all in there, my friends.
Music pairing for the etting: Avett Brothers Pandora Radio.
ALSO: if you haven't entered my summer faves giveaway yet, you might as well take a looksyyyyyy.
Bring that weekend.
Grain-Free Cherry Crumble (Paleo)
This Grain-Free Cherry Crumble celebrates the fresh deliciousness of cherries with a delicious crispy gluten-free topping!
Instructions
Preheat the oven to 350 degrees F.

In a mixing bowl, toss together the pitted cherries, tapioca starch, vanilla extract, maple syrup, ground cinnamon, and sea salt (stir until all of the tapioca flour has been absorbed by the juices). Transfer to an oiled cast iron skillet or an 8" x 8" baking pan.

Mix together the ingredients for the topping in a mixing bowl - it will be sticky and thick. Evenly spread topping over the cherry filling and bake on the center rack of the oven for 30 to 40 minutes, until the cherries are soft and bubbly and the topping is golden-brown.

Serve with coconut whipped cream, ice cream, or yogurt
Nutrition