German-style potato salad with vinegar, bacon, caramelized onions, and chives – the perfect flavor-packed side dish for your picnics and barbecues.
Lately, I've been spelling things fuhneticly on axident, like "injoy" rather than "enjoy," and "peeches" instead of "peaches," and "beer" instead of "gym."
A symptom of my brain on Thirty? Maybe.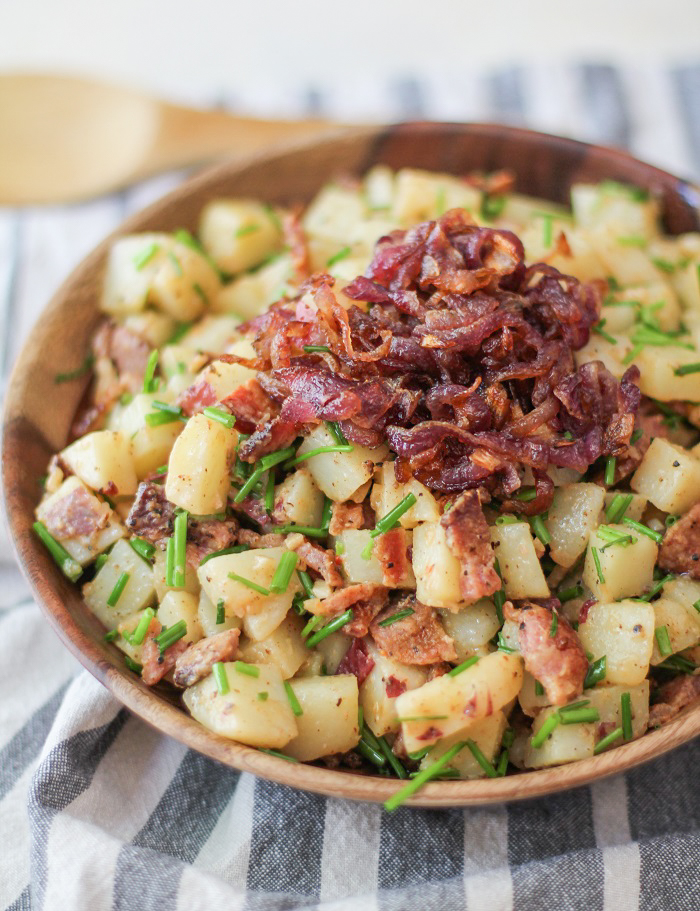 That, and the fact that it's Wednesday and I'm still recovering from the weekend.
Speaking of which, does sugar make anyone else a lunatik? Like a blossoming peech one minute and a Hel deemin the next?
Dirty Banana. HAVE YOU HAD ONE? YOU MUST IN TECHNICOLOR ALL CAPS!! It's a cocktail of bananas, and it will destroy your concept of reality. You really should investigate.
And then maybe go to the beer…err…I mean, gym.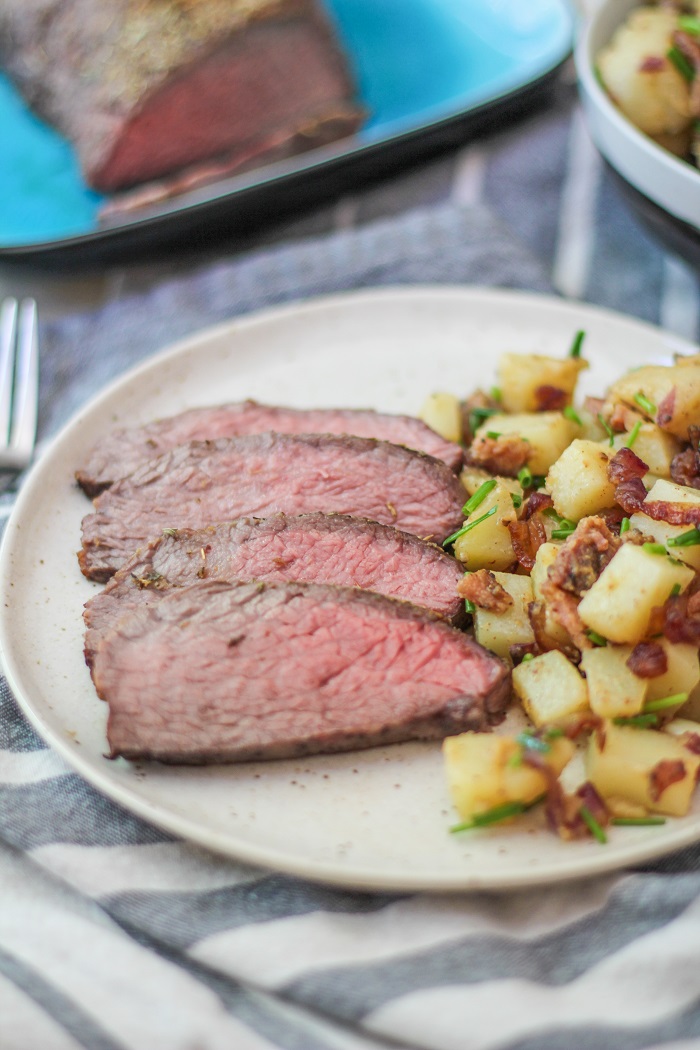 As you can probably surmise, rather than nature-ing all weekend as per ush, we went a little ape-y, which just threw off all the life chakras in the best of ways. We went to the Rodeo, napped on the beach, drank a bunch of dranks (i.e. Dirty Banana x3), saw some live music, and took care of loose odds and ends I had been procrastibating for some time.
FOR INSTANCE, I finally made my travel arrangements to Iceland for the photography workshop I'm attending in August, lead by Eva and Carey. I also acquired a travel adapter off Amazon (I went with Loop) to ensure there's no loss of connectivity between me, my electronics, and you (wouldn't that be a disaster?), made some techy changes to my blogsicle, and purchased some patio lighting (for nesting purposes). I may have eaten TWO burritos this weekend. Rebel. Blame it on the Dirty Banana.
This is scintillating. What are we even talking about?
Carbs and fat.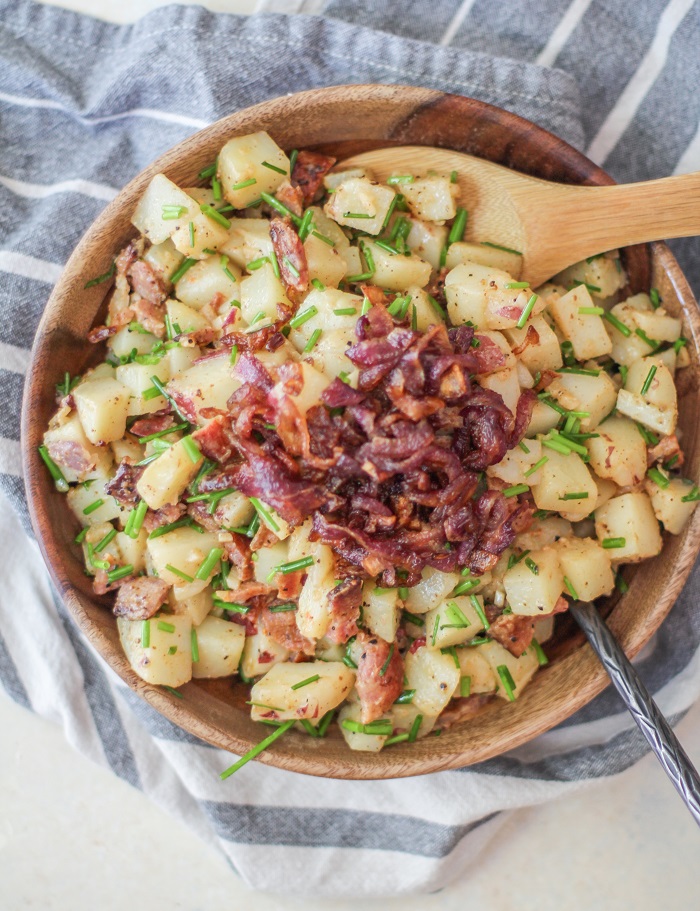 One thing I've been bonkers about lately is – wait for it, wait for it – POTATOES. Potatoes in the morning, potatoes in the evening, potatoes at supper time. I just can't help it.
What makes German-style potato salad different from American-style potato salad? Rather than using mayo and hard boiled egg to tie everything together, we use vinegar and bacon fat. It is distractingly good. My potato philosophy stems from early childhood – way I see it, if we're going to make something as sinfully delish at potato salad, let's let bacon do the fattifying, rather than mayo. Just a personal preference.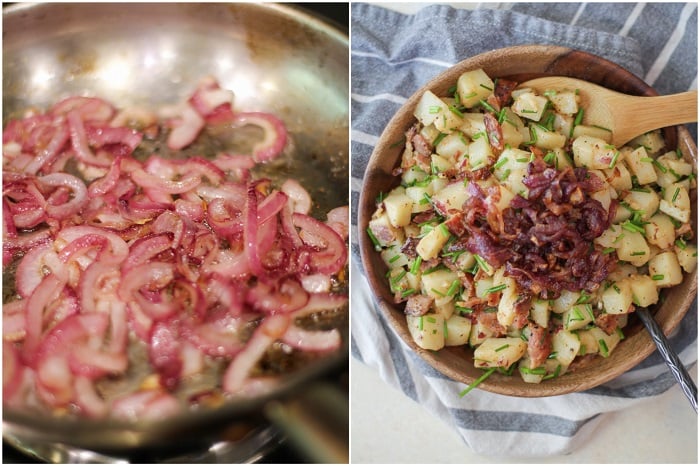 Going into this recipe, I hemmed and hawed over how to make this potato salad different from my first go at German-Style Sweet Potato Salad. I phoned a friend, lost some shut-eye, chased my tail in a few circles, and then it hit me like a ton of freaking bricks: caramelized onions. And chives. Genius of the universe right here.
We all agree that bacon and caramelized onions are two peas in a pod. Conway and Twitty, coffee and cream, cheese and macaroni…you get me. So we slam them together in a potato salad and the most insane of craniums happens:
Creamy
Tangy
Salty
Meaty
Heaven
This potato salad can be served WARM OR COLD. I prefer it warm if you can believe it. You can picnic it, or hot dinner dish it…whatever floats your catamaran.
Here's how we make it. Injoy.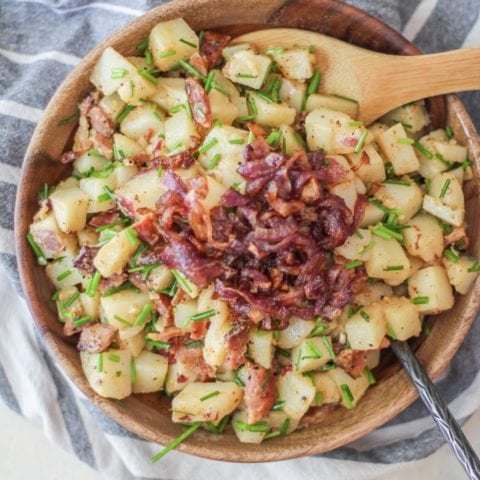 German-Style Potato Salad with Caramelized Onions and Chives
Amazingly flavorful potato salad is made even better with caramelized onions and bacon. Serve it at all your gatherings!
Ingredients
3 tablespoons olive oil
1 large red onion, sliced*
2 pounds red potatoes, boiled and chopped
4 slices thick-cut bacon, cooked and chopped
5 cloves garlic, minced
1/3 cup cider vinegar
1 tablespoon stone ground mustard
3/4 teaspoon sea salt, to taste
1 bunch chives, chopped
Instructions
Caramelize the Onion:
Add the olive oil to a large non-stick skillet, along with the sliced onions and about 1/4 teaspoon of sea salt. Heat over medium-high and saute, stirring occasionally, until onions begin to sweat and begin turning translucent, about 5 minutes.
Reduce the heat to medium and continue sauteeing, stirring occasionally, until onions begin to brown, about 15 minutes. Reduce heat to medium-low and continue cooking, stirring occasionally, until onions are deeply browned and caramelized, about 25 to 30 minutes more. Note: If onions begin to stick to the pan at any point, you can de-glaze with a few tablespoons of water (or beer or wine).
Prepare the Potato Salad:
Boil the potatoes until tender but still al dente, about 10 to 15 minutes. Drain and place potatoes on a cutting board to cool. When cool enough to handle, chop the potatoes into bite sizes (Note: You can easily remove the potato skins if you'd like, or you can leave them on) and transfer them to a mixing (or serving) bowl. Add the caramelized onions to the mixing bowl with the potatoes.
Cook the bacon over medium-high heat, turning until crispy, about 3 to 5 minutes. Remove skillet from heat, and use tongs to place bacon on a cutting board, leaving the drippings in the skillet. Chop the bacon and add it to the bowl with the potatoes.
Leaving the skillet off the heat, add the garlic and allow it to cook for 1 to 2 minutes in the hot drippings. Add the cider vinegar and stone ground mustard and whisk to combine. Pour this mixture over the potatoes, bacon, and caramelized onions. Sprinkle in the salt and toss everything well to combine. Note: The dressing will pool up a bit at the bottom of the bowl, so continue stirring until the potatoes soak up all of the liquid. Add the chopped chives and stir well. Taste the potato salad for flavor. Add sea salt to taste.
Serve alongside your favorite entree.
Nutrition Information
Serving Size

1 grams
Amount Per Serving
Unsaturated Fat

0g