Step up your dessert game with these waffle ice cream sandwiches. Drizzle with homemade chocolate magic shell for an amazing frozen treat!
This post is sponsored by Simple Truth.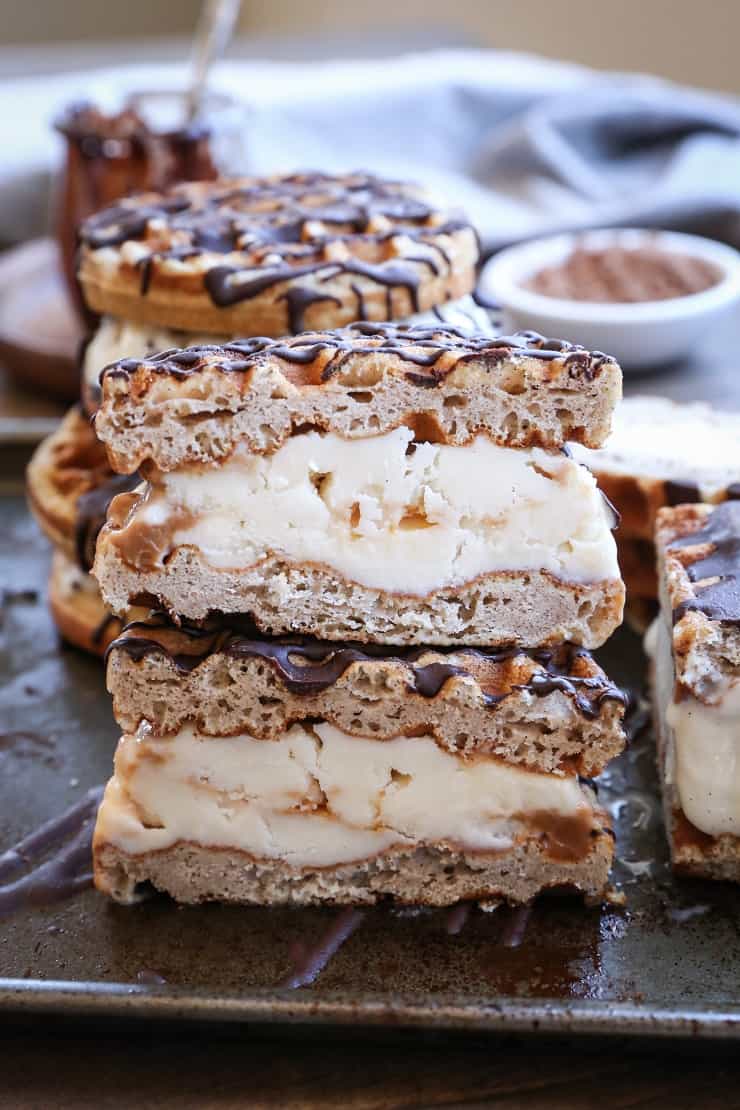 Confession: I'm shamelessly obsessed with low-calorie ice creams…to the extent that they're the only store-bought dessert I now consume. I'm typically not very concerned with calories, but I am concerned about my dessert intake, and being able to enjoy a Julia-sized portion without getting all weird and cagey about it is mission critical.
If I know us at all, I know you've been right there with me, enjoying your pint in front of your program, feeling zero guilt, because you know you'll wake up bright-eyed and bushy tailed the next day with no sugar hangover, ready to charge forth.
WELL. Have I got news for you?!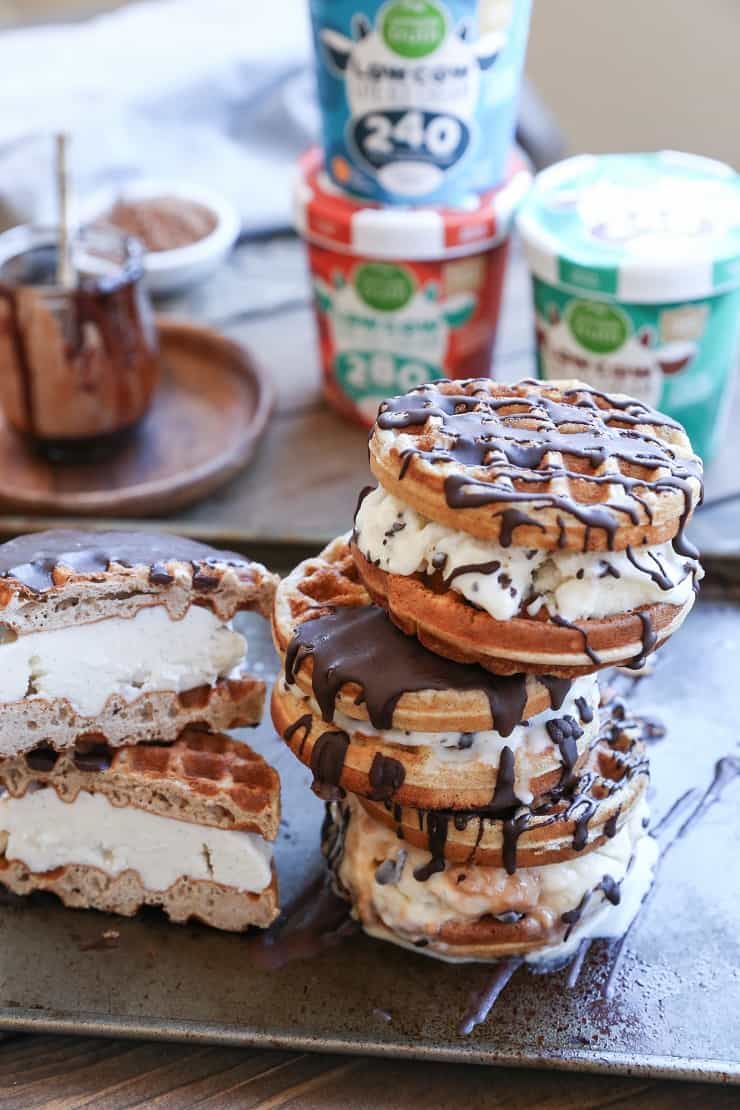 New product alert! As of July 7, a new ice cream hit the shelves of your local Kroger and Kroger-affiliated grocery stores (such as Ralphs, Frys, Smiths, King Soopers, Fred Meyer, and QFC)! Low Cow is a low-calorie, low-sugar ice cream that is also filled with protein. It contains 80% less fat, 60% fewer calories, and 24 grams of protein per pint. PLUS, the ice cream is competitively priced, and is only available at your local Kroger (+ Kroger-affiliated) stores.
Low Cow comes in 6 flavors: Chocolate, Vanilla Bean, Sea Salt Caramel, Lemon Cake, Mint Chocolate Chip, Birthday Cake. You guys, I've tried all of them, except for the Lemon Cake. My favorite? Sea Salt Caramel. So buttery, so salty-sweet, so melt-in-my-mouth duhlish. 2nd runner up for me is the Mint Chocolate Chip…it's just.so.minty!!
One of my girlfriends and I had a serious tête-à-tête regarding this ice cream and we agreed on one simple fact: there's really no reason to consume any other ice cream. I mean…just consider all the facts. It's rich and creamy, is huge on flavor, and comes at your face with far fewer calories and sugar than regular ice cream…which basically means I end up eating the whole pint every time.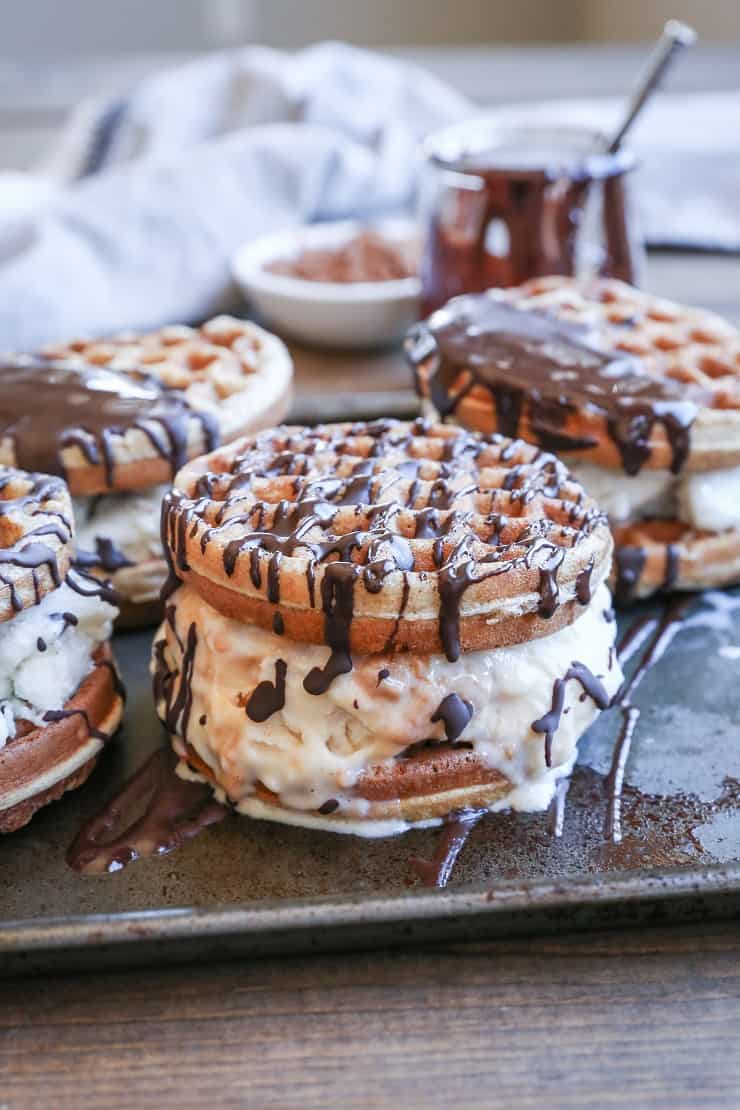 The one thing I will relay is like any xylitol-sweetened ice cream, you can tell the ice cream is sweetened partially with sugar alcohol. Not overwhelming so, and certainly not enough to deter you from enjoying the treat, but just enough to notice. As I mentioned in My Journey With Gut Health, I'm sensitive to sugar alcohols, but truthfully, that doesn't stop me from eating half of one of these sammies..I simply try to be careful with the amount I consume.
Let's talk ice cream waffle sandwiches.
If I may draw this comparison, I'm of the strong opinion that ice cream sandwiches are like the quesadilla of the frozen dessert world. Life essential. I whipped up my Grain-Free Almond Flour Waffles and my Paleo Chocolate Magic Shell to bring these beauties together. Sure, they require more effort than simply popping open the pint and going to town, but I pinky promise, you'll be happy you went the extra mile!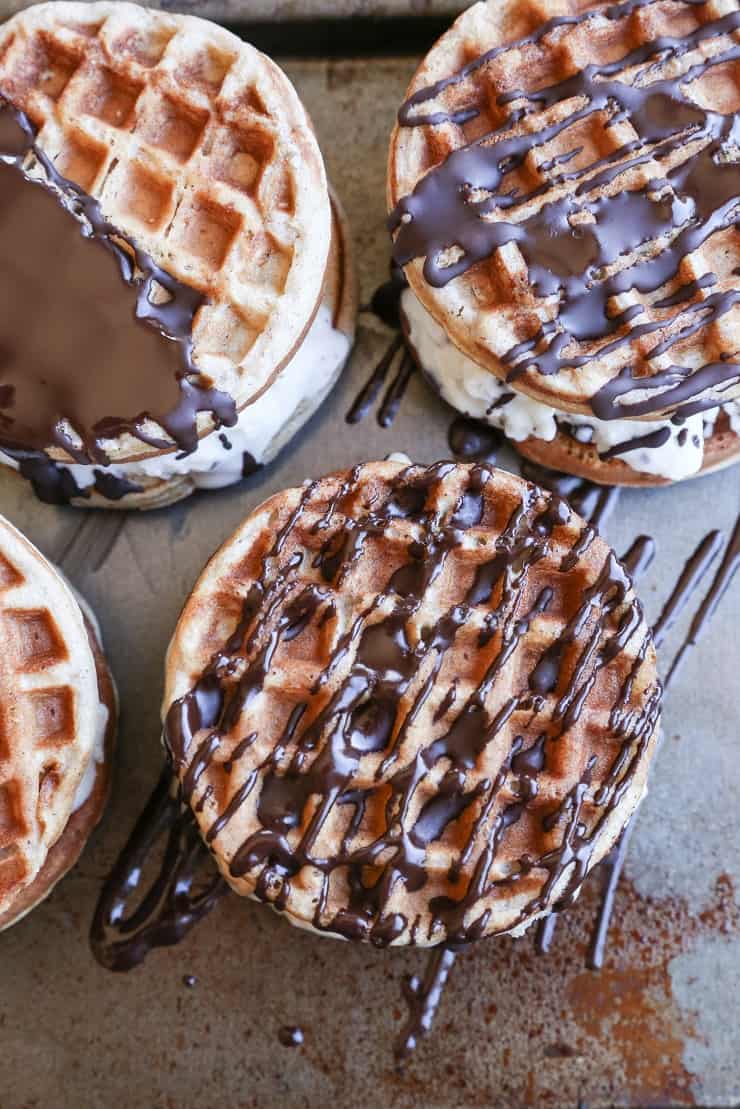 While the cookie approach is always acceptable for your sandwich fixings, I do love the waffle methodology – the waffles hold ice cream like champs! Plus, they're fun to top with drizzles of goodness, like that chocolate magic shell. Side note: If you're super into caramel, try whipping up a batch of my Paleo Salted Caramel to drizzle on top as well!
Because like you, I have a limited time bank, I made this recipe in parts, which made it very manageable! I prepared the waffles first and kept them in a zip lock bag in the refrigerator until I was ready to make the sammies. I then whipped up the magic shell (which took roughly 30 seconds) while the ice cream was thawing. I scooped, I sandwiches, I drizzled, I conquered.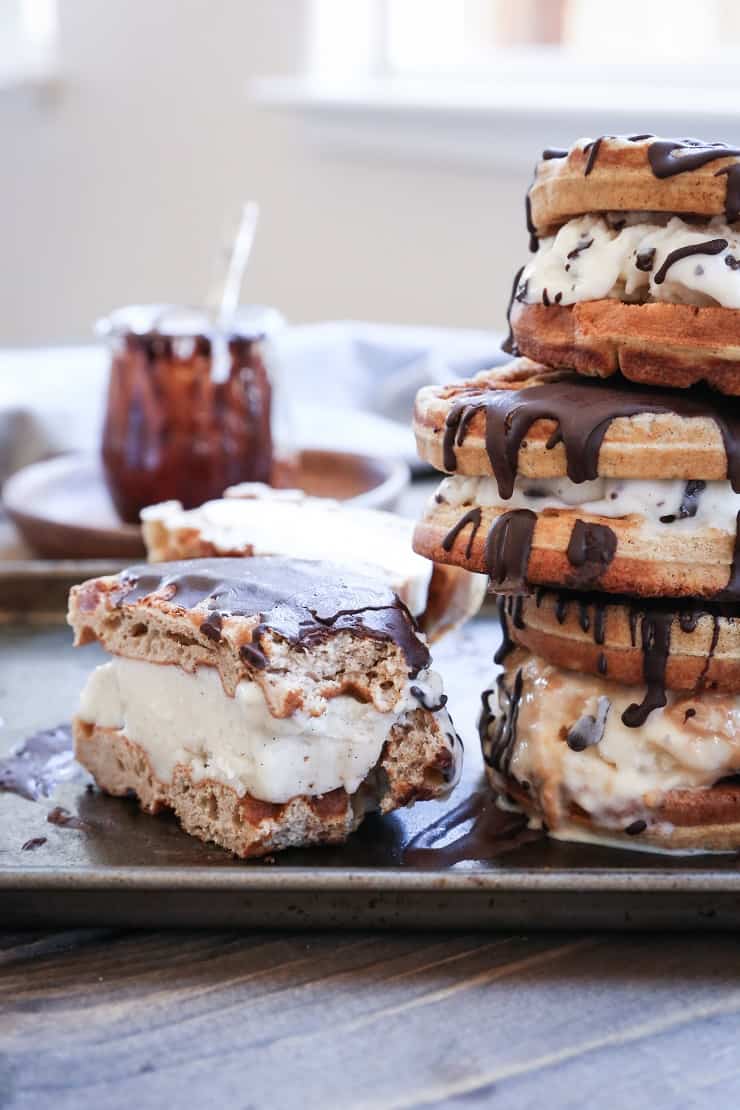 For breakfast, for lunch, for…you get the point.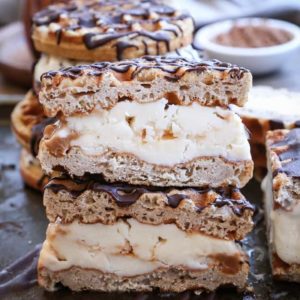 Grain-Free Waffle Ice Cream Sandwiches
Print
Instructions
Prepare the grain-free waffles and allow them to cool to room temperature. Prepare the paleo magic shell.

Allow the ice cream to thaw so that it is easily spreadable, but still somewhat solid. Spread desired amount of ice cream on half of the waffles, then top with the remaining half of the waffles. Drizzle sandwiches with paleo magic shell and allow them to sit a couple minutes to allow the shell to harden.

Individually wrap the ice cream sandwiches in plastic wrap, then place them in a zip lock bag to store them (or consume them immediately).
Recipe Notes
*I used Vanilla Bean, Salted Caramel, and Mint Chocolate Chip, but you can use any flavor you'd like.
This is a sponsored conversation written by me on behalf of Kroger. The opinions and text are all mine.