Balsamic-marinated grilled chicken with strawberry and black bean salsa makes for a fresh and vibrant meal any night of the week.
This post is sponsored by Harry & David.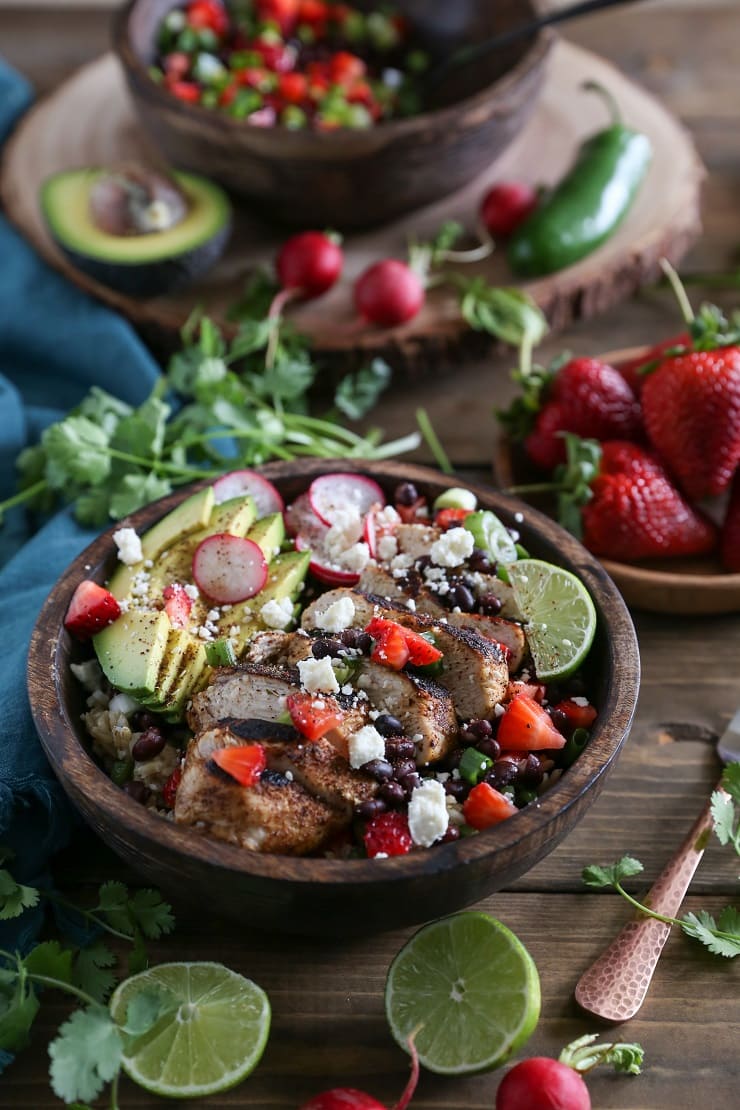 How was your weekend? Did you catch up on some rest?
I went on a pretty epic trail run (my half marathon is is in 19 days!), hot yoga-d it up, and read some very enlightening material. One of my biggest takeaways: getting enough quality sleep is MEGA. I'll talk more about that on Wednesday, but for now: your Monday night dinner!
If you're as excited as I am about berry and grilling season, you're going to be PUMPED about this meal. Just picture it…a backyard barbecue, authentic margarita in-hand, nonchalantly flipping your epic chard bits of tender meaty goodness…some tunes on the stereo, your hooligan buddies doing hooligan things. Le sigh…is it summer yet? I hereby give us permission to proceed forth and backyard barbecue to our heart's delight.
Check out this box of joy: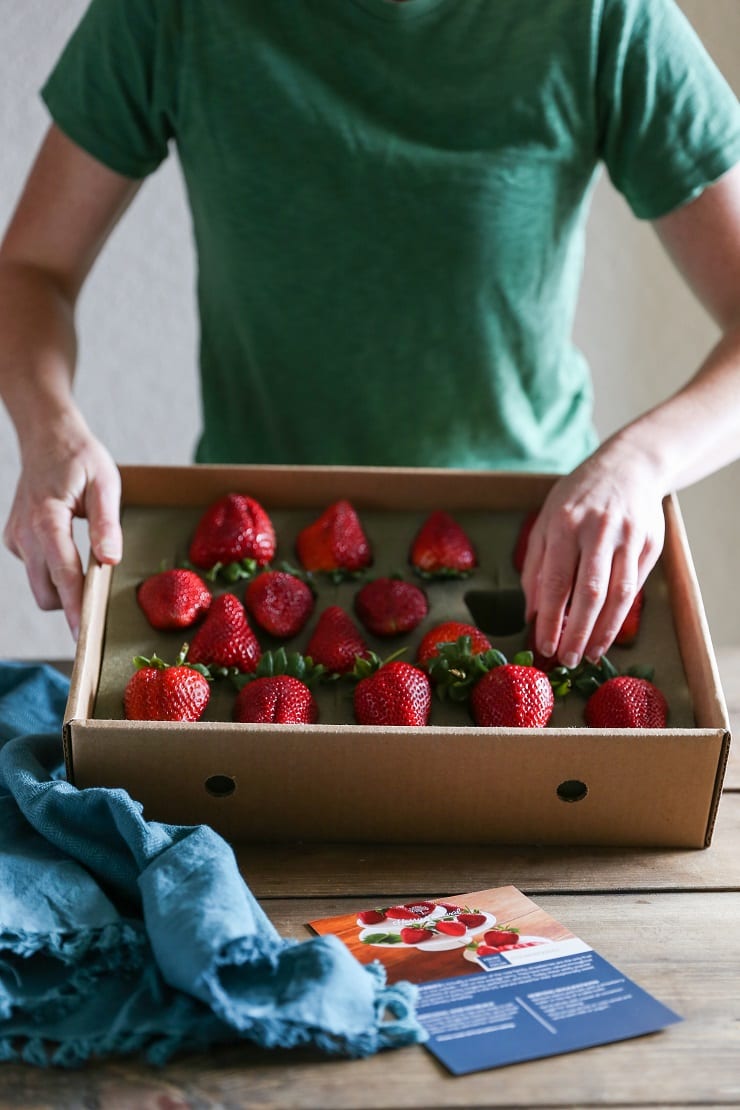 If you saw my Instagram stories last week, you caught the unveiling of these gorgeous strawberries from Harry & David. Never have I ever seen such beautifully presented, large vibrant strawberries, with such sweet, juicy flavor and marvelous texture.
I agonized over what to make with these strawberries, because hallo, they're magically delicious on their own, and I wanted to do them justice. My knee-jerk reaction was to make vegan "cheesecake" stuffed strawberries, but alas, I decided to go with a savory meal. In a bowl. Because: obsession.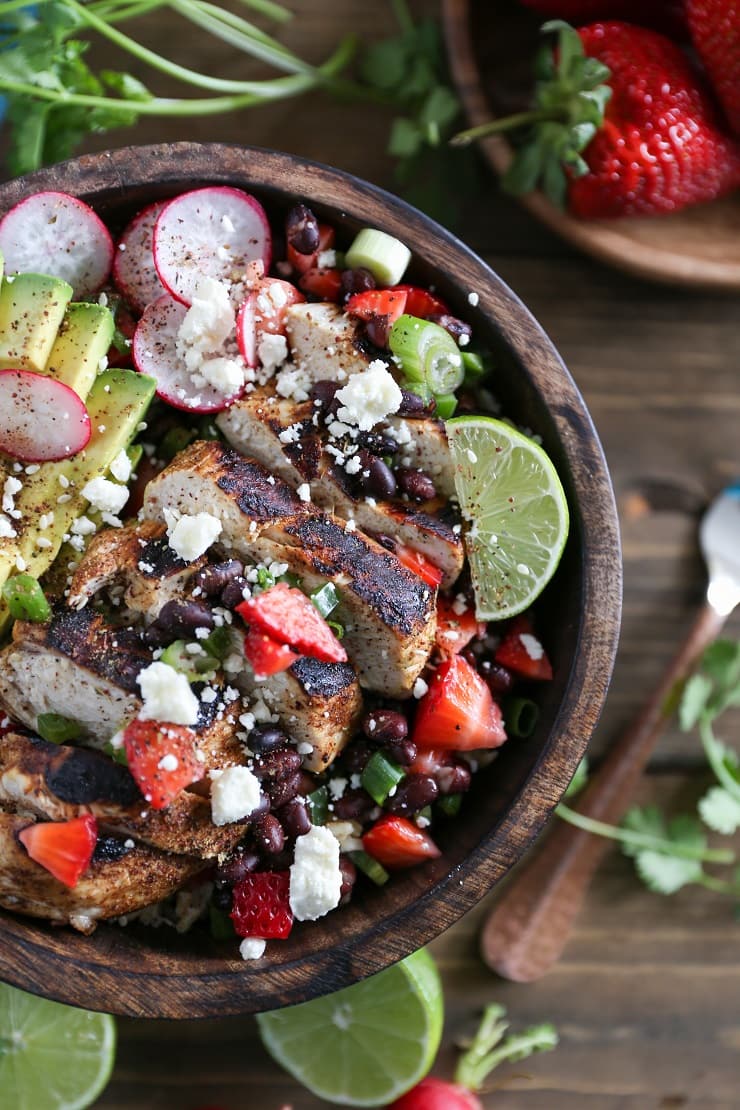 On account of my love for fruit-based salsas, and because Cinco de Mayo is right around the corner, I figured I'd go the savory route and do a little grilled chicken action. Okay, okay, this recipe bears very little resemblance to actual Mexican food, but we'll call it California cuisine meets Mexican flair, and that's how we'll spin it.
Chicken marinated in balsamic vinegar and chili powder, grilled to perfection on a bed of brown rice with gobs of strawberry black bean salsa plus a hefty portion of avocado made for four out of my last eight meals because I just couldn't get enough. So simple, so fresh.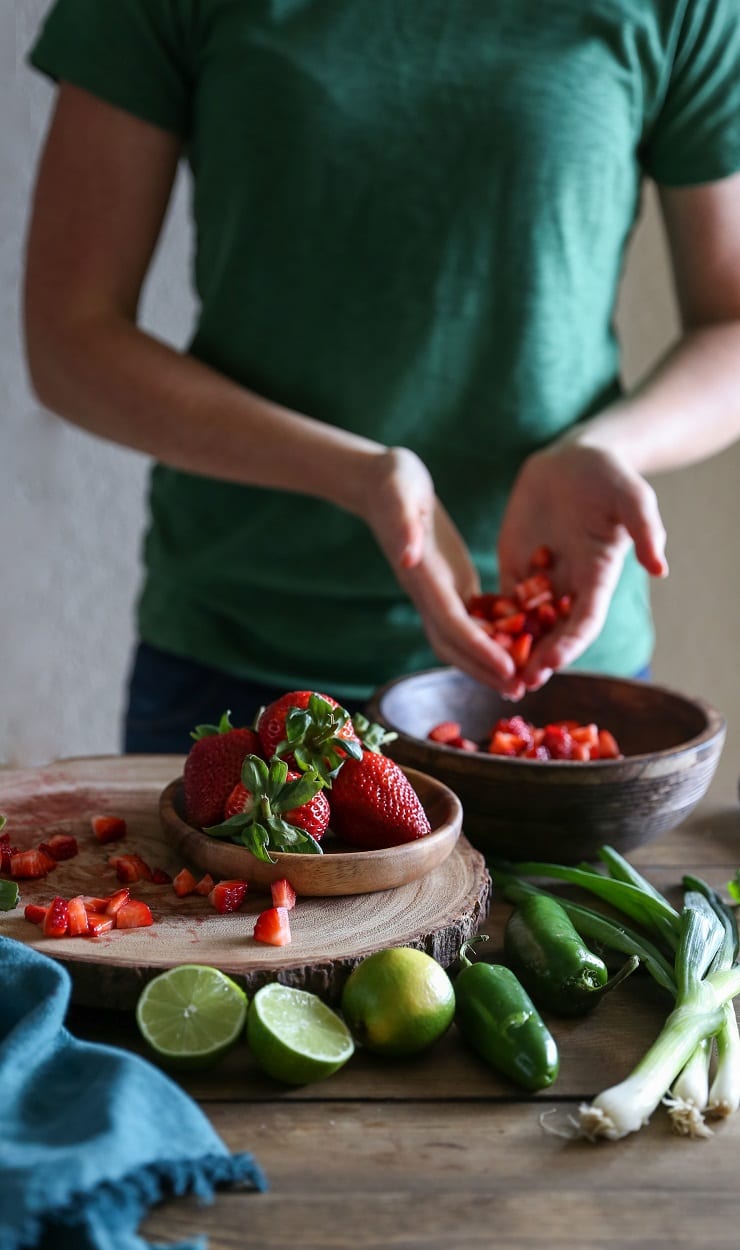 I didn't need all of the strawberries for the salsa, so I went ahead and remade the Paleo Strawberry Crumble I showed you all many moons ago with the remaining berries. WOW's the word.
To make this actual prep of this recipe go quicker, you can marinate the chicken up to one day ahead of time, and/or prepare the salsa up to 3 days in advance. You can also always cook the rice ahead of time as well, so when it comes time for dinner, all you need to do is toss the chicken on the barby, and that's it!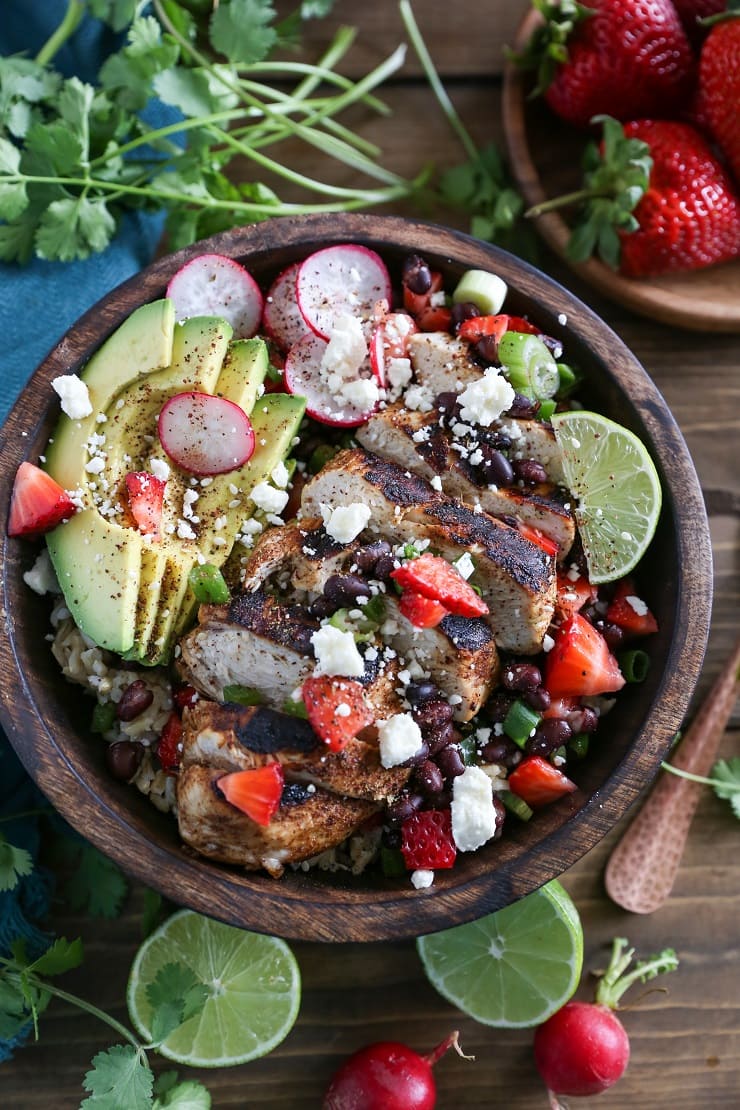 If salmon is more your jam than chicken, check out the Grilled Salmon with Strawberry Salsa recipe I posted last year. Clearly, I have a strawberry fixation 😉
If you're interested in receiving monthly boxes o' bliss each month, give Harry & David's Signature Classic Fruit-of-the-Month Club® Collection a gander!
For your next backyard barbecue!:
Grilled Balsamic Chicken with Strawberry Black Bean Salsa
Grilled balsamic chicken with strawberry salsa, avocado, and black beans is fresh, flavorful, and satisfying!
Ingredients
For the Strawberry Salsa:
1

cup

fresh strawberries

chopped

1

cup

black beans

2

stalks green onion

chopped

1

jalapeno

seeded and diced

2

tablespoons

fresh lime juice

1

teaspoon

pure maple syrup
sea salt

to taste
For the Balsamic Grilled Chicken:
1

pound

boneless skinless chicken breasts

see note*

3

tablespoons

olive oil

2

tablespoons

balsamic vinegar

2

teaspoons

chili powder

1/2

teaspoon

sea salt
For Serving
3 to 4

cups

cooked brown rice

1

large avocado

sliced

4

radishes

thinly sliced

1/3

cup

cotija cheese

1/2

cup

fresh cilantro

chopped
Instructions
Prepare the Grilled Chicken:
Add the olive oil, balsamic vinegar, chili powder and sea salt to a small bowl and whisk together until well-combined. Place the chicken breasts in a zip lock bag (or sealable container) along with the balsamic marinade. Refrigerate at least 1 hour, up to 12.

Preheat the grill to medium-high heat and brush off any food particles from your last grilling experience with a wire brush. Lightly coat the grill with oil. Grill the chicken breasts for 5 to 6 minutes per side over direct heat, or until the internal temperature reaches 160 to 165 degrees F (Note: You can cook the chicken on a George Foreman indoor grill for 6 to 8 minutes).

Transfer chicken to a cutting board and allow it to sit 5 minutes to allow the juices to distribute throughout the meat. Cut into slices and serve on a bed of cooked rice with strawberry black bean salsa, avocado, sliced radishes, cotija cheese, and fresh cilantro.
Prepare the Salsa:
Add all ingredients for the salsa to a bowl and stir together until well combined. Taste salsa for flavor and add more lime juice/and or sea salt to taste. Store any leftovers in a sealed container in the refrigerator for up to 3 days.
Notes
*you can also use bone-in chicken thighs and drums
Nutrition