This post is sponsored by Bremner Farms. All thoughts, feelings, and opinions expressed in this post are my own, and I thank you for supporting the brands that help make this site possible.
Dairy-free, gluten-free, refined sugar-free banana cream pie that requires only 20 minutes of preparation and zero cooking. A an easily adaptable healthier dessert perfect for summer.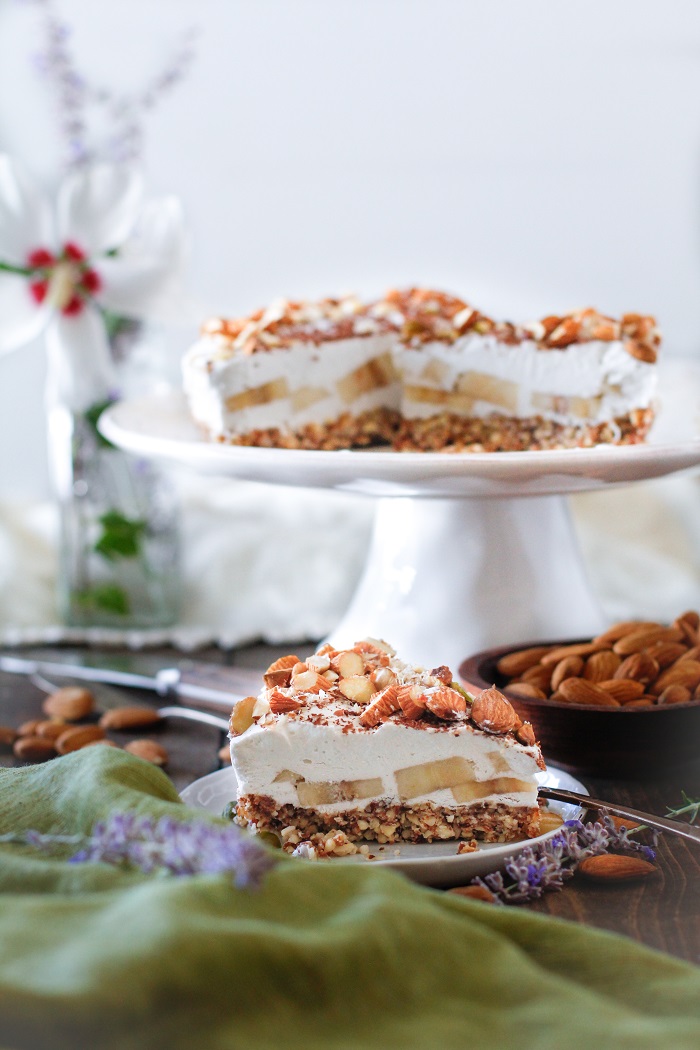 You know when you're craving something sweet and substantial for dessert and your typical square of dark chocolate just won't cut it?
I've got three words for you:
Banana.
Cream.
Pie.
Quite possibly my favorite pie in existence.
As a die-hard chocolate lover, there are few non-chocolate desserts I deem drool-worthy, and banana cream pie is at the top of that list. Creamy, sweet, melt-in-your-mouth-y, nutty, positively heavenly. This recipe only requires about 20 minutes of prep time, zero cooking or baking, and is silly simple to make compared to 99.987% of the pies out there. A true diamond in the rough. While temps are cooling off just a tad where I live, it's still quite toasty outside, so I'm still game for little to no cooking or baking. 
One of the best parts about this recipe is it's easier to make than most banana cream pie recipes out there. We skip the pie dough entirely and make the crust by tossing raw almonds and medjool dates in the food processor, and the filling is nothing more than a whipped coconut cream situation.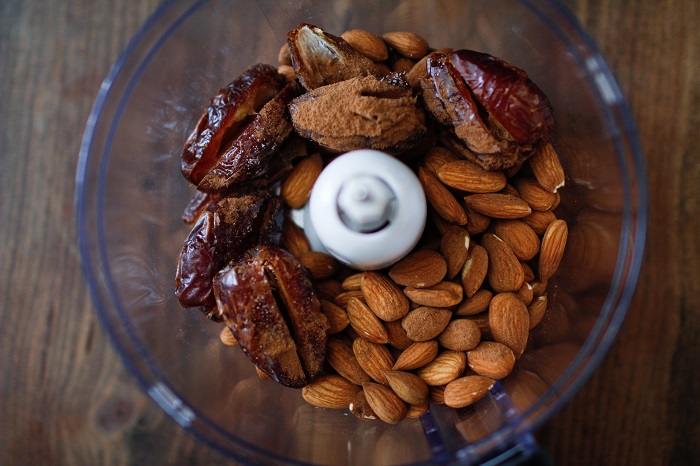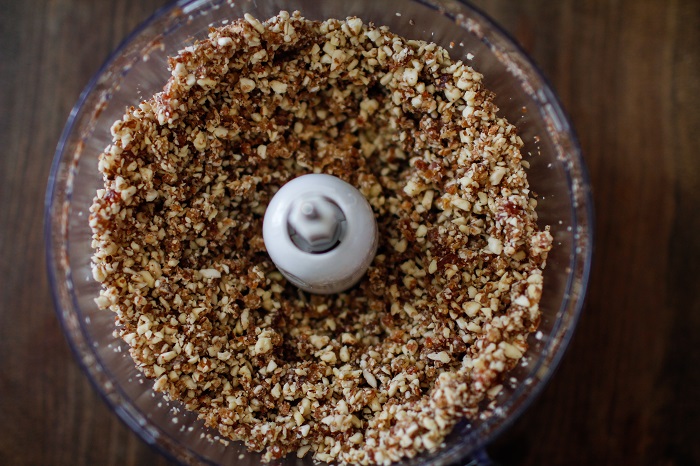 Everything that goes into this creamy dreamy dessert is whole and natural. I used raw unpasteurized almonds from Bremner Farms for the crust and for garnish. Bremner Farms is a family-owned operation based near Chico, California. They specialize in growing organic raw almonds and walnuts and put a great deal of care into the growing and harvesting process. You can learn more about the company and purchase raw nuts in bulk through their website HERE.
I go through both almonds and walnuts like crazy on a weekly basis, because I not only eat them as a healthy snack, but I also use them in granola, baked goods, and salads and all sorts of entrees. In order to keep them fresh, I store them in a sealed bag in my freezer. Because they thaw quickly, I simply leave them frozen until I'm ready to use them in my cooking – this way, I have a continuous supply and don't need to worry about the nuts going bad. Since the holidays are quickly approaching, stocking up is a brilliant idea for all your holiday cooking and baking needs.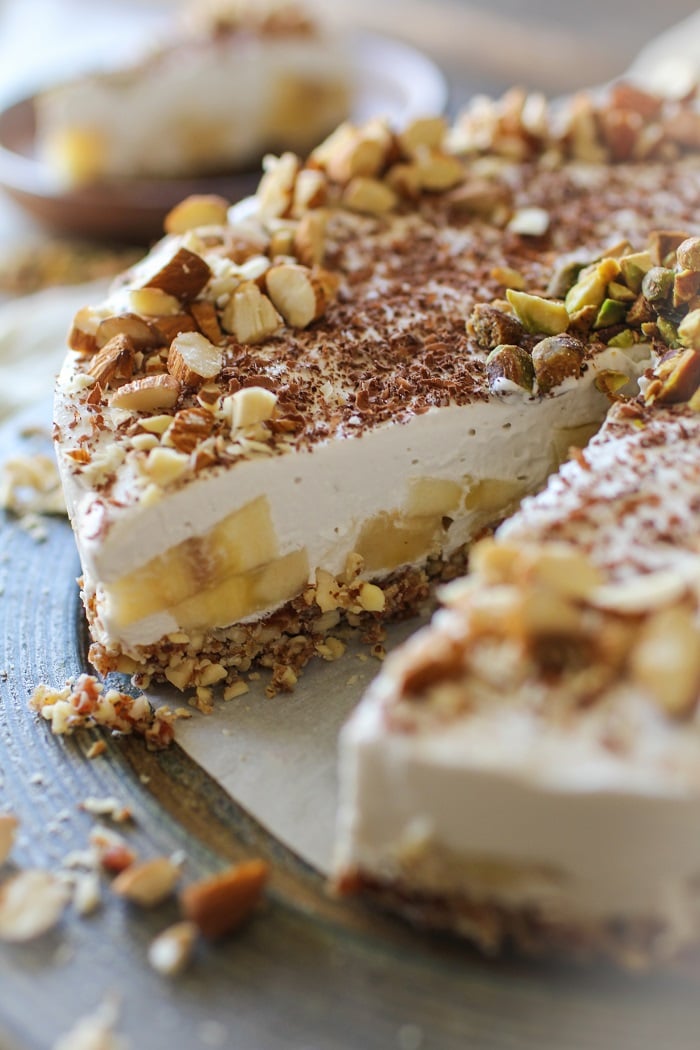 So to re-cap and summarize, what we have here is a mega succulent dessert that happens to be…
Dairy-free

Refined sugar-free

Gluten-free

Grain-free

Paleo

Primal

Vegan
For me, this is the perfect dessert to whip up and keep on hand in the freezer. Whenever I'm craving dessert (which is basically on the daily), I take the pie out of the freezer, cut a slice, put the whole pie back in the freezer (a large zip lock bag is your best friend in this application), then let the slice thaw for a few minutes (if I have the patience to do so). Upon proper thawal, the pie becomes super creamy. You can also eat it frozen like an ice cream cake, which is typically how it goes down for me, because I have the patience of a 2-year old.
In addition to this being the perfect treat for those, like me, who don't eat gluten and refined sugar, this is also a wonderful option to bring to gatherings since there is always bound to be a few people who have diet restrictions.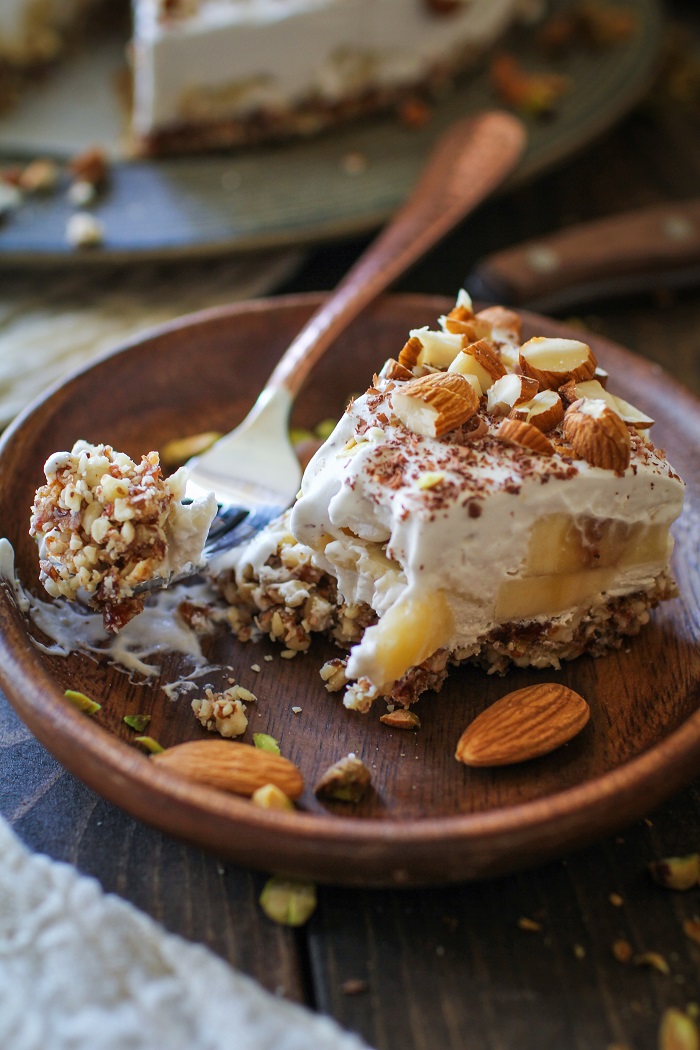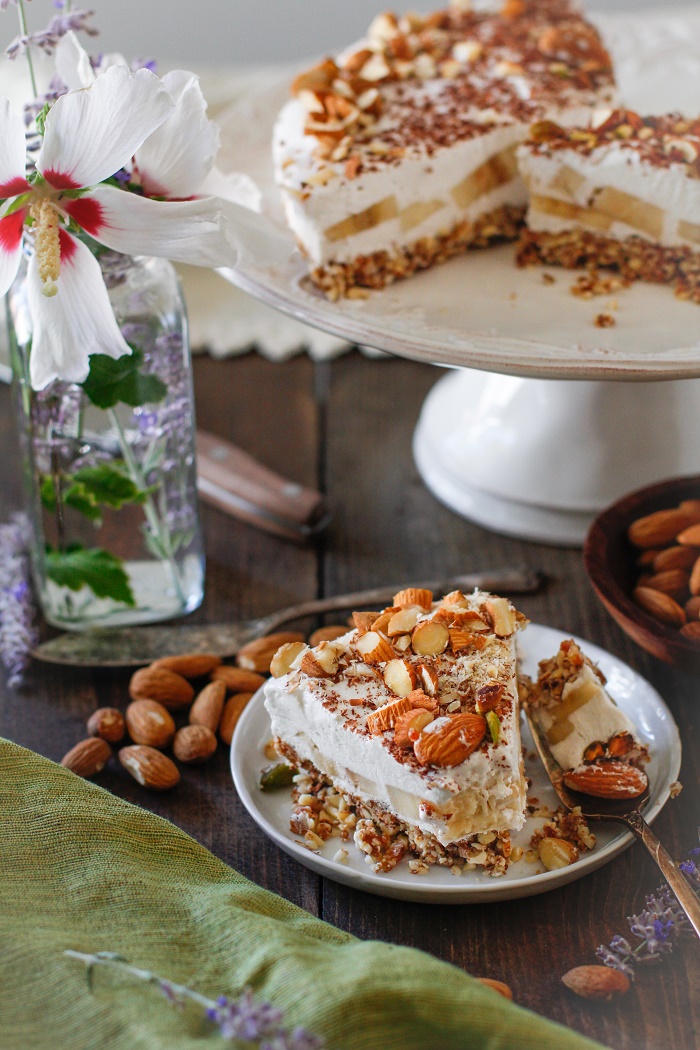 And that is it! We're ready to proceed forth into the magical land of almond crust and dairy-free no bake pies. Be sure to check out Bremner Farms for all your bulk almond and walnut needs! Enjoy!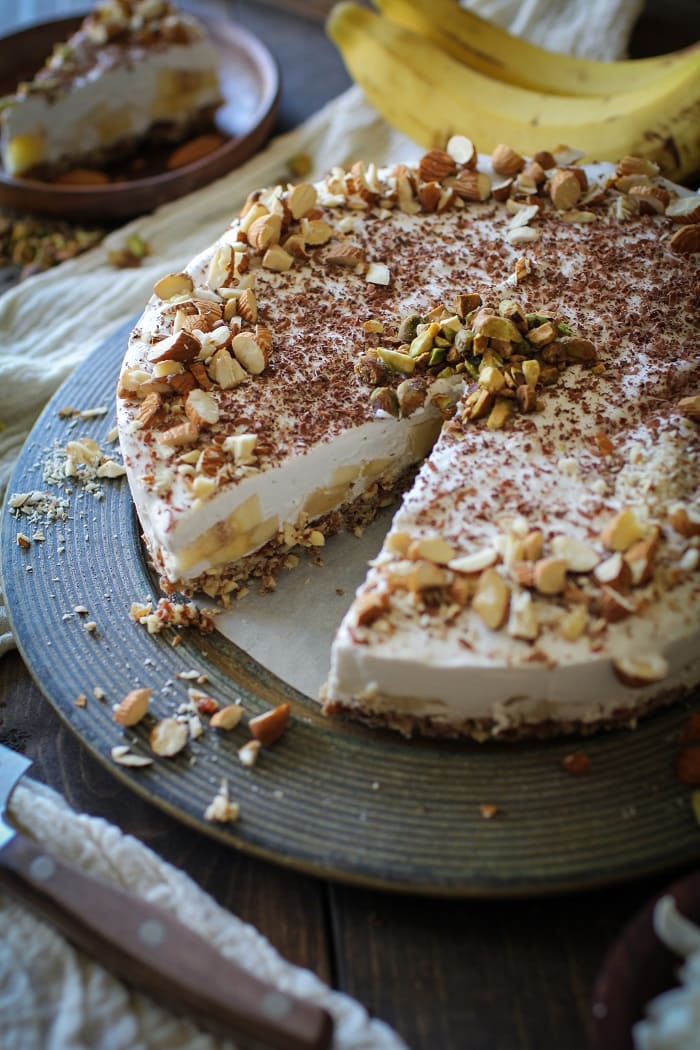 No Bake Vegan Banana Cream Pie (Paleo)
Print
Ingredients
Banana Cream Pie Filling:
For Garnish
Raw almonds

chopped

Raw pistachios

chopped

1

square dark chocolate

grated
Instructions
Prepare the Almond Crust:
Add the ingredients for the crust to a food processor and process until the almonds are finely chopped (but still fairly chunky), and a sticky mixture is formed. Line an 8-inch springform pan with parchment paper and press the crust mixture into the bottom, creating an even layer. Refrigerate until ready to use.
Prepare the Filling:
Open the two cans of refrigerated coconut milk and scoop the thick coconut cream into a mixing bowl (or stand mixer fitted with the whisk attachment), leaving the clear water behind to use in smoothies or a different recipe.

Add the pure maple syrup, vanilla extract, and sea salt to the mixing bowl and use a hand mixer to beat the ingredients until thick and fluffy. It's okay if the mixture doesn't have the same consistency as regular homemade whipped cream, so long as it's thick.

Pour ¼ to 1/2 of the coconut whipped cream onto the prepared crust and spread into an even layer. Layer the sliced bananas on top, followed by the remaining coconut whipped cream. Use a rubber spatula to evenly spread the coconut whipped cream.

Cover the pan with plastic wrap and refrigerate for 2 hours. When ready to serve, release the pie from its mold and garnish with grated dark chocolate and chopped almonds and pistachios. Use a sharp knife to cut into triangles and serve immediately.

Note: If you freeze the pie for longer than two hours, you may need to thaw it 8 to 10 minutes before cutting and serving, as the coconut milk will harden. Store leftover banana cream pie in the freezer.
Recipe Notes
Not all canned coconut milks are created equal. I recommend this or this brand for the best result. You can also use 2 (14-ounce) cans of coconut cream.