Thank you, Bob's Red Mill for sponsoring this post! For more delicious recipes and a coupon for $1.00 off any product, please visit BobsRedMill.com!
I have some things to tell you…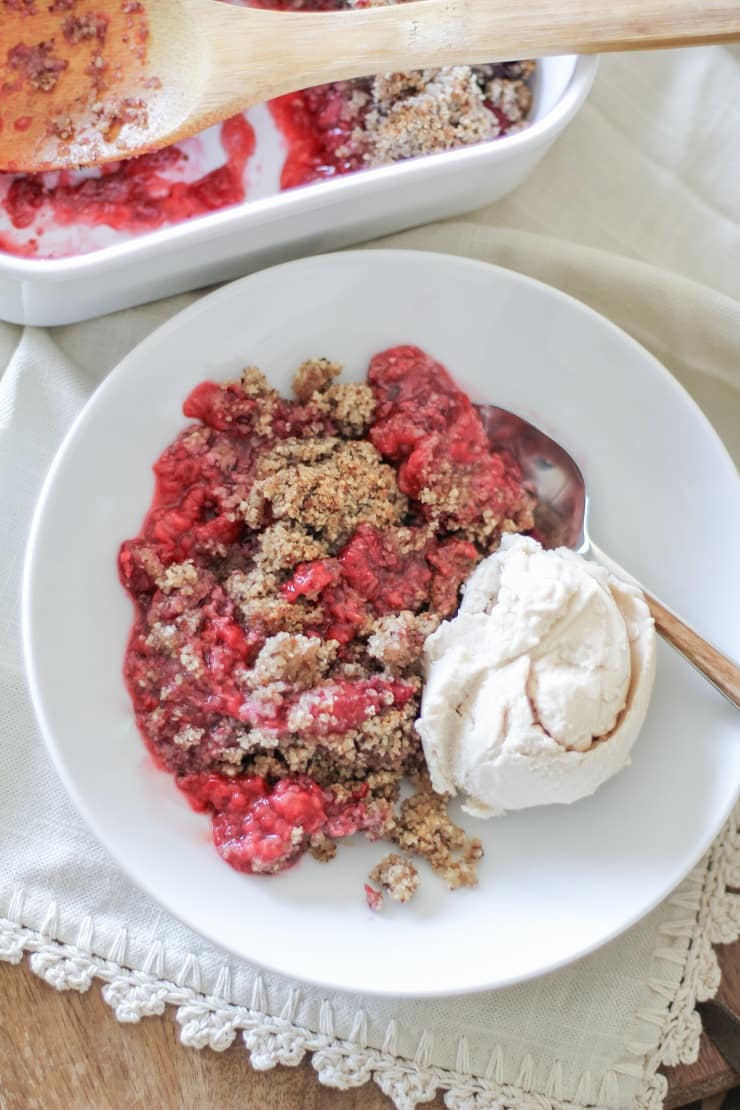 1.) It's National Dessert for Dinner Day, and this raspberry crumble's on the menu.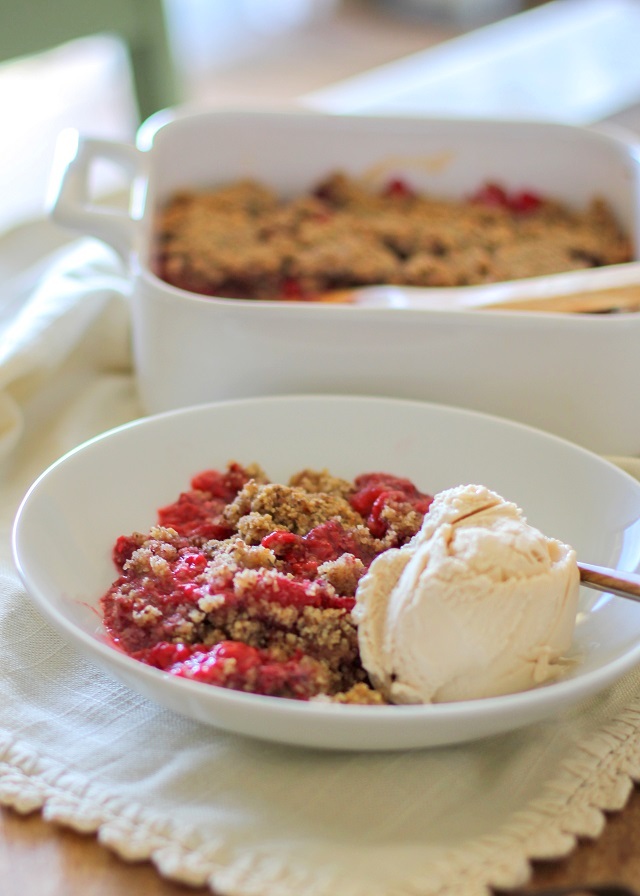 2.) Licking the casserole dish clean is a sign of dedication.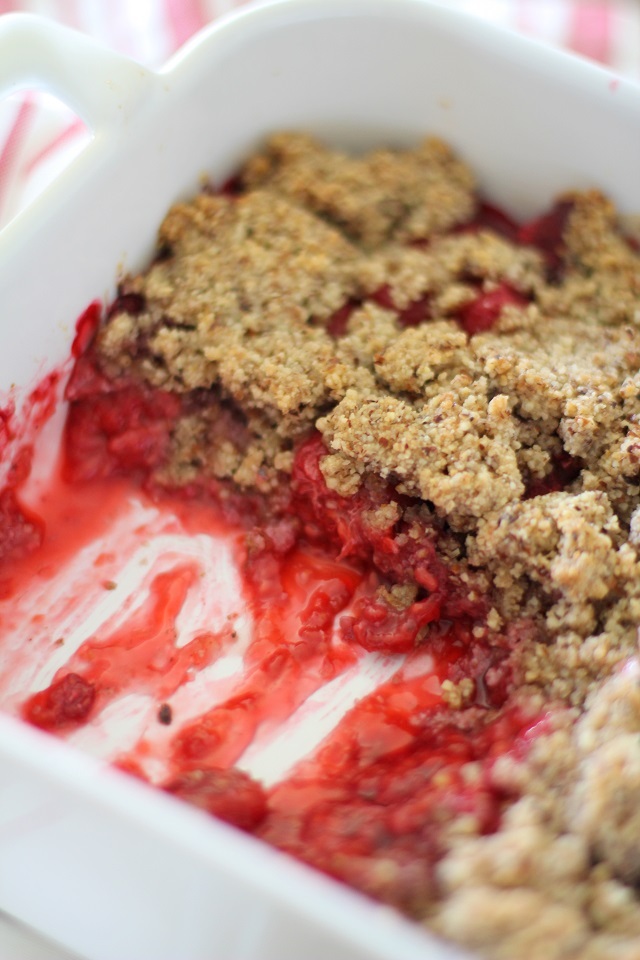 3.) Best source of protein ever right here!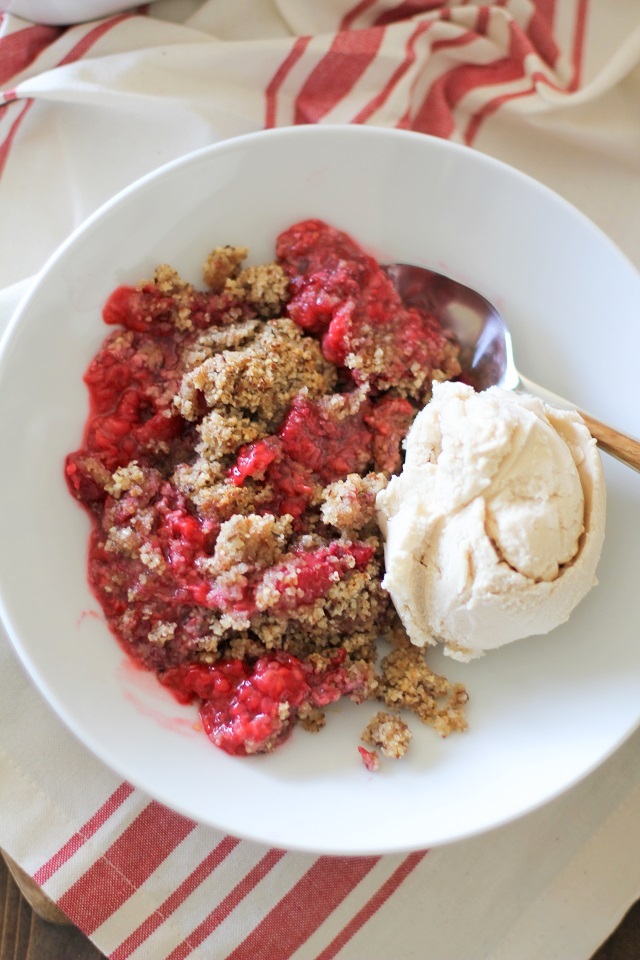 Okay, you caught me…it's not National Dessert for Dinner Day…but it is Friday, a.k.a. Crumble Day, and we could all use a healthy treat!
Are you as excited as I am that Spring has sprung? Something about Spring makes me want to eat all the brunches outside in the sunshine, and this fresco raspberry delight would be perfect for brunch (slash all the meals and snacks).
It's most definitely going on my Easter menu to share with my family.
My plan is to multiply the ingredients by 12, because have you seen my family? We're abundant. And in my opinion, this recipe serves one, because have you tasted it? It's addicting.
Last year, I posted a Paleo Strawberry Crumble, which made you folks go berserk-a-doodles, so I figured I'd tempt you with a similar dessert // breakfast.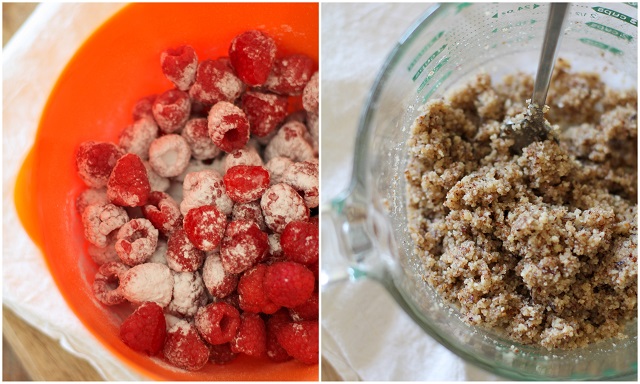 Ingredients for Paleo Raspberry Crumble:
For this go 'round, I used fresh raspberries – you can also use a mix of blueberries, raspberries, and strawberries if you're looking for some variety.
The dessert is sweetened with just a smidge of pure maple syrup, keeping it low on the glycemic index, while still super scrumptious.
For the grain-free crumble topping, I used Bob's Red Mill's hazelnut flour, which is my favorite nut flour next to almond.
It can be used in the same exact way as almond flour (hazelnut pancakes, anyone??!) and makes for a crispy, flavorful topping to your every crumble.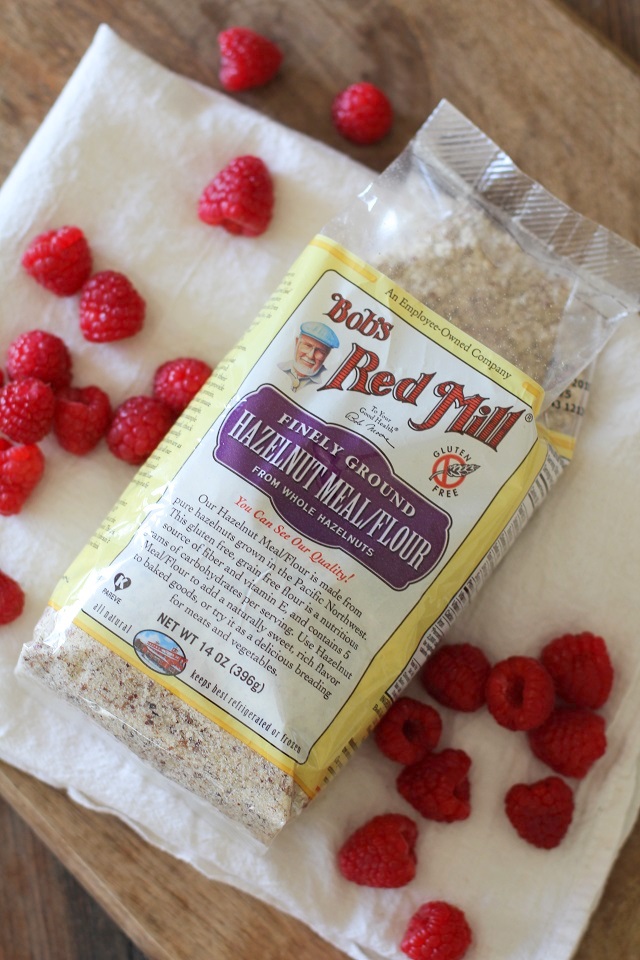 Tapioca Starch:
In order to make the raspberry filling nice and thick, I used Bob's Red Mill's tapioca starch.
It works similarly to corn starch, but tapioca starch is healthful and won't irritate your gut, which makes it great for those who have candida or other digestive ailments.
Tapioca comes from cassava (yuca) root, and is rich in folate, Vitamin B6, Vitamin K, iron, manganese, calcium, copper, selenium, and fiber.
It also thickens at a lower temperature than other starches, making it a choice replacement for corn or potato starch.
It's often used in gluten-free flour blends and I love using it in my brownie/muffin/cookie recipes. I'm pretty much obsessed with the stuff. #TapiocaForDayz.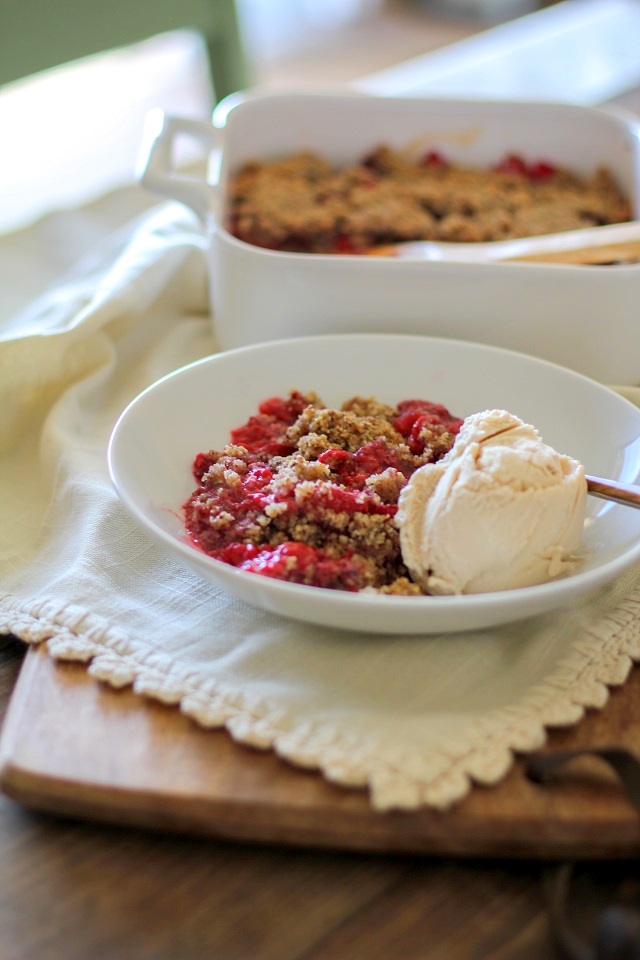 All recipe componentry added together, you're getting a healthy dessert (or breakfast) that is gluten-free, refined sugar-free, high in protein, paleo-friendly, vegan, and ridiculously addicting.
Like, once you go paleo hazelnut crumble, you'll never go back.
That's just the way the raspberry crumbles.
Paleo Raspberry Crumble
Paleo Raspberry Crumble made with crispy hazelnut flour or almond flour topping is a fresh, perfectly sweet tangy dessert recipe! Perfect for grain-free vegan eaters!
Instructions
Preheat the oven to 350 degrees F.

In a mixing bowl, toss together the raspberries, tapioca starch, vanilla extract, lemon juice, and maple syrup. Transfer to an 8" x 8" baking pan.

Mix together the ingredients for the topping in a mixing bowl. Evenly spread it over the raspberry filling and bake in the oven for 30 to 40 minutes, until the raspberries are juicy and bubbly and the topping is golden-brown.

Let stand for 10 minutes before serving with ice cream.
Notes
*You can also use grapeseed oil. I don't recommend using olive oil because it will change the flavor of the topping.
Nutrition
Serving:
1
of 5
|
Calories:
326
kcal
|
Carbohydrates:
31
g
|
Protein:
5
g
|
Fat:
23
g
|
Fiber:
9
g
|
Sugar:
19
g