This is a sponsored conversation written by me on behalf of Lipton. The opinions and text are all mine.
Grilled portobello mushrooms, summer squash, and peppers make for excellent quesadilla filling for a healthful summer-inspired meal.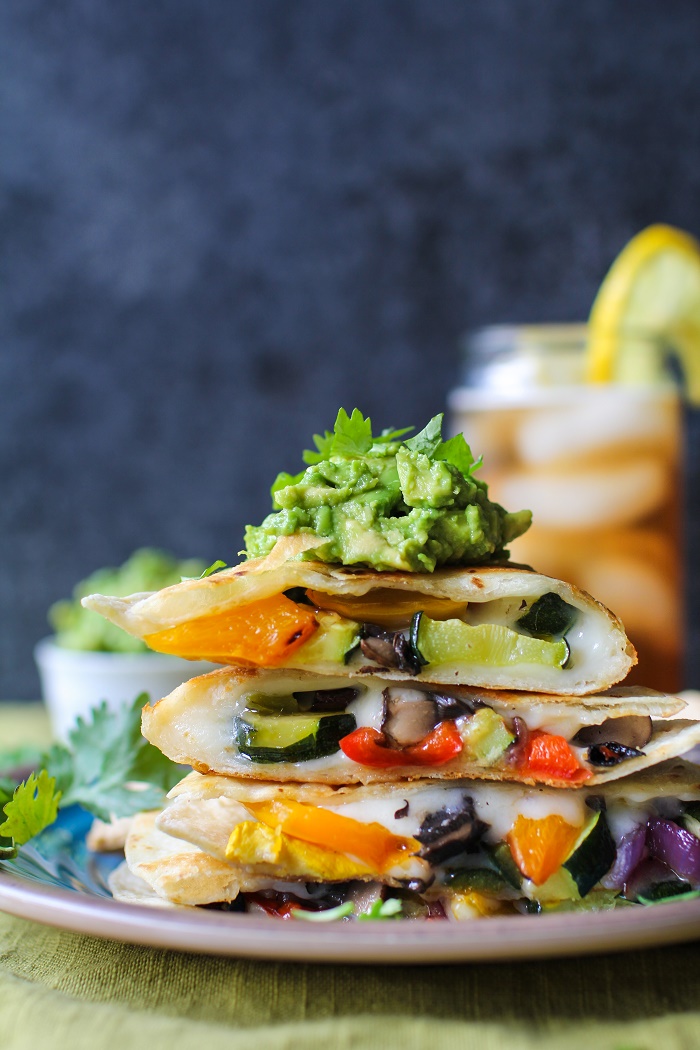 Charred grilled veggies.
Melty cheese.
Crispy tortilla.
The trappings of tongue bud bliss.
I can't think of many foods that entice me more than a fully-loaded super gooey, ultra crispy quesadilla. Perhaps because the cheese 'tilla has been a source of comfort from a young age. Maybe because the combination of ooze interior and crunchy crisp exterior makes for a menu of pleasurable textures. Possibly because melted cheese is life. Perhaps because tortillas are the alpha omega of all the carbs.
Whatever the reason, there's some history there.
While quesadillas have always been a straight shot to my heart and soul, I admit, as a kid I was pretty plain vanilla about my filling preferences – I went full-tilt jack & cheddar, no frills, no add-ins, not even salsa, hold the guac, just bring on the cheese puh-lease. Of course, I'd wash the quesadilla down with a tall glass of chocolate milk, because: calcium². Which brings me to my next point…
Let's talk quesadilla and beverage pairings.
Moonshine.
Just kidding.
Iced tea.
Although I'm not typically tempted by soda or most sweetened drinks, I find myself craving sweetened iced tea regularly during the summer months. Sipping on cool, refreshing tea while barbecuing a fresh meal is my idea of a perfect evening. I enjoyed Lipton's Lemon flavor iced tea alongside these super fresh and flavorful grilled vegetable quesadillas. For more recipe inspiration for making tea a part of your end-of-summer grilling experience, check out Lipton's Bright Bites.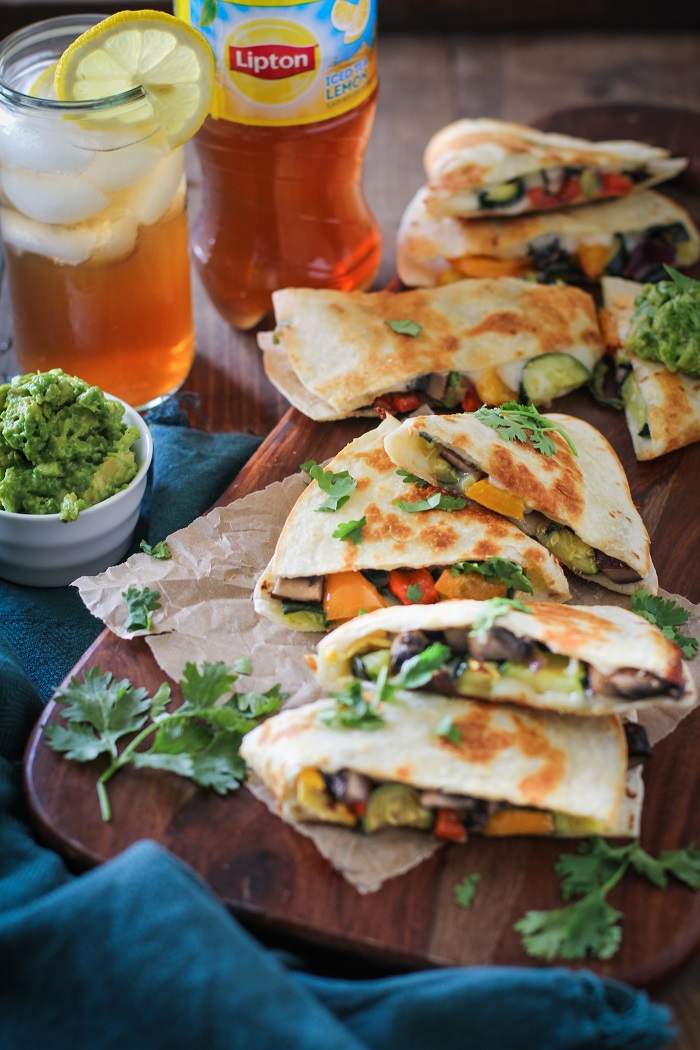 One of the best aspects to these quesadillas is how adaptable they are. Here are some…
Options for Recipe Change-Ups:
Make these quesadillas vegan by replacing the cheese with guacamole. It may sound strange, but trust me, it works!
Use gluten-free tortillas if desired.
Add grilled chicken or shrimp for a protein infusion.
Serve with black beans and rice to make a well-rounded vegetarian meal.
Rather than grilling the vegetables, you can roast them. To do so, preheat the oven to 400 degrees F, then toss the chopped veggies in olive oil and sea salt. Spread them over a large baking sheet (or two), and roast until golden brown and crispy, about 20 to 30 minutes (turning once half-way through).
Incorporate any of your favorite veggies, such as cauliflower, sweet potato, tomato, eggplant, butternut squash, etc. If it can be grilled or roasted, you're good to go!
Get shmancy with your cheese selection. You can use aged cheddar, smoked gouda, gruyere, fresh mozarella, brie, goat cheese, etc.
Rather than preparing the quesadilla on the stove top, you can grill it as well.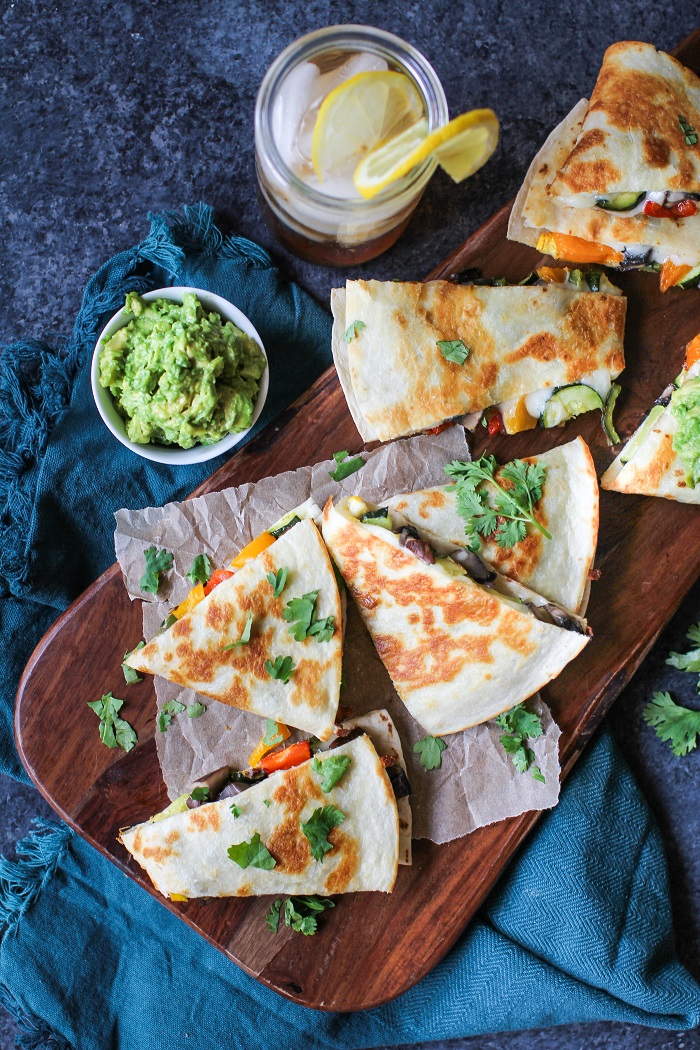 And there you have it! Your formula to an easy-to-prepare flavor-packed ooey gooey melted cheese experience. Just remember to pair with delicious iced tea for optimal results.
Grilled Portobello and Summer Squash Quesadillas
Print
Ingredients
1

red bell pepper

cored and quartered

1

orange bell pepper

cored and quartered

1

pasilla pepper

cored and halved

1

red onion

cut into thick rounds

2

medium zucchini squash

sliced into 1/4-inch strips

2

patty pan squash

sliced into 1/4-inch rounds

2

portobello mushrooms

6

large gluten-free flour tortillas

2

cups

to 3 mozarella cheese

grated
Instructions
Preheat the grill to medium high. Brush all of the vegetables with olive oil and sprinkle with sea salt.

Place the vegetables on the hot grill and cover. Cook for 5 to 8 minutes, flip and continue grilling another 5 to 8 minutes, or until charred and soft. Transfer vegetables to a cutting board and chop into bite sizes.

Heat a skillet to medium-high and add enough oil to lightly coat the surface.

Place one large flour tortilla on the hot skillet and sprinkle desired amount of mozarella cheese (I use about 1/4 to 1/3 cup per quesadilla) over the whole tortilla. Cook for about 30 seconds to 1 minute, or until cheese is mostly melted.

Layer a generous amount of vegetables over half of the tortilla, then fold tortilla in half. continue cooking until tortilla reaches desired level of crisp. Transfer to a cutting board and chop into pieces. Repeat for remaining ingredients.