Grilled portobello mushrooms marinated in balsamic vinegar and fresh ginger make for a flavor-blasted meatless side dish or appetizer. Use these grilled portobellos to serve guests alongside your favorite main course, or turn them into a grilled portobello burger entrée!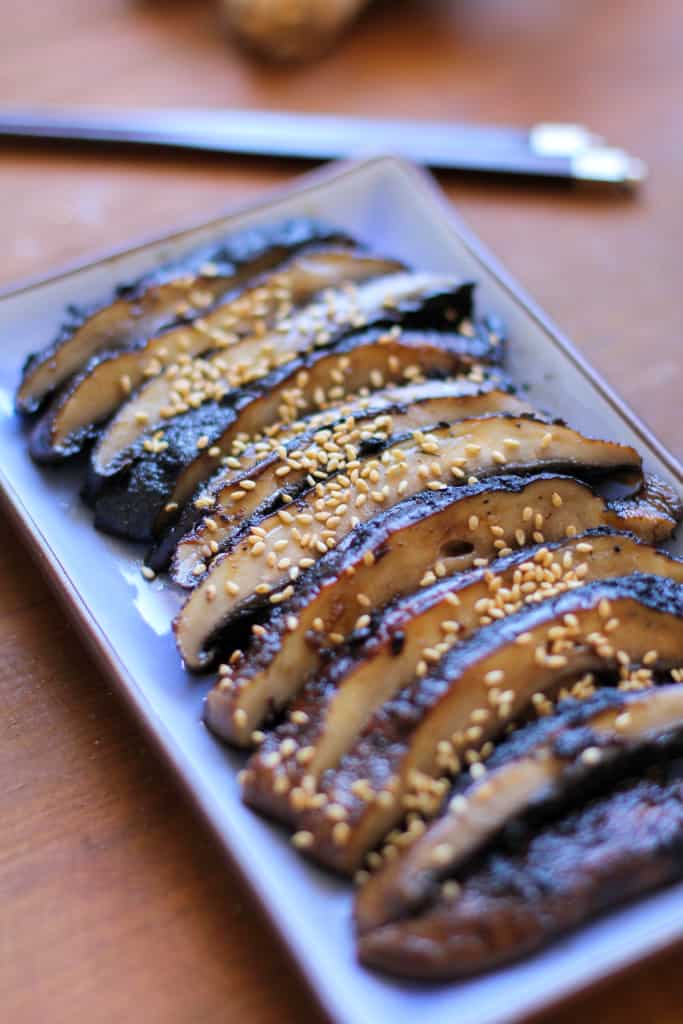 As big of a carnivore as I am, I could survive a vegetarian stint with flying colors with grilled portobello mushrooms backing my need for meat.
Just picture it: flavorful steamy portobello mushroom burgers, OR sliced and served atop a fresh green salad, OR baked into a rice pilaf-like apparatus, Stuffed with all sorts of goodies and baked with cheese?
My mouth waters at the mere thought of the various creative applications of the fungal shroom cap.
If you've been looking for a grilled meatless side dish or appetizer, I've gotcha covered, smalls! Most folks who die-hard grill fans have the animal portion down to an art, but vegetables (or fungi) tend to fall through the cracks (<- Get it? Fall.through.the.cracks.?? Figuratively and literally? Moving on.).
Prior to this grilling season, I had never marinated vegetables. Sure, I've done my fair share of oil-coating and salt-and-pepper-sprinkling, but had never allowed veggies to chill in marinade. Lemme just say,
it's a total game changer, and it doesn't require much more time. Using brilliant things like vinegar, liquor, or wine to flavor your veggies really kicks it up a notch and turns what could be a womp womp veggie experience into an otherworldly one.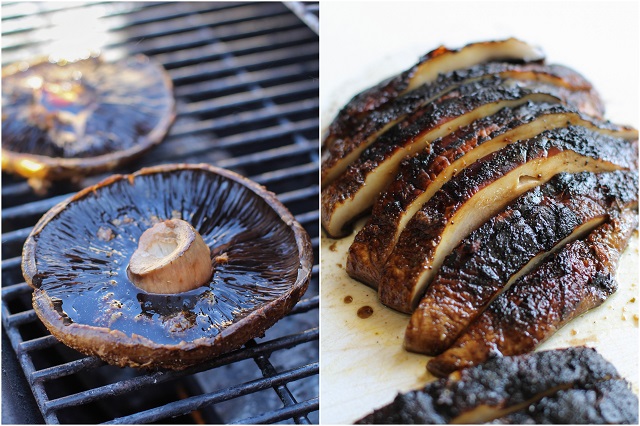 I have found combining balsamic vinegar with oil and fresh ginger makes for a winning marinade. A little sprinkle of sea salt, black pepper, and some dried herbs go on as well.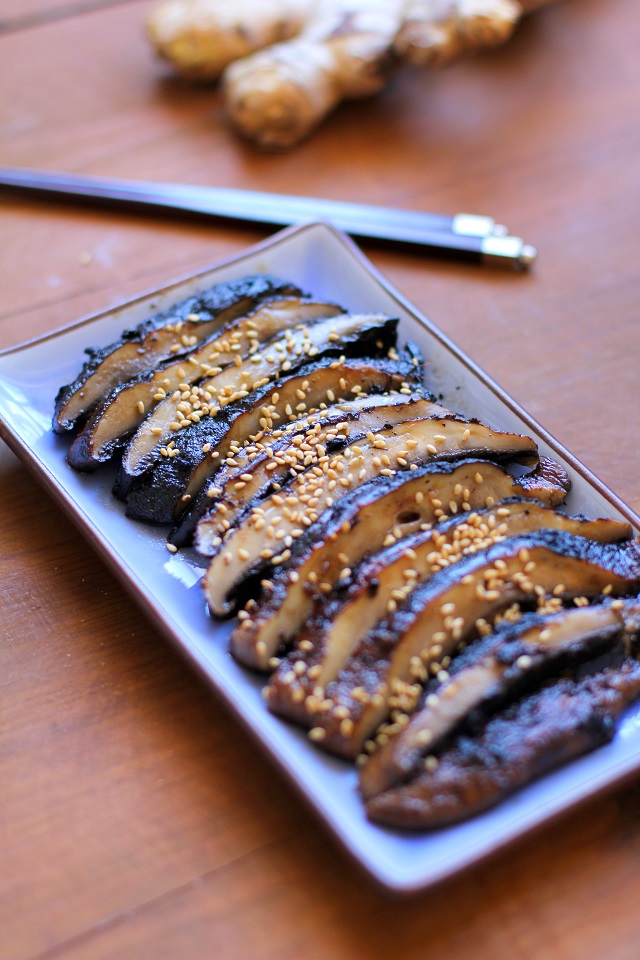 These grilled portobello mushrooms are amazing fresh off the grill – crispy on the outside, soft on the inside, flavor-blasted with ginger-y grilled goodness…
I've made this grilled portobello mushrooms recipe a few times this summer, and most recently enjoyed them with the Grilled Chimichurri Chicken I showed you last week.
I've even been known to add them to my Grilled Vegetable Avocado Quesadillas.
They're a perfect side dish to your grilled entrees, and are also a winning appetizer for serving to guests. You can also skip the slicing and eat the mushrooms in a meatless veggie burger application – served with homemade coleslaw and a slice of tomato and avocado, these would make for bomtastic burgs!
With plenty of grilling season left and tailgating season just around the corner, these shrooms can be a staple for your barbecuing enjoyment.
My cookbook,
Paleo Power Bowls
, is now available! CLICK HERE to check it out. Thank you for your support!
If you make this recipe, please feel free to share a photo and tag me at @The.Roasted.Root on Instagram!
Balsamic-Ginger Grilled Portobello Mushrooms
Balsamic-Ginger Grilled Portobello Mushrooms perfect for grilling season!
Servings:
4
to 6 servings
Ingredients
Instructions
Whisk together the balsamic vinegar, olive oil, and ginger together in a bowl until well combined.

Place the portobello mushrooms in a zip lock bag (or casserole dish or tupperware container) and pour the balsamic-ginger marinade over them. Spoon the marinade over the mushrooms so that the whole mushroom is coated. Sprinkle both sides of each mushroom with salt, black pepper, and Italian seasoning or Herbs de Provence. Allow mushrooms to marinate 10 to 20 minutes, spooning the marinade over them periodically.

Preheat the grill to medium-high. Place mushrooms gill-side up on the grill and pour any remaining marinade over the gills of each mushroom. Sprinkle with salt and pepper and cover the grill. Cook until mushrooms are very juicy and grill marks appear, about 5 to 8 minutes.

Use tongs to carefully flip the mushrooms (Note: the juices will spill over the grill and may cause it to flame up, so be very cautious when flipping). Cook an additional 5 to 8 minutes, until mushrooms are soft on the inside and crispy on the outside.

Transfer mushrooms to a cutting board, slice into ¼-inch thick slices and serve immediately.
Nutrition