Harissa Teriyaki Grilled Chicken Skewers with Mango are an incredible side or main dish for summertime!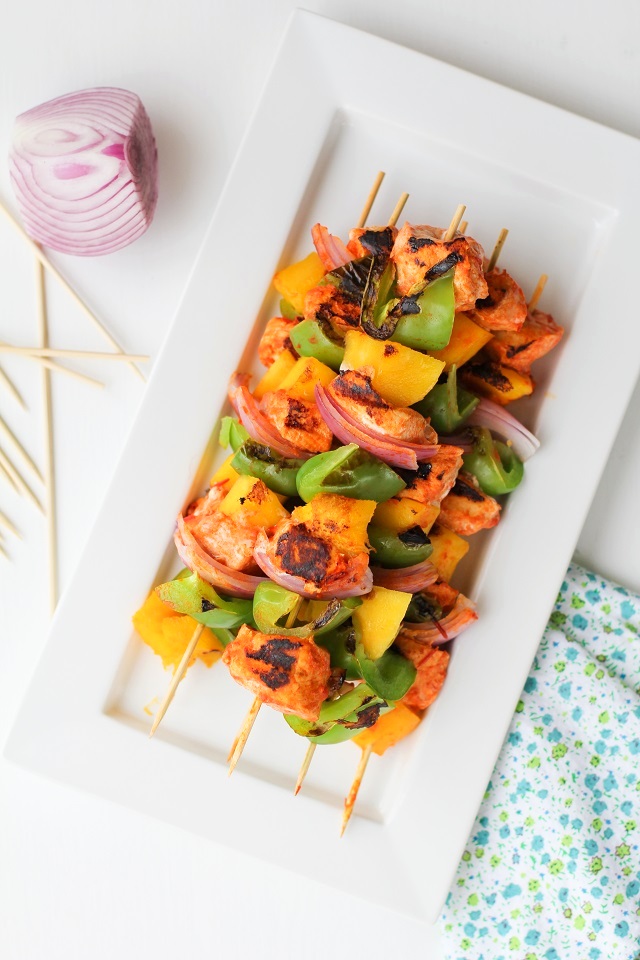 What are your Memorial Day Weekend plans? Are you high-tailing it outta town? Are you firing up the ol' charbroiler and forming a grilltropolis in your backyard? Complete with tiki torches and sunny day cocktails? How's about I invite myself to your backyard barbecue? Juuuust kidding, I'm heading to the Sierra Foothills for a few days to visit the folks I used to work with over at Lavender Ridge Vineyard and do some animal sitting for my former bosses. You can follow all my trail and wine-ly adventures through InstaG!
It hasn't exactly been grill-friendly weather over on the West side with our rainy downpours of cats, dogs, labradoodles, ligers, liopleurodons, etc, etc. But no matter. We can pretend it's sunny and 75 across the whole nation and light our grills – rain, shine, sleet, liopleurodons or otherwise, yes?
Or use our George Foreman when our grills are flooded with rain, because that works too.
Seriously, you can make these skewers on a Foreman. I'd be lying if I said I haven't.
Since we're making confessions, I might as well just tell you I used pre-chopped mango from the produce section for these skewers instead of chopping mango myself. Because: lazy.
You can also use pineapple, but I love what the mango does for flavor…so sweet and buttery, and when you put the chicken right next to a hunk of mango on the skewer, bombtastic things happen. Just believe.
Have you ever had a kebab or skewer that you were like, "womp wooooomp this is caaaaahdboaaaard," in all its tasteless meat calamity Jane status? I can relate. And I'd respond with one word: marinade. I made a simple chicken marinade using harissa paste and teriyaki sauce. The marinade (and the post-grill saucing with more harissa + teriyaki) is what makes these skewers go bump in the night.
A quick note about teriyaki sauce: Coconut Secret Coconut Aminos Teriyaki Sauce is my favorite because it's made entirely out of coconut. No cane sugar, no corn syrup, no weird preservatives or colors, completely soy-free. Just super natural super tasty, you'd never know it's not teriyaki sauce status. Paleo-friendly too, though.
If you end up with leftover skewers, you can reheat your grilled items in a skillet, add yet more teriyaki sauce, and serve over rice for a grilled stir fry-like meal. This leftover re-purposing tastes so good, I'm tempted to tell you to just skip eating the skewers and go straight to the stir frying. But that would defeat the purpose of this entire post, so I won't do that.
But I will tell you to get your grill on this weekend, Memorial Day Weekend, son!
Have a safe and fun long weekend!
Harissa Teriyaki Grilled Chicken Skewers with Mango
Harissa Teriyaki Grilled Chicken Skewers with Mango is a unique and flavorful kabob recipe.
Ingredients
1/3

cup

mild harissa

plus more for serving

1/4

cup

teriyaki sauce

plus more for serving

1

tablespoon

olive oil

½

teaspoon

paprika

¼

teaspoon

sea salt

to taste

1

pound

boneless skinless chicken breasts

chopped into 1-½-inch cubes

1

inch

bell pepper

chopped into 1-1/2- cubes

1

inch

red onion

sliced into 2- pieces

2

cups

mango

chopped into 1-½ - inch cubes
Instructions
Stir together the harissa, teriyaki sauce, olive oil, paprika and salt in a mixing bowl. Add the chopped chicken and allow it to marinate at least 15 minutes (a few hours to overnight works great!)

Heat the grill to medium-high and spray with oil.

Thread chicken, bell pepper, red onion, and mango onto skewers, alternating ingredients. Note: if using wooden skewers, soak in water for 10 minutes prior to grilling.

Place skewers on the hot grill and cover. Allow skewers to cook 3 to 3 minutes, or until crispy on one side. Use tongs to flip skewers and cook an additional 2 to 3 minutes, or until chicken reaches 160 to 165 degrees F in the center.

Place skewers on a plate, brush with additional harissa and teriyaki sauce and serve.
Nutrition