Fresh ahi tuna marinated in fresh ginger, liquid aminos, garlic, rice vinegar (and more) for a flavor-packed raw appetizer.
Oy! How's your holiday weekend going? We've been having all the fun in the sun, hitting the mountain biking trails, napping on the beach in Lake Tahoe, drinking endless mugs of pour-over coffee, and powering through Season 6 of Walking Dead (more talk on that later). I figured I'd pop in and give you all a little whaaaazup along with one of my favorite appetizer recipes EVAH!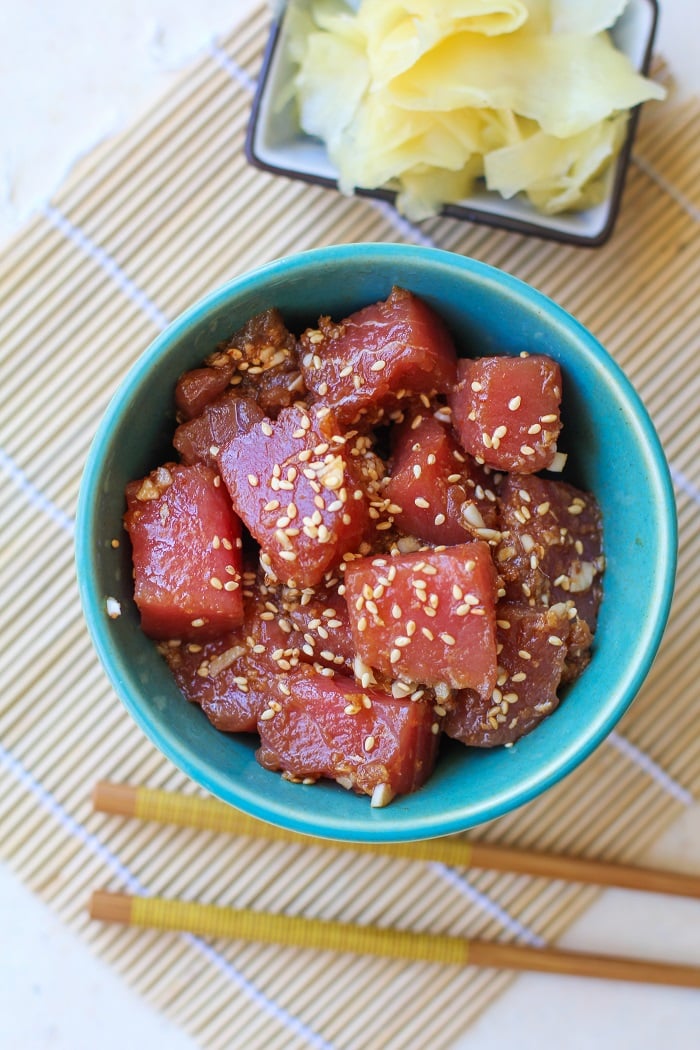 Ahi poke, guys! Are you obsessed? In case you've never had it, ahi poke (pronounced ah-he poh'key) is raw tuna chopped up and served in a fresh sauce.
I've enjoyed ahi poke at various sushi restaurants slash shmancy hipster food joints for a number of years now. It wasn't until last year that I actually started making it myself at home. People, it's just the easiest thing. The most difficult part is finding a sushi-grade ahi fillet (which most grocery stores in my area carry). You don't want to take your chances with raw fish, so if you're unsure about the quality, ask your butcher if the tuna at your store can be safely eaten raw. Once you have your fillet, you simply chop it into cubes (any size works), then whisk up a marinade.
You allow the fish to sit in the marinade and become flavorful, then serve raw. You can eat it plain with chop sticks, eat it ahi nacho-style with crispy wonton crackers, serve it on salad with greens and pickled veggies, or use it in homemade sushi rolls. My choice method for consuming ahi poke is eating it straight off of chopsticks as an appetizer. Best when consumed with friends.
When I'm feeling suuper laze-ballz, I just use store-bought teriyaki sauce, sriracha, and soy sauce for the marinade. HOWEVES, when I'm being a go-getter extraordinaire, I use fresh ginger and garlic along with some other ingredients. You're going for a sweet n' sour, salty tangy flavor with definite ginger flare and some sesame undertones.
If the raw fish thing freaks you out, you can totally marinate the whole fillet (don't chop it) in the recipe you see below and pan-sear it, or cook it all the way through. Whatever's your jam.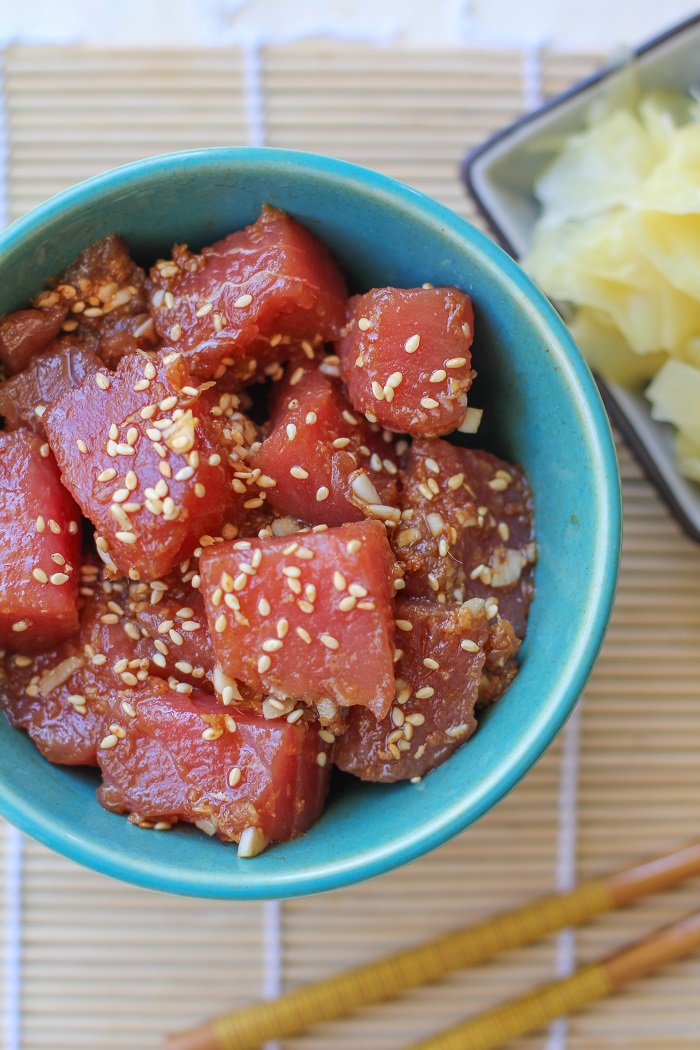 Fishy fishaaaaay!
Ahi Poke
An easy, delicious ahi poke recipe that requires hardly any time! Make ahi poke as an appetizer or turn it into a main dish by making sushi bowls.
Ingredients
1

pound

sushi-grade ahi tuna fillet

chopped into 1/4-inch to 1/2 inch cubes

2

cloves

garlic

minced

1

tablespoon

fresh ginger

grated

2

tablespoons

sesame oil*

2

tablespoons

coconut aminos**

2

tablespoons

rice vinegar

1

tablespoon

red chili sauce such as sriracha

to taste

2

teaspoons

agave nectar

2

teaspoons

sesame seeds
Instructions
Whisk together all of the ingredients for the marinade in a bowl (everything except the tuna) and stir until well combined (Note: you can also blend the marinade in a small blender).

Place the chopped ahi in the bowl with the marinade and stir. Serve immediately, or cover and refrigerate until ready to serve.
Notes
*Replace sesame oil with olive oil if desired
**Replace coconut aminos with liquid aminos, or with low-sodium soy sauce if desired
Nutrition