Grilled Chimichurri Chicken marinated in homemade chimichurri sauce – fire up your grill for this easy and delicious entree recipe at your next barbecue! Post includes baking instructions for those of you who prefer baked chicken.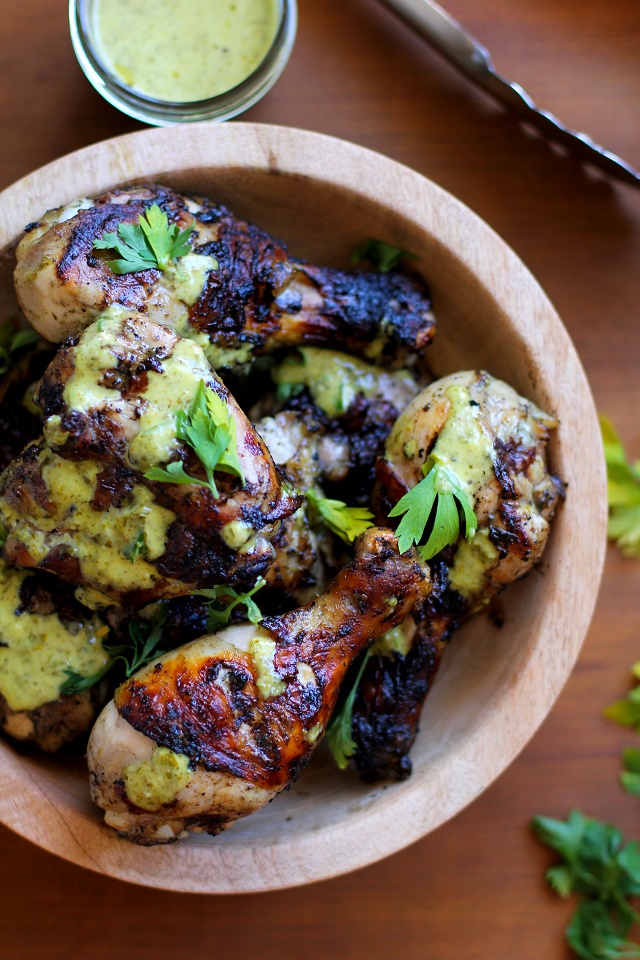 You're looking at my lollipop.
If there's one meat I can eat like candy, it's grilled chicken.
Resisting the temptation to gorge myself on animal isn't normally difficult for me, but when it comes to bone-in skin-on chicken, perfectly cooked chicken straight from the Q, there's just no controlling this girl.
Hand me a bib, skip the fork, let's get a month's-worth of protein in one shot, who-let-the-ravenous-raging-Marvel-Comic-menace-to-society-out? status.
I love the crispy skin, tender, juicy flesh, and am completely unopposed to fatty chicken juices dripping down my chin while I sink my teeth into the succulent meat.
Animal nibblets are my crack, they are.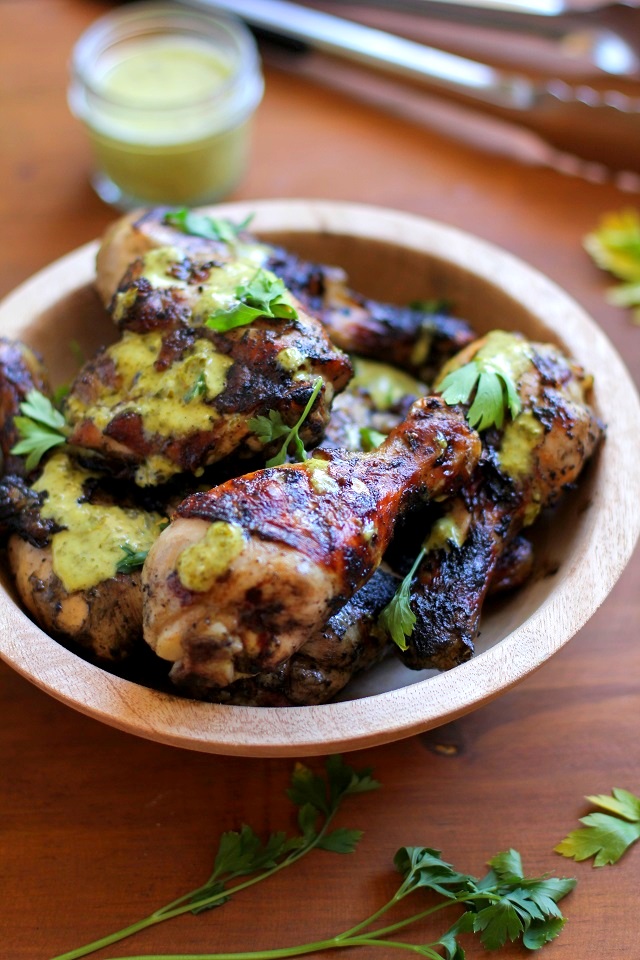 This summer, I've been whipping up pesto and chimichurri sauce like crazy, as the two sauces are so easy to prepare and they add freshness and spunk to everything from meat to roasted vegetables to salad.
What is Chimichurri Sauce?:
In case you're unfamiliar, chimichurri sauce originates from Argentina and is made with cilantro, parsley (sometimes other fresh herbs), red wine vinegar, garlic, and sometimes onion.
It's very typical in Argentina to serve grilled steak with the sauce. I prefer my chimichurri sauce to have more parsley than cilantro (sometimes I skip the cilantro altogether), and enjoy using lime juice instead of vinegar, just FTR.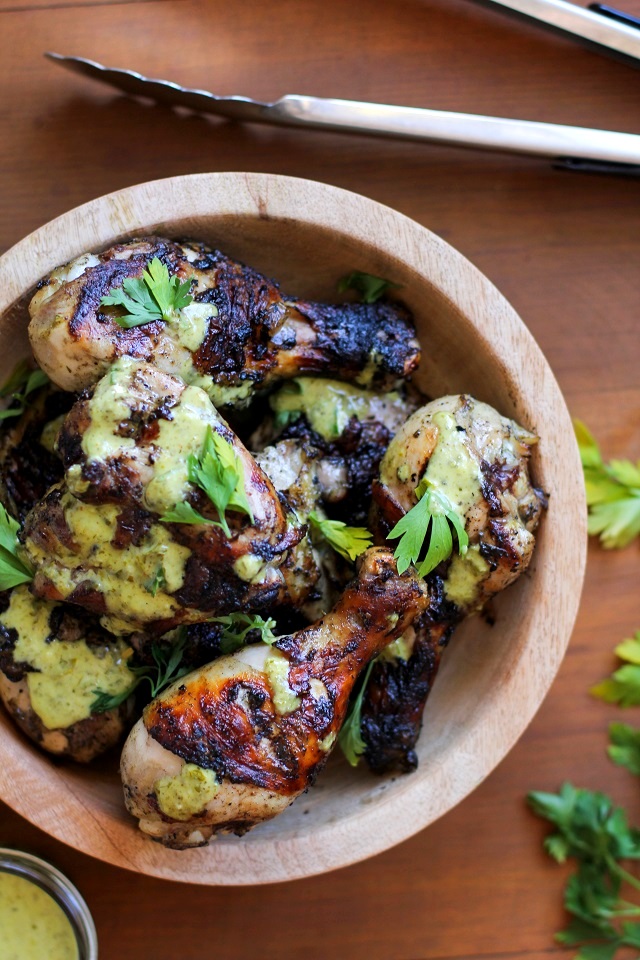 All you do to prepare the sauce is blitz everything in your blender and lickety split, bangity boom, the result is a flavorful sauce that happens to be a perfect marinade for grilled chicken (or beef, fish, etc.).
Marinate the chicken for just 15 minutes (up to 10 hours) prior to tossing it on the grill, and you've got yourself a crispety crunchety luscious main event for all your picnics and barbecues.
Can I Bake Instead of Grill?:
If you don't have a grill or would like to make this in the dead of winter, no problem, you can bake this too!
After marinating the chicken, transfer it to a casserole dish. Bake at 375 degrees for 45 to 60 minutes (until internal temperature of the chicken reaches 165 degrees F).
Here is the baked version: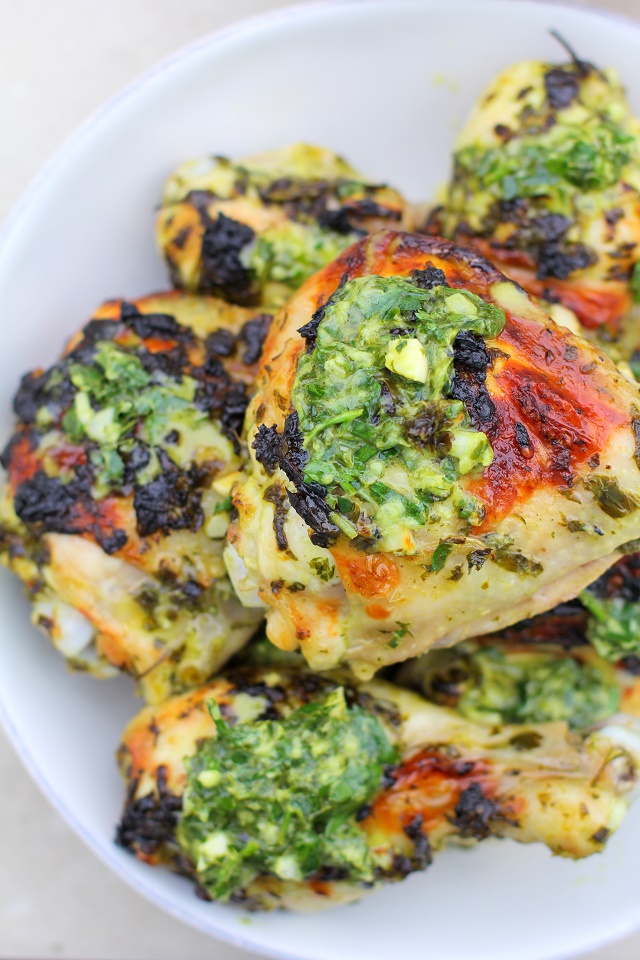 You guys. It's almost comical how tasty this stuff is! If you have even the slightest inclination toward chicken, I recommend you flip your world upside down by marinating it in herby sauce and grilling it.
I used some of the leftover chimichurri sauce for serving the chicken, and also used it as salad dressing for leftover grilled chicken salads.
You know what side dish would go most excellently with this chicken? Grilled Sweet Potatoes, Zucchini, and Yellow Squash with Pesto and Feta!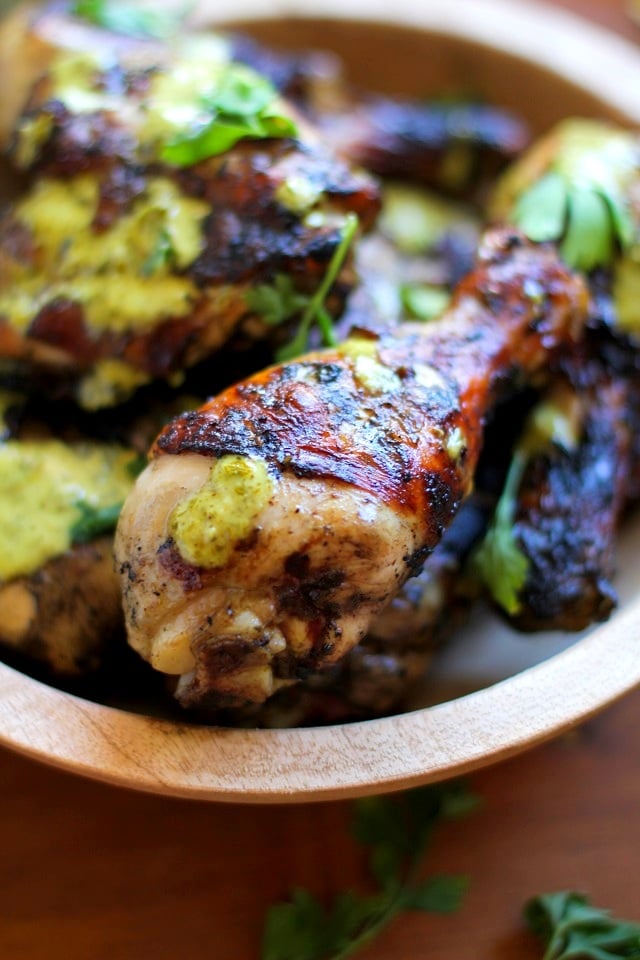 Lick that lollipop.
I'm done.
My cookbook,
Paleo Power Bowls
, is now available! CLICK HERE to check it out. Thank you for your support!
Grilled Chimichurri Chicken
Grilled Chimichurri Chicken is mouth-wateringly delicious and easy to make! This recipe will forever change your grilling game!
Ingredients
3

lbs

bone-in skin-on chicken thighs and drumsticks

1/2

cup

chimichurri sauce

plus more for serving, recipe below
Instructions
Prepare the chimichurri sauce by adding all of the ingredients to a blender or food processor and blending until desired texture is reached - you can leave the sauce chunky, or blend it until creamy.

Place the chicken pieces in a large zip lock bag along with 1/2 cup of the chimichurri sauce. Seal the bag and move the chicken around until everything is coated in sauce. Refrigerate at least 15 minutes, up to 12 hours.

Preheat your grill to medium-high. Place chicken pieces on the hot grill, skin-side down and sprinkle with sea salt. Cook until dark grill marks appear, about 5 to 8 minutes. Using tongs, flip the chicken, sprinkle with sea salt, and continue cooking until dark grill marks appear on the other side, about another 5 to 8 minutes. Flip again and continue cooking and flipping until drumsticks reach an internal temperature of 165 degrees F, and thighs reach between 165 and 175 degrees F.
BAKING INSTRUCTIONS:
If baking instead of grilling, preheat the oven to 375 degrees F. Place marinated chicken in a large casserole dish and bake on the center rack for 45 to 60 minutes, until internal temperature of the chicken reaches 165 to 175 degrees F. To make the skin crispy, place oven on the high broil setting and move the chicken to the second to the top rack. Broil for 1 to 2 minutes until skin crisps up. Serve with remaining chimichurri sauce.

Place chicken on a serving plate and serve with remaining chimichurri sauce alongside your favorite side dishes.
Nutrition
Serving:
1
grams
|
Calories:
455
kcal
|
Carbohydrates:
4
g
|
Protein:
31
g
|
Fat:
456
g
|
Fiber:
1
g
|
Sugar:
1
g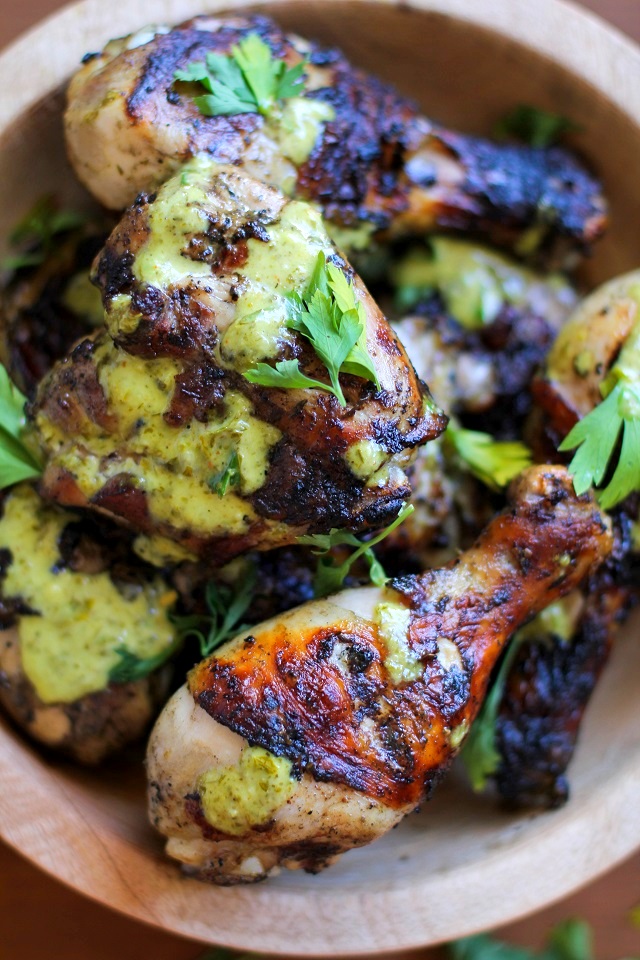 More chimichurri ideas:
Caprese Pizza with Chimichurri Sauce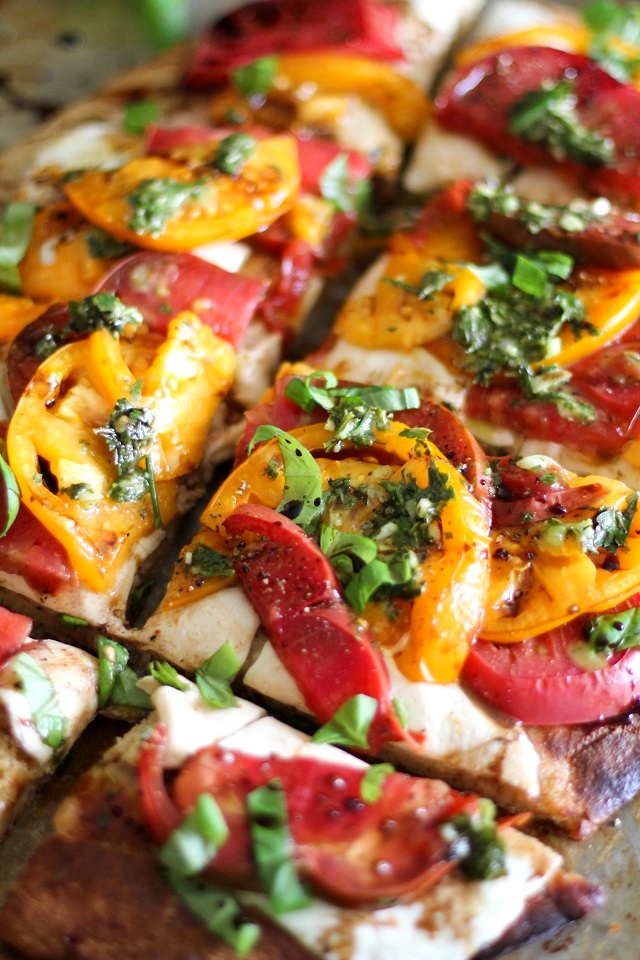 Roasted Portobello and Chickpea Burritos with Chimichurri Sauce