Refreshing and simple gluten-free pasta salad with cherry tomatoes, peas, carrots, red onion, and homemade lemon poppy seed dressing – a super quick and delicious recipe for all your spring and summer gatherings.
Pasta salad. I have so much to say.
My first experiences with pasta salad were the out-of-the-box, just-add-mayo variety. Can you relate? If so, I'm guessing you weren't a savage fan of pasta salad as a child, either. Howeves, if you were fortunate enough to grow up in an all-things-from-scratch, Best Foods Whaaaat? Household, you probably have this pasta salad thing down pat.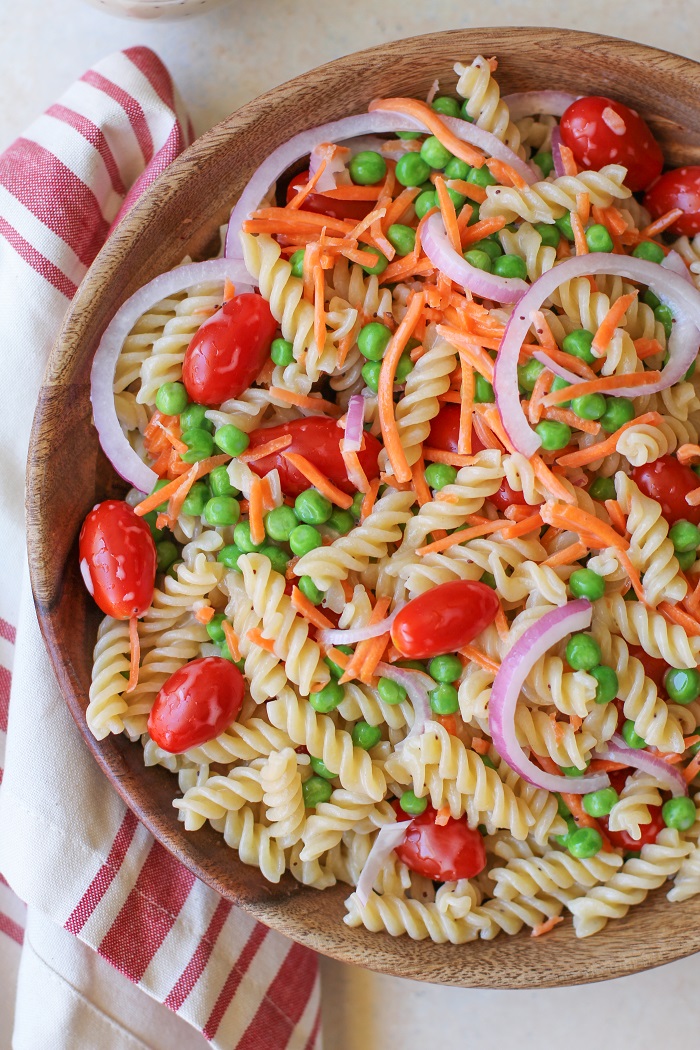 Once upon a pasta salad, I was the naysayer of epic naysaying proportions. I just couldn't dig. Like most of us experience when we're tarnished by less-than-pleasurable food encounters from tykhood, I didn't enjoy pasta salad until I began making it myself. At that point, I was all, "Duh. Of course pasta salad is good. It's made out of pasta." Palm-to-forehead. The trick is intentionally making it un-disgusting. We can do that. We're dope at these things.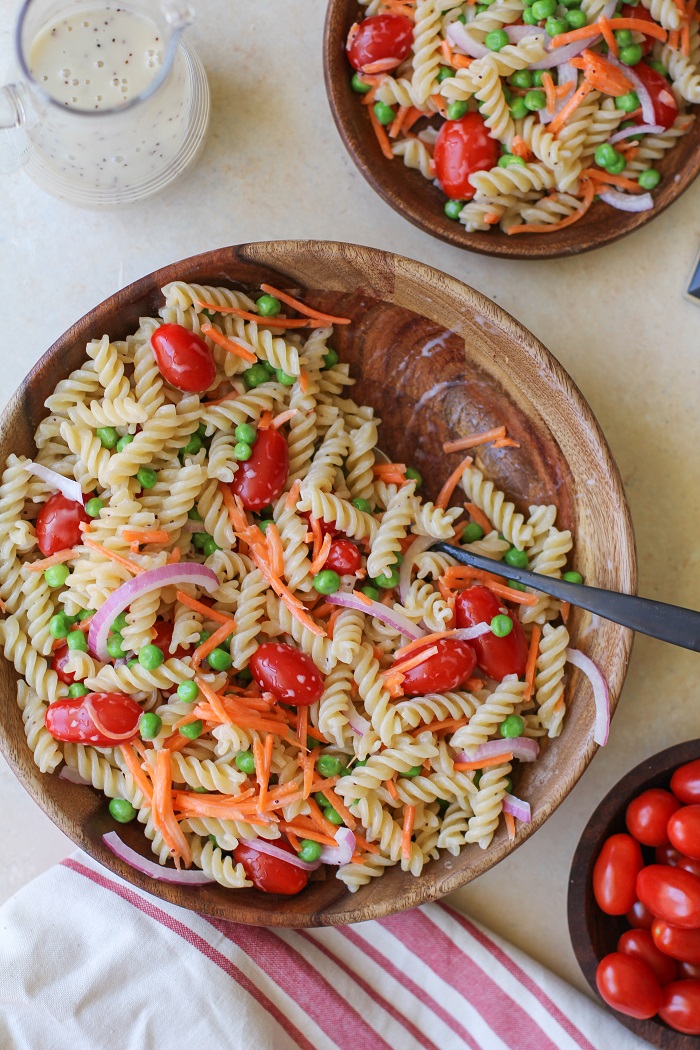 Pasta Salad Thoughts:
No on mayo
Yes on fresh, seasonal veggies
Yes on homemade dressing/vinaigrette
Spiral pasta shapes are bomb
…bow ties or elbows work, too
Colors of the world, spice up your life <- just throwing that in for dramatic effect
Always, always better the next day, because: marination
Pasta salad for dayz, no picnic left behind.
Because I'm a gluten-free-er, mayo-free-er, here's my jam: gluten-free pasta made with rice flour + homemade vinaigrette with funky fresh vegetables. Perchance some fruit. Maybe even raisins, who knows? A nut or seed or two? We've got this. For this go-round, I made a homemade lemon poppy seed dressing, which was one of the best decisions I've made. Tossing in some shelled peas, red onion, grated carrot, and cherry tomatoes? Easy. Colorful. Healthful. Bangarang. I ate the whole batch in a day, no lie.
Options for recipe change-ups:
Add your favorite seasonal veggies, and/or make veggie substitutions as necessary
Throw in some sunflower seeds, slivered almonds, chopped walnuts, or nut/seed of choice
Toss in some dried cranberries or raisins
Fan of feta or goat cheese? Stick it in!
Add kalamata olives, sun-dried tomatoes, and/or artichoke hearts for a Greek-style dish
Use store-bought poppy seed dressing to save yourself some prep time
Get creative with your own homemade dressing – a balsamic vinaigrette or honey Dijon would be fabulous here!
Use your favorite pasta shape – bow ties work marvelously!
My cookbook,
Paleo Power Bowls
, is now available! CLICK HERE to check it out. Thank you for your support!
If you make this recipe, please feel free to share a photo and tag @TheRoastedRoot on Instagram!
Here's that pasta salad recipe I've been telling you about: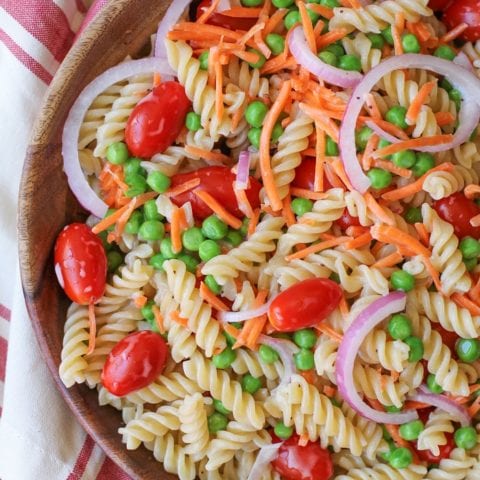 Pasta Salad with Lemon Poppy Seed Dressing
Quick, fresh and easy gluten-free pasta salad recipe perfect for making in advance and packing up to take to barbecues and picnics!
Ingredients
Pasta Salad:
2 cups uncooked gluten-free pasta of choice, I used Rotini
1 cup shelled peas, I used frozen
1 cup cherry tomatoes
1-1/2 cups shredded carrot
¼ red onion, thinly sliced
1/3 cup lemon poppy seed dressing, recipe below
Lemon Poppy Seed Dressing:
1/3 cup olive, grapeseed, or avocado oil
3 tablespoons fresh lemon juice
2 tablespoons white vinegar
1 clove large garlic, minced
2 tablespoons pure maple syrup or agave nectar*
Zest from 1 lemon
1 tablespoon stone ground mustard
Instructions
Prepare the Lemon Poppy Seed Dressing:
Add all of the ingredients for the dressing to a small blender and blend until completely smooth. Set aside until ready to use.
Prepare the Pasta:
Cook pasta according to package instructions (I typically cook mine a couple minutes less than specified on the package because I like my pasta al dente). Once cooked, strain pasta and run lukewarm water over it. Allow pasta to cool.
Add pasta and remaining ingredients for the salad to a large serving bowl. drizzle in 1/3 cup of the lemon poppy seed dressing (reserving the rest for future salads), and toss until everything is coated. Taste salad for flavor and add sea salt and/or more dressing to taste. Refrigerate until ready to serve.
Notes
*You can replace the maple syrup with honey if you're fine with the recipe not being vegan.
Nutrition Information
Yield

3
Serving Size

1 grams
Amount Per Serving
Unsaturated Fat

0g
5 Healthy Ways to Eat Peas
As part of our monthly series, my healthy food blogging cohorts, Sarah, Lindsay, Arman, Kylie, Alexis, and I chose to bring you recipes that include peas. A.k.a. the veggie I used to squish with my pointer finger and hide under my bread when I was a kid but now adore with open arms. Peas and green beans are in season, super vibrant, and are available at your market either fresh or frozen. You can add them to any fresh home-cooked meal this Spring and Summer!
Here's what the others brought to the table: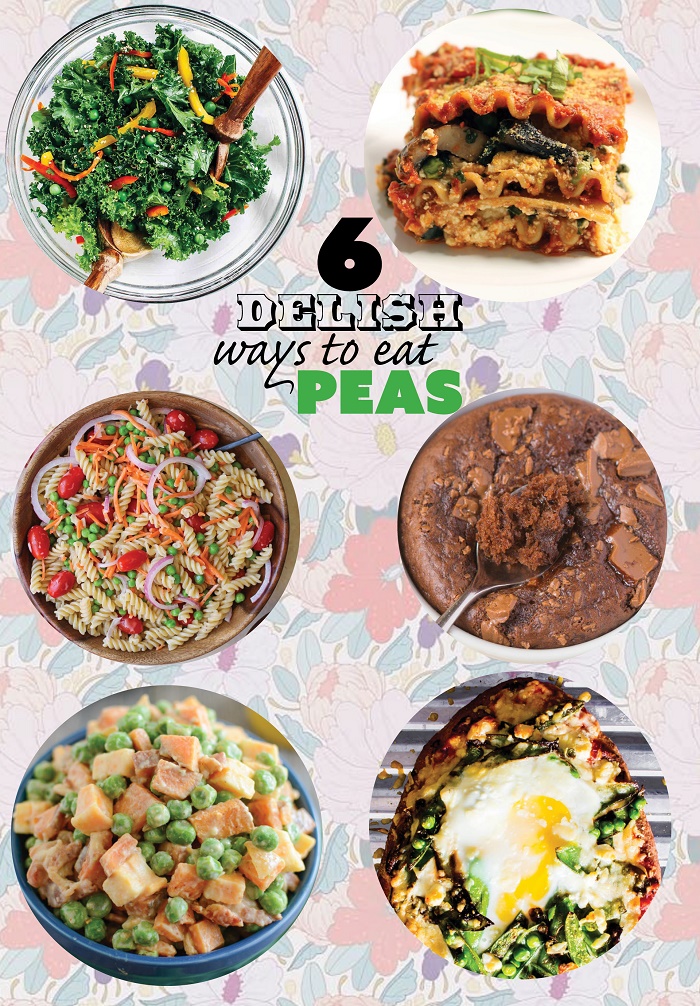 Kale Power Salad from Making Thyme for Health – an easy go-to for an every day cleansing meal or side salad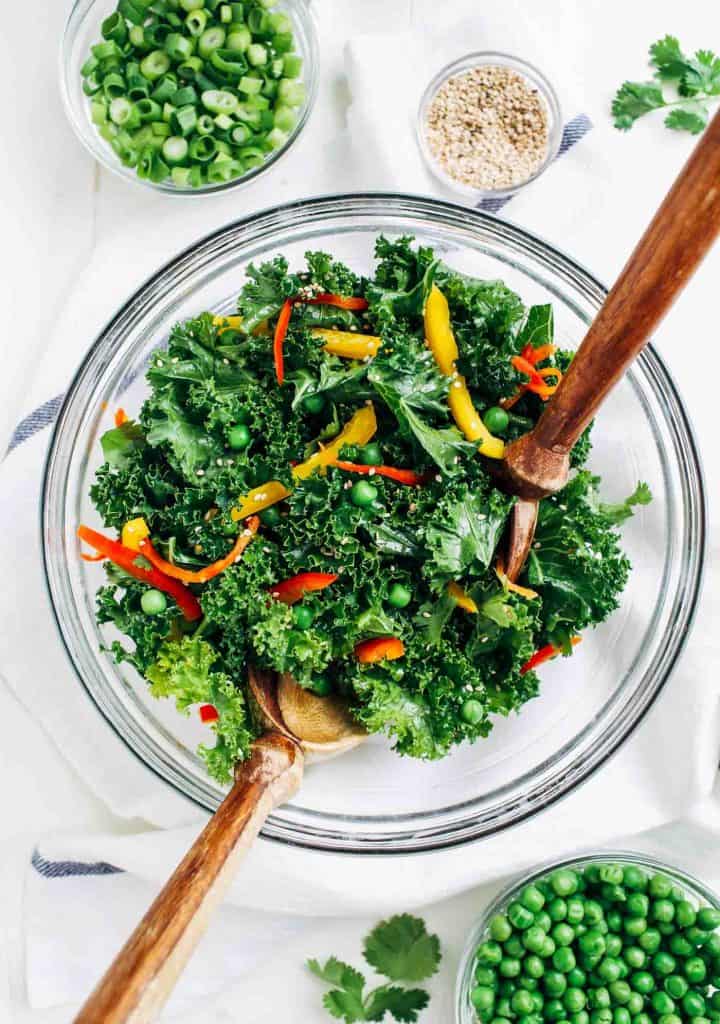 Pea Salad with Sweet Potatoes and Hummus Dressing from The Lean Green Bean – the perfect healthy potato salad to bring to any picnic or barbecue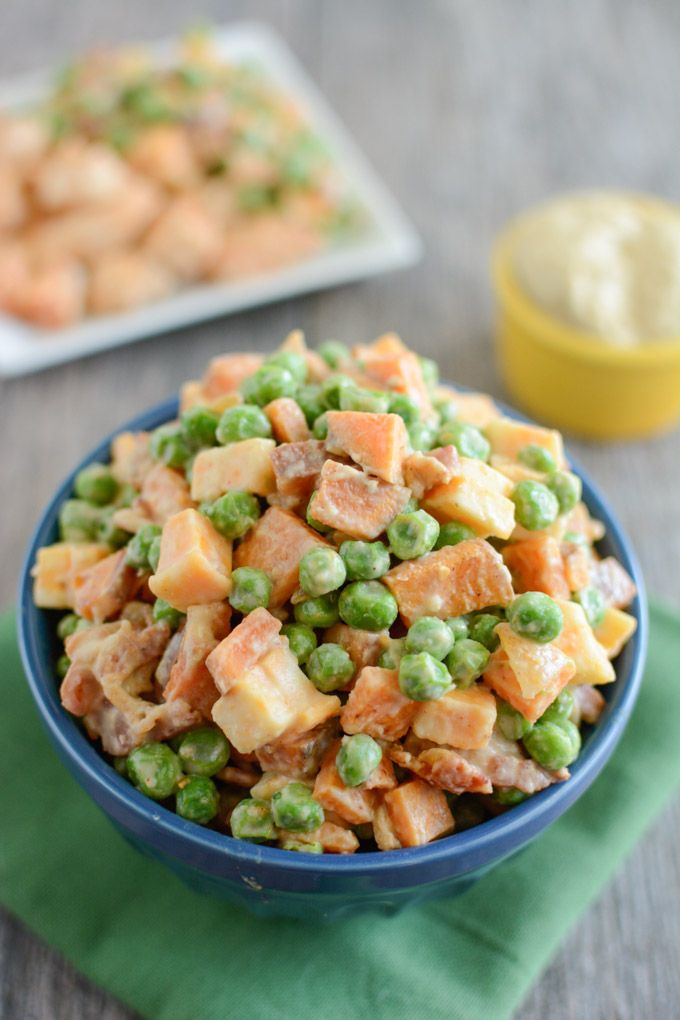 Healthy 1-Minute Brownie from The Big Man's World – a delicious dessert-for-one you'd never know is healthy!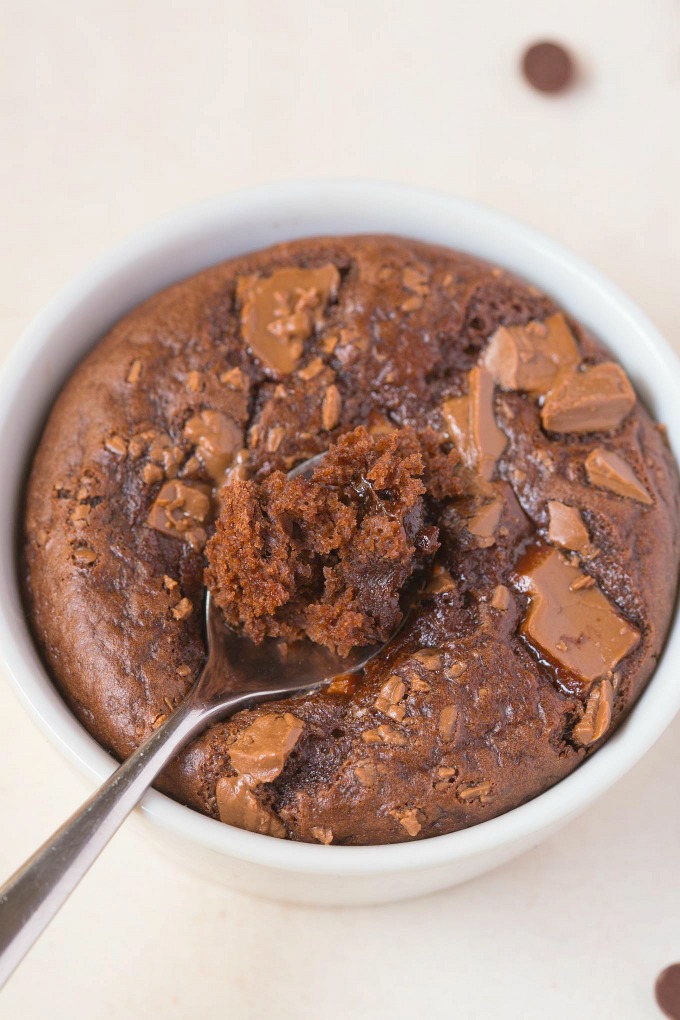 Sauteed Sugat Snap Pea and Goat Cheese Naan Pizza from Imma Eat That – a majorly tasty pizza with seasonal veggies.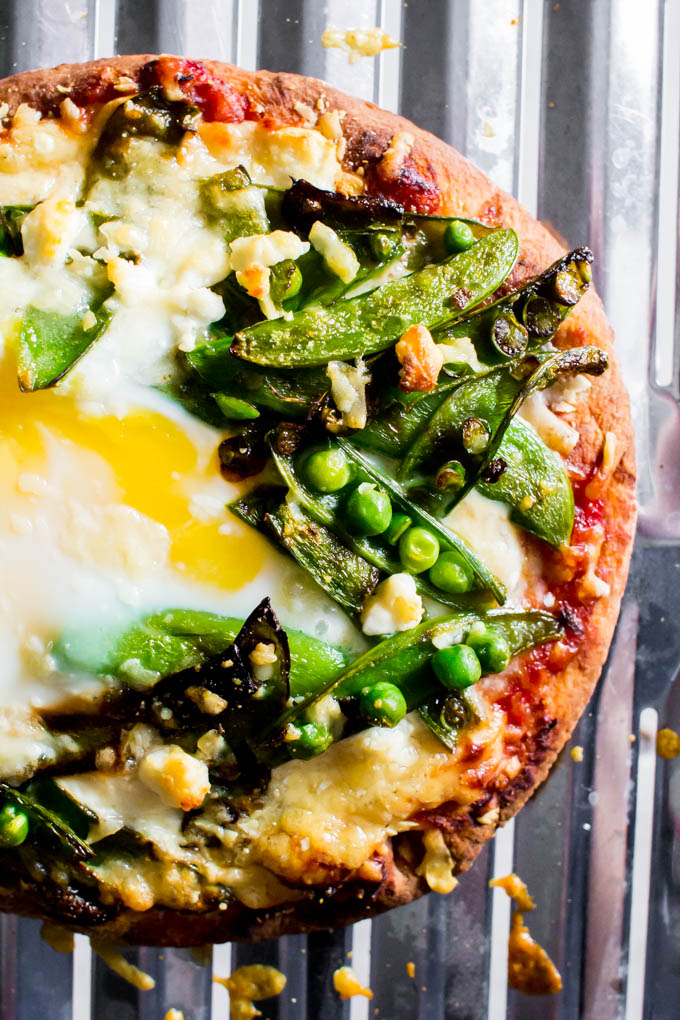 Easy Vegan Lasagna from Hummusapien – an epic comforting dairy-free meal that is great for your bodacious bod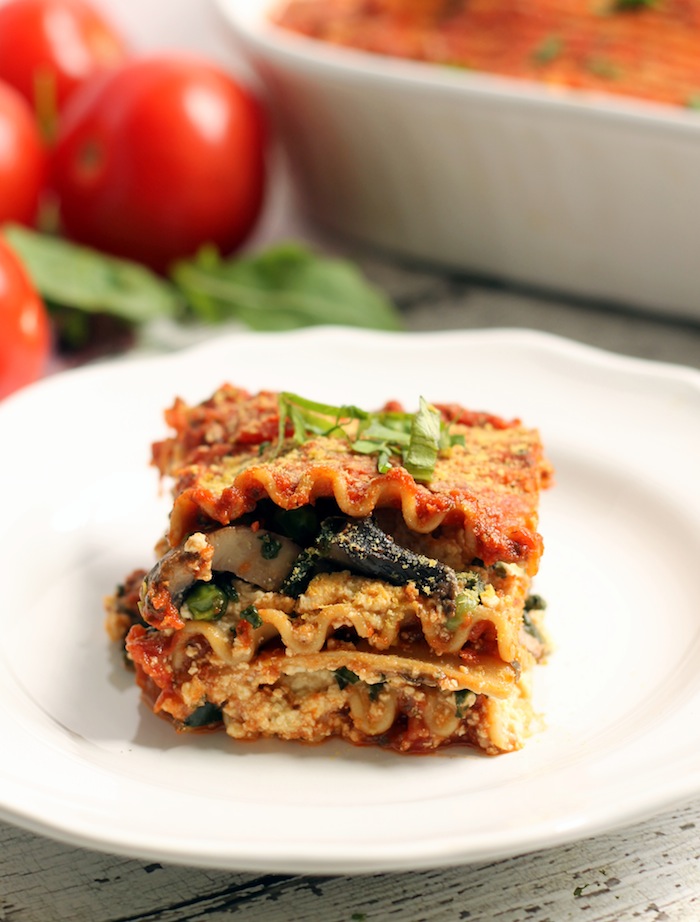 And that's it, folks! Eat your peas!