Vegan strawberry cheesecake made grain-free, refined sugar-free, dairy-free, raw, and paleo friendly. This no-bake dessert recipe requires nothing but whole food ingredients.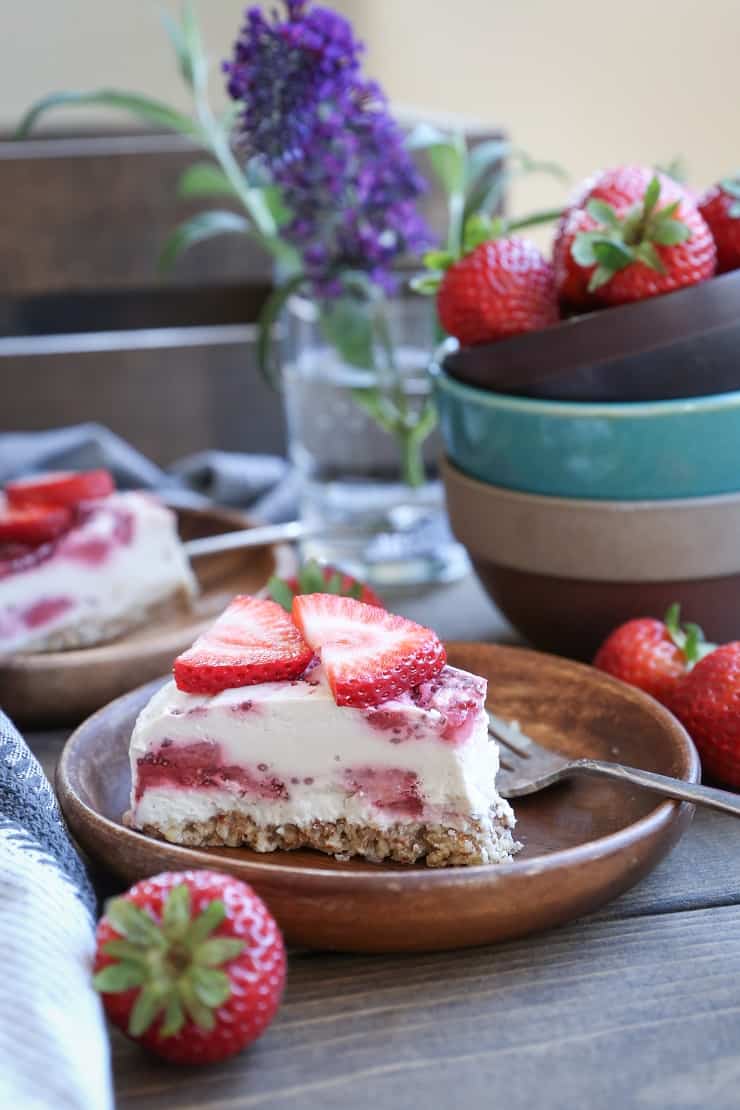 Every once in a while, I'll make a recipe that straight-up bedazzles me to the point of complete surprise. This vegan strawberry cheesecake is definitely one of those!
Typically, when I crave something sweet, it's usually centered around chocolate, but strawberry cheesecake is one of those desserts I've loved since I can remember.
The tang, the cream, the sweet, the feeling your tongue is being swaddled in the food version of a down blanket..it's all just a beautiful experience.
While I've made many-a-cheesecake (both traditional using cream cheese and nontraditional using cashews – scope out my cheesecake archives for inspiration!), this is my first go at a strawberry cheesecake!
This no-bake vegan strawberry cheesecake recipe tastes like the real deal…you'd never know it wasn't riddled with dairy and sugar, but alas: it's not. It's basically made with nuts (uber fat alert).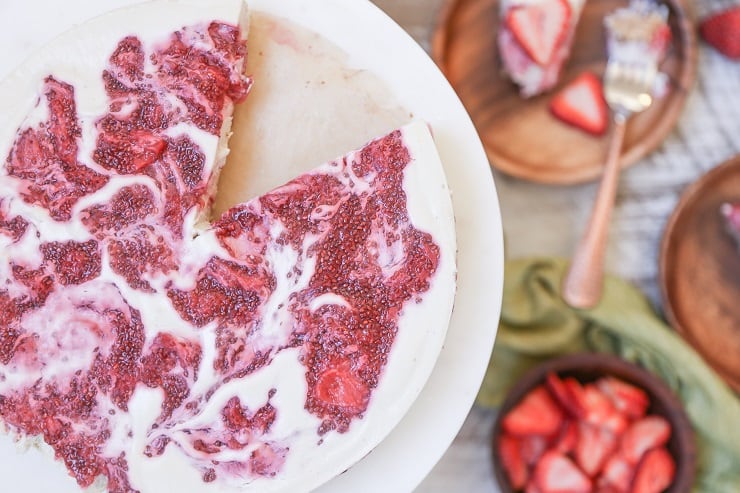 Can we buzzword it out? Here are our main features:
Grain-free and gluten-free

Dairy-free

Naturally sweetened

Loaded with fat and protein

Ultra creamy

Perfect amount of sweet

Raw, vegan, and paleo

No-bake (no oven time for this beauty)
The three parts to this recipe (crust, filling, and strawberry jam swirl) are all made using whole food ingredients that happen to be both paleo and vegan. The crust is prepared in your food processor with almonds, dates, and coconut oil. Can you believe it? It's just the easiest crust, short of buying a pre-made crust.
As for the cheesecake filling, all we do is blend soaked cashews, coconut milk, lemon juice, and pure maple syrup in a high-powered blender until it's silky-smooth. The strawberry swirl? It's nothing more than homemade strawberry chia seed jam!
This is one of those recipes that kinda has to be made in parts. The cashews need to be soaked for at least 3 hours (up to 8), and while they're soaking, you can prepare the crust and the strawberry chia seed jam. Both the crust and the strawberry jam need time to chill in the refrigerator, and both can be prepared up to a week in advance. Hint: if you're making the crust in advance, simply transfer the mixture to a zip lock bag or sealed container and refrigerate or freeze.
Can we talk macronutrients for a hot second? This no-bake vegan strawberry cheesecake is basically a fat bomb…it's pretty rich, so it's one of those desserts you want to eat after a light dinner…or consume for breakfast when you're about to go for a hike, bike ride, you catch my drift. Point is, while it's vegan, paleo, gluten-free, refined sugar-free and all that, it's no joke on the calorie spectrum.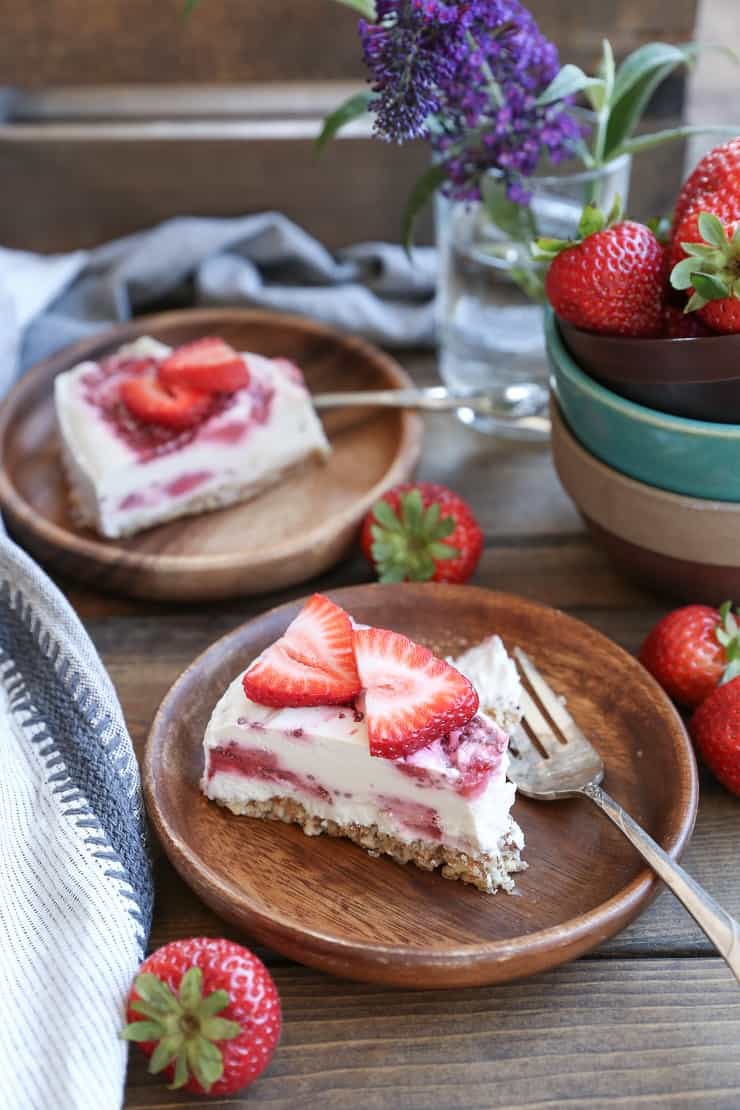 Recipe Notes and Adaptations:
I cook the jam on the stove top because I think the flavor turns out so nicely when it's been stewed for a while, but you can skip the cooking by blending the ingredients in a blender and allowing the jam to sit for an hour or so while it thickens. Skipping the cooking process will turn this into an entirely raw cheesecake (good to know if you follow a raw diet), and is also nice if you're avoiding heat like the plague.

You can use any nut (try pecans, walnuts, or cashews) for the pie crust.

Use any natural liquid sweetener, such as agave, coconut palm syrup, or honey (avoid honey if vegan).

If your cheesecake filling mixture seems way too thick, simply add more full-fat coconut milk to get it to blend.

Cheesecake leftovers should be stored in the freezer (I put wrapped mine in plastic, then put it in a zip lock bag).

You can use almost any fruit besides strawberries! Try raspberries, blueberries, blackberries, peaches, apricots, you name it! Just be sure you make a jam first using chia seeds so that the mixture is nice and thick. If you skip the making of the jam, you'll end up with a watery mess.

If you're planning on transporting the cheesecake, be sure to freeze it for several hours in advance so that it stays firm during your trip.
The way I see it, this is the perfect dessert to share with your buds for the 4th of July! Just be sure to get started on it well before the holiday to give yourself plenty of time. Enjoy!
My cookbook,
Paleo Power Bowls
, is now available! CLICK HERE to check it out. Thank you for your support!
If you make this recipe, please feel free to share a photo and tag @The.Roasted.Root on Instagram!
Vegan Strawberry Cheesecake Jars
Amazingly creamy dairy-free cheesecake with the most delectable strawberry swirl is an amazing no-bake dessert that is easy to make!
Ingredients
For the Cheesecake Filling:
For the Strawberry Jam Swirl:
Instructions
Prepare the Crust:
Add the ingredients for the crust to a food processor and process until a thick dough has formed - you may need to stop the food processor several times to scrape the sides.
Prepare the Strawberry Chia Seed Jam:
Add all ingredients for the strawberry jam swirl except for the chia seeds to a saucepan. Cover and bring to a full boil. Cook, stirring occasionally, until strawberries begin to soften, about 5 minutes. Reduce the heat and mash the strawberries using a fork or potato masher. Cover and continue cooking until thick, about 15 minutes. Add the chia seeds, stir well and allow strawberry mixture to cool to room temperature. Refrigerate in a sealed container at least 1 hour before using.
Prepare the Cheesecake Filling:
Soak the cashews for 3 to 8 hours in water. Drain, rinse, and add to a high-powered blender. Add the remaining ingredients for the filling to the blender and blend until completely smooth - this will take 1 to 3 minutes of blending.
Assemble the Strawberry Cheesecake:
Line a spring form pie pan with parchment paper. Press the crust mixture firmly into the bottom of the pan, creating a tight, even layer. Pour in the cheesecake filling. Spoon the strawberry mixture into each jar and give it a swirl.

Place the pie in the freezer and freeze 2 hours or until completely set up. When ready to serve, thaw the cheesecake 8 to 10 minutes. Slice and serve! Note: You can also refrigerate the cheesecake jars, but they won't set up as much as if you freeze them.
Notes
*You can also use honey if you aren't vegan. Honey gives the cheesecake a nice tang, which makes it taste even more like regular cheesecake than the pure maple syrup version!
Nutrition
Serving:
1
of 12
|
Calories:
439
kcal
|
Carbohydrates:
33
g
|
Protein:
11
g
|
Fat:
30
g
|
Saturated Fat:
6
g
|
Polyunsaturated Fat:
12
g
|
Fiber:
5
g
|
Sugar:
24
g
Looking for more festive 4th of July dessert recipes? Check these out!: