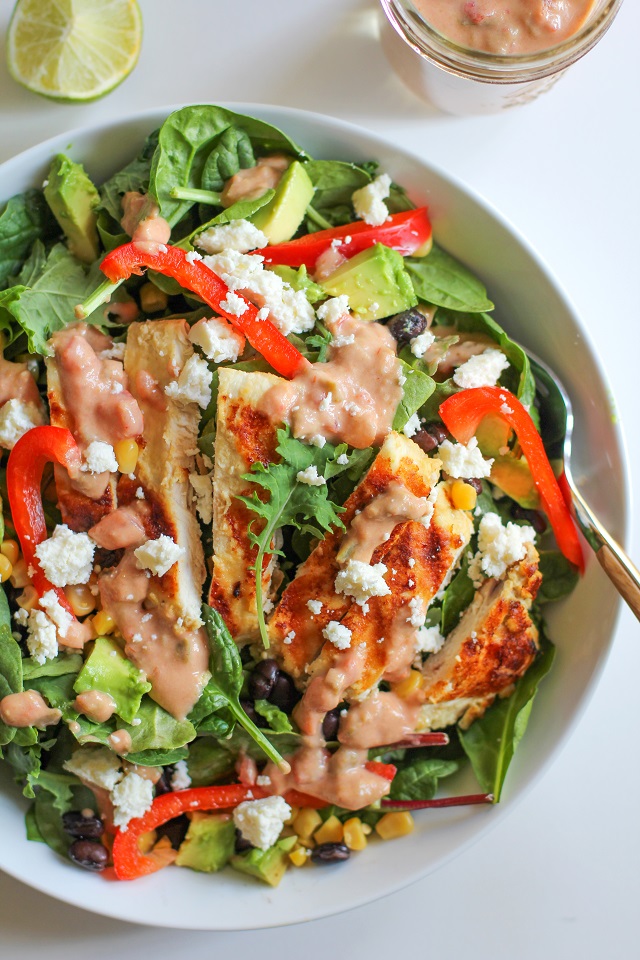 It's National Hummus Day, people, let's celebrate!
I feel like we need to blow this thing out of the water.
And not just in a dip-a-pita-or-baby-carrot-in-the-hummus sort of way, but a hummus on all the things sort of extravaganza.
Hummus in our breakfast burritos. Hummus on our lunch sammies. Hummus marinated grilled chicken salads with humus-salsa dressing for dinner. And chocolate peanut butter dessert hummus for our post-hummus feast treat.
Brush our teeth with hummus.
Juuuuust kidding.
Because a day that celebrates creamy, spreadable 'banzo beans is a day I think we can all stand behind. Because who doesn't love the stuff? No one here, I can already tell. And what a well-timed food holiday considering Memorial Day is this Weekend. Hummus is probably the numero uno sharable food in my book – so convenient, so tasty, so many flavors to choose from, and we can put it eeeeee'erywheeeeere!
I decided to hit the ground running on this whole hummus day thing by double whammying a salad with it.
Have you ever thought to marinate chicken using hummus and/or yogurt? Iiii know, sounds crazy, right? In order to make my chicken suuuuper tender and flavorful, I marinated it overnight in a mixture of Sabra's jalapeno hummus, some plain yogurt, and a touch of oil. I kept the thick marinade on the chicken when grilling it, which resulted in a nice flavorful crust.
Fair warning: the jalapeno hummus is fairly spicy, so those of you who are spice-averse, simply choose a different flavor – Classic, Pine Nut, and/or Roasted Garlic would work super well, too!
I sliced up the grilled chicken and tossed it around with greens, black beans, corn, bell pepper, and avocado and doused it in a southwesterly dressing. Can you guess what I put in the dressing? Thaaaasright, folks, hummus!
One of my friends introduced me to the hummus-salsa dressing many moons ago. Have you heard of it? It's nothing more than hummus and salsa mixed together and people, it is DElightful! It comes together in a split second and you can use it on any Southwestern or Mexican-inspired salad or tostada.
This filling and healthy salad is a great meal to share with guests at a barbecue or simply whip up any night of the week. You can turn this into a make-ahead meal by grilling the chicken in advance and throwing together this salad for future meals or work lunches. Options galore, folks!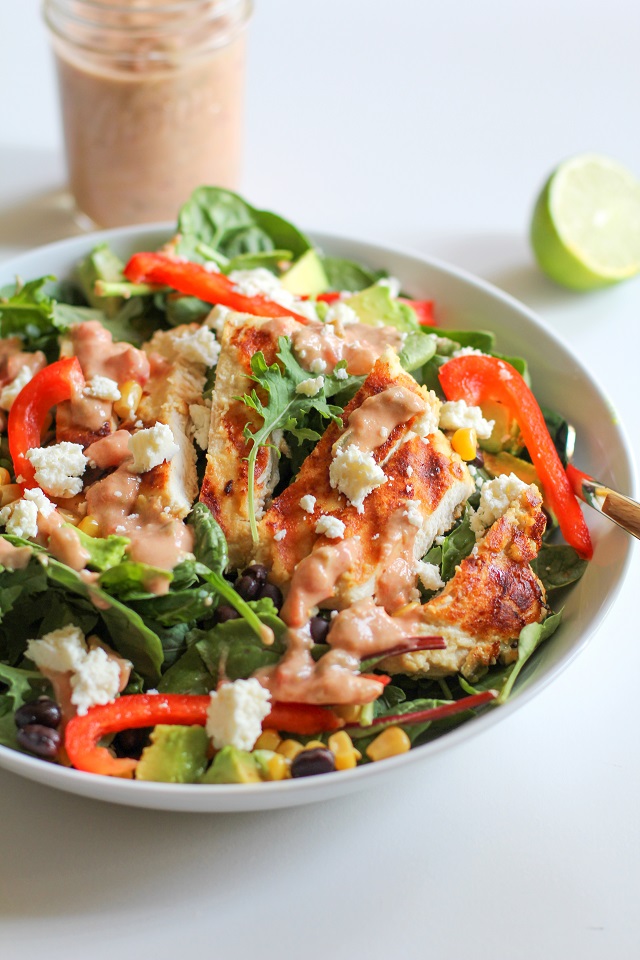 May your day be filled with hummus.
Hummus Marinated Grilled Chicken Salad with Hummus-Salsa Dressing
Did you know marinating chicken with hummus results in amazingly tender chicken? This delicious salad is loaded with nutrients!
Ingredients
For the Chicken:
For the Salad Dressing:
1/3

cup

Sabra Jalapeno Hummus

1/3

cup

Sabra Homestyle Medium Salsa
For the Salad:
10

ounces

baby kale or mixed greens

2/3

cup

black beans

drained and rinsed

2/3

cup

canned corn

drained and rinsed, or grilled

2/3

cup

red bell pepper

sliced

1

avocado

peeled and diced

1/3

cup

cotija cheese chunks
Instructions
Place 1 pound of boneless skinless chicken breasts (or thighs) in a large ziplock bag. Whisk together 1/2 cup of hummus, 1/4 cup plain yogurt, 2 tablespoons olive oil, and 1/4 teaspoon sea salt in a small bowl. Pour this mixture into the bag with the chicken and close the bag. Smoosh the chicken around to be sure everything is covered in marinade (note: the marinade will be very thick). Allow chicken to marinate overnight or at least 4 hours.

Preheat your grill to medium high. Place chicken breasts on the grill, keeping as much of the marinade on the chicken as possible. Grill until char marks are made, about 4 minutes. Flip to the other side and continue grilling until internal temperature reaches 155 to 160 degrees F, about another 3 minutes.

Place grilled chicken on a cutting board and slice into strips.

In a small bowl, whisk together the ingredients for the dressing.

Add all ingredients for the salad to a large serving bowl and toss together with desired amount of humus-salsa dressing. Serve with grilled chicken and enjoy!
Nutrition
This post was sponsored by Sabra. As always, all thoughts, opinions, and feelings expressed in this post are my own. Thank you for supporting the brands that support this site.