Baked chicken spinach salad with roasted pumpkin seeds, dried cranberries, fresh blueberries, feta cheese, and homemade raspberry vinaigrette – a nutritious lunch or dinner perfect for meal prep!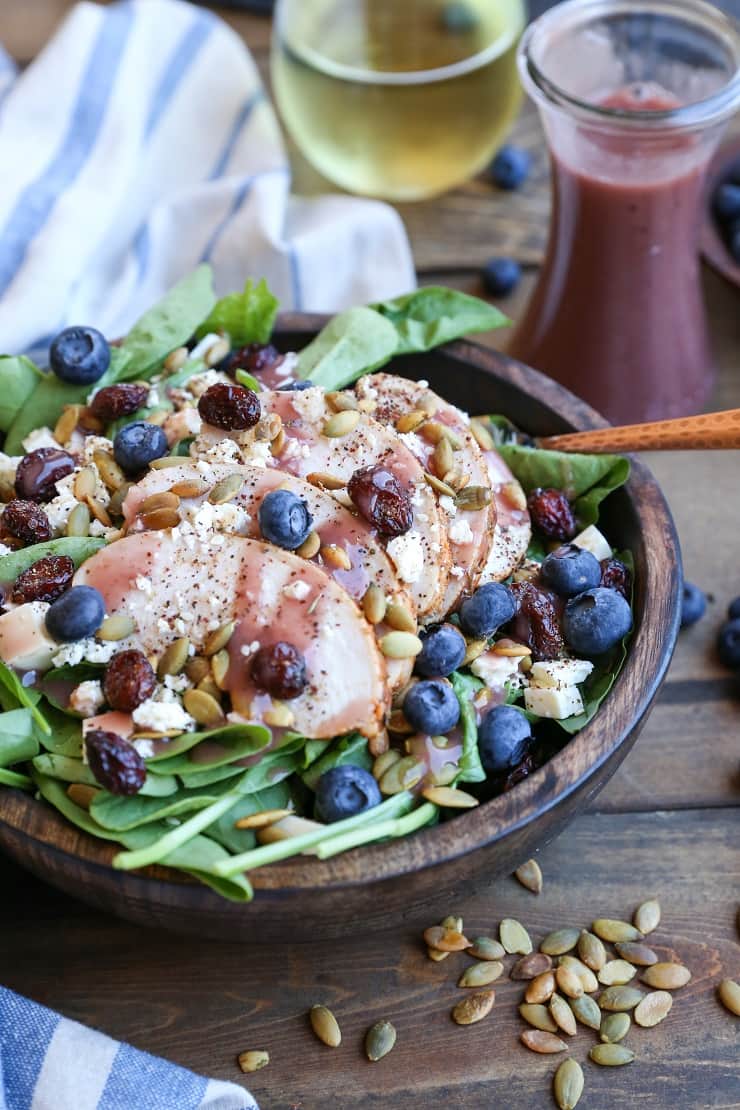 This is the picture perfect example of a lovely recipe materializing by pure accident out of a fridge and pantry cleanout.
Typically, my non-food blog food dawdles aren't anything to ooh and aah over, but you guys…
Oooooh…!
aaaaah…!
Let's talk about protein.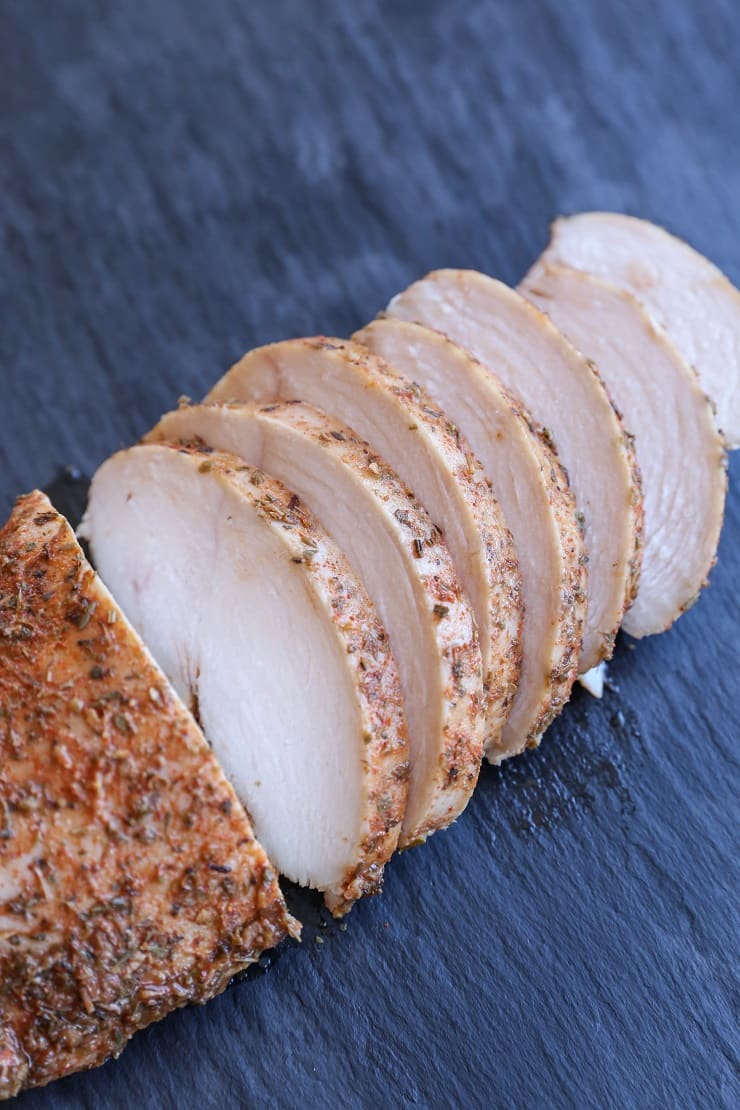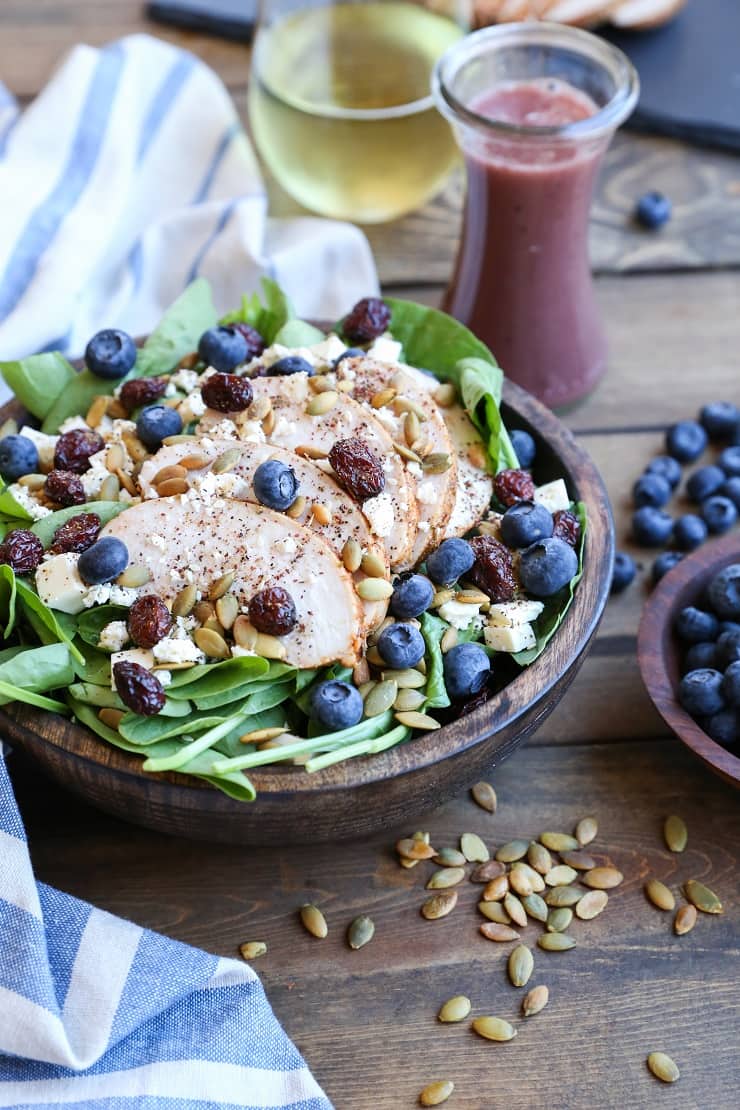 Historically, I have been in the habit of not giving lunch much attention – I would either eat a veggie-packed salad at best, or at worst, snack on whatever dessert recipe I was working on at the time.
Typically, my lunches would be fairly void of protein (save for the cucumber dill avocado tuna salad I make periodically), and contain mostly fat and fiber.
For me, this is a surefire way of losing momentum in the afternoon and being famished by the time dinner rolls around at 4pm (<- because I'm a near dead).
Although for the longest time I thought for sure I was eating enough protein, it has recently come to my attention that such is not the case (more on that in a later post).
My instant fix was to marinate some chicken breasts and bake them up to easily incorporate them into any meal.
This quick and easy change (eating more protein), has helped quite a bit with my digestion and gets me through the afternoon slump seamlessly.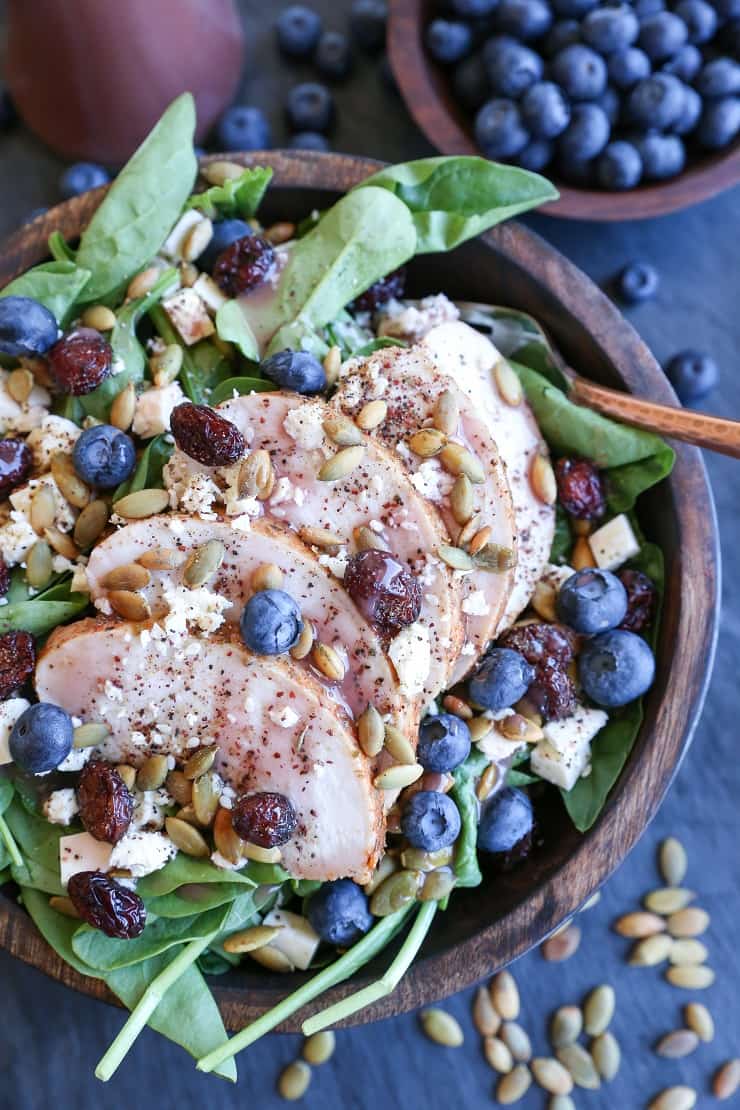 For those of you who have mingled with me for a while, you've probably heard me gripe about boneless skinless chicken breasts.
I've been the biggest naysayer of them all, guilty as charged.
Truthfully, I typically find boneless chicken to be blasé, and have had an exclusive relationship with the bone-in method. That was, until I made this recipe.
My approach was one of those toss whatever I could find in my pantry and spice cabinet in a zip lock bag, and shake the dang thing up (shake n' bake style) situations. I allowed the chicken to marinate for a couple hours, and kept my fingers crossed it would be edible in the end.
Folks, WOW!
Not only did it turn out edible, it's just the greatest boneless chicken adventure I ever did encounter.
To the extent that I've been putting it on repeat for all the meals -> I made it for two lunches and a dinner last week, because: obsessive.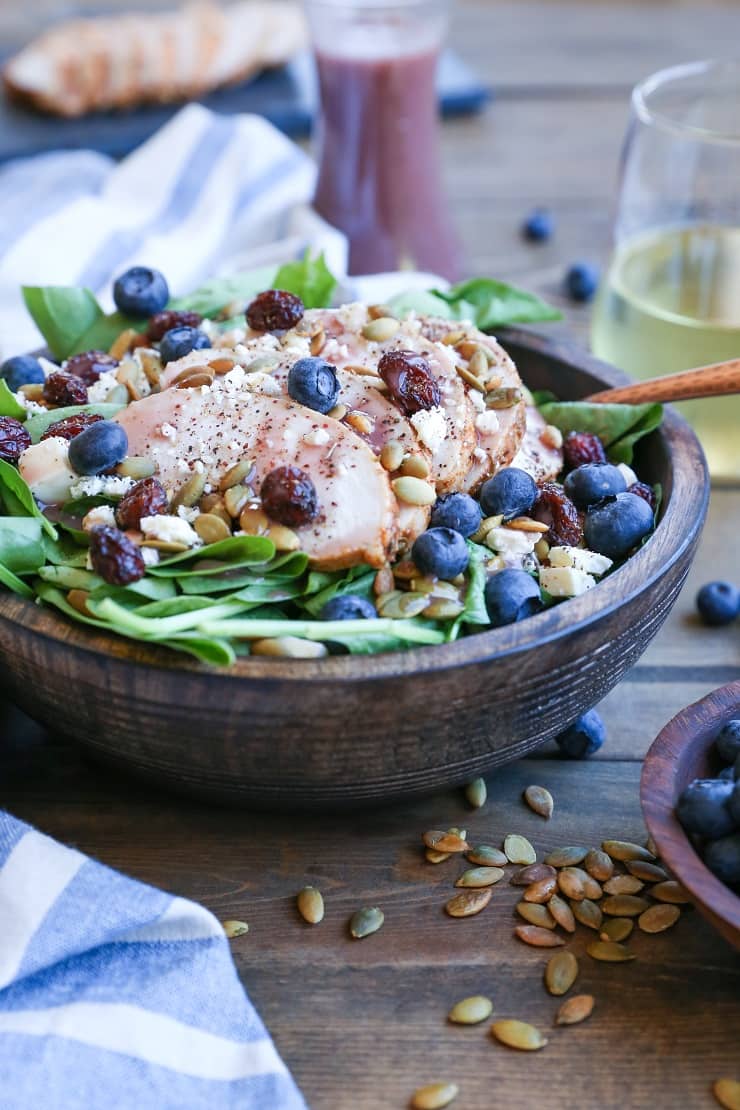 How to Make Baked Chicken Spinach Salad:
The way this salad shakes out is simple.
We marinate the chicken, bake it, then refrigerate it. For temperature purposes, refrigerating the chicken after baking it makes for a nice chilled salad. If you own an air fryer, you can skip some of the prep and cook time by making my Air Fryer Chicken Breasts.
Slice up the chicken and toss it on a bed of greens with dried cranberries, fresh blueberries, and feta.
Take the extra step of roasting some raw pumpkin seeds for a few minutes in the oven to give an even burlier burst of flavor. All that is left to do is to finish it off with a drizzle of homemade raspberry vinaigrette, and SHAZAM lunch (or dinner) of champions!
More Healthy Salad Recipes:
The way I see it, this chicken is the ultimate meal prep win for folks who eat animal protein.
First off, it's easy to prepare PLUS easy to prepare in bulk (I typically make a pound of chicken at a time, but you can easily scale it up).
Secondly, the chicken only takes 30 minutes to bake (shave off even more time by grilling it!).
It can marinate for a few hours to overnight, making it a super simple make-ahead option.
Lastly, it's lean. Boneless skinless chicken breasts don't contain very much fat, and my marinade is oil-free.
The result is a perfectly cooked, super tender and flavorful hunk of chicken…protein-packed with no added fat.
Perfect for those of us who love filling meals that leave us feeling energized!
Baked Chicken Spinach Salad
A fresh and filling spinach salad with baked chicken, dried cranberries, blueberries, pumpkin seeds and feta is a thrilling go-to for lunches and dinners!
Servings:
2
to 4 Servings
Ingredients
Raspberry Vinaigrette
1/4

cup

fresh raspberries

1

tablespoon

pure maple syrup

1/4

cup

olive oil

or grapeseed oil

1/4

cup

rice vinegar

or cider vinegar
Instructions
Prepare Raspberry Vinaigrette:
Add the ingredients for the raspberry vinaigrette to a blender and blend until combined. Refrigerate until ready to use.
Prepare the Baked Chicken
Add the ingredients for the baked chicken to a zip lock bag. Seal the bag and shake well until everything is well mixed. Refrigerate for at least 1 hour, up to 8 hours.

Preheat the oven to 350 degrees F.

Transfer the chicken to a casserole dish, pouring all the juices in the dish with the chicken. Bake on the center rack of the oven for 30 minutes, or until the internal temperature reads 165 degrees F. Allow chicken to rest 10 minutes.

Transfer chicken to a cutting board and slice (or refrigerate for chilled chicken).
Prepare the Spinach Salad:
Spread the pumpkin seeds on a baking sheet and place in the already preheated oven. Roast for 5 to 8 minutes, or until golden-brown. Remove from oven and allow pumpkin seeds to cool.

Add the ingredients for the spinach salad to a large serving bowl. Drizzle desired amount of raspberry vinaigrette over the salad and toss until everything is well coated. Divide the salad between 2 to 4 bowls, and serve with sliced chicken on top.
Notes
*You can use regular liquid aminos or low sodium soy sauce in place of coconut aminos
**I recommend using juice sweetened dried cranberries rather than sugar-sweetened.
Nutrition
Serving:
1
of 2
|
Calories:
609
kcal
|
Carbohydrates:
44
g
|
Protein:
61
g
|
Fat:
20
g
|
Fiber:
8
g
|
Sugar:
15
g