Superfood kale salad with homemade blueberry vinaigrette, goat cheese, and rosemary candied walnuts. The perfect side dish for a summertime BBQ. Just add chicken to make it an entree!
How much kale massaging have you been doing lately? While I admit I don't aaaaaalways massage my raw kale when tossing it into salads, I tend to enjoy the result more when I do take the time to caress my greens. For those of you who are new to the concept, massaging lemon juice into kale leaves makes for softer, more supple greens for a tenderer, more chewable experience.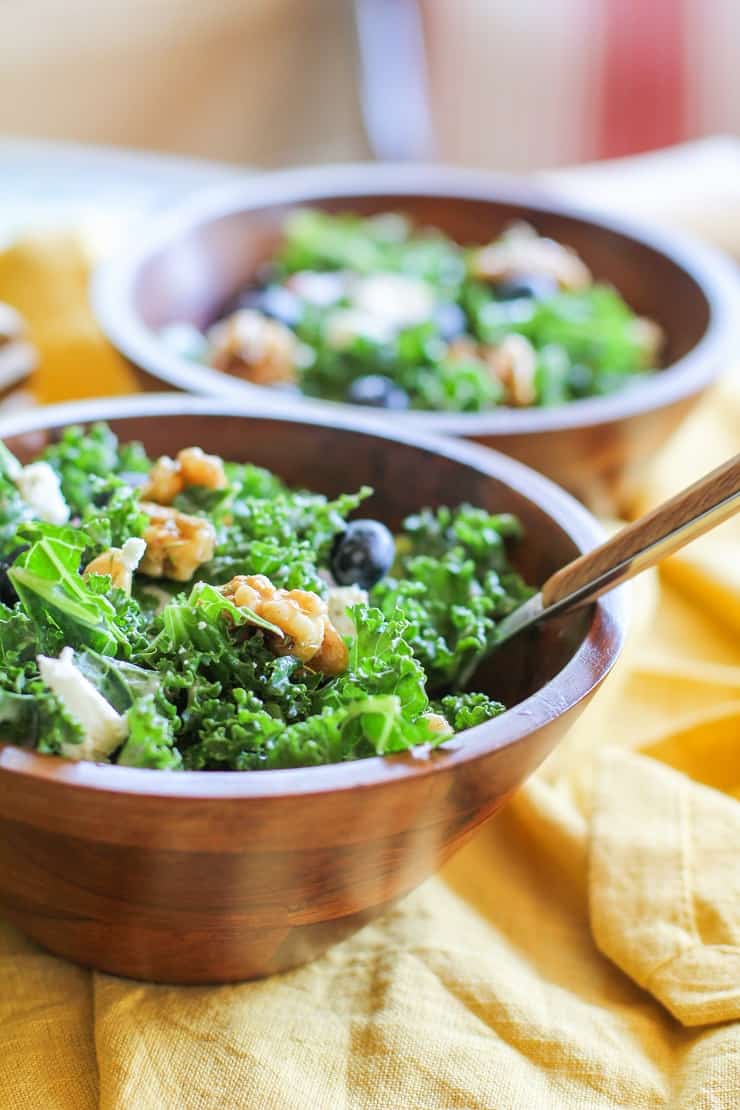 Remember this salad? I posted it a few years back (see original post here). It comes straight out of the Salads section of my cookbook, Let Them Eat Kale! I thought I'd re-visit this salad because 1.) It's one of my all-time favorites, 2.) It's hot as hades outside and in, and 3.) Just add strawberries and you've got yourself a festive side dish for your Independence Day BBQ.
Kale salads. Kill.in.it. I eat A LOT of kale during the summer. Not because I'm trying to impress the beach brodies with my ripped abs and cut biceps (I have neither, not even close), but because consuming anything above room temperature makes me sweat crocodile tears.
While I actually do love to sweat in appropriate settings, excreting while eating is not my jam. Just FTR.
But raw kale salad? Crisp, cool, anti-inflammatory, chock full of nutrients salad just makes life more pleasant when the thermometer is in it to win it. Don't let it win. You beat it…beat it good.
Did you know kale season runs mid-summer through December? It's a long one. Although the leafy green is avail year-round, we have even more reason to hop to kale salads to beat the summer heat given the superfood will be in its prime.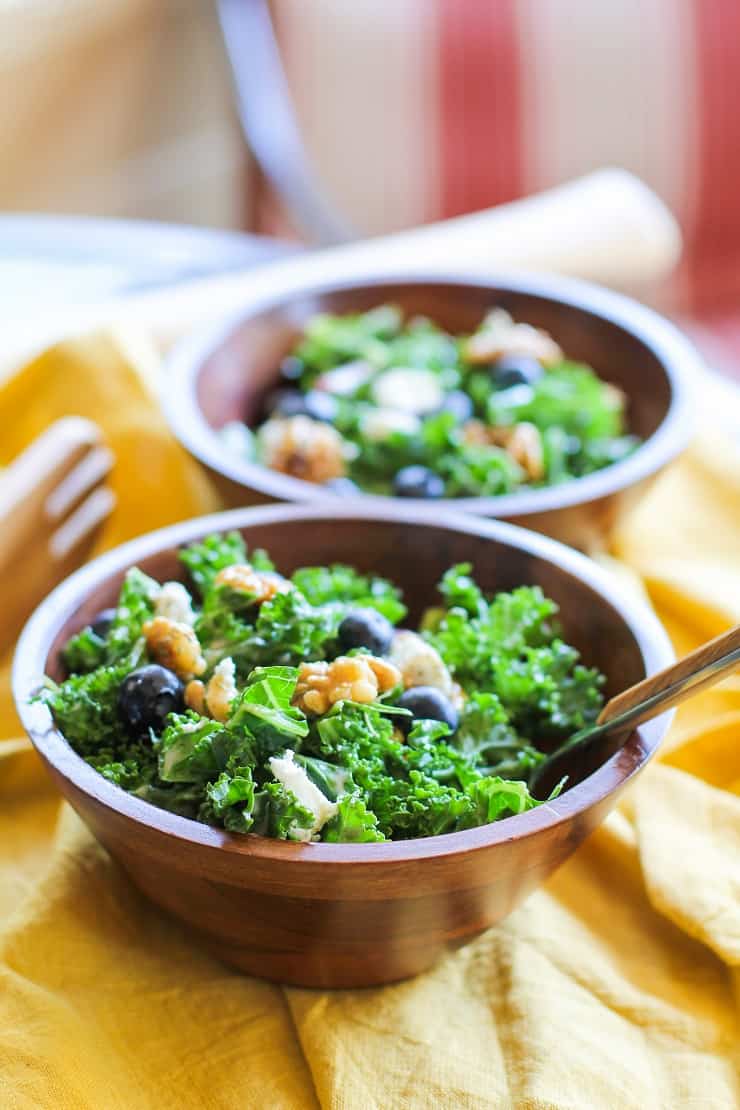 This is fancy, let's talk. We start by massaging the kale leaves in order to relieve stress…err..I mean to break down the tough fibers, making the leaves easier to chew. All this requires is some lemon juice and elbow grease.
While the kale is marinating in it's lemony massaged state of relaxation, you toast up some walnuts with fresh (or dried) rosemary and pure maple syrup to give the salad something extra special. Toss in some goat cheese (feta works too), fresh blueberries, and tie it all together with homemade creamy blueberry vinaigrette and you've got yourself a pretty savage shake down with the Queen of all greens (kale that is).
Options for Change-ups:
Need protein to make it an entree? Just add egg (hard boiled, fried, poached, or sunny side up), grilled chicken, or tofu.

Prefer raspberries, strawberries, or blackberries over blueberries? Do a little 1:1 swaperooski.
Use pecans, almonds, or cashews in place of walnuts.
Massage thy kale!
Massaged Kale Salad with Rosemary Walnuts and Blueberry Vinaigrette
Nutrient-dense kale salad with blueberry vinaigrette and toasted walnuts will delight all who try it!
Ingredients
Massaged Kale Salad:
1

large head kale

chopped

2

tablespoons

fresh lemon juice

¼

red onion

thinly sliced

1

pint

blueberries

1

cup

rosemary candied walnuts

recipe below

½

cup

goat cheese crumbles

Blueberry vinaigrette

recipe below
Creamy Blueberry Vinaigrette:
1/3

cup

grapeseed oil

3

tablespoons

white vinegar

1-1/2

cups

fresh blueberries

makes about half cup of syrup

2

tablespoons

pure maple syrup or honey

to taste

1/3

cup

whole milk plain yogurt

½

teaspoon

salt
Rosemary Candied Walnuts:
1

cup

walnut halves

1

teaspoon

grapeseed or olive oil

1

tablespoon

pure maple syrup

1

teaspoon

fresh or dried rosemary

Pinch

of salt

Dash of cinnamon

Dash of ground ginger
Instructions
Prepare the Creamy Blueberry Vinaigrette:
In a saucepan, heat the blueberries and honey over medium heat, covered until blueberry juices are seeping out and bubbly.

Mash blueberries with a fork to help get juices out and cook an additional 5 minutes but don't allow the mixture to boil over.

Remove from heat and strain blueberry syrup using a fine wire strainer.

Discard the blueberry pulp and place blueberry syrup in refrigerator to cool.

Once cool, combine blueberry syrup with all other ingredients for the vinaigrette and mix vigorously with a whisk until smooth and creamy (or place everything in a blender and blend until smooth and creamy). Place in refrigerator until ready to use.
Prepare the Salad:
Place the chopped kale leaves in a salad bowl and drizzle the lemon juice over the leaves. Massage leaves with your hands about 2 minutes and let sit about 10 minutes in order to allow leaves to soften. Add all other salad ingredients to salad bowl and set aside.
Prepare the Rosemary Candied Walnuts:
Using a small skillet, heat the grapeseed oil, honey and rosemary over medium low heat.

Add the walnuts and stir to coat.

Sprinkle a touch of cinnamon, ground ginger and salt over the walnuts and allow nuts to continue to toast another 3 to 5 minutes, stirring constantly.

Don't allow nuts to sit without stirring because the honey will burn onto the nuts quickly when unattended. The nuts are ready when they are soft yet toasty, warm all the way through and have a nice sweet glaze on the outside.

Sprinkle the walnuts over the salad and drizzle blueberry vinaigrette over everything to taste. Toss with your hands or salad tongs to ensure everything is evenly coated. Enjoy!
Notes
Use leftover Creamy Blueberry Vinaigrette for other salads! Store in a sealed container in the refrigerator for up to 1 week and stir before using.
Nutrition