Strawberry coconut milk Popsicles made dairy-free and cane sugar-free with coconut milk and pure maple syrup. Only 3 ingredients needed!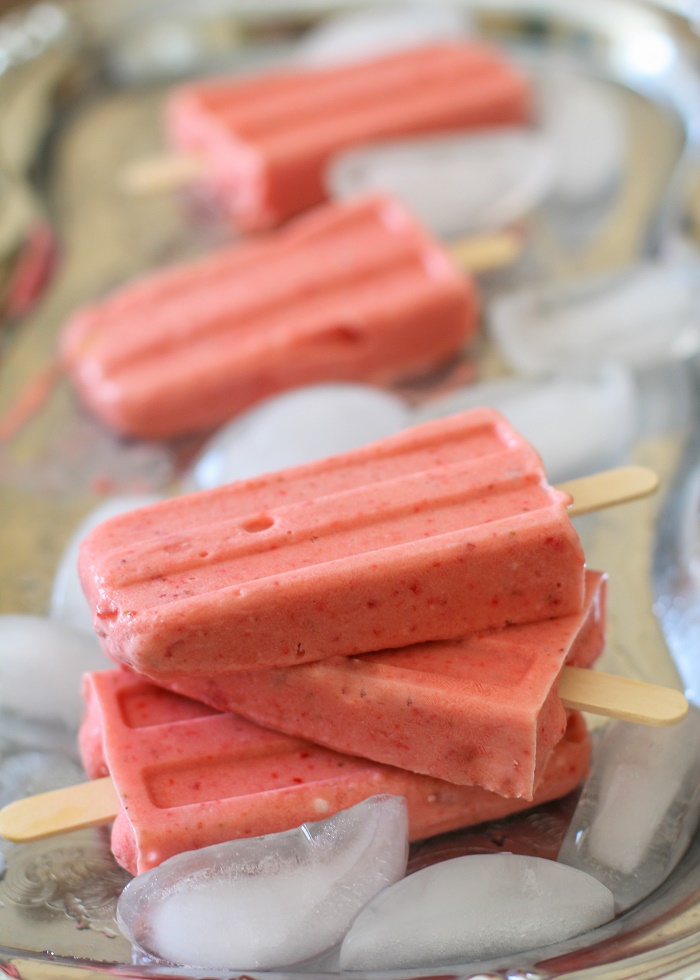 Last week, I got a little carried away in the frozen desserts department. I was working on a couple of Popsicle freelance projects, which of course inspired me to make Popsicle for my own blog.
..Which of course inspired me to make ice cream, which of course inspired me to make no-bake vegan tarts (of which you will see soon). All related by two common ingredients: coconut milk and maple syrup, but of course.
Before I knew it, frozen desserts became…well…my meals. 😉
And now I have frozen desserts to feed an army slash survive the zombie apocalypse slash last me the entire year. Send help.
If you've never made popsicles with coconut milk, I highly suggest you try it! They turn out rich, soft, and creamy and the dessert is healthful while quenching your sweet tooth.
I whipped up these strawberry popsicles using ripe strawberries I had stuck in the freezer a couple of weeks ago.
Ingredients for Strawberry Coconut Milk Popsicles:
Strawberries (fresh or frozen!)
Coconut Milk – use full-fat canned coconut milk for best results!
Pure Maple Syrup – for sweetening. You don't need very much because strawberries are already naturally sweet. Adjust the amount of maple up or down according to taste.
How to Make Vegan Strawberry Coconut Milk Popsicles:
You guys, these are just the easiest things in the whole world to make. And the flavor is REAL! Like is sucker punches you in the tongue buds before you know what hit ya real.
All you do is throw ripe strawberries, full-fat coconut milk, and pure maple syrup in the blender and blend until creamy.
Scoop the mixture into your popsicle molds (<-amazon affiliate link, just sayin'), freeze for 3 to 4 hours and WHAMO! Party in your mouth trap.
The best part: every lick of it is healthy. You've got the vitamins and antioxidants from those strawberries, healthy fat from that coconut milk, and all the natural sweetness for a refined sugar-free frozen dessert.
…So eat 17 of them.
…Just kidding, the recipe only makes 10.
I had a difficult time resisting the temptation to not pour the mixture into a glass and drink it like a smoothie or milkshake. And since we're on the topic of milkshakes, I bet you could use this exact recipe for a sorbet/ice cream-like apparatus in your ice cream maker. You best believe I'll be trying that out soon!
More Delicious Healthy Popsicle Recipes:
My cookbook,
Paleo Power Bowls
, is now available! CLICK HERE to check it out. Thank you for your support!
If you make this recipe, please feel free to share a photo and tag @The.Roasted.Root on Instagram!
Strawberry Coconut Milk Popsicles
Creamy strawberry popsicles made with coconut milk and pure maple syrup
Instructions
Add all of the ingredients for the popsicles to a high-powered blender. Blend until completely smooth. Taste mixture for sweetness. Add more pure maple syrup if desired.

Spoon the strawberry coconut mixture into ten 3-ounce popsicle molds. Use a spoon to tap down on the mixture to get out any air pockets. Place cover on mold and insert popsicle sticks into the center of each mold.

Freeze for 3 to 4 hours, until completely frozen (note: if you use fresh strawberries, freeze for 5 to 6 hours).

When ready to eat, run the outside of the popsicle mold under hot water for 10 to 15 seconds. Remove the cover and gently pull on the popsicle sticks. Popsicles should release easily.
Notes
*If using store-bought frozen strawberries, add more maple syrup to taste.
Nutrition
Serving:
1
of 10
|
Calories:
142
kcal
|
Carbohydrates:
15
g
|
Protein:
1
g
|
Fat:
10
g
|
Fiber:
2
g
|
Sugar:
10
g