Hummus flatbread with sun-dried tomatoes, feta, spinach, pine nuts, and pesto sauce makes for an easy-to-prepare appetizer or snack.
This post is sponsored by Sabra.
It's National Hummus Day tomorrow! How should we get this party started? Truthfully, celebrating your love for the spread needs no occasion, but this is a national food holiday in which I proudly participate each year. My approach isn't very fancy, doesn't require much time, effort, or ingredients…it's more of a true ode to hummus, because the hummus itself is the star of the event.
Take, for instance, this flatbread. Appetizer extraordinaire! Completely informal yet healthful, and satisfying.. plus fiercely customizable. The way I see it, this is the perfect go-to for an afternoon snack or pre-dinner appy to tide you over before you make dinner.
And it happens to be the ultimate reflection of my appetizer philosophy…a little messy, a lot of flavor, strong potential to become actual dinner.
I smeared Sabra's Roasted Pine Nut Hummus on flatbread, then topped it will all sorts of goodies. The only thing that could make this flatbread better is dipping the thing in more hummus. I'm heavily biased, but I also deeply believe Sabra's Spinach & Artichoke, Tuscan Herb Garden, or Basil Pesto hummus would work like a dream in this application, too.
One of the best parts about this recipe (aside from the fact that it requires only a handful of minutes to prepare) is it's healthful with plant-based nutrition.
Flatbread made with whole grains (you can use store-bought whole wheat or gluten-free flatbread, or even make your own), protein-packed hummus, and fiber from the veggies leads us to a healthful snack that we can use as a go-to any time of the day. It's a great concept for an unofficial meal to keep your hangry monster at bay before dinner.
Recipe Adaptations:
Another major win? You can really approach this flatbread however you'd like. It doesn't have to be a formal recipe. You can top with any fresh seasonal veggies, cheese, nuts and seeds you happen to have in your pantry. Go Greek by doing a cucumber, kalamata olive, tomato situation if you're into themes.
..and for our next unofficial meal: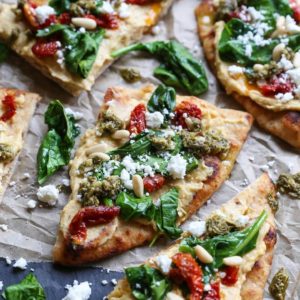 Hummus Flatbread with Sun-Dried Tomatoes, Spinach, and Pesto
Print
Ingredients
3

naan flatbread

see note*

1

10-ounce

container Sabra Roasted Pine Nut Hummus

2.5

ounces

baby spinach

1/4

cup

sun-dried tomatoes

drained

2

tablespoons

pine nuts

1/4

cup

pesto sauce

1/3

cup

feta cheese crumbles
Instructions
Heat 2 teaspoons of olive oil in a skillet over medium heat, add the spinach and cover. Cook until spinach is wilted, stirring occasionally, about 2 minutes.

Toast the naan/flatbread on a skillet or in the oven.

Smear the hummus liberally over the naan. Layer with sauteed spinach, sun-dried tomatoes, and pine nuts. Drizzle with pesto sauce and sprinkle with cheese. Cut into pieces and serve.
Recipe Notes
*You can use any gluten-free flatbread or your own homemade pizza crust