Fresh and clean blackberry basil mojitos sweetened with pure maple syrup. An easy-to-customize cocktail for your summer patio snapchatting.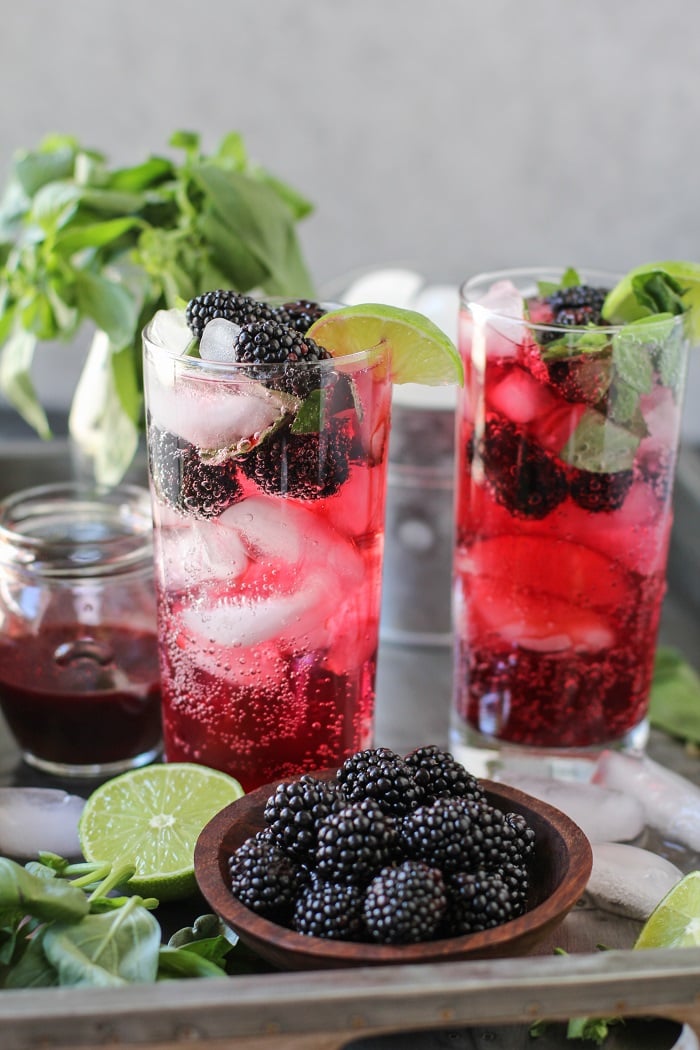 I made these Blackberry Basil Mojitos about a month ago for no other reason than 1.) I had blackberries on hand 2.) I had basil on hand 3.) I had a hankering for booze.
They came together almost in dream-like fashion.
Quickly, seamlessly, deliciously.
The best part about these mojitos is they're refined sugar-free, making them a lower calorie, lower sugar cocktail.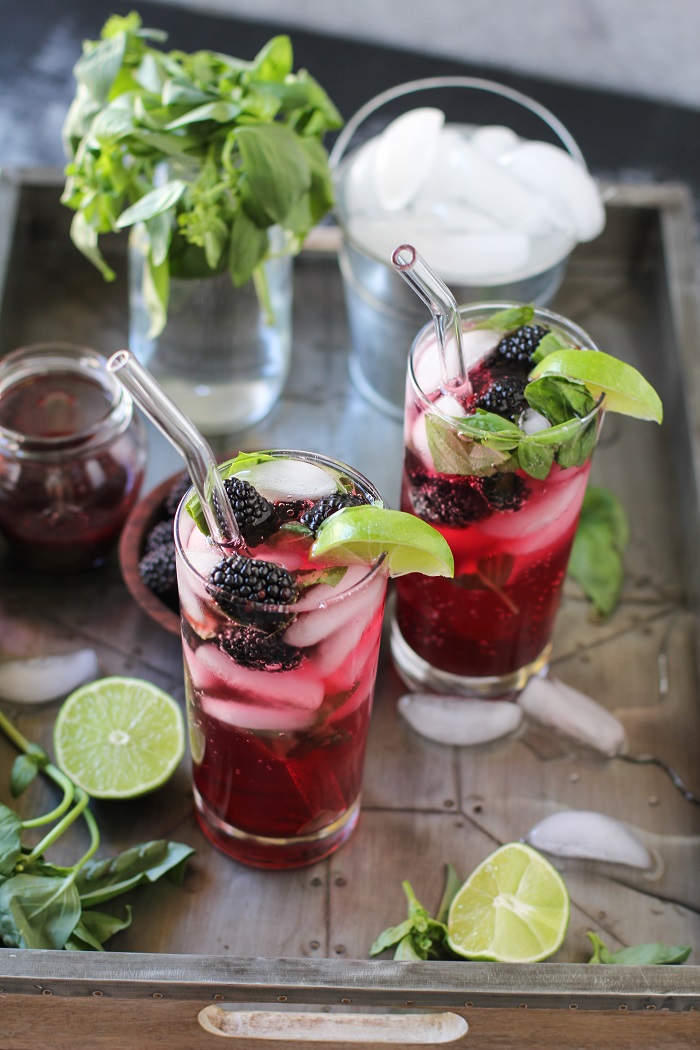 A skinny mojito recipe, if you will. On the blog. Right here, right meow. Make them your fave.
The basic idea behind this refreshing cocktail recipe is we make a homemade simple syrup using fresh blackberries and mint. We then stir this simple syrup up with regular mojito ingredients (rum and soda water) for a delicious, crisp adult beverage.
The ingredients we need are simple!
Blackberry Basil Mojito Ingredients:
A traditional mojio is made with simple syrup, rum, muddled mint, and soda water. We're simply adding more spunk by using our own homemade blackberry simple syrup that's sweetened with pure maple syrup instead of regular sugar.
We need: white rum, fresh mint, limes, fresh blackberries, soda water, and pure maple syrup.
Here are some options for customizing your every mojito.
Recipe Adaptations:
Use blueberries, strawberries, raspberries, cherries, mango, pineapple, peaches, etc in place of the blackberries – just be sure to strain the pulp out after you stew the fruit, lest you end up with a pulpy drink.

Replace the basil with sage, thyme, mint (the traditional route), or rosemary.

Incorporate any natural liquid sweetener of your choosing, such as agave nectar, honey, or coconut palm syrup instead of pure maple syrup.

The recipe for the blackberry-basil simple syrup makes enough juice for 3 to 4 cocktails – if you're serving more than 3, I'd recommend doubling the recipe.
If you'd like, you can take the Big Batch approach by mixing together all the rums, syrups, soda, lime, etc. in a big ol' pitcher and serving to your community. To take this route, add a bunch of ice to a pitcher, along with 4-1/2 ounces of white rum, 4 ounces fresh lime juice, all of the blackberry syrup, and about 24 ounces of sparkling water. You can adjust the amount of booze after stirring vigorously and tasting.
I mean, if you want to, you can use vodka instead of rum. I certainly wouldn't put the kibosh on that. Just don't go running around spouting off about how you made Julia's vodka blackberry basil mojitos, cause at that point, we're closer to cosmo territory than we are the mojito district since we're stretching the "mojito" terminology as it is. Have my back, don't ruin my reputation, I work so hard to protect it. Wink wink, nudge nudge.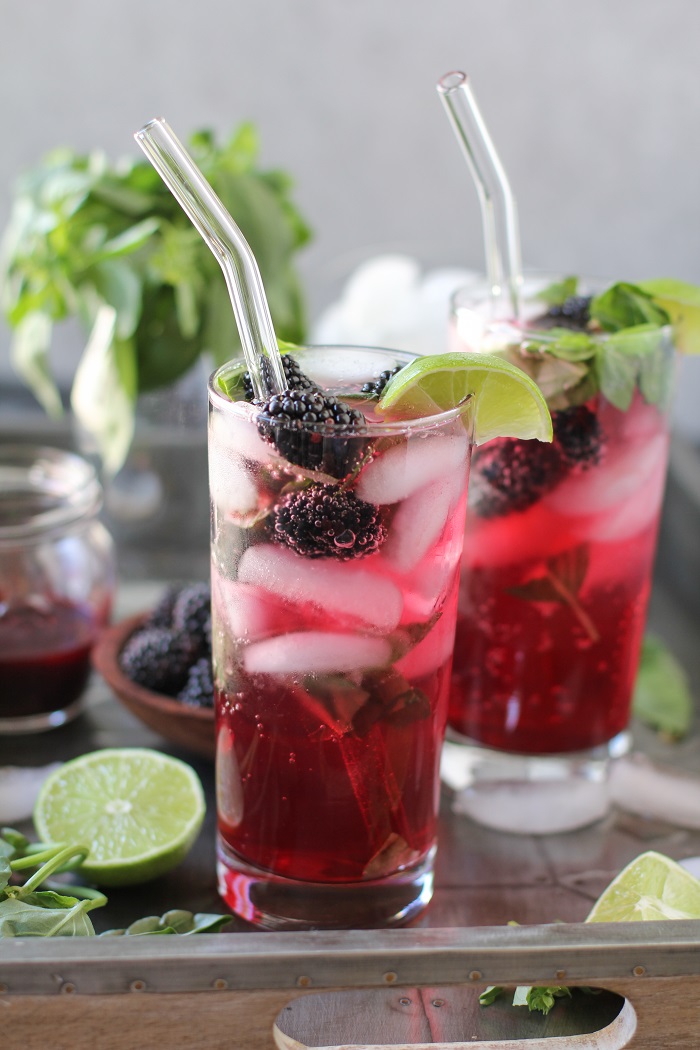 The truly authentic mojito is prepared by muddling mint and lime wedges, and you can certainly mimic this process using basil and lime.
I just tend to take the lazy approach and skip the muddling process, but this's your party and you can muddle if you want to.
If you love this refreshing cocktail recipe, you may also enjoy my Lemon Thyme Bourbon Cocktail or my Strawberry Moscow Mules.
Mo fo yo JITO! <- I got nothing.
Blackberry Basil Mojitos (naturally sweetened)
Blackberry Basil Mojitos are fresh, herby, tangy, and perfectly sweet for a healthier cocktail recipe!
Ingredients
Blackberry Simple Syrup:
2

pints

blackberries

plus more for serving

1/3

cup

water

1/3

cup

pure maple syrup

¼

cup

basil leaves

chopped, optional
Blackberry Basil Mojitos
1-½

ounces

white rum

3

leaves

basil

Blackberries

1

ounce

fresh lime juice

3

tablespoons

blackberry syrup

recipe above

cup

Sparkling water

about ½ per mojito

Lime wedges
Instructions
Prepare the Simple Syrup:
Add the blackberries, water, and pure maple syrup to a saucepan. Cover, and bring to a full boil. Reduce the heat to a simmer, uncover, and simmer until blackberries turn bright pink and the mixture is very fragrant, about 8 to 10 minutes. Remove mixture from heat, add the basil, and replace the cover. Allow saucepan to sit for 5 minutes for the flavors to infuse.

Strain the blackberry mixture into a jar (I like using a small fine mesh strainer), and push the blackberry and basil pulp against the strainer with a spoon or fork to maximize the amount of syrup (and flavor) you get out. Discard the blackberry and basil pulp. Refrigerate the syrup until ready to use (note: if you'd like to reduce the syrup further until it's thick, simply cook it longer on the stove top before refrigerating. This is certainly an option, although it isn't necessary).
Prepare the Mojitos:
Add desired amount of fresh blackberries and chopped basil to each glass, then fill with ice. Pour 1-½ ounces of white rum into each glass, followed by 1 ounce of lime juice and 3 to 4 tablespoons (to taste) of blackberry syrup. Fill the remainder of each glass with sparkling water (or soda water), stir, and garnish with lime wedges.
Nutrition
Serving:
1
cocktail
|
Calories:
150
kcal
|
Carbohydrates:
9
g
|
Sugar:
9
g
If you make this mojito recipe, feel free to snap a photo and share it on instagram, tagging me at
@The.Roasted.Root
.