Vegan Key Lime Ice Cream – a refined sugar-free and paleo friendly key lime ice cream made with a secret ingredient…can you guess what it is??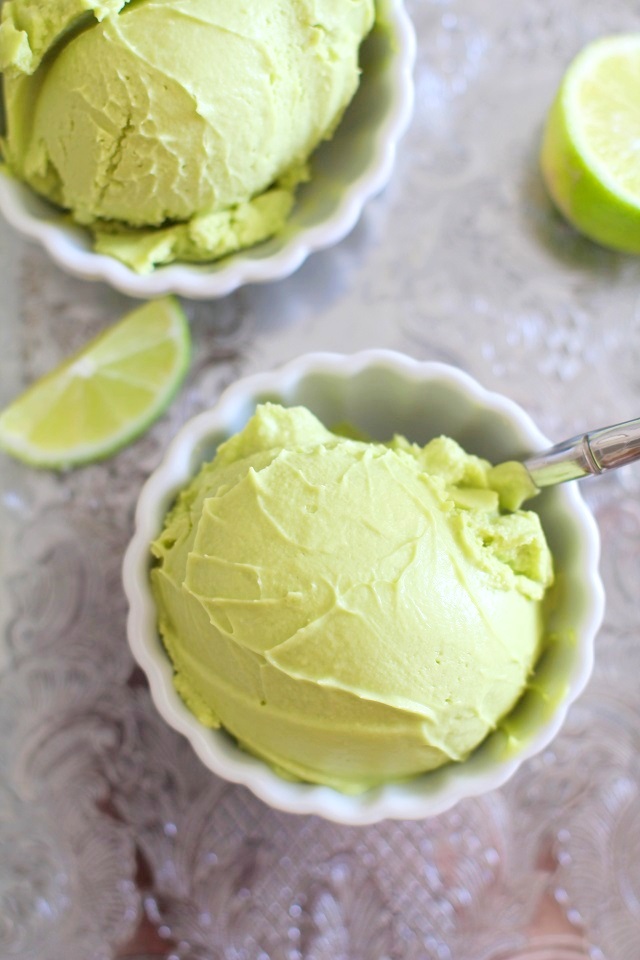 Avocados!
Cue record scratch.
Do what?
For reals, avocados are the secret ingredient in this key lime ice cream.
As seen in guacamole.
As seen in all the dinner salads to make them more palatable.
As seen in many-a-vegan-and-or-paleo baked good for fat infusion and butter reduction.
I know, it's a mind blow…but you guys, avocados make the creamiest, dreamiest, most scoopable vegan homemade ice cream that ever made your tongue's acquaintance.
Because vegan (or paleo) ice creams need a little help in the texture department, I'm always on the prowl for secrets to make it soft that don't (obvi) involve egg yolks or heavy cream. As it turns out, avocados get the job done in great form!
I promise, you can't taste the avocado, on account of all the lime juice and pure maple syrup. It really just tastes like key lime coconut bliss.
And it's about as addicting as a Netflix Original. Following this key lime adventure, I made a chocolate version (sans lime juice butofcourse, cause that'd just be weird), and it turned out marvelously as well. It almost comes out with a gelato-like consistency.
How to Make Vegan Key Lime Ice Cream:
We all know how much I love to use my blender for preparing sweet treats, and this recipe was no exception. All of the ingredients went into my Wolf Blender, then straight into my ice cream maker. No heating necessary, no stirring or whisking…just the zippity do dah in the ol' blender (or food processor if that's your jam).
All things considered, this ice cream is:
Paleo-friendly
Egg-free

Dairy-free

Refined sugar-free

Super fatty

Fatty, fat, fat

But the healthy kind though

Worth the extra time at the gym

Will give you wings
This ice cream was inspired by those No-Bake Vegan Key Lime Tarts I showed you a while back.
I ended up freezing a lot of them, and noticed upon consumption that the filling stayed soft and creamy, at which point it dawned on me, lose the silly crust, I just need the filling, and then it dawned on me some more that holy MACKEREL, I can just make ice cream out of the filling and so on and so forth.
So I basically took the exact recipe for the tart filling and turned it into ice cream.
Sweetener Options:
I like using pure maple syrup, but you can also use honey or coconut palm syrup. Make this recipe low-carb and keto by replacing the liquid sweetener with a powdered zero-sugar sweetener, such as Swerve, Stevia, or Monk Fruit. If using a zero-sugar sweetener, start with 1/3 cup and increase up to 1/2 cup to your personal taste.
No regrets. Just tears of joy. My hips don't lie. Roll with it.
My cookbook,
Paleo Power Bowls
, is now available! CLICK HERE to check it out. Thank you for your support!
If you make this Vegan Key Lime Ice Cream, please feel free to share a photo and tag me at @The.Roasted.Root on Instagram!
More Delicious Ice Cream Recipes:
Here's that recipe I've been talking about:
Key Lime Avocado Vegan Ice Cream
Vegan key lime ice cream made with avocados!
Instructions
Start by placing the bowl of your ice cream maker in your freezer and freeze overnight.

Add all of the ingredients to a blender or food processor. Blend until completely smooth.

Transfer ice cream base to your ice cream maker and churn until thick and creamy.

Serve immediately for soft serve consistency, or transfer ice cream to a freezer-safe container and freeze until hardened, about 2 hours.

When ready to serve, thaw ice cream 5 to 10 minutes before scooping.
Nutrition
Serving:
1
of 6
|
Calories:
373
kcal
|
Carbohydrates:
20
g
|
Protein:
1
g
|
Fat:
34
g
|
Fiber:
17
g