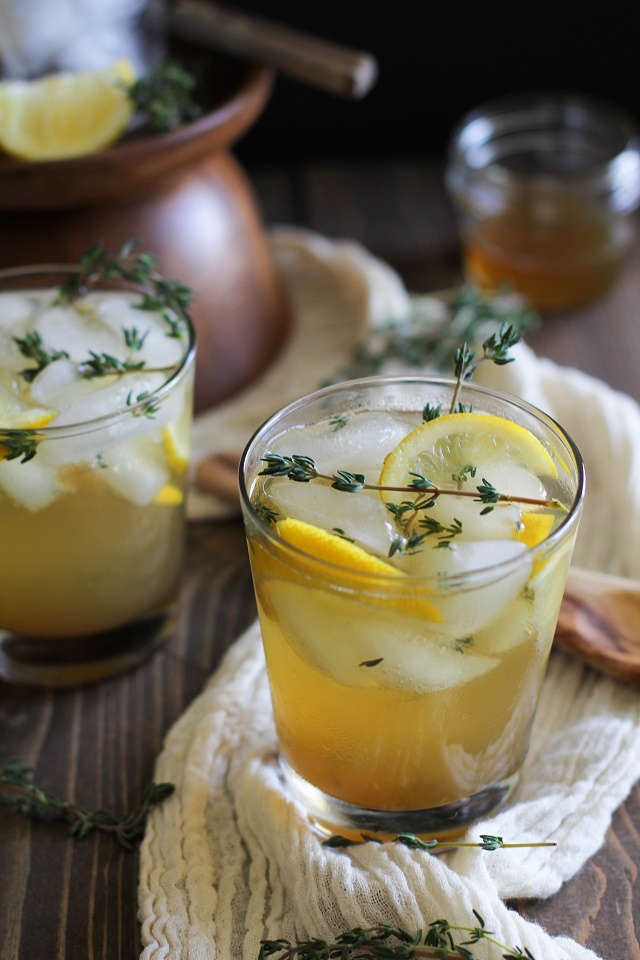 You guys, I legit hurdled a rattlesnake a couple of days ago and lived to tell the tale!
Story time.
Get cozy.
I went for a jog on one of my usual trails, which goes through the desert-y canyon lands of Reno, NV. It's a narrow single track trail with a lot of direct sunlight, so I usually see quite a few lizards basking on rocks while I jog along. It's therapeutic.
Having grown up in the mountains, I'm no stranger to wildlife. I've jogged alongside a coyote (no joke), and have seen plenty of bear on hiking trails, digging through dumpsters, and taking strolls down the center of the street. I'm generally unafraid of wildlife, because wild animals typically mind their own business unless they're being threatened. 5'3" 115 122-pound chicklet here is about as intrusive as a toddler in a room full of glued-down plastic objects padded with blankies and whipped cream. <- just roll with it.
Unless you're a snake whose slithery little serptine body spans the width of the entire trail I'm pounding with my own two feet.
Moving right along.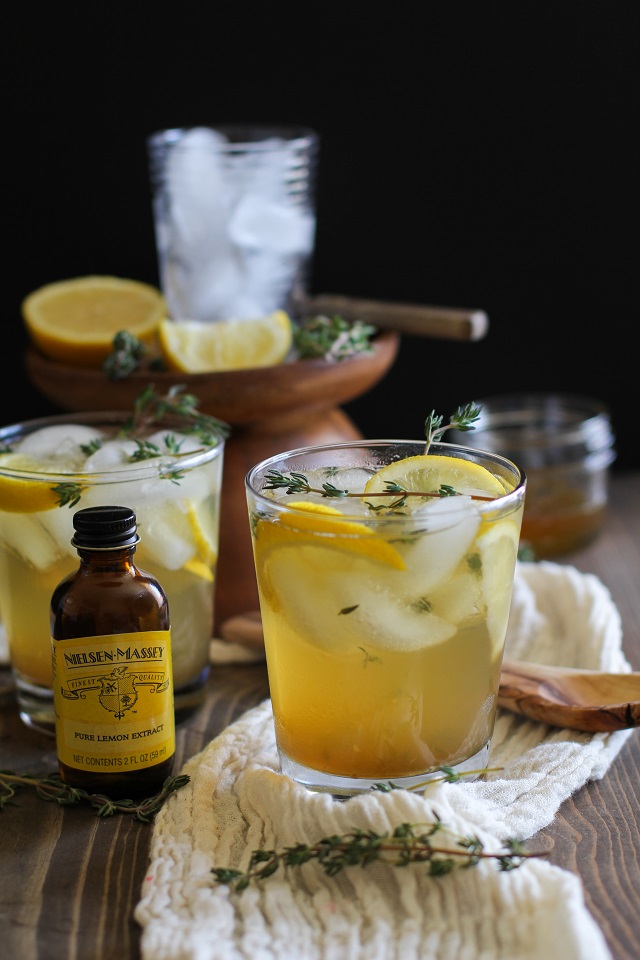 On Wednesday, I was moseying along the trail when I saw a ginorm snake. No big deal, I've seen puh-lenty of snakes in my day. But then I took a looksy poodle at the tail, and my eyeballs did confirm that HOLY STROMBOLI there was a rattle at the end.
Meaning: venomous snake in my midst.
Peering at me straight in the eye sockets, the thing did some sidewind-y action and shook its rattle at me and said, "Yo. You's on my trail and I'm gonna need you to step off…or else." <- it sounded vaguely reminiscent of Joey Tribbiani, but like mean. Anyhoo.
I was like, "Mi scusi, good sir."
I then launched my body over it like I was the long jump champion of the world (as opposed to turning around, because let's face it: it's ice cream and jort season, and I've got calories to burn) and carried on my way.
Shortly after pole vaulting the snake, I came across a hiker heading in the opposite direction (like in the direction of said rattler). I said, heart still exploding, "Hi there! Just so you know, there's a rattlesnake up ahead." <- I win at spoiler alerts.
"Hi. Okay." <- was the response.
I turned around to see if the back of his head indicated any sign of worry. Nothing. Not even an "oh-my-gosh-you're-kiiiiidding-me" for the road. Nada. Homeslice must have a much lower insurance deductible than I.
DUH-UUUUDE! Didn't you watch The Jeff Corwin Experience when you were a tween? <- was what I was thinking to myself. I need a drink of the bourbon varietal. The snake. The dude. It's all too much.
And then it dawned on me as it does from time to time: human perception is completely out of my control. I can't convince a hiker that a rattlesnake straddling the entirety of a trail is a scary thing, but I bet you said hiker wouldn't turn down a refreshing cocktail in a pinch.
…which is why I think I like food and beverages so much. The need for sustenance is universal, and generally, people are pretty receptive to consumables. No matter your opinion of snakes, politics, why the sky is blue, and Miranda and Blake's divorce (insert frowny face emoji here), everyone loves a good meal and a crisp beverage.
Like zis one: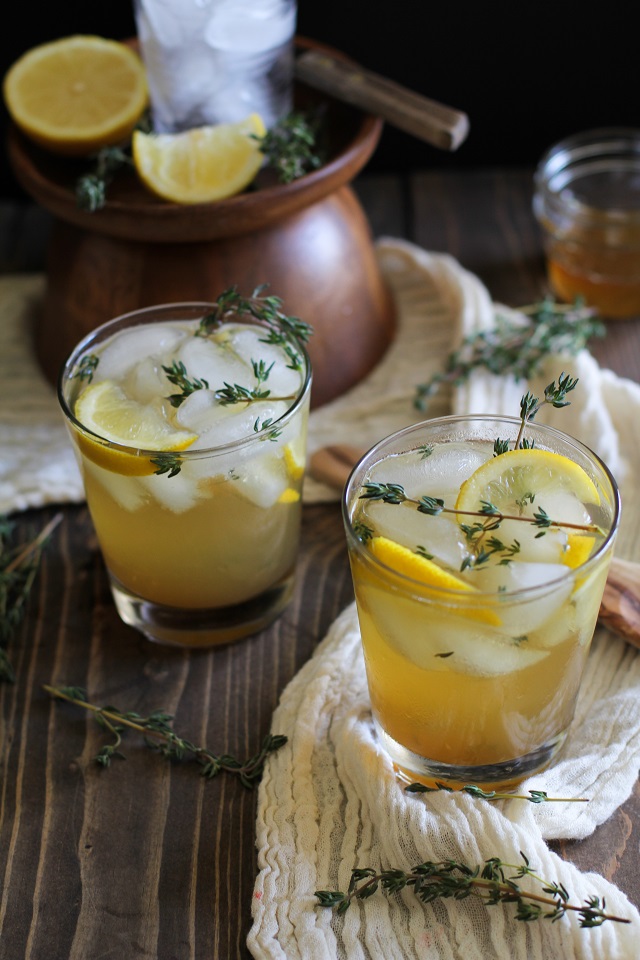 The older I get, the more persnickety I am about my drinks. Probably because I've put myself on a 2-3 drink allowance, so I had better make each one count. When it comes to cocktails, I like them zesty, sweet (but not too sweet), and poured with a heavy hand. As we've learned from my Honey Mint Mojitos, and Ginger Margaritas, refined sugar-free simple syrups that are made with quality, fresh ingredients are my jam.
I made a lemon-thyme simple syrup using pure maple syrup, lemon juice, and fresh thyme. Once the simple syrup cooled down, I added Nielsen-Massey Pure Lemon Extract to boost up the lemon flavor. This is the first time I've used extracts in a cocktail recipe, and I'm thinking I'll henceforth be in the habit of breaking out my stash of extracts every time I make cocktails. I love the unique flavor they lend to the drinks without cause for extra steps or ingredients.
Once all's said and done, these cocktails are nothing more than bourbon, refined sugar-free simple syrup, and water. We class it up by serving the drinks with fresh lemon wedges, because: garnish + vitamin C.
Cheers! May your weekend journeys include no rattlesnakes.
Lemon Thyme Bourbon Cocktails
Step up your cocktail game with these zesty, herby lemon thyme bourbon cocktails!
Ingredients
Lemon Thyme Simple Syrup:
Each Cocktail:
2

ounces

bourbon

1

ounce

Lemon Thyme simple syrup

Lemon wedge for serving
Instructions
Make the Simple Syrup
Heat all of the ingredients for the simple syrup in a small saucepan. Bring to a full boil, then reduce the heat to a simmer. Cook at a gentle boil for 5 minutes. Remove from heat and allow syrup to cool to room temperature. Strain syrup with a fine strainer to remove the thyme leaves. Add the pure lemon extract and refrigerate until ready to use. Note: Simple syrup can be saved in a sealed container in the refrigerator for up to 1 month.
Make a Cocktail:
Combine the ingredients for one cocktail in a shaker and fill with ice. Shake vigorously and serve over ice with a lemon wedge. Note: you can also make multiple cocktails at a time, or even a large batch of cocktails.
Notes
There should be enough simple syrup for 3 to 4 cocktails
Nutrition
This post is sponsored by Nielsen-Massey, and as always, all thoughts and opinions are my own. Thank you for supporting the brands that make The Roasted Root possible!