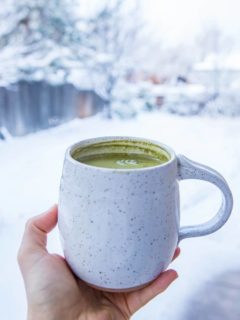 Earl Grey Matcha Latte recipe with collagen, gelatin, flax oil and cinnamon. This creamy, frothy beverage contains amazing gut health benefits and is a fabulous way to start the day.
Welcome to my morning obsession.
Confession of a former coffee addict: Coffee used to control my life.
I suppose that is a bold statement, but the truth is, I'd throw an internal fit unless I consumed at least 20 ounces of battery acid strong bulletproof coffee first thing in the morning before anything else occurred.
Not a big deal for most people, right?
But I noticed my coffee habit was getting in the way of my health. I was diagnosed with hypothyroidism (you're supposed to avoid large amounts of caffeine to reduce hypothryoid symptoms) and have had chronic gut issues for the last 8+ years.
I had a sneaking suspicion that I could level up in my hormonal and gut health if I cut down on coffee. So I came up with a plan. Rather than eliminating and being miserable, replace my much coveted morning beverage with an equally satisfying, yet better-for-me option.
Enter: Earl Grey Matcha Latte.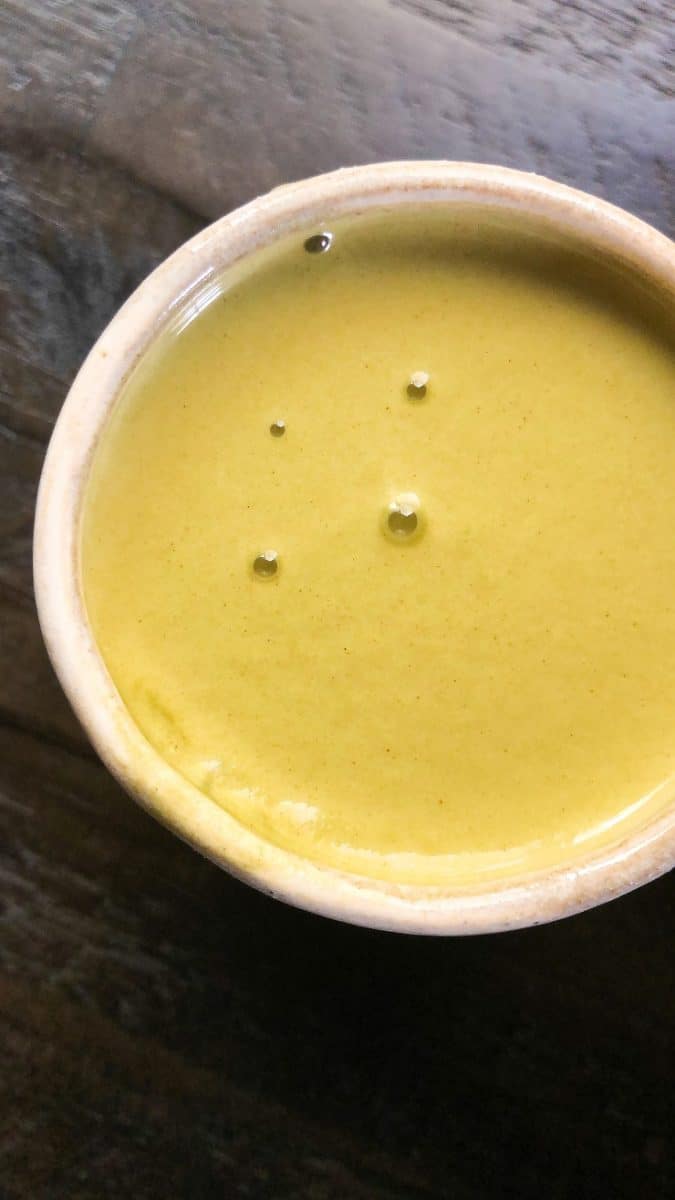 For years, I have quit coffee for a week or so at a time and replaced it with matcha lattes, but I always found matcha alone to be a bit underwhelming. I've always loved Earl Grey Tea and feel I do need caffeine to get things moving in the morning (girl's gotta poop!), so I combined forces, made it bulletproof, and lo and behold my new morning addiction is this very latte.
I read this article a few months ago suggesting Black Tea is great for your gut microbiome. It not only increases the diversity of your good gut bacteria, but it also feeds the bacteria for many hours after consumption.
If you're familiar with probiotics, you may already know that most probiotics only survive in your system for 20 minutes after you consume them, which is why it is brilliant to consume foods and drink that help the survival of your beneficial bacteria.
Studies have shown both black and green tea are great for repairing your stomach and intestinal lining, which is fabulous for those who suffer from any sort of GI symptoms, especially leaky gut.
Sure, both black and green tea contain caffeine, but the caffeine isn't a huge concern of mine, so much as the way it is metabolised. I definitely have more sustained energy throughout the day and find my anxiety is much, much lower when I drink an Earl Grey Matcha Latte as opposed to coffee.
In fact, since I've been on this kick for a few months now, I have come to drink coffee less and less (I was doing 2 cups per week and now, I'm closer to 1 cup every week or two) because I simply feel better when I don't drink it.
Read More

about Earl Grey Matcha Latte