Carrot Mango Coconut Smoothies light up your life.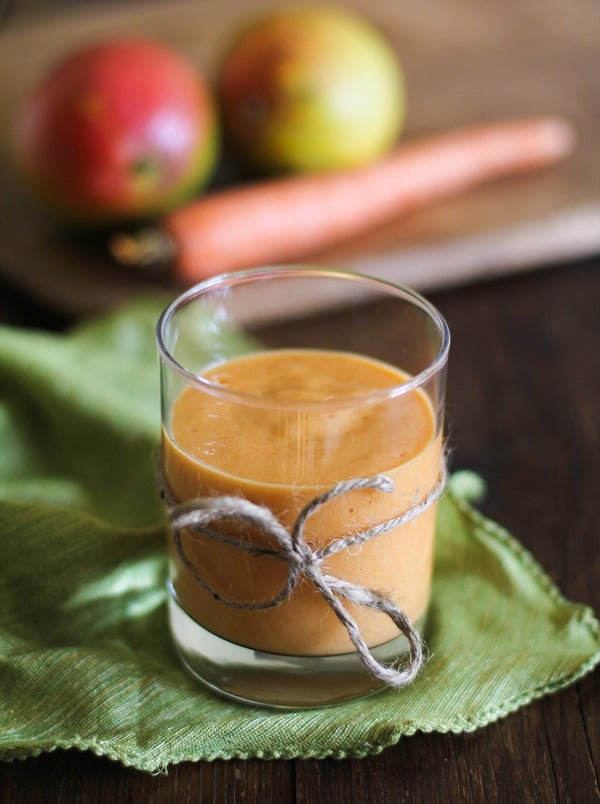 Hey mango! Mango Italiano! Hey mango! Mango Italiano! Go, go, go you mixed up Sicialiano. All you Calabraise-y do the mango like a crazy…
If you can walk past the mangoes in the grocery store without singing Mambo Italiano, then you're a stronger person than I am.
If the produce man didn't already think I'm a nut job for bobbing and weaving through the vegetables multiple times per day with a root-eating grin on my face, at least one of my Hey Mambo dance parties in front of the mango display certainly did him in.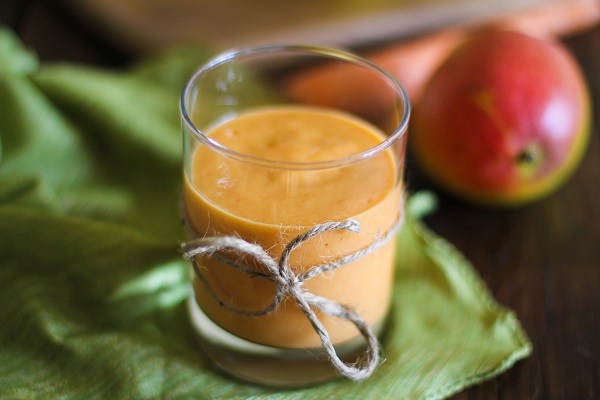 Oh hi, Happy Monday! Have I got a smoothie for you!
I spied Liren's Carrot Mango and Kiwi Smoothie a couple weeks ago and went to the store as fast as my legs could carry me to get mangoes. Being all hot to trot about the 5 for $5 mango display, I completely forgot to get the kiwis. So I improvised by adding, subtracting, multiplying and dividing. I ended up with an entirely different smoothie from the one I was trying to copy cat, but the result was throw-a-dance-party-in-my-kitchen delicious!
I've been adding lemon zest or orange zest to my smoothies to give them a nice zing. Just this little addition puts a pip in your smoothie's step and sends your mouth to tropical paradise. Oh and adding grated carrot to your smoothie? Obnoxiously smart and tasty. We already did this with my Carrot Ginger Smoothie a while back, but we can do it again here. So we did. And we do. We Mango Italiano with carrot and coconut milk.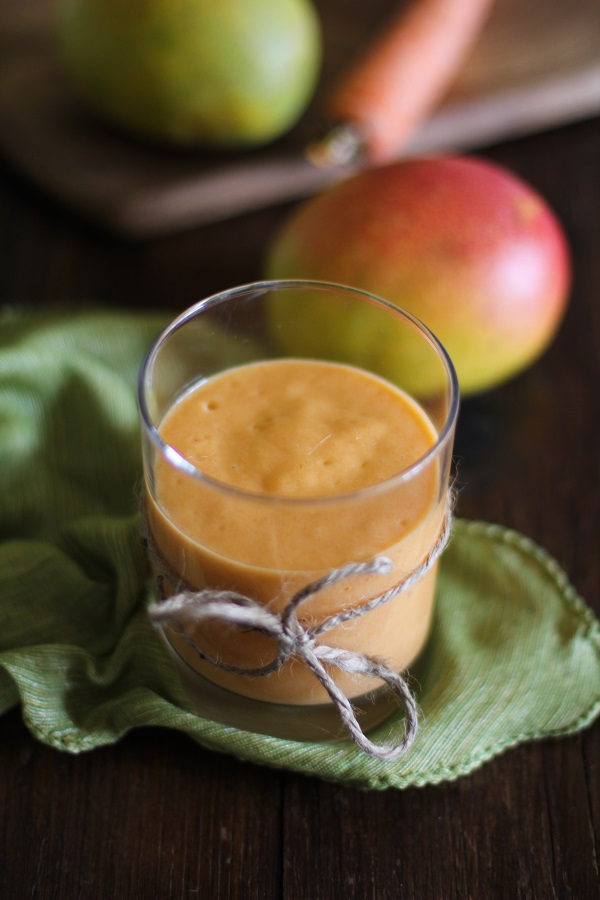 Go mango like a crazy!
Carrot Mango Coconut Smoothie
Carrot Mango Coconut Smoothie is loaded with antioxidants, hydrating properties and mango deliciousness.
Ingredients
2

ripe frozen bananas

1

ripe mango

peeled and chopped

1

large carrot

peeled and grated

2/3

cup

full fat canned coconut milk

2/3

cup

almond milk

Zest of one lemon
Instructions
Add it all to a high-powered blender and blend until smooth. The smoothie will require a little extra time in the blender in order to blend the grated carrot.

If desired, add more almond milk for a thinner consistency.
Nutrition