Naturally Sweetened Lemonade Margaritas are an easy skinny cocktail recipe that are light and refreshing any time the occasion for a beverage arises.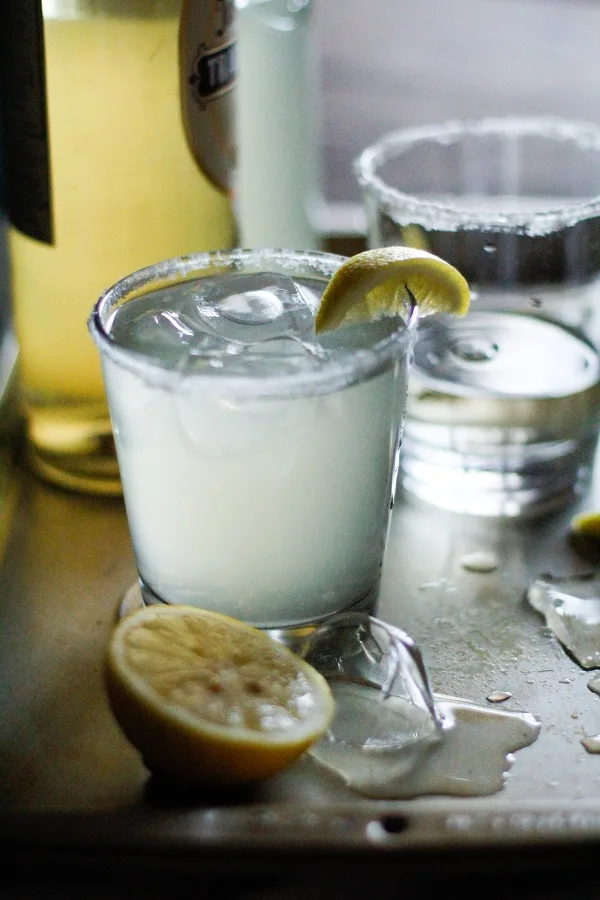 Over the weekend, I was jogging with one of my girl friends and all I could think about (aside from bacon cheeseburgers and sweet potato fries) was lemonade.
Where are all the lemonade stands when you actually need them?
It was hot outside, we were being little ninnies, and the fact that I had hit the wine bottles the night before just made me feel like I was Odysseus on his epic journey home.
Except in my story, there were no cyclopses (how unfortunate), sirens, pissed off Poseidon, and the only thing keeping me from Ithaca was my inability to run at a halfway decent pace and the fact that I don't live in Ithaca. So pretty much, I was nothing like Odysseus on his epic journey home, but since I'm the one who's calling the shots here (get it? shots?), I'm assigning myself points for dramatic effect.
By now, you know I'm not a huge fan of cane sugar and tend to replace it with natural sweeteners whenever possible. So in honor of my dire need for lemonade, I whipped up a batch using pure maple syrup in place of cane sugar. It hit the sweet spot.
My favorite part about the lemonade, other than it breathing life back into my dried-up veins, was the fact that I didn't have to dissolve sugar on the stove and wait for it to cool down. You simply pour everything into a pitcher and stir it right up.
BOOM! Lemonade.
But then I got to thinking…"Wait a tick…this lemonade needs something. Booze. This lemonade could use some booze."
So in light of the tequila that has been going anywhere a booze can go, I broke out the bottle and made naturally sweetened lemonade margaritas. And so the cycle continues.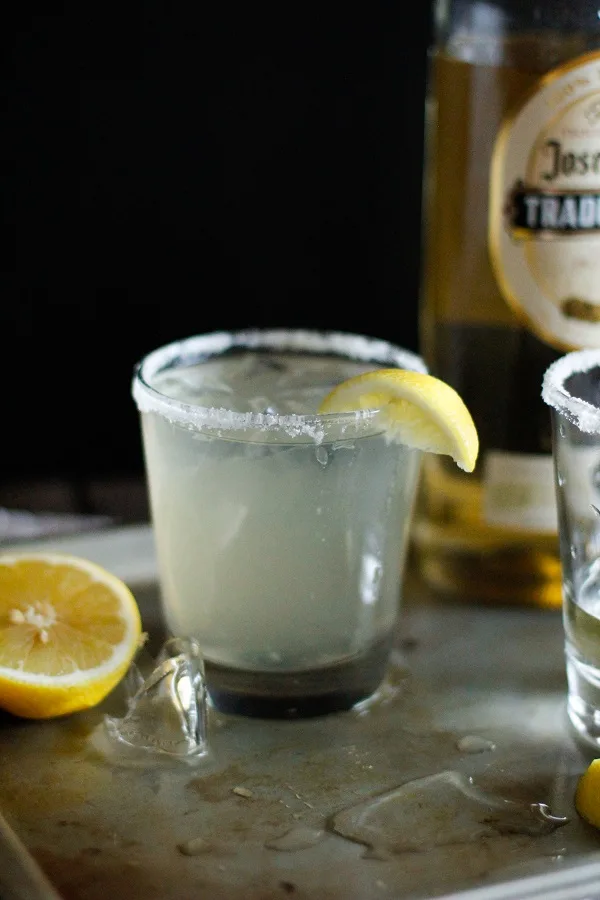 This is kind of like a homemade skinny girl margarita…right? Right.
If you want to get real genius, you can add some herb infusion to the lemonade by chopping up fresh herbs and heating them up with the lemon juice and maple syrup to create a mock herb-y simple syrup. Basil, thyme, parsley, lavender, sage…pretty much any herb goes well in lemonade and also adds a unique element to a margarita. Adding fruit is permissible, too.
So now that we've determined all lemonade should be naturally sweetened, and all naturally sweetened lemonade should contain tequila, we can rejoice in the fact that we have both our lemonade and our cocktails down pat.
It's 5 o'clock somewhere.
Also check out my Vanilla Bean Jasmine Arnold Palmer!
Naturally Sweetened Lemonade Margaritas
Cleaner margarita recipe that is sweetened with pure maple syrup for a natural cocktail recipe.
Ingredients
For the Naturally Sweetened Lemonade:
1 cup fresh squeezed lemon juice
1/2 cup pure maple syrup or agave nectar, or more to taste
7 cups cold water
For Each Cocoktail
2 ounces Tequila
8 ounces Naturally Sweetened Lemonade
Lemon wedges
Instructions
Make the Naturally Sweetened Lemonade:
Mix all of the ingredients for the lemonade together in a large pitcher.
Make the Lemonade Margaritas:
Rim glasses with salt, then fill them with ice. Add about 1 to 2 shots (1.5 to 3 ounces) of tequila to each glass and fill the rest of the way with lemonade. Stir, squeeze a wedge of lemon into each glass, and serve. (You can also shake the drink in a tumbler before serving).
Nutrition Information
Yield

6
Serving Size

1 Cocktail
Amount Per Serving
Calories

184
Total Fat

0g
Unsaturated Fat

0g
Carbohydrates

12g
Fiber

0g
Sugar

10g
Protein

0g