Honey Mint Mojitos are a refined sugar-free version of the classic mojito cocktail. This easy recipe is so refreshing and easy to make as a large batch cocktail.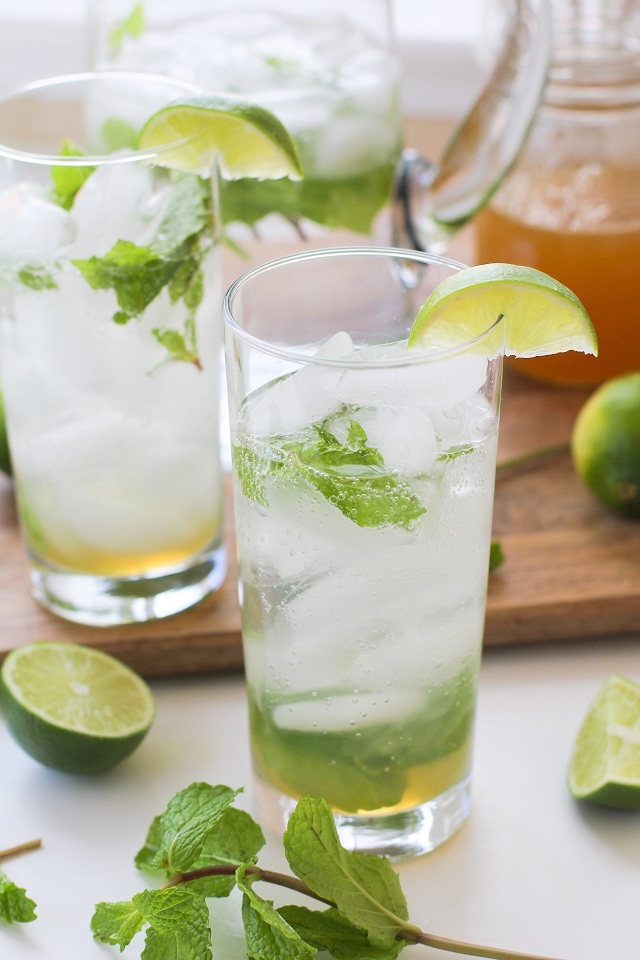 Did I ever tell you the story of my first mojito experience? It's worlds different from my first screwdriver experience, let me just tell you.
I was taking a walk with my brother and his friend along the shores of Lake Tahoe when we stumbled upon a cocktail bar on a pier.
My brother's friend ordered a mojito (which I had never heard of at the time) and graciously allowed me to try it.
My sip sample turned into me downing the whole beverage before I realized I had hijacked someone else's drink #partyfoul.
I believe my exact reaction when the mojito hit my lips was, "I don't know what's happening in my mouth, but whatever it is, I LOVE it!"
The three of us continued gulping sipping on mojitos, and thereafter, the drink found its way to the top of my go-to cocktail list.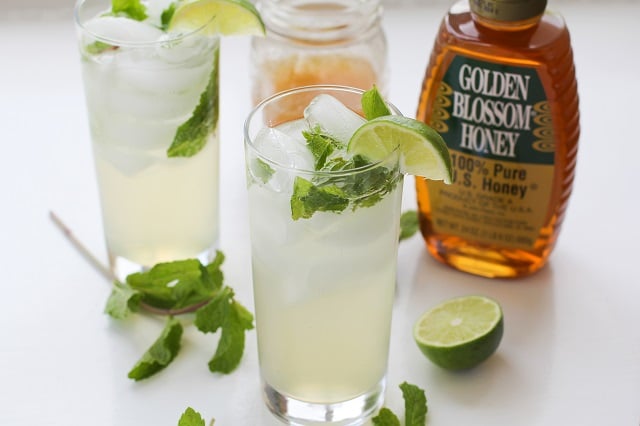 Constantly on the prowl for a good mojito, I've become a bit of a snob. And by, "a bit," I mean "full-throttle". I prefer to make them at home now for a few reasons.
First and foremost, I can eliminate the cane sugar by using natural sweeteners, such as honey, agave, or maple syrup.
Secondly, I can ensure my mojito ends up with my desired ratio of lime-to-mint-to-rum. Zen and the Art of Mojito Maintenance is a fine balance you see…one that is tough to achieve outside the confines of your own mixological home.
What is a Mojito?:
In case you're unfamiliar, traditional mojito is made with fresh lime juice, mint, white rum, soda water, and simple syrup.
Aside from being lower on the glycemic index, I've found the best simple syrups for cocktails are made using natural sweeteners because they require little or no cook time, and they mix into a beverage ever-so nicely.
When making a simple syrup (refined sugar-free or otherwise), allowing the ingredients to cook for a bit allows for optimal flavor infusion.
Honey Mint Simple Syrup:
When I make mojitos, I heat up a lot of mint with honey and lime juice so that I'm sure to end up with a nice and minty beverage. Ain't nothing worse than a mojito that doesn't taste like mint, is my motto!
With Memorial Day just around the corner, it's time to start thinking about picnic and barbecue menu items. Let's not forget the beverages, people!
We need something zesty and fresh to cheers to those who have bravely fought for our country. The best part about this recipe, is you can either make the mojitos in a large batch to serve many-a-people all at once, or you can make individual mojitos.
How to Make a Big Batch of Mojitos:
In order to make this recipe super shareable, I created a big batch of honey-mint-lime syrup.
I prepared the syrup by heating up honey, lime juice, and fresh mint on the stove top.
Once the mixture came to a boil, I removed it from the heat and let it cool to room temperature, allowing the mint leaves to infuse the syrup with minty goodness. I then transferred the syrup to a jar and refrigerated it.
Now comes the tricky part: do you make one huge batch of mojitos to share with company, or allow folks to make their own according to taste in alcohol strength and sweetness?
Either way, the syrup will stay fresh in your refrigerator for 3 to 4 weeks as long as it's stored in a sealed jar. Serve over ice with fresh mint leaves. Perhaps with a rum floater. Just sayin'.
How to Make a Mojito:
I have found my favorite mojito ratio to be 2 tablespoons of the honey-mint-lime syrup, a hefty shot of rum (2 ounces), and roughly 6 to 8 ounces of sparkling water.
I also give my drink a squeeze of fresh lime for good measure. Since the honey-lime-mint syrup recipe yields 1-1/2 cups of syrup, you're looking at a good 12 cocktails that can be made and enjoyed out of this experience.
Bottoms up!
Also try my Strawberry Moscow Mules!
Honey Mint Mojitos
Classic Mint Mojitos made with honey are magically refreshing and delicious! Enjoy this delicious cocktail recipe no matter the time of year.
Ingredients
Honey Lime Mint Simple Syrup:
1

cup

lime juice

¾

cup

Honey

40

leaves

mint

chopped
Honey Mint Mojito (makes 1 cocktail):
5

leaves

mint

muddled or chopped

2 -3

tablespoons

Honey Lime Mint Simple Syrup

to taste

1-1/2

ounces

to 2 white rum

6

ounces

to 8 sparkling water

Lime wedge
Instructions
Prepare the Honey Lime Mint Syrup:
Heat all of the ingredients for the Honey Lime Mint Syrup in a saucepan and bring to a full boil. Immediately remove from heat and let stand until cooled to room temperature. Strain the mint leaves through a fine mesh strainer, discard the mint leaves, and refrigerate the syrup in a sealed jar until ready to use.
Prepare the Mojitos:
To prepare one cocktail, fill a glass with ice, and chopped (or muddled) mint leaves. Add 2 to 3 tablespoons (to taste) of the honey lime mint syrup, 2 ounces of white rum, and fill the remainder of the glass with sparkling water. Stir well and squeeze fresh lime juice over the cocktail before serving.

To prepare a large batch of mojitos, add all of the syrup to a large pitcher, along with 2 to 3 cups of white rum (depending upon desired strength). Stir well, then add 2-1/2 to 3 25-ounce bottles of sparkling water (such as Pellegrino). Stir well again and pour mojitos into glasses with ice and chopped (or muddled) mint leaves.
Nutrition
Serving:
1
Cocktail
|
Calories:
203
kcal
|
Carbohydrates:
38
g
|
Sugar:
35
g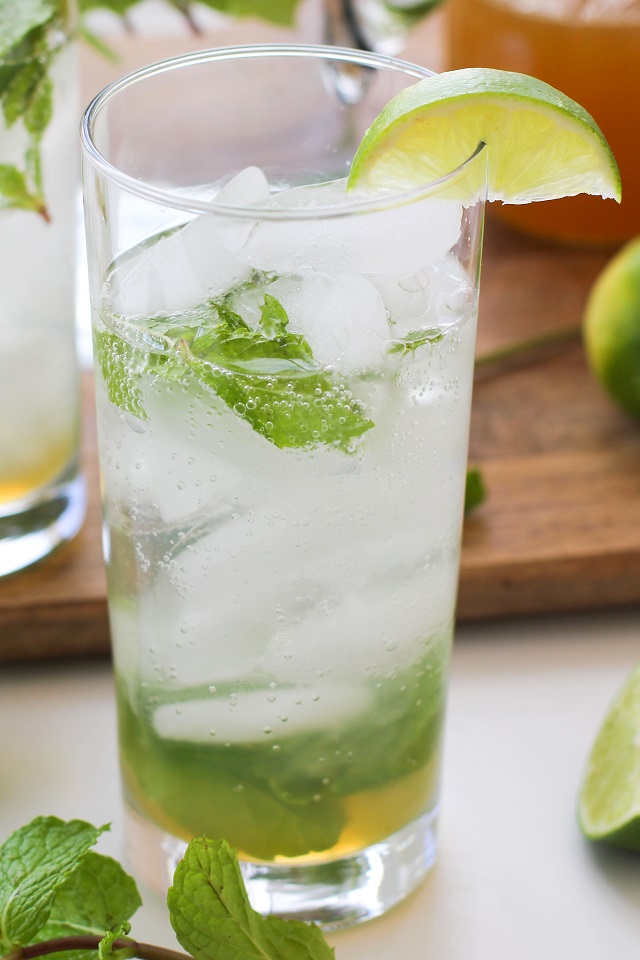 This post is sponsored by Golden Blossom Honey. All opinions are my own. Thank you for supporting the brands that support this site! Check Golden Blossom out on Facebook, Twitter, or Pinterest