Rich, creamy, perfectly sweet Pumpkin Spice Smoothie made with only a few basic ingredients! This delicious healthy smoothie recipe is a fall explosion for breakfast!
Pumpkin spice smoothies are the apple to your pie.
…Or should I say, the pumpkin to your pie?
Whatever they are, this smoothie is like drinkable healthy pumpkin pie to really set your dopamine nodes aflame!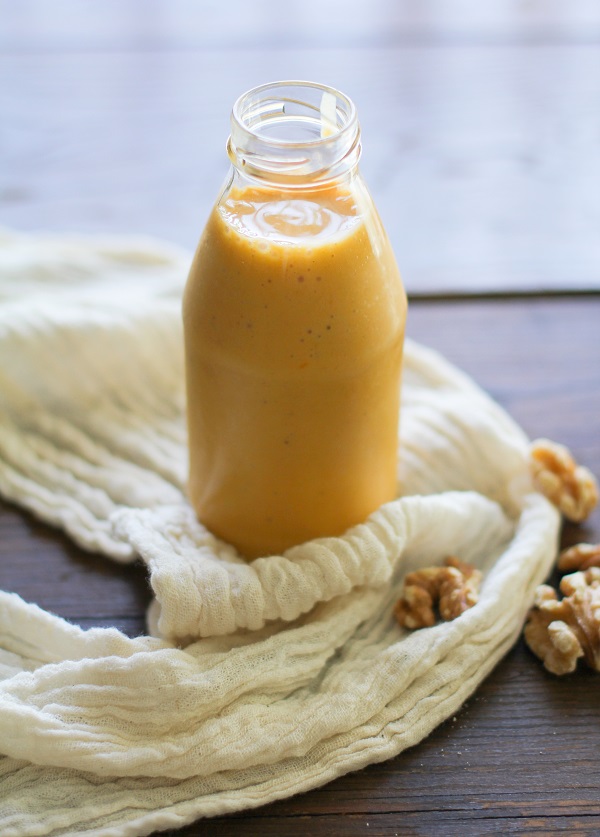 Day 2 of fall! How obsessed with pumpkin are you?
Summary: pumpkin is fabulous and breakfast is mandatory, so a pumpkin spice smoothie just makes emotional and physical sense.
I'm not gonna lie, pumpkin + spice + smoothie is really where the story begins and ends for this beverage. It's very drinkable. The buck stops there.
This pumpkin spice smoothie recipe is dairy-free, requires only a few basic ingredients, is marvelously rich, sweet and tastes like fall is THRIVING in your mouth.
Seriously, it's the eighth wonder of the world!
It dawned on me that I haven't shown you a proper list in quite some time. Uncharacteristic move for a lister like me.
Wanna see a snapshot of a YouTube/amazon/internet binge that occurred over the weekend? I may have gotten a little carried away, and some of the things I saw cannot be unseen; however, here's a list of some of the greatest hits I came across.
Things I'm crunching on:
This smoothie. Drink up!
That's all for now.
Sluuuuuurp!
Pumpkin Spice Smoothie
Pumpkin Spice Smoothie is an amazing way to get your pumpkin spice fix first thing in the morning!
Instructions
Throw it all in a blender and blend, son!
Notes
*If you don't have pumpkin pie spice, you can use ¼ teaspoon cinnamon, 1/8 teaspoon ground ginger, and a pinch of allspice and nutmeg.
Nutrition
Serving:
1
Smoothie
|
Calories:
251
kcal
|
Carbohydrates:
57
g
|
Protein:
4
g
|
Fat:
3
g
|
Fiber:
10
g
|
Sugar:
33
g