Naturally Sweetened Caramel Macchiato. This vegan, dairy-free, healthier caramel macchiato recipe is rich in caramel flavor, with fewer calories than the coffee shop version! Heaven is a place on earth. It's inside the caramel macchiato.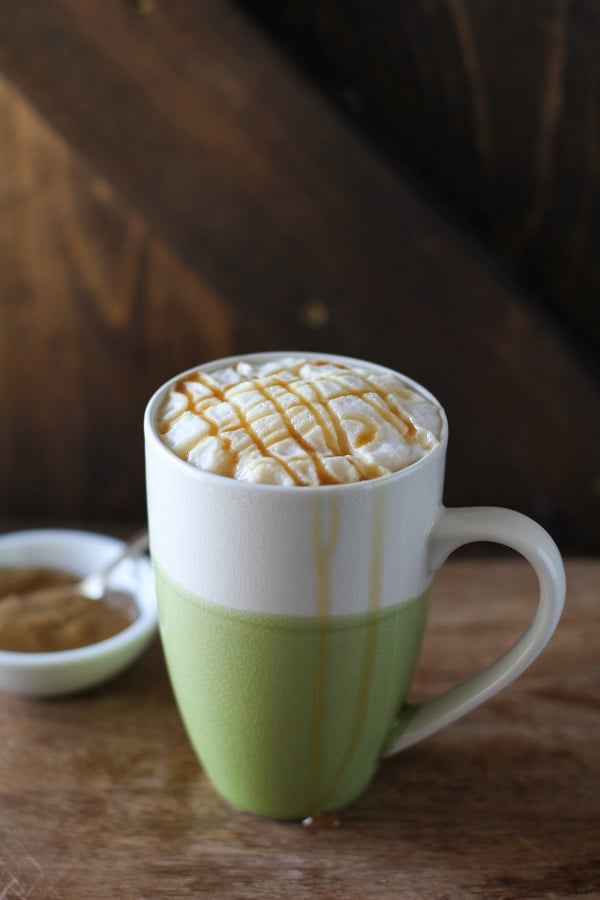 What is your favorite coffee treat?
Are you all about the Pumpkin Spice Latte? How about the CDL, the WM, PM, or the CM?
I recently began making caramel macchiatos using homemade caramel, and let me tell you, people: best idea I ever did have. For those of you who are unfamiliar with the CM, it includes caramel, espresso, frothy milk, and more caramel.
For me, anything frothy will work!
Part of me wonders if the majority of the plight in our nation is due to under-caffeinated decisions.
I say this because I know what happens in my own life when I haven't sufficiently Joe-d. Bad things happen to good contact lenses, hours of work gets erased, lotion becomes conditioner, ceramic things get broken, all the bads. All the bad things happen.
If I had it my way, the second I wake up in the morning, caffeine would be injected into my veins through an IV. Start a central line of 400 milligrams of caffeine and make it snappy, son!
So it just makes me think: would the world be in a better place if we could all just do our part to ensure we've had enough coffee.
I've heard faint whisperings about this rare breed of person who functions extraordinarily well without a lick of caffeine in the morning. Who are these people, and why can't I be more like them? Because the things I do while under-caffeinated typically can't be un-done.
And the things I say nine times out of ten require forgiveness. Thankfully, there's this entire industry revolving around coffee, which does its part in keeping my life as caffeinated and plight-free as possible.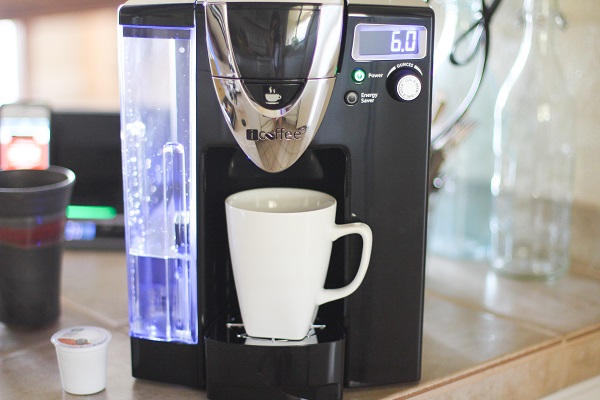 For my milk selection, I froth up unsweetened almond milk using my milk frother (if you don't have a milk frother, whisk milk on the stove top to heat and froth), but you can also use cow's milk, coconut milk, cashew milk, hemp milk, and the beat goes on.
I use the same homemade Paleo Salted Caramel I showed you in my recipe for Cheddar Cheese Crepes with Spiced Apples and Salted Caramel.
The caramel is made with coconut milk, coconut sugar, maple syrup, and salt. BOOM! Naturally sweetened caramel = naturally sweetened caramel macchiato.
Simply brew a strong cup of coffee using your favorite method, stir in 1 to 2 tablespoons of the homemade caramel, and mix with warmed or frothed non-dairy milk.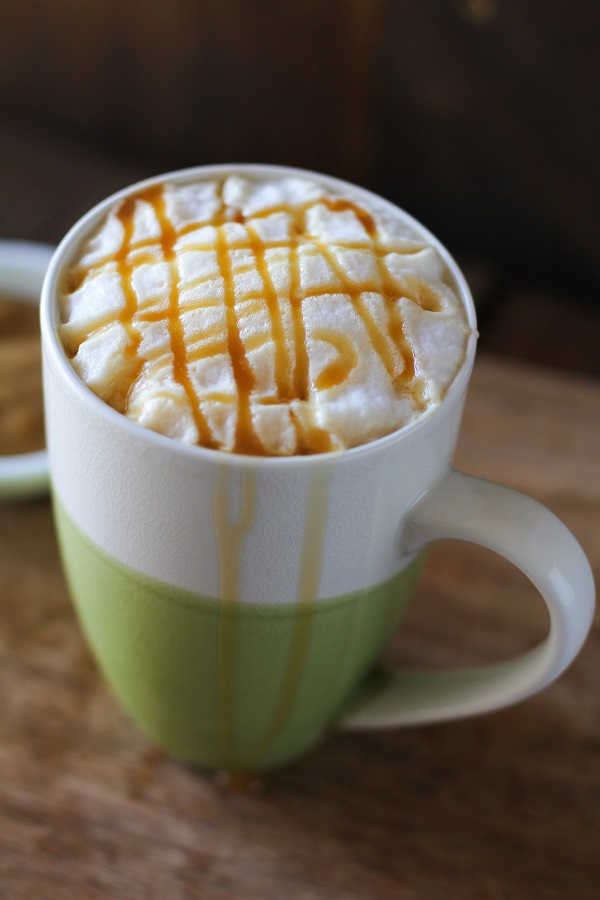 Do your part to end world plight. Caffeinate.
Naturally Sweetened Caramel Macchiato (vegan)
This naturally sweetened caramel macchiato recipe incorporates delicious homemade caramel sauce with frothy almond milk for an updated take on the classic coffee drink.
Ingredients
For the Salted Coconut Caramel Sauce:
For the Caramel Macchiato:
6

ounces

strong-brewed coffee or 1 shot of espresso

1

cup

unsweetened almond milk

1

tablespoon

salted caramel sauce + more for serving
Instructions
Make the Salted Coconut Caramel:
Add the coconut milk, maple syrup, and coconut sugar to a medium-sized sauce pan and bring it to a full boil. Allow mixture to boil, stirring frequently, until thickened, about 10 to 15 minutes.

Add the vanilla extract and salt to the caramel mixture. Stir until combined, then remove caramel from the heat. You can use caramel right away or pour it into an air-tight container to use later (the longer it sits, the thicker it will get). Caramel lasts in your refrigerator for 3 to 4 weeks.
Make the Caramel Macchiato:
Heat the milk using a milk frother or heat it in the microwave or stove top until hot, but not scalding.

Add 1 tablespoon of prepared caramel to the bottom of a mug. Add 6 ounces of strong coffee (or 1 to 2 shots of espresso) and stir until well-combined.

Add the frothed milk.

Drizzle a fancy caramel design on top of the foam and enjoy!
Nutrition
Serving:
1
Latte
|
Calories:
102
kcal
|
Carbohydrates:
12
g
|
Protein:
1
g
|
Fat:
7
g
|
Fiber:
1
g
|
Sugar:
11
g
This post is sponsored by
iCoffee
. I was compensated for my efforts, and all thoughts and opinions are my own.