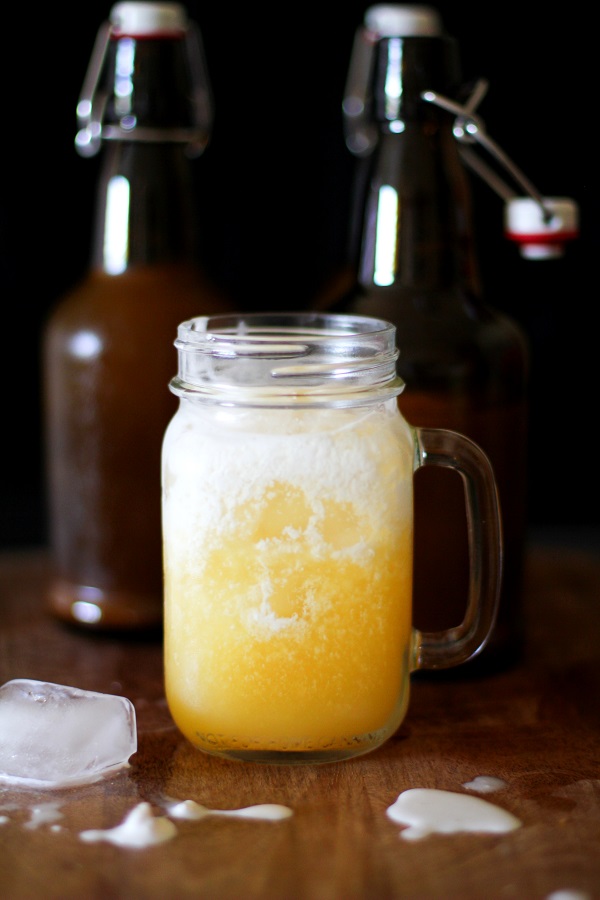 One of my fondest childhood memories is enjoying orange creamsicles after soccer games during the summer. It was always hard to resist the temptation to bite straight into the popsicle before letting it thaw and soften up a bit. Eeeevery body knows the best time to eat a creamsicle is just before it begins dripping all over the place.
While I'm not much of a popsicle eater any more, I enjoy sipping on cool, crisp, flavorful beverages during hot summer days. It shouldn't come as a shocker that my drink of choice is usually kombucha. I love the flavor, the fizz, and also the fact that I'm taking in all sorts of probiotics, vitamins, and minerals while I'm enjoying a nice bevvy.
If you are familiar with kombucha, you know it has a somewhat vinegar-y flavor, and that flavor can be stronger when it's brewed at home. This is where the creamsicle comes into play. I made a batch of orange-flavored kombucha and thought adding full-fat coconut milk before drinking it would be a nice balance to the acidity. I loved the way it turned out, and the zesty creamy flavor was quite the treat! You get all the spunk of a creamsicle without getting your mouth stuck to a popsicle, or having creamsicle drips all over your hands/face/car/pets.
If you've never made kombucha, you can read my post on How to Make Homemade Kombucha. This recipe begins after you have already brewed a batch of kombucha and are ready to bottle it and put it through secondary fermentation. The whole process is easy, and the drink will bring you back to the creamsicle days of yore.
Orange Creamsicle Kombucha
Creamy, tangy, sweet kombucha is a refreshing beverage.
Servings:
1
gallon homemade kombucha
Ingredients
For Orange-Flavored Kombucha:
1

gallon

homemade kombucha

3

cups

extra pulp orange juice*
For Orange Creamsicle Kombucha:
16

ounces

homemade orange-flavored kombucha

3

tablespoons

to 4 full-fat canned coconut milk
Instructions
Transfer half of the homemade kombucha and half of the orange juice to a ½-gallon pitcher and stir.

Pour the orange kombucha into 16-ounce sanitized glass bottles and seal.

Leave the bottles in a warm, dark spot in your house (a pantry or a closet works great) for 3 days to allow for secondary fermentation.

Transfer bottles to the refrigerator and refrigerate until chilled.
Make Orange Creamsicle Kombucha:
Carefully open one of the bottles of orange kombucha (note that pressure will build during secondary fermentation, so be careful to point the bottle away from your face when opening).

Using a strainer, strain the kombucha into a glass. This will remove the orange pulp and any small SCOBYs that have formed during secondary fermentation.

Add 3 to 4 tablespoons of full-fat canned coconut milk. Mix and enjoy!
Notes
*I recommend using orange juice that has a lot of pulp, because fruit pulp helps make your kombucha fizzy. You can strain the pulp out of the kombucha before you drink it.
Nutrition
If you're looking for more tips or recipes for brewing homemade kombucha, check out my cookbook, Delicious Probiotic Drinks.