Dairy-free, refined sugar-free paleo eggnog made with coconut milk, almond milk, coconut sugar, egg yolks, and pure maple syrup – a delicious, creamy festive beverage perfect for enjoying at your Christmas gatherings.
This post is sponsored by Vital Proteins.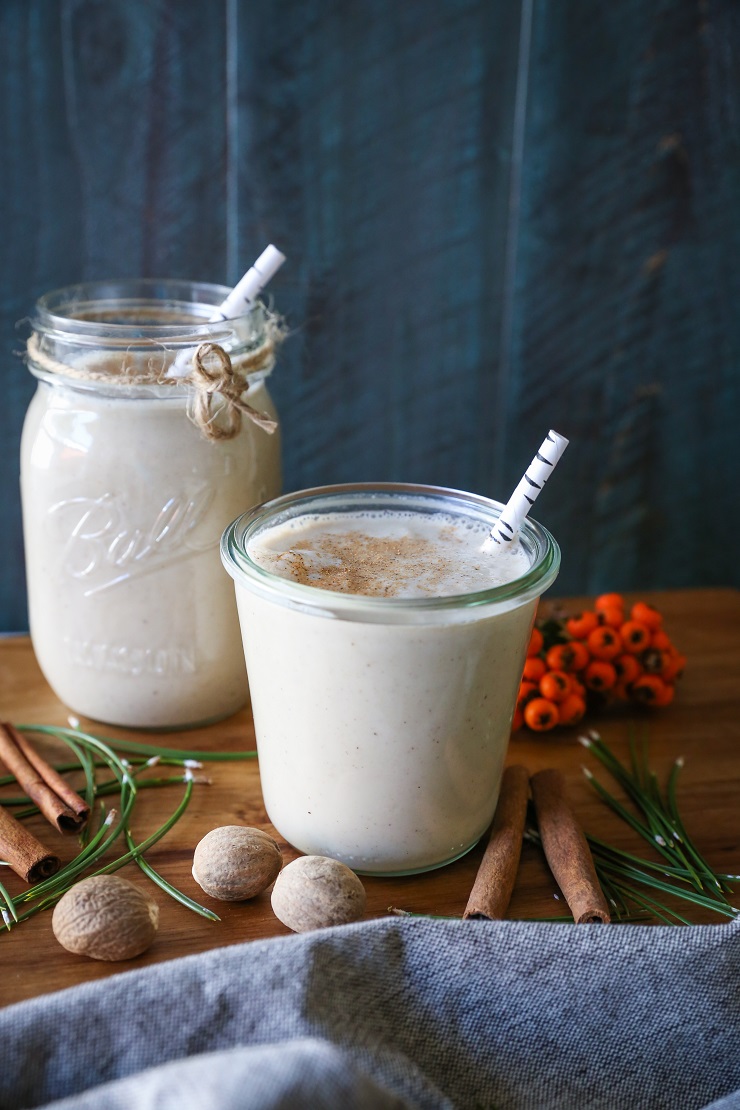 I distinctly remember the first time I tried eggnog – I couldn't have been older than 5 – Darkwing Duck was on the tele, a Crayola was up my nose (I had this habit of storing things there for my convenience…it was a bit of a problem…doctors were constantly involved. The color on this particular occasion? My guess is Magic Mint), and of course I was wearing next to nothing (probably a pair of my days-of-the-week unmentionables). One of my uncles was visiting around Christmas and he made homemade eggnog for my whole family to enjoy. I remember thinking the concept of eggs in my milk as being peculiar, but, adventurous from the get-go, I took a sip, and it was like no other treat I had ever experienced.
Of course, having been spoiled with homemade eggnog from the very beginning, store-bought has always paled in comparison; however, like any fiend, for years on end, I had an I'll-take-what-I-can-get sort of relationship with the 'nogs. In essence, I've always been a mega fan of eggnog, but as I've aged, not such a fan of how bad it is for you. Loaded with otherworldly amounts of fatty dairy and sugar, the delicious beverage is pretty void of nutrients but chock full of calories. We know this. And still, we fiend, because: delicious.
Sure, not eeeeeverything we eat has to be jam-packed with health benefits and we all deserve a glycemic-spiking serum from time to time, but whenever possible, I try keeping even my treat recipes on the less-bad-for-you end of the spectrum. As I've gotten older, I've become more sensitive to dairy and sugar, so traditional eggnog is a bit of a no-go as much as I would love to sip on that sinful sensuous sumptuous beverage all the live long day.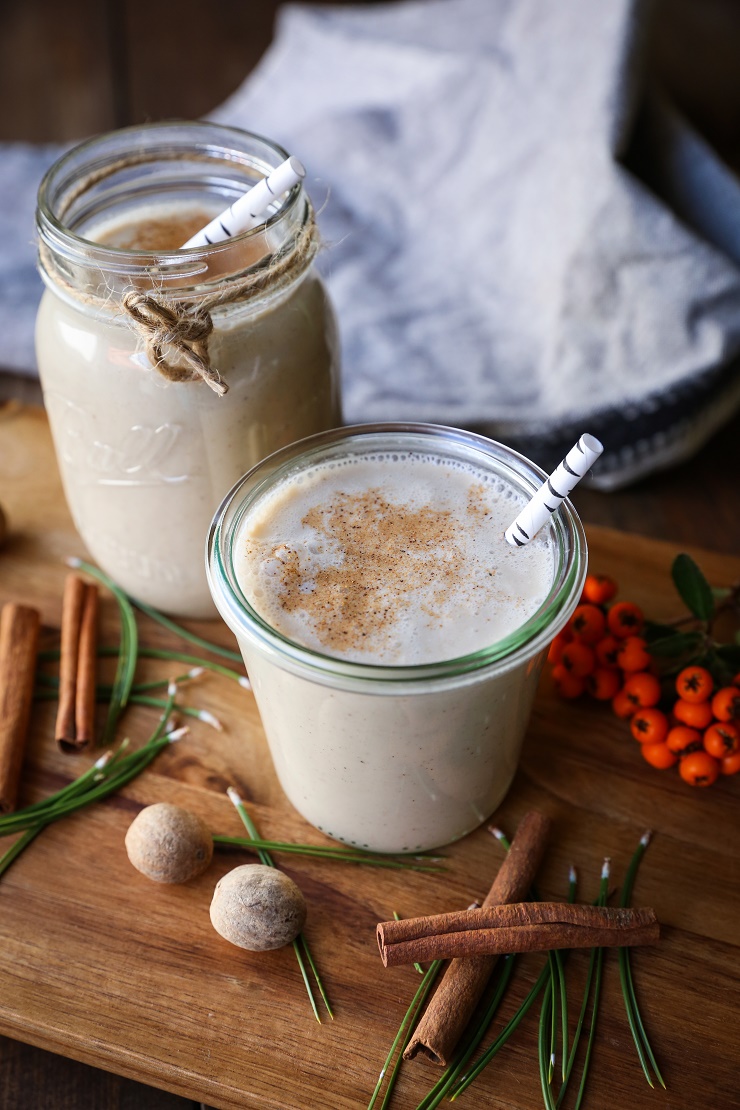 I began making my own healthierish version of eggnog a few years ago sans dairy and sugar to enjoy the warmly-spiced nog flavor without as much backlash. In the Vegan Eggnog recipe I posted a few years back, I used soaked cashews for the recipe. For this go-round, I thought I'd use a combination of full-fat coconut milk and almond milk to get an even creamier texture for optimal mouth-feel. I also did incorporate egg yolks in this new version to ensure it has that authentic eggnog flavor and texture. Using coconut sugar and pure maple syrup to sweeten the eggnog, I kept the recipe naturally sweetened. All factors considered, this eggnog is dairy-free, refined sugar-free, and paleo-friendly. The texture of the eggnog turns out nice and thick and creamy, and it's just the right amount of sweet. You can add more coconut sugar and/or pure maple syrup if you're looking for a sweeter adventure.
In order to give the eggnog a nutrient boost, I added Vital Proteins Marine Collagen Powder. As I've mentioned in past posts reviewing Vital Proteins products, most of us don't get enough collagen in our daily diets to ensure continual bone, joint, and connective tissue health. Adding the powder to supplement collagen is an easy, sure-fire way of ensuring you give your skeletal structure the protein support it needs. This marine collagen is sourced from wild-caught non-GMO snapper, making it a clean, quality source of collagen. I'm sure you're curious to know about the flavor of the powder – it's flavorless! Like Vital Proteins's other collagen powders, it can be dissolved into cold or hot liquid, making it a super easy supplement to include in your daily diet.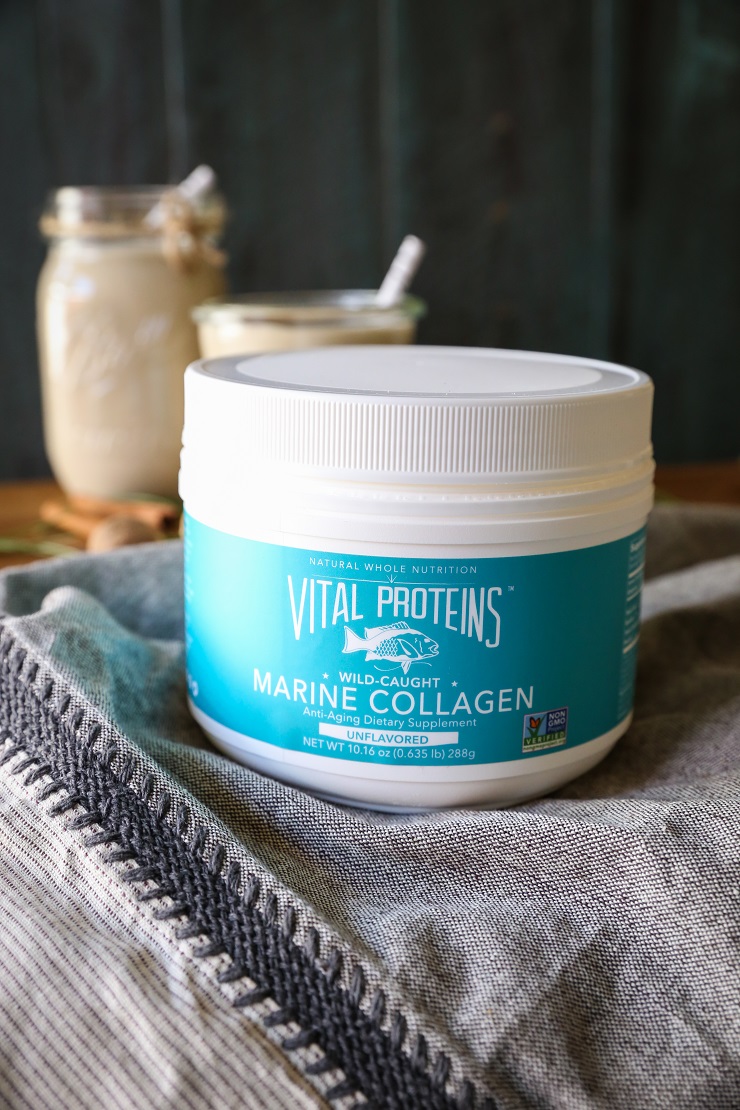 Can we have a tête-à-tête regarding nutmeg for a second? I'm very particular. For years, I didn't see what the big deal was with nutmeg, but after I began using freshly grated nutmeg, the whole concept came full circle. The Nutmeg Thing is now coming in 150% technicolor clarity. Nutmeg is the shiz. This is not to say you must run out and purchase whole nutmegs, but if you have the option, freshly-grated or quality-sourced nutmeg is the way to go.
You know what I like to do with my eggnog? Spike it. With brandy. Whenever I'm looking for some holiday cheer in my cup via festive booze cocktail, the eggnog and brandy combo is a pretty choice option. Simply stir up a shot (or three) of brandy with 6 to 8 ounces of eggnog and you're go for a sweet, creamy, boozy belly warmer.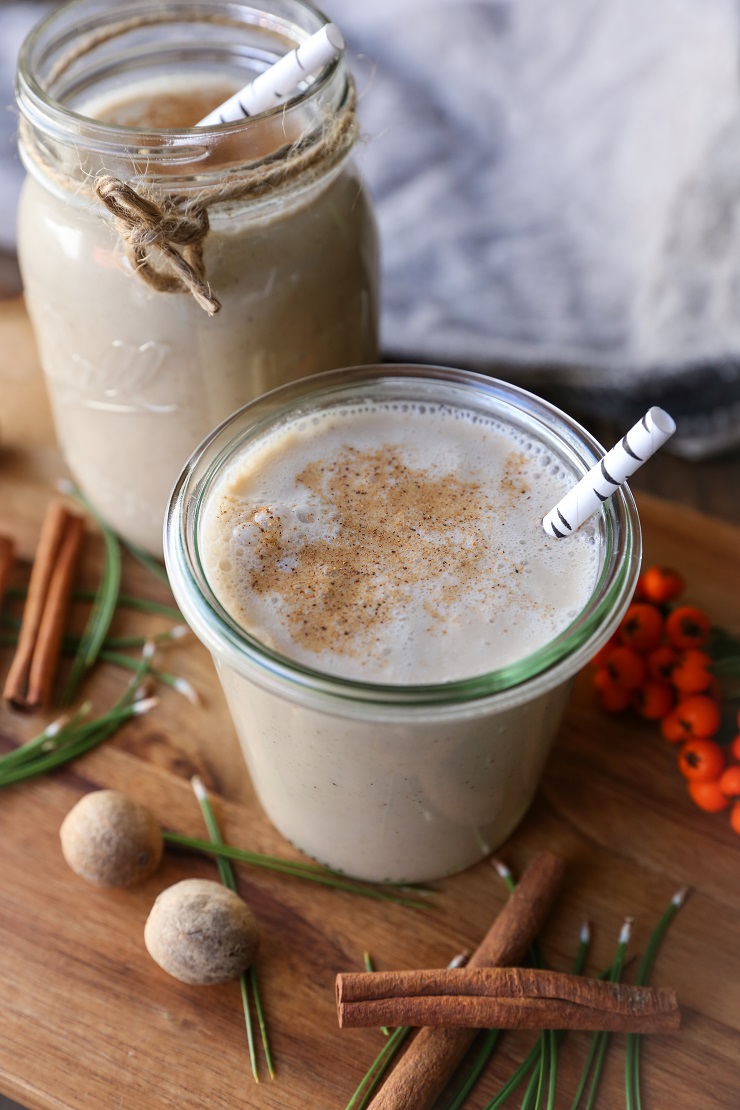 Get this in your noggin!
Dairy Free Paleo Eggnog
Instructions
Add all of the ingredients to a saucepan and heat to medium and bring to a simmer, just until mixture begins to steam, stirring occasionally. (Note: don't bring mixture to a full boil). Reduce heat to medium low.

Separate the egg yolks and and to a small bowl.

Slowly add 1/3 cup of the coconut milk mixture to the bowl with the egg yolks while continuously whisking. Repeat with more coconut milk mixture until you've added about one cup to the egg yolks. Pour the egg yolk mixture into the pot with the rest of the liquid and increase the heat back up to medium. Continue whisking until eggnog reaches a simmer, about 3 minutes.

Remove from heat and allow mixture to cool, whisking every few minutes.Once cooled, taste the eggnog for flavor and add more pure maple syrup to taste if desired. Transfer to a sealable jar and refrigerating until chilled.

When ready to serve, pour eggnog into glasses and serve with freshly grated nutmeg on top. You can also add a shot of brandy for a boozy cocktail.
Nutrition