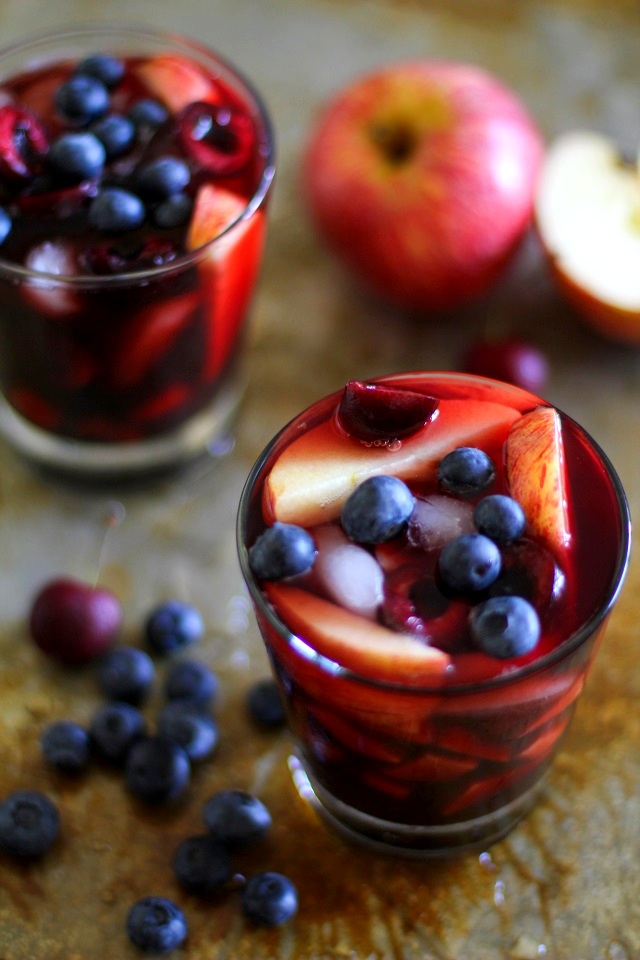 It's the weekends and we're drankaaaaang!
I've been saving my drink allowance for weekends now that I'm (trying to be) a responsible ah-dult. Which means come Fridee/Saturdee, the bottles are out and the drinks are poured.
This week, I developed a few sangria recipes for Love Beets and Kroger, and it dawned on me I haven't posted a red wine sangria on The Roasted Root. I went ahead and used up my bounty of bluebs and cherries for this here beverage and loved the way it turned out. Have you ever in your life allowed cherries and apples to stew in wine? It's the darndest thing. Basically, the fruit turns into something I can't even describe in words. AND it gets better with age.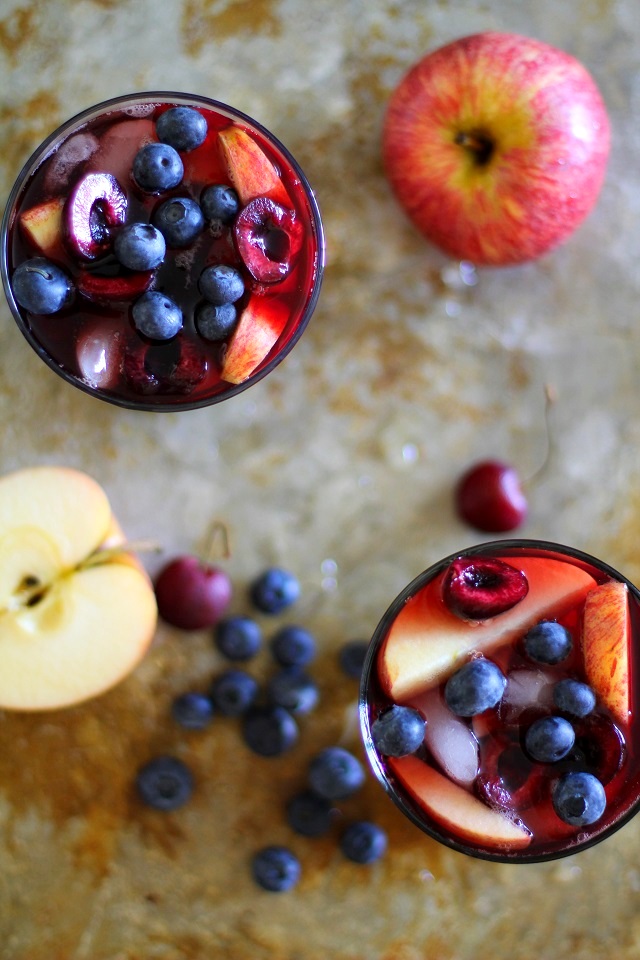 In the realm of cocktails, sangria's one of my favorites. First of all, it involves wine (white, red, or rose, no less!), secondly, it involves booze, and thirdly, it involves fruit. I prefer my cocktails on the less sweet end, so I typically don't add very much sweetener or liqueur. If you like sangria sweet, you can add more agave or cherry liqueur to taste to this recipe. You can make it boozier, sweeter, build your own sangria bar so your friends can choose their poisons…lots of wriggle room when it comes to the cocktailing. Plus, it's perfect for bringing with you to all your summerly events like concert series, and bbqs, and movies in the park, etc. etc.
Should we discuss our emoticons while we share a beverage?
I've been struggling with two things recently…let's chat.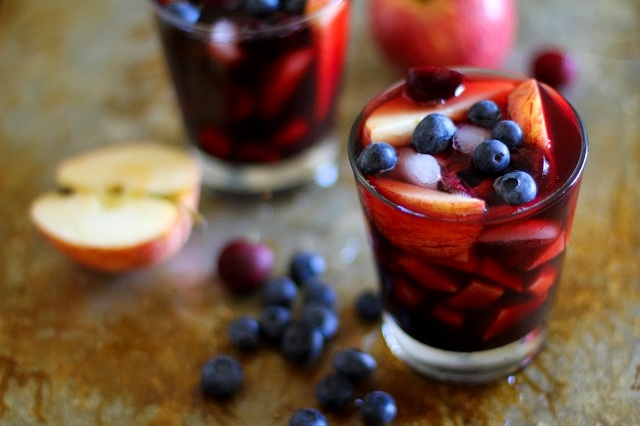 Lately, I've had roughly 0% interest in cooking savory food, with no rational explanation. So basically, all I've been making is dessert (and cocktails apparently). And in turn, all I've been eating is dessert. The calorie-bikini balance struggle is real. MyFitnessPal needs to send help. The End.
SECOND AND LASTLY, I need some advice. I've recently accepted the true fact that I need a TV. In spite of my resistance my entire adult life, the temptation to watch my programs from a living room distance (as opposed to 6 inches from my face on my laptop) is winning. Anyone have suggestions on which TV to buy? Flat screen or no? Technicolor or no? HD? My blood pressure skyrocketed just writing these words. Best Buy needs to send help.
What's new in your neck of the woods? Dig deep, I want the deets.
P.S. This cocktail would go really well with that Grain-Free Cherry Crumble I showed you yesterday. Just FTR.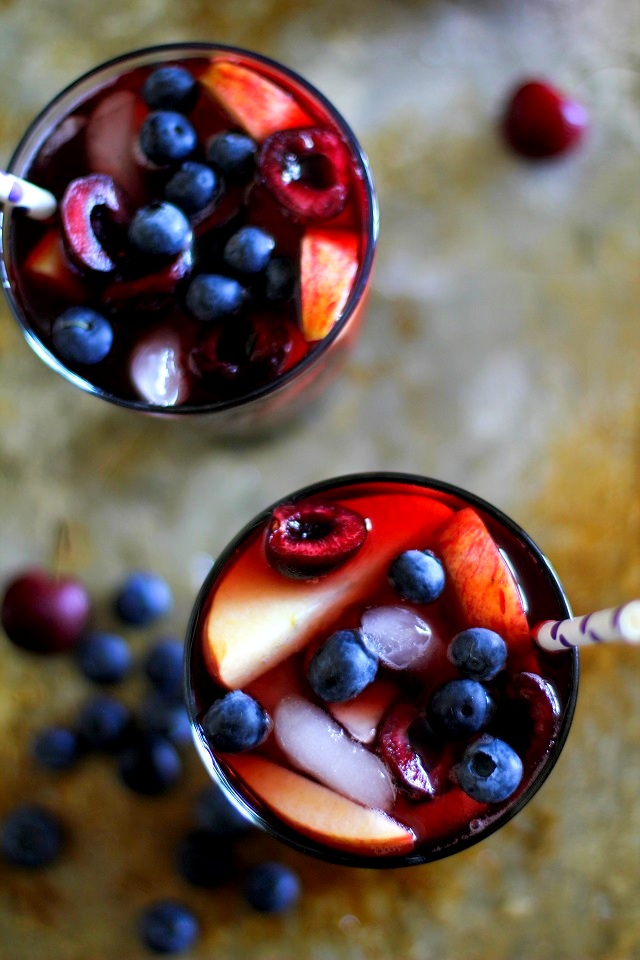 Drank!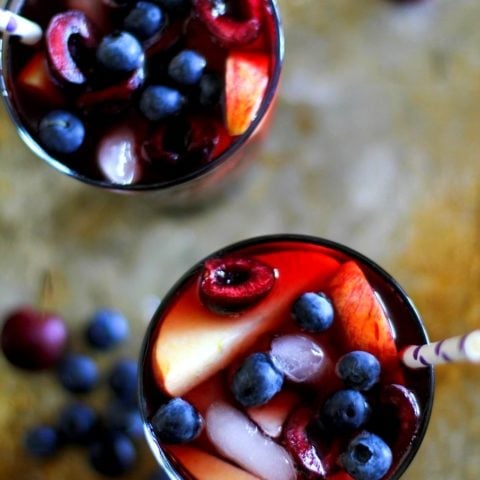 Cherry Blueberry Apple Sangria
Cherry Blueberry Apple Sangria is a fresh, flavorful, easy sangria recipe that is mostly sweetened with fruit juice!
Ingredients
1 bottle red wine, such as Malbec or Cabernet Sauvignon, 750mL
1/4 cup brandy
1/2 cup tart cherry juice
2 tablespoons to 3 agave nectar, to taste
1 large honeycrisp or Fugi apple, chopped or sliced
1 cup blueberries
2 cups cherries, pitted and halved
Instructions
Add all ingredients for the sangria to a large pitcher and stir well. Cover and place in the refrigerator for 4 hours (or overnight) – the longer the sangria sits, the more flavorful it will become. Taste the sangria for flavor and add sweetener or liqueur to taste.
Serve sangria over ice, making sure each glass receives some fruit.
Nutrition Information
Serving Size

1 grams
Amount Per Serving
Unsaturated Fat

0g
Have a sip on these sangria recipes, too: