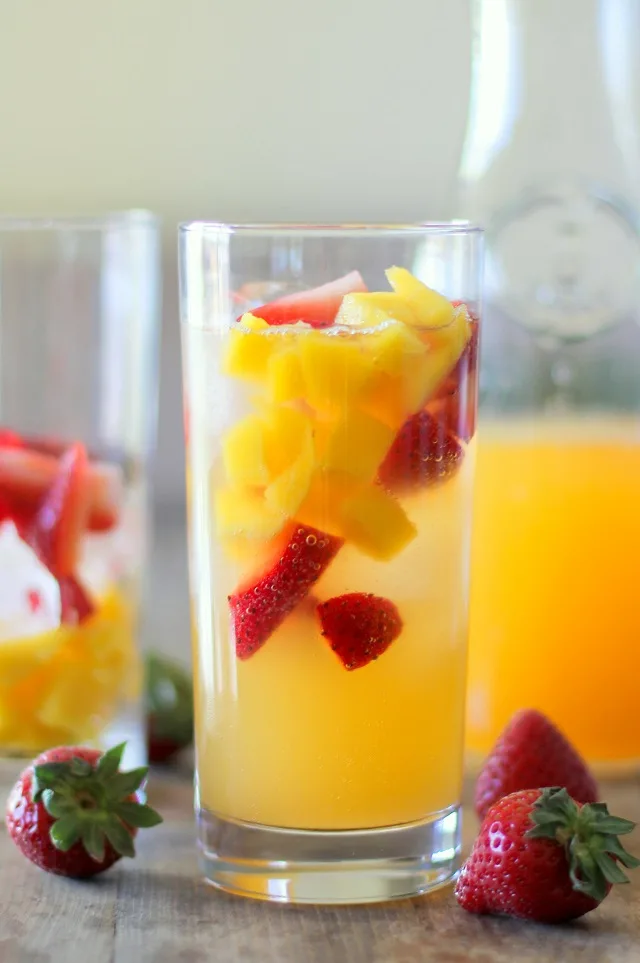 Here I go, here I go, here.I.go.again, girl what's my weakness? Kombucha! <- Salt-n-Pepa reference, anyone? Circa 1993?
Crickets.
The other day, an Idea Wombat flew out of the sky, frapped me in the noggin, and it dawned on me I could use kombucha to replace alcohol for all sorts of mocktail recipes.
What's that you say? You've never heard of an Idea Wombat? They're the dardnest creatures.
What's that you say x2? Wombats can't fly? Trust me, they do when they're uplifted by ideas.
What's that you say x3? What sort of language is, "frapped?" That would be Frenglish.
Let's get cereal.
Now that the weather's warming up, I have sangria and mimosas on the brain. I've been thinking: healthy cocktails + fresh fruit + juice. Using kombucha in place of alcohol results in an all-people-friendly beverage to spruce up any gathering. Minus all the refined sugar, minus all the hangover, plus all the fizz, plus all the probiotics.
In all my years of brewing kombucha, I had never thought to make sangria-like mocktails out of it until just now. While I was developing recipes for my cookbook, Delicious Probiotic Drinks, I was thinking about what flavors I could add prior to bottling the kombucha, as opposed to things I could do with the bevvie post-brew. Now that hindsight is 20/15, I've been drumming up thoughts of kombucha smoothies, mocktails, and duh: salad dressing.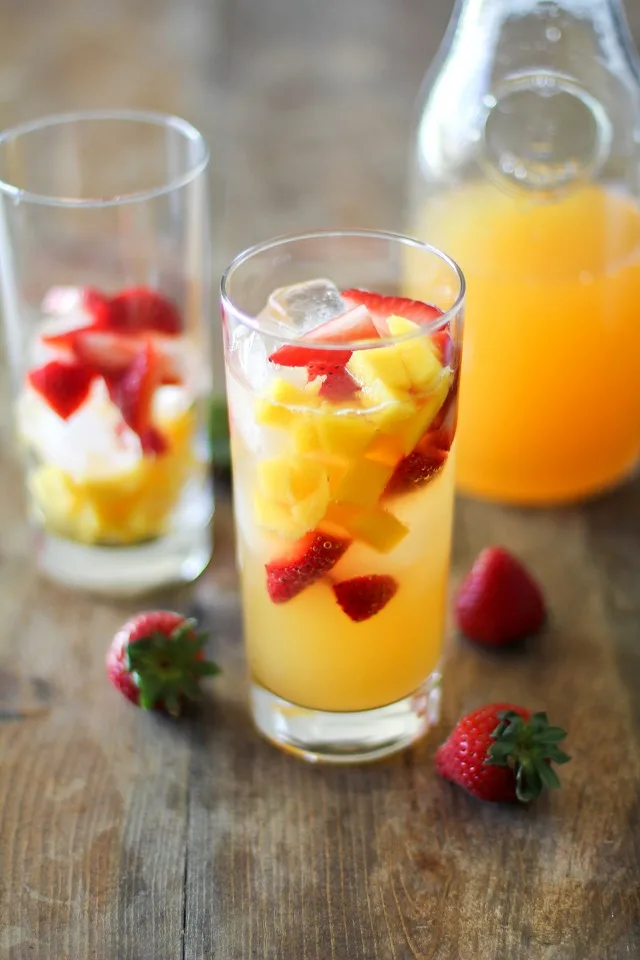 Can I ask you a question? What do you call a kombucha mocktail with juice and fruit? Wine-less Kombucha Sangria? Kombucha punch? Kombuchajito? Bucholitan? Mimocha? Buchosa? Is it reeeeeeally technically a mocktail, since there is a small amount of alcohol in kombucha? I need thoughts, people!
You're still stuck on the Idea Wombat concept, aren't you?
Moving forward…
This clean, bubbly, healthy drink is a perfect for replacement for soda, sugar-laden cocktails, sugary juice, or sports drinks. Since summer is headed our direction, it's always smart to have an arsenal of healthier beverages to enjoy with friends and family. I'm picturing Martha Stewart serving her guests crumpets and kombucha mocktails outdoors on extremely expensive patio furniture. You were picturing the same thing? We must be cut from the same Idea Wombats.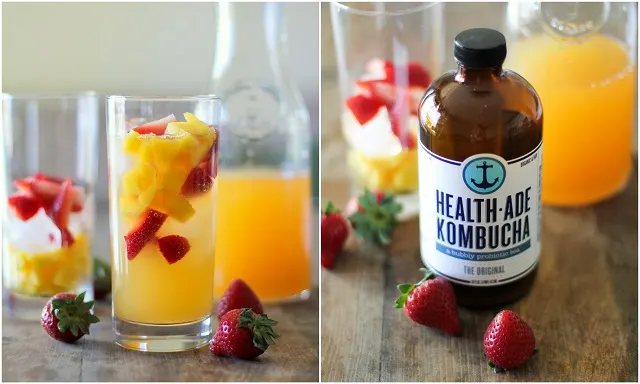 A few weeks ago, I came across Health-Ade kombucha in the grocery store, right next to all the other kombuchas. I'm always up for trying new kombucha, so I snagged a bottle and have been hooked ever since. Their kombuchas are super fizzy (dry, and light-bodied, if you will), and they make all sorts of unique flavors, such as pomegranate, carrot, cayenne, lemon-ginger, apple, plum, and even beet. BEET?! I know…it's like these people know me or something. The fact that their kombucha has a lot of fizzy spunk to it makes it perfect for the mocktailing.
I used Health-Ade's Original (unflavored) kombucha for these mocktails, but you could also use one of their flavored varietals. To give this bevvie a tropical flavor, I used 100% orange mango juice from Whole Foods, and added fresh strawberries and mango. It turns out super crisp, like a healthy probiotic-rich carbonated fruit punch you in the facetrap.
I'm now thinking up all sorts of kombucha mocktail concoctions, such as pineapple juice and fresh kiwis, pomegranate juice and mixed berries, apple juice and fresh pears. I mean…you can really just get carried away with this bloomin' kombucha mocktail thing.
A basic formula you can use is 2 cups of 100% juice for every 32 ounces of unflavored kombucha, plus 4 cups of fresh fruit (or more or less, whatever's your bag, baby). Any thoughts on kombucha concoctions? Any Idea Wombats, if you will? You want to flick me in the nose? I'll stop.
Bottoms up!
Strawberry Orange Mango Kombucha Mocktails
An alcohol-free refreshing beverage, these Strawberry Orange Mango Kombucha Mocktails are fresh, flavorful and delicious!
Ingredients
2 16- ounce bottles Original Kombucha, unflavored
2 cups 100% orange-mango juice
1 ripe mango, peeled, pitted, and chopped
2 cups fresh strawberries, chopped
Instructions
Add all ingredients to a large pitcher and stir. Serve over ice and enjoy!
Nutrition Information
Serving Size

1 grams
Amount Per Serving
Unsaturated Fat

0g
If you're unfamiliar with the health benefits of kombucha, be sure to check out my post on 10 Things You Need to Know About Kombucha. If you're nursing or pregnant, consult your doctor before drinking it and also ask your pediatrician before giving it to your children.
If you brew your own kombucha at home, check out these flavored kombucha recipes: