I almost titled this post "An Exceedingly Untraditional Approach to Horchata." But I didn't want you to scamper off.
Don't scamper off.
Horchata is the drink of angels.
You guys, this recipe is super inauthentic, but super tasty.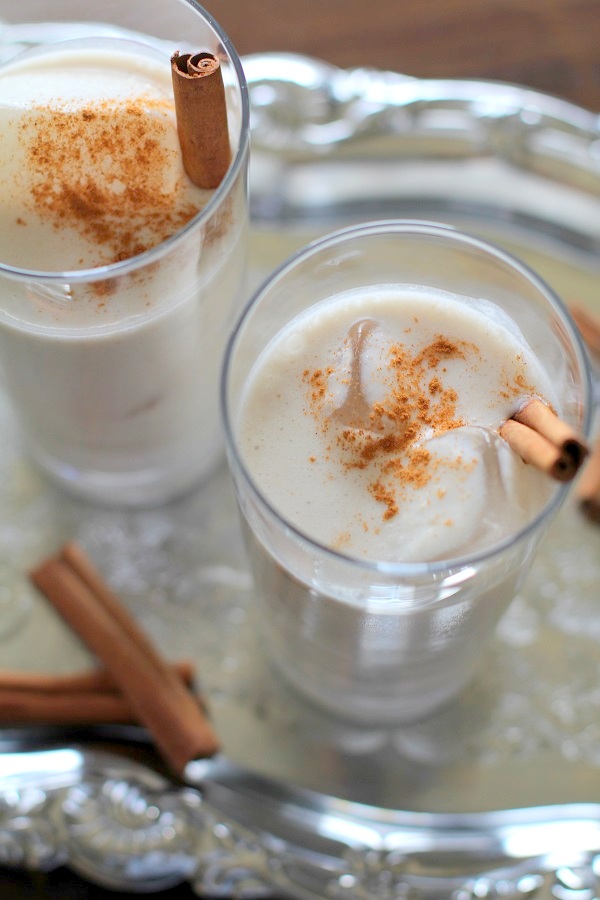 One of my all-time favorite meals back in my college days was a ginormous carne asada burrito and a huge glass of ice cold horchata. So I swapped out my eggnog with horchata, and lemme tell ya: I'd be up for making this a yearly tradition.
Making horchata is serious business. Like, it comes with this whole set of guidelines. The Mexican version is typically made with white rice, blanched almonds, sugar, cinnamon, milk or water, and sometimes lime juice.
The Spanish version is made with tigernuts, water, and sugar (sometimes sesame seeds or barley) The process is somewhat lengthy, but it's worth every ounce of effort you put into it. Here are the basics for Mexican-style horchata.
How to Make Traditional Mexican Horchata:
1.) Blanch some almonds.
2.) Soak uncooked rice and blanched almonds in water overnight
3.) Blend rice and blanched almonds with water or milk
4.) Add sugar or simple syrup
5.) Strain horchata through cheesecloth.
6.) Drink it all.
Optional: some people add lime juice or lime zest. I have never tried this, so I can't speak to the flavor.
I feel very strongly about horchata; however, I try to limit my sugar and dairy intake. So I subtracted the milk and sugar and substituted in coconut milk and maple syrup. I also LOVE skipping steps, so I omitted the blanching-of-the-almonds, and simply added unsweetened almond milk. I know. Super lazy…super inauthentic. Girl's gotta do what a girl's gotta do.
Replacing milk and sugar's a cinch, but what about all the rice soaking? I mean, that puts a lot of distance between me and my final destination. One balmy evening, I needed horchata and I needed it RIGHT THEN.
I'm all about following the rules (not), but waiting an entire night to allow rice to soak was just not something I was prepared to do. So I cooked the rice. In straight up coconut milk. With a couple cinnamon sticks.
After the rice was cooked, I blended everything for about 1 minute in my Blendtec Blender. If you don't have a super powerful blender, I would recommend blending the mixture for 2 to 3 minutes until the rice is very well pulverized.
After everything was pureed, I strained the liquid through a sieve (fine wire mesh strainer). You can also strain the horchata through cheesecloth. This is not a step I would recommend skipping. The straining really makes for a smooth and creamy texture, which is one of horchata's finest characteristics.
If you're looking for the true, authentic, badass way of making horchata at home, follow this awesome tutorial from NoshOn.it. on How to Make Authentic Horchata.
Enjoy the drink of angels!
Easy Naturally Sweetened Horchata (Vegan)
Easy horchata made dairy-free and naturally sweetened is an incredibly creamy and delicious beverage!
Ingredients
1/3

cup

uncooked long grain white rice

or 1 cup cooked

1

cup

water

1

14-ounce can lite coconut milk

2

cinnamon sticks

1/2

teaspoon

ground cinnamon

4

cups

unsweetened almond milk

1

teaspoon

pure vanilla extract

1/3

cup

+ 1 tablespoon pure maple syrup

or to taste
Instructions
Add the uncooked rice, water, coconut milk, cinnamon sticks, and cinnamon to a medium-sized pot and bring to a full boil. Reduce the heat, cover, and allow the mixture to cook for 45 minutes. Remove from heat and allow the mixture to cool to room temperature.

Discard the cinnamon sticks and add the rice mixture to a blender along with the remaining ingredients. Blend on high for 1 to 3 minutes until horchata is very smooth.

Strain horchata through a sieve (fine mesh strainer). Chill in the refrigerator until ready to drink!
Nutrition
Serving:
1
of 4
|
Calories:
174
kcal
|
Carbohydrates:
22
g
|
Protein:
1
g
|
Fat:
9
g
|
Fiber:
1
g
|
Sugar:
19
g