Winter Sangria Recipe with unsweetened apple cider, pomegranate juice, blood oranges, apples, and cinnamon sticks for a festive naturally sweetened cocktail.
We're going cocktailing! Bring your green hat!
What are we all drinking and eating for Super Bowl Sunday? Are we slinging back brewskies? Playing a game of Ice? Do we have a party theme? Are we freezing our faces off on the East Coast or are we wearing shorts and flippers on the West Coast? I need details, people!
Since we're on the subject of cocktails and the hearts and flowers holiday is coming up, what are we flipping drinking on V Day? This sangria is puh-retty sexy, just sayin'. We'll cross that bridge when we get there? We're getting too far ahead of ourselves? We hate V Day? Word.
One of the things I like about sangria is it's a big batch cocktail, so you can quench the thirst of 6 people in one fell swoop. Or possibly just quench yourself…no one's here to judge. But as Mozzie (from White Collar) would say, "A shared life is one worth living," just like a shared cocktail is one worth drinking.
Or something to that effect.
You know how people say things like, "Lasagna's always better the next day," and it's completely true even though there's no way you're waiting a bloomin' 24 hours to dig into that sucker? Same's the case with this winter sangria.
If you have the fortitude to sleep on it, allowing sangria to marinate overnight is a stellar idea.
I especially observed it with this sangria recipe, because the citrus and cinnamon infuse the cocktail like whoa the longer you wait. So the point is, you can make this drink ahead of time, or you can be all johnny-on-the-spot about it.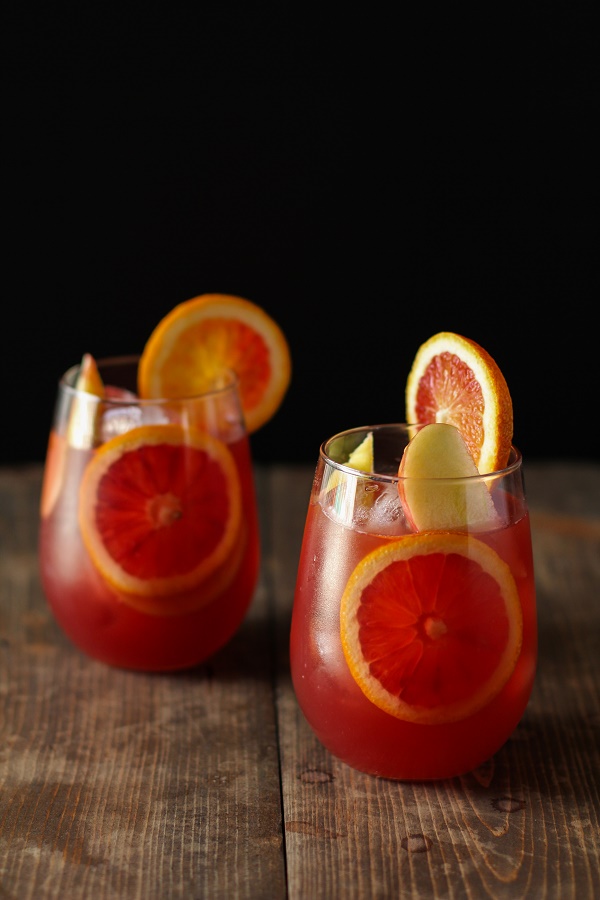 I put all the winter into this winter sangria.
Unsweetened apple cider, pomegranate juice, blood oranges, apples, and a stinkin' cinnamon stick. You'd never think these flavors would be jelly together, but they totally are. All things marinated makes for a refreshing cocktail!
For those of you who are enduring freezing temperatures, you may shudder at the thought of drinking cold liquid.
To this, I'd respond: mulled wine.
You can take the exact same recipe, but swap the white wine with red, add a couple cloves and heat every last ingredient up on your stove top. But don't boil, because: alcohol.
Point is: whatever it is you do, let there be wine.
More Cocktail Recipes:
Drink like it's Tuesday Saturday.
Winter Sangria with Pomegranate, Blood Orange, and Apple
Winter Sangria with Pomegranate, Blood Orange, and Apple sweetened mostly with juice for a lower sugar cocktail recipe.
Ingredients
1

750-ml bottle white wine, such as sauvignon blanc

1 1/2

cups

unsweetened apple cider

16

ounces

100% pure pomegranate juice

2

tablespoons

pure maple syrup

to taste*

2

cinnamon sticks

1

large ripe blood orange

cut into wedges

1

honeycrisp apple

cored and cut into wedges
Instructions
Add the wine, apple cider, and juice to a large pitcher.

Add the cinnamon sticks, chopped blood orange, and apple. Serve chilled.

Note: cover and place in the refrigerator overnight for more citrusy-cinnamon-y flavor.
Notes
*You can replace the agave with pure maple syrup
Nutrition
Serving:
1
of 6
|
Calories:
194
kcal
|
Carbohydrates:
27
g
|
Sugar:
23
g