Strawberry Rhubarb Mint Mojitos. < – Use them to cheers all things in life.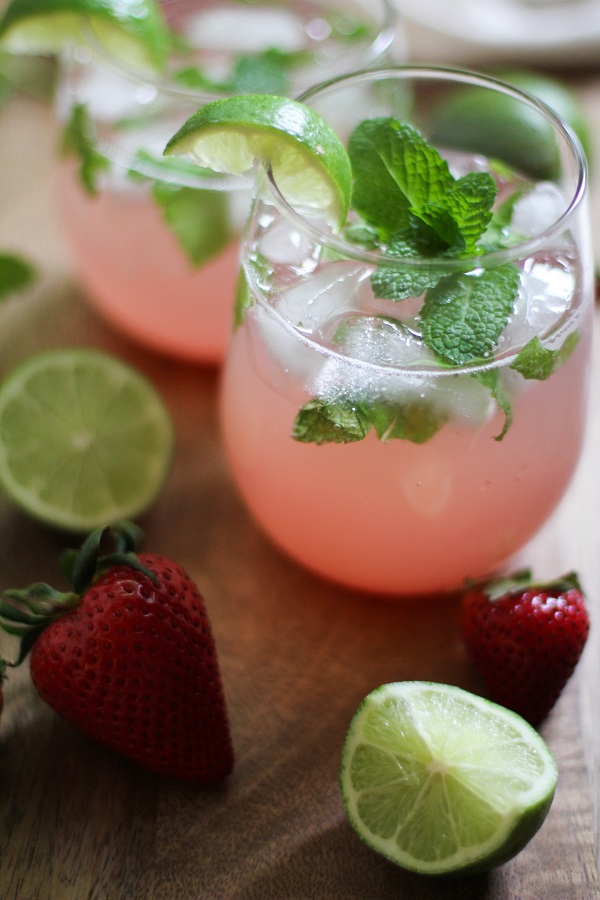 Cheers!
To the big things in life, like family, friends, health, green vegetables, and really great chocolate.
To the little things in life like day drinking at the beach, sweet potato noodles, cats with great dividends, and figuring things out along the way.
To that time you saw your cookbook sitting on the shelf at your local Barnes & Noble. That was really freaking cool.
To Adam Levine no longer looking like Draco Malfoy. Oh wait, he still does. That's a bad example. #blondehairfordays
To beautiful summer weather in May <- this is sarcasm.
To rhubarb season and making cocktails at home like a straight up adult!
I don't do very much cocktailing, but when I do, I like the drinks to be fresh and clean (queue Outkast). Wine is my drink of choice so I know approximately zilch about booze, but I do know what makes the boozes taste good and that's fruit and herbs. Enter: strawberry rhubarb mint simple syrup.
It always got my romper in a rage to read cocktail recipes, because in my mind: booze + something sparkly + something sweet = cocktail. Does that necessitate a recipe? Do we really need measurements? Nah. I made these cocktails for ladies night, so the only thing I measured out was the amount of syrup I added to each glass. The rest was pour and go.
Anyhoo. Cocktail recipes. Many of them call for simple syrup. Classic simple syrup is made by combining a 1:1 ratio of water to sugar in a pot, heating it until boiling, and allowing it to simmer until syrupy. As I mentioned in my Strawberry Rhubarb Mint Simple Syrup post, I like to substitute cane sugar with a natural sweetener, such as pure maple syrup or agave. The result is a flavorful mixture that will make you feel less hurt in the morning. You're welcome.
These strawberry rhubarb mint mojitos aren't super sweet, which all of us ladies enjoyed. Gone are the days of the sugary Red Headed Slut, Surfers on Acid, and all them other Cosmopolitan-y drinks. These are zesty, refreshing, and go down real nice. They are perfect for cheers-ing the big and small things in life.
So to summarize: otherworldly cocktail = stellar homemade naturally sweetened fruit-infused simple syrup + da booze + da fizz. Mix it all up, cheers your friends and enjoy.
Strawberry Rhubarb Mint Mojitos
Strawberry Rhubarb Mint Mojitos made with homemade strawberry simple syrup are remarkably flavorful and fun to share!
Ingredients
5

fresh mint

muddled or chopped

½

lime

juiced

2

ounce

white rum

7

ounces

sparkling water
Instructions
Prepare the strawberry rhubarb mint simple syrup.

Fill 2 glasses with ice, and add 6 tablespoons of the syrup to each glass, followed by crushed mint leaves, lime juice, rum, and sparkling water.

Garnish with more mint and enjoy!
Nutrition
Serving:
1
cocktail
|
Calories:
240
kcal
|
Carbohydrates:
42
g
|
Protein:
2
g
|
Fat:
1
g
|
Sugar:
16
g