Halloween is right around the corner, and we need beverages! This Spooky Halloween Sangria makes for a delicious yet creepy cocktail. I have included two versions in this post!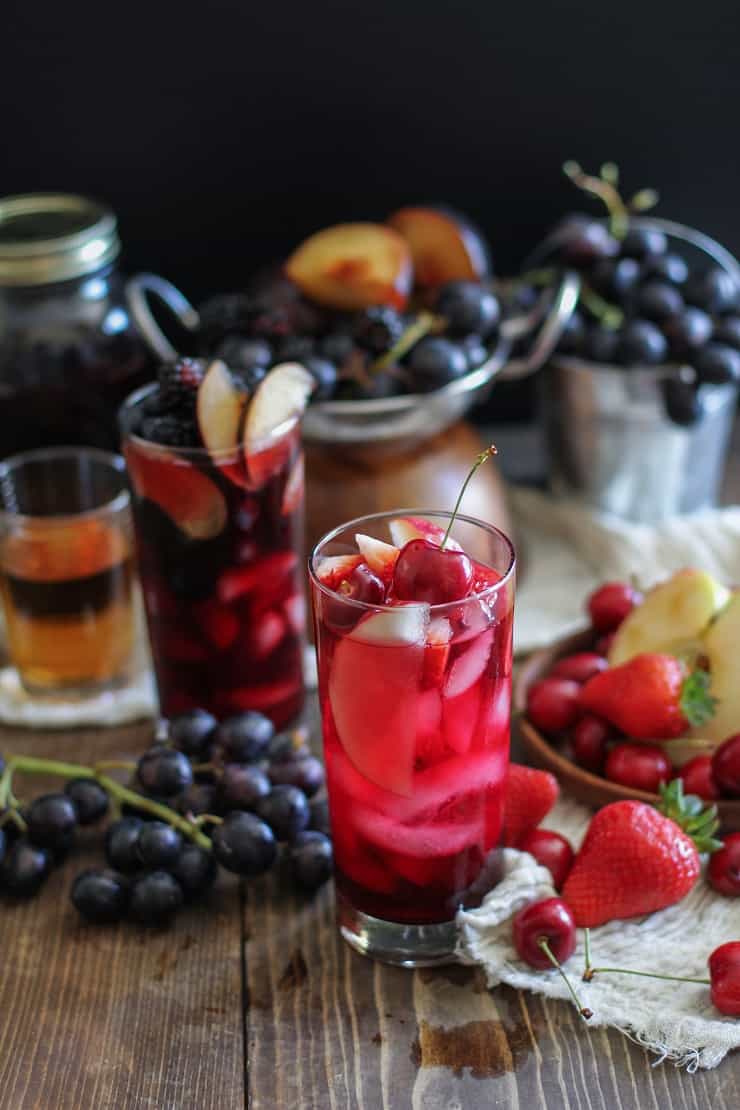 I don't know what you're feeling in terms of dress code, but we all know what I want to dress up as -> an Otter Pop.
I still haven't gotten any takers to be the other flavors of Otter Pop with me.
If I had it my way, there'd be at least four of us attached by the Otter Pop seam, handing out Otter Pops every which way, but alas, no one is interested in being my OP cohort, and alas x2, you can't win all your battles in life, now can you?
But you know what you can win at every time? Alcohol.
That's right, I've got two naturally sweetened sangria recipes to spook out your friends and family on Halloween, because haven't you heard? Sangria is Spanish for blood muuuhahaha!! Are you creeped out? Good!
The festive cocktail thing. I can dig.
Generally, I'm anti-festive anything, but if there's booze involved, that's a whooooole 'nother ball of wax.
Festive me up, baby! Thrice ways from Sunday (whatever that means).
I'm also not into entertaining guests (shocking, I'm sure), but I'm all about bringing alcohol to a party. Sangria (or sangria fixings if you don't have a good liquid transportation apparatus) is great for that.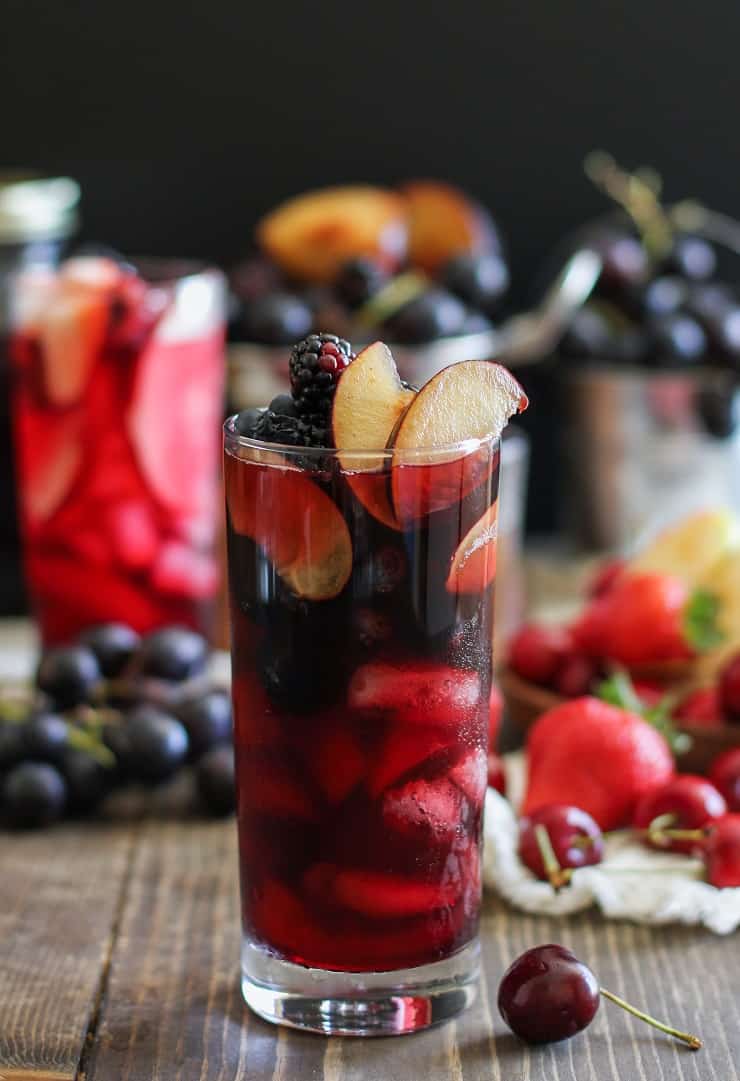 I'm all about a good formula in life, and I figured I would share the method I use for sangria. It involves zero added refined sugar so the cocktail stays naturally sweet.
You guys, this is alcohol and it's fun, so it doesn't have to be an exact science.
My formula is more of a general guideline, and there's plenty of room for adjustment. Regardless of your adjustments, pour like Macklemore is watching.
General Formula-ish for Naturally Sweet Sangria:
1 bottle dry red, white, or rose wine*

3 to 5 tablespoons natural sweetener, such as pure maple syrup or agave

¼ to ⅓ cup liquor, such as brandy, dark rum, whisky or bourbon

½ to 1 cup 100% fruit juice

2 cups fresh fruit, chopped

Extra flavor infusers, such as cinnamon sticks, extracts, and fresh herbs
*red-wise, malbec and cabernet sauvignon are my favorite, and my go-to white is sauvignon blanc
So, usually, sangria contains 1 to 2 ounces of flavored liqueur, but I don't like liqueur (mostly because it's way too sweet for my taste), so I always leave it out. You're 200% allowed to add your favorite funky-fresh liqueur to the above formula for added college kid spunk. I will say, I have added apple whisky to sangria and it turns out pretty amazeballs. So a great alternative to liqueur would be flavored liquor.
When it comes to sangria, I'm all about making the batch one to 2 days ahead of time for maximum flavor output. So if you're hosting a Halloween party, you can whip these cocktails up Thursday or Friday night, and be guaranteed a super flavorful drink for your household to enjoy.
Enough chit chat, let's get down to the nitty gritty. Here are your recipes for black sangria and red sangria:
Black Sangria
For a dark black sangria, combine a bottle of full-bodied red wine, such as malbec or cabernet sauvignon, ½ cup of dark juice, such as pomegranate, grape, or blueberry juice, ¼ cup pure maple syrup, and 2 to 3 cups of chopped dark fruit, such as black grapes, plums, blueberries and/or blackberries (see recipe below). Liqueur options/ideas: caramel, vanilla, orange, apple.
Ingredients:
1 (750-ml) bottle red wine, such as malbec or cabernet sauvignon

1/2 cup pomegranate, cherry, or blueberry juice

1/4 cup brandy

1/4 cup pure maple syrup, to taste

1 cup blackberries

2 black plums, chopped into wedges

1 cup black grapes, halved
Instructions:
Add all ingredients to a large pitcher and stir well.

Allow sangria to sit at least 2 hours (overnight is best) before serving over ice. Add some of the alcohol-soaked fruit to each glass.
Red Sangria
For a red sangria to mimic blood, combine a bottle of white wine with pomegranate,cherry, or beet juice (I PROMISE, beet juice tastes great in cocktails!), along with red fruit like strawberries, honeycrisp or fugi apple, cherries and red grapes. (see recipe card below). Liqueur options/ideas: strawberry, apple, cherry, orange, vanilla.
Ingredients:
1 (750-ml) white wine, such as sauvignon blanc or chardonnay
1/2 cup pomegranate, cherry, or beet juice
1/4 cup brandy
1/4 cup agave nectar, to taste
1 cup strawberries, chopped
1 honeycrisp apple, cored and thinly sliced (or chopped)
1 cup cherries, pitted and halved
Instructions:
Add all ingredients to a large pitcher and stir well.

Allow sangria to sit at least 2 hours (overnight is best) before serving over ice. Add some of the alcohol-soaked fruit to each glass.
What I like doing with this red version is making single-serving cocktails – this way you can pour everything except the juice into individual glasses first, then pour the red juice on top, creating a sort of blood-in-water look. Straight-up Dexter style. Real creepy, yo!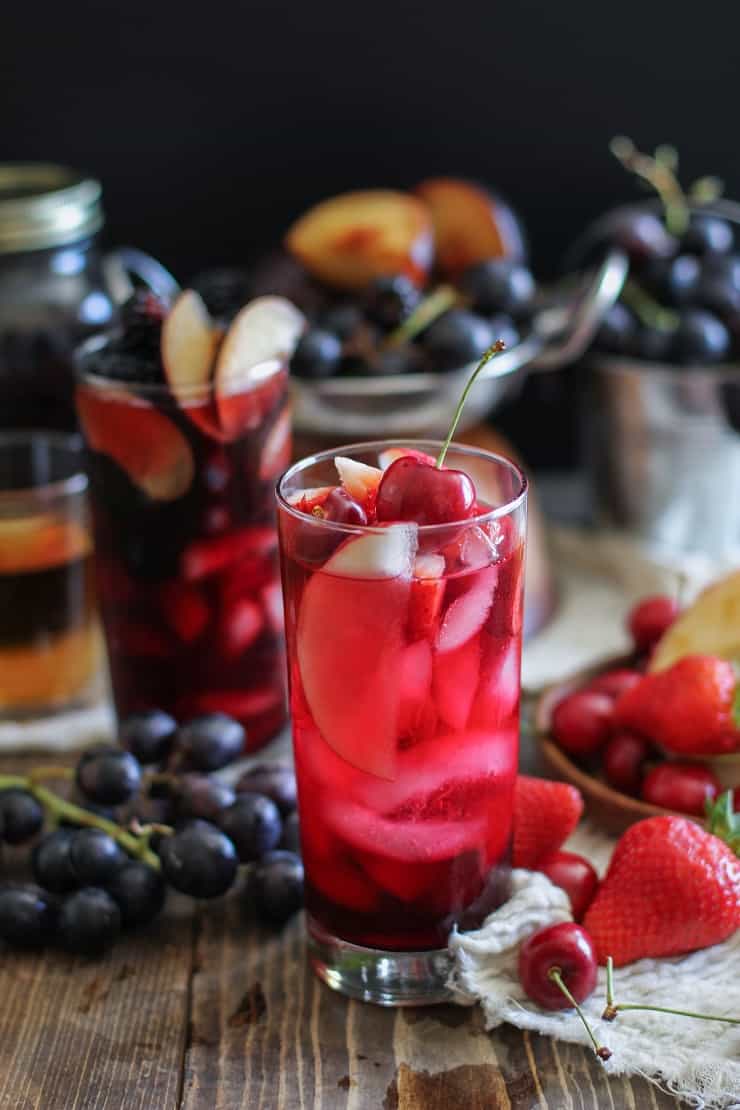 Speaking of single-serving sangria: If you're doing a sort of build-your-own sangria bar situation, a general equation for one glass of sangria is as follows:
1 cup red or white wine

½ to 1 ounce liquor

1 to 2 ounces fruit juice

2 to 4 teaspoons pure maple syrup or agave nectar, to taste
Fill a glass with ice, add all ingredients, and stir well (or add all ingredients to a shaker with ice, shake, and serve over ice).
KEEP IN MIND!: I like my cocktails sweet, but not syrupy, so adjust the sweetness of your batches to taste by adding more liquid sweetener and/or liqueur.
LET'S TALK WINE SNOBBERY: You're going to hate me, but I never recommend using cheap bottles of wine for anything in life (including cooking), UNLESS said cheap bottle of wine is actually good (and some do exist!! Like rare unicorn fairies) or you're 19…err…I mean 21, and you can bounce back from your alcohol benders like a flipping rubber band. The way I see it with sangria, you're already going to be boozing and candy-ing it up…a Cheap Wine Sangria Hangover is not a cross you want to bear. Ever. Not that I'm being preachy.
A NOTE ABOUT JUICE: It probably goes without saying since I like keeping my cocktails refined sugar free, I also like using 100% fruit juices. I totally dabble in the fruit juice blends (like pomegranate//blueberry, cranberry//apple, mango//orange, etc), but I just stay away from using juices that have refined sugar. Using 100% juice yields a fresh, clean flavor, and also helps avoid that sangria hangover.
SERVING SUGGESTIONS: Depending on the holiday and/or time of year, you can totes serve your sangria with a sprig of fresh herbs, cinnamon stick, what have you, in order to make it pretty and fancy. Cool festive straws? Do it. Little plastic spiders to scare your friends? Why not?! Also, be sure your friends get plenty of fruit in their glass when serving the sangria. There really is nothing like alcohol-infused fruit. Preach.
Well, shoot, I think that's all I have for you. Just keep in mind the longer your sangria marinates, the better. Have fun, drink responsibly, come back and tell me your crazy Halloween stories!
xo
If you make this recipe, please feel free to share a photo on Instagram and tag @The.Roasted.Root!