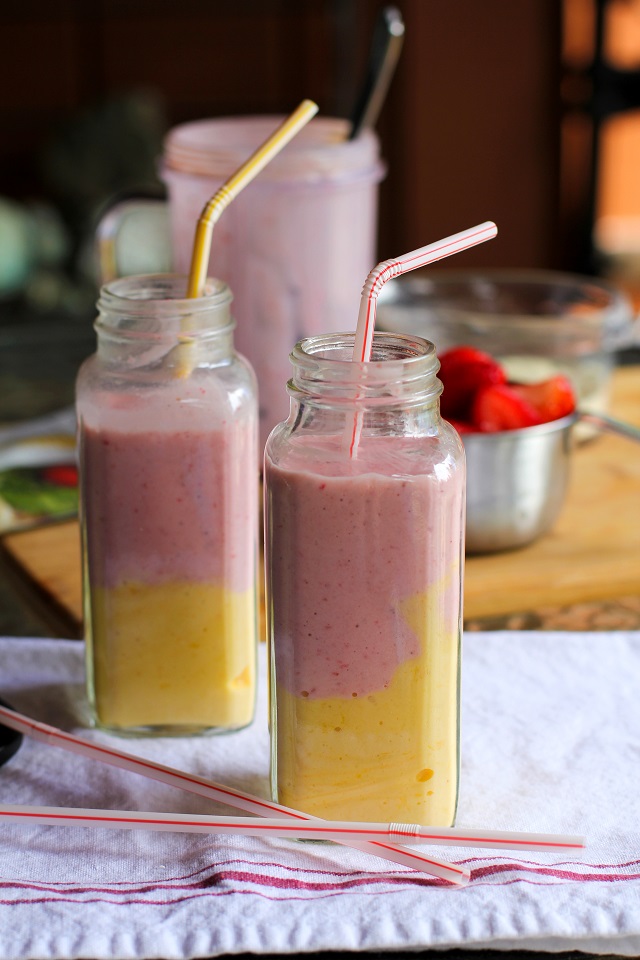 I'm about to divulge a piece of information about myself that's very telling.
I'm a Gemini.
…which means I have a tough time making decisions and I get bored easily. Like, Speedy Gonzales quick. For those of us who crave variety, layered smoothies/cocktails/shakes are totally boss. They are the cheese to our macaroni (<- Juno reference, anyone?). The flip to our flops. The laces to our sneaks. The Loretta Lynn to our Conway Twitty, the…you get the picture.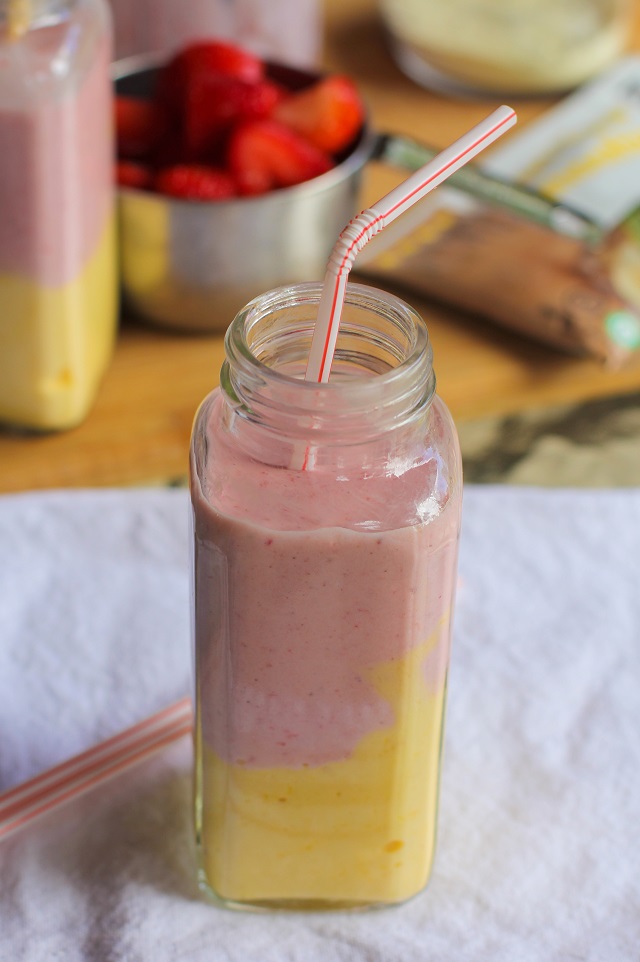 Layered bevvies….we don't have to settle on just one color scheme, and just when we've had enough of flavor one, BAM! Flavor two comes along to keep things interesting.
While I was flipping through the June Cooking Light, I spied a recipe for a layered Berry-Mango-Almond Shake. The vibrant picture looked too good to pass up, so I made some changes to the recipe and fashioned myself a little afternoon delight. The original recipe uses vanilla frozen yogurt and almond milk, which I replaced with regular plain yogurt and coconut milk. I also added protein powder, resulting in a super thick, creamy, and protein-packed treat.
Which brings me to my next point…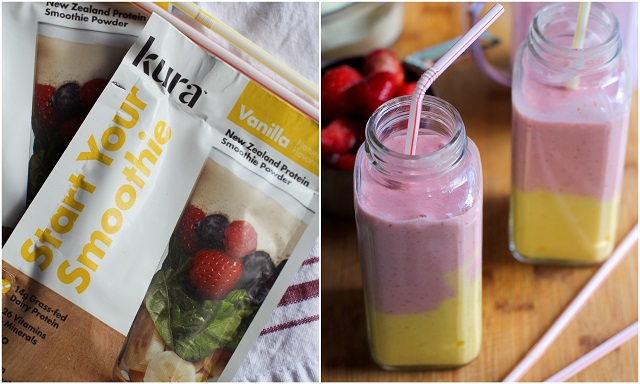 I must confess, I've been fairly disinterested in protein powders up until Kura sent me a care package of their vanilla, berry, and chocolate Smoothie Powders. I was concerned about the quality of most protein powders, as well as added sugar and miscellaneous ingredients I can't understand or pronounce. So basically I've been a mondo protein powder naysayer. A quick look at Kura's packages reassured me this was a protein powder I could 200% consume.
Are you a label reader? Me too! Have a looksy: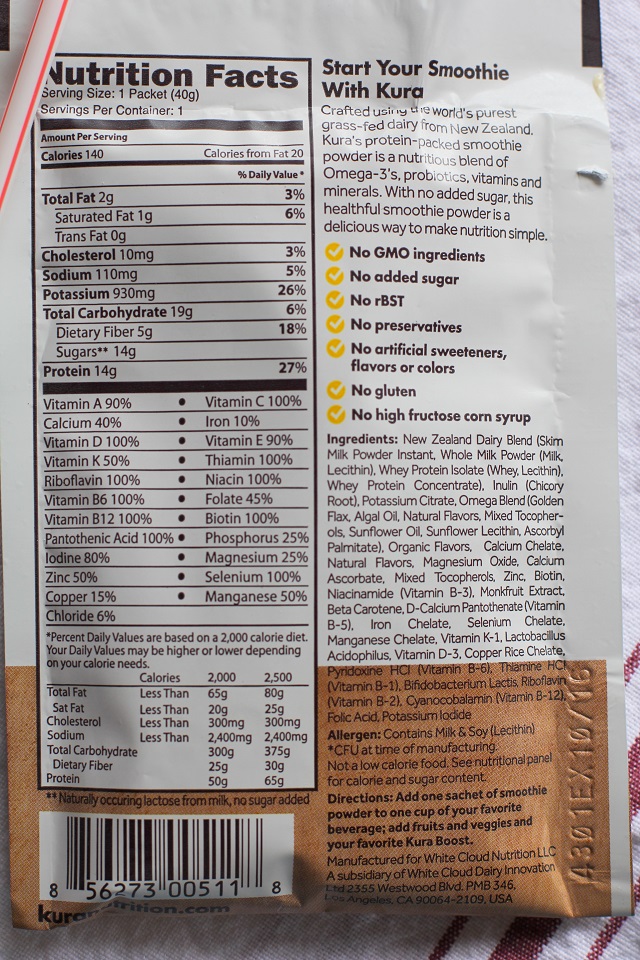 Kura protein powder comes from New Zealand grass-fed, antibiotic-free dairy protein. The powder is also non-GMO and contains no added sugar, no preservatives or artificial sweeteners, 26 essential vitamins and minerals, probiotics and prebiotics, fiber, and omega 3 fatty acids. Like I said: boss. This shake is great for a post-workout replenisher and/or a great way to start the day. You're getting an infusion of nutrients as well as protein and carbohydrates. Plus, it's layered and dessert-like with two-for-one appeal, so there is that.
You can snag Kura protein smoothie powders from Sprouts, Whole Foods (available in TX, AR, LA, OK only), and Amazon. You can get 10% off when you use the discount code KURARORO on Amazon.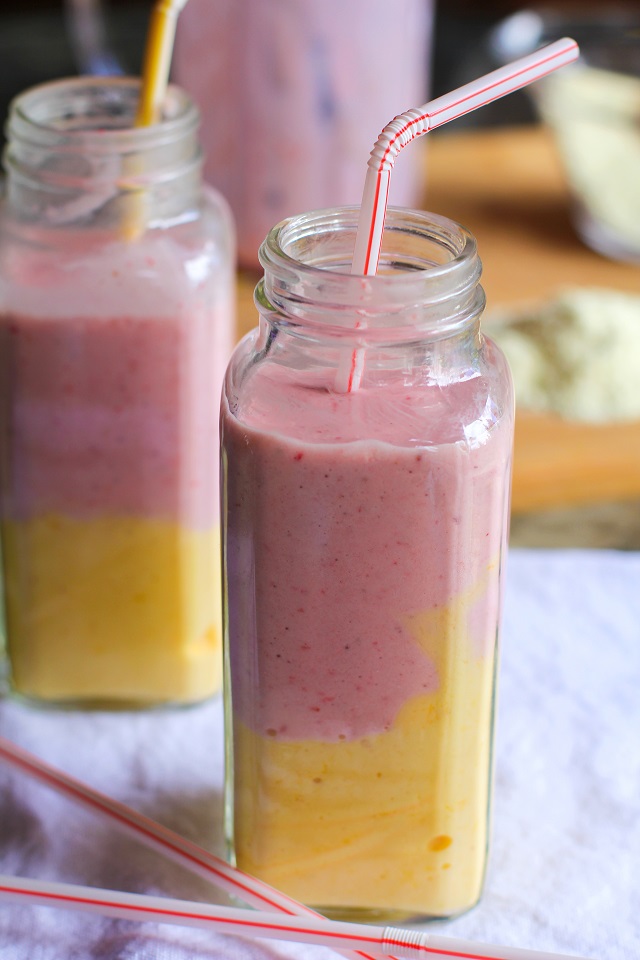 Shake 'er up!
Strawberry Mango Protein Shake
Strawberry Mango Protein Shake
Instructions
Add the frozen mango, 1 teaspoon of maple syrup, 2/3 cup plain yogurt, ¼ cup coconut milk, and half the protein powder (about ¼ cup) to a blender. Blend until completely smooth, adding more coconut milk if necessary. Divide mixture among 3 to 4 glasses.

Add the frozen strawberries, and the remaining ingredients to the blender and blend until completely smooth, adding more coconut milk if necessary. Divide mixture among the glasses with the mango shake and enjoy!
Notes
Use a high-powered blender for best results. If necessary, add more coconut milk or almond milk to help the blender process the ingredients.
Nutrition
Looking for more layered fiestas of flavor? Check out these recipes:
Disclosure: This post is sponsored by Kura. As always, all opinions are my own, and thank you for supporting the brands that support this site.