Kombucha is a naturally-fermented probiotic drink, filled with health benefits. Make a Strawberry Basil flavor at home!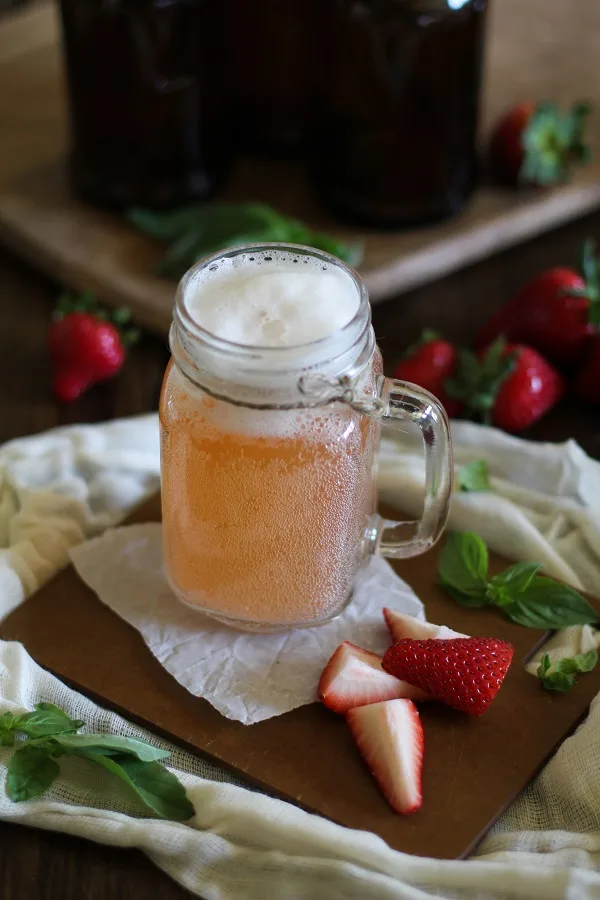 Drinking kombucha every day is a habit I picked up while I was writing my cookbook, Delicious Probiotic Drinks
. Although I don't brew as many probiotic beverages as I did while developing recipes for the cookbook, I still brew kombucha regularly.
I almost always have a freshly bottled batch in the refrigerator. I tend to start brewing a new batch before I run out of inventory so that I have a continual stock. I couldn't possibly go a single day without my favorite afternoon pick-me-up!
Quick note: If you're new to kombucha and want to learn about its health benefits or how to make it at home, read my post on How to Make Homemade Kombucha.
Along with spunky spring produce, there has been an onslaught of plump and juicy ripe strawberries at my local grocery store.
I picked up a huge case of strawberries a couple of weeks ago and used them in all sorts of recipes, from overnight oatmeal to salad to simple syrup. Unsure of what to do with the remaining berries, I remembered I had a batch of 'bucha that was ready to be bottled.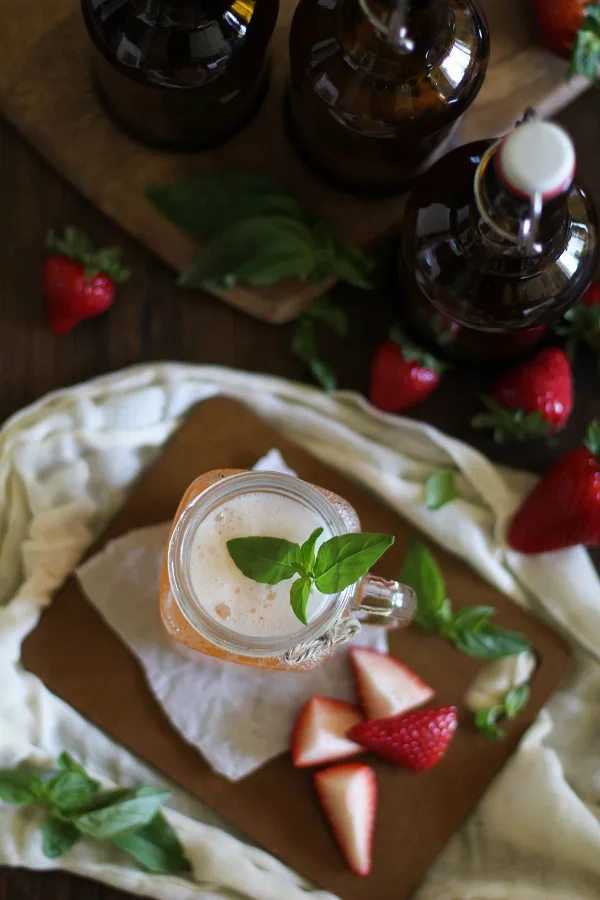 The obvious solution to my berry conundrum was to use them to flavor my kombucha for secondary fermentation. Because I love fruit and herbs together, I included basil in on the action (probably one of the best decisions I ever did make), and I ended up bottling 2 gallons of Strawberry Basil Kombucha.
This is a winning flavor combination and makes for a fizzy, tasty treat!
Looking to put a little pip in your step? Kombucha's your jam!
For more tricks and tips on kombucha brewing (and for tasty recipes for all sorts of probiotic beverages) check out my cookbook, Delicious Probiotic Drinks
!
Strawberry Basil Kombucha
Yield:
8 (16-ounce) bottles of kombucha (2 gallons)
Mix up your homemade kombucha by adding a strawberry basil infusion of flavor!
Ingredients
2 cups heaping ripe strawberries, chopped
½ cup sugar
½ cup water
2 ounces fresh basil, chopped (1 cup)
Instructions
Brew a batch of homemade kombucha. When it's ready to be bottled for secondary fermentation (after 7 to 10 days of brewing), follow instructions below.
Add the strawberries, sugar, water and basil to a saucepan and bring to a full boil.
Reduce heat and simmer for 10 minutes. Remove from heat, mash the strawberries with a fork and allow mixture to cool to room temperature (to speed up this process, pour the mixture in a bowl and refrigerate).
In a large glass pitcher, combine half of the strawberry-basil mixture (including the pulp) and half of the kombucha. Stir well.
Pour the strawberry-basil kombucha into 16-ounce glass flip cap bottles ¾ of the way up. Distribute the strawberry and basil pulp between the bottles.
Repeat for the remaining half of the kombucha and strawberry-basil mixture.
Seal flip cap bottles and leave in a warm, dark place for 2 to 4 days for secondary fermentation. Refrigerate all of the bottles to chill before drinking (refrigeration also slows the fermentation).
When ready to drink, point the bottle away from your face and carefully open, as gasses will have built and the kombucha will be fizzy.
Using a small fine strainer, strain the kombucha into a glass and discard the pulp.
A kombucha a day keeps the doctor away!
Notes
*Brew a 2-gallon batch of kombucha and save some of the liquid (about 1/3 gallon) with your SCOBY for starting your next batch. In order to keep this recipe raw, skip the heating process. Instead, blend 2 cups of water with 2 cups of strawberries, then mix together with chopped basil, sugar, and kombucha prior to bottling.
Nutrition Information
Yield

8
Serving Size

16 ounces
Amount Per Serving
Calories

50
Unsaturated Fat

0g
Carbohydrates

12g
Sugar

11g
Useful Tools for Brewing Kombucha: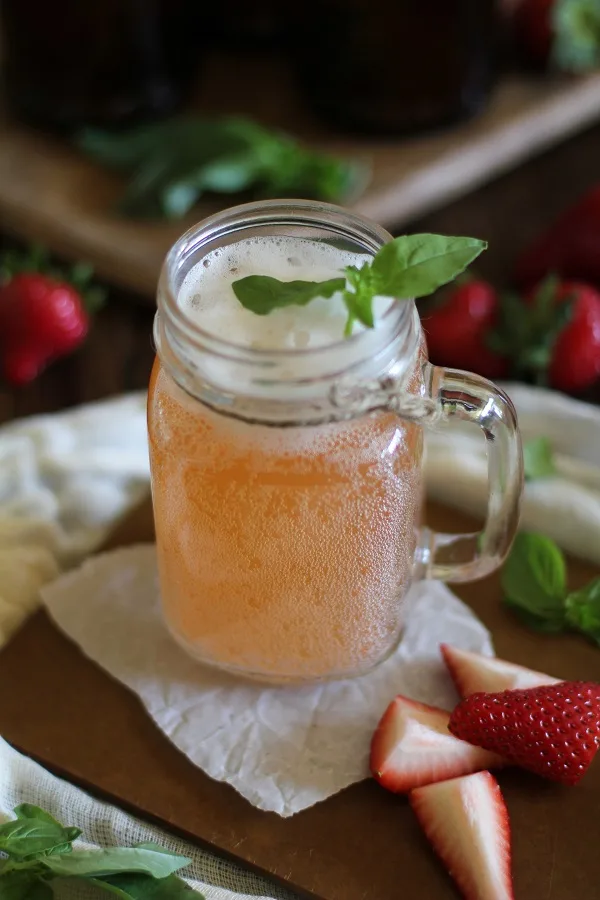 More Kombucha Recipes: