Cherry walnut smoothies are packed with antioxidants and make for a well-balanced breakfast.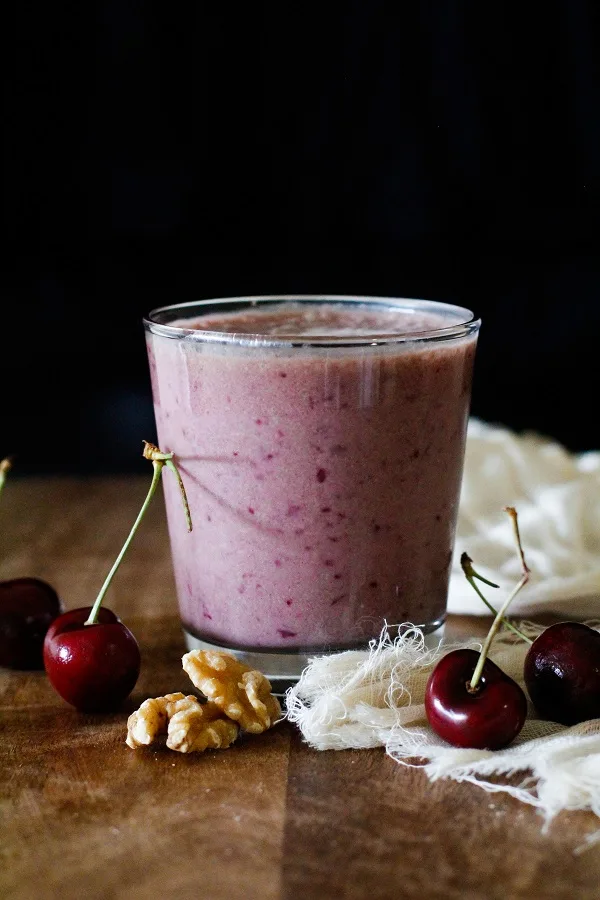 It's cherry season, and you know that that means!
Cherry Cobbler, cherry barbecue sauce, cherry chutney, cherries on your salads, in your oatmeal, on your chicken, all over your face, hands, hair.
Cherries all around!
As it turns out, cherries make for an excellent smoothie.
I never would have known this fun fact had I not purchased eleventy billion pounds of cherries to make all the things out of them.
When all the things had been made, but there were still three-quarters of eleventy billion pounds of cherries sitting all plump, smug, and in need of proper placement.
I sat scratching the hairs on my chiny chin chin, going, "What else can I put cherries in? What else could possibly be a cherry receptacle? Let's have a looksy on pinterest for cherry pinspiration. Lookit all them cherry recipes Golly gee, I'm hungry. I could really use a smoothie. What should I put in my smoothie? Perhaps I should be pinteresting smoothie ideas. Oh."
And that's how this sumptuous smoothie came to be.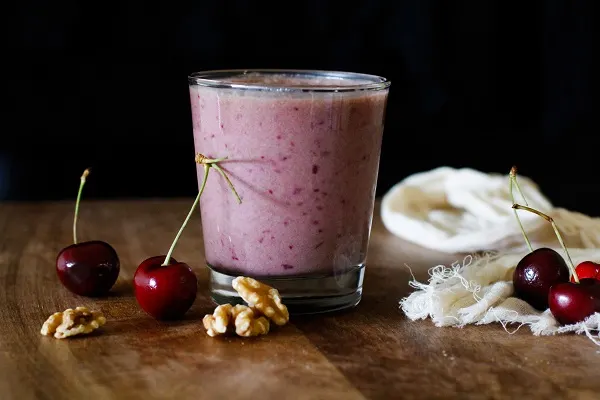 Cherries contain a jamboree of health benefits. Wanna hear all about them? Great!
Cherries are an anti-inflammatory, help you sleep (great source of melatonin), keep your joints healthy, and reportedly help burn belly fat.
I repeat: cherries help burn belly fat.
Start the day with a tasty beverage that also replaces sit-ups?
Yes, let's do that.
Cherries are full of antioxidants, making them a detoxifying cancer-fighting food.
They are lower on the glycemic index than many other fruit, are healthful for your cardiovascular system. In addition, cherries may help lower the risk of gout.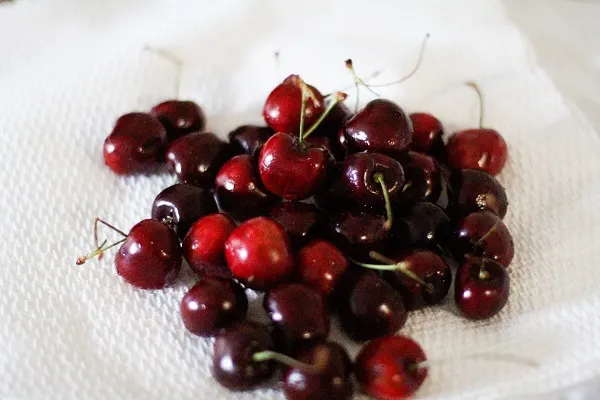 Like cherries, walnuts are also packed with antioxidants.
They're filled with omega 3 fatty acids, folate, and melatonin. In addition, walnuts help reduce your insulin level.
All of these factors combined make for a nutrient-packed superfood smoothie.
Also check out my Pineapple Green Protein Smoothie and my Beet Berry Apple Chia Smoothie.
Ain't no one got time for sit-ups. Let's drink our ab workout!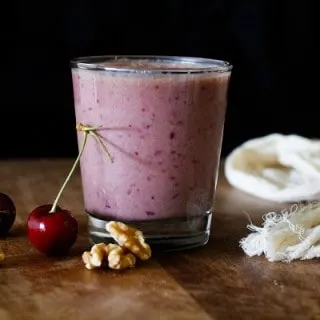 Cherry Walnut Smoothie
A simple yet unique and delicious smoothie recipe that's loaded with health benefits!
Ingredients
1 ripe banana, peeled and frozen
1 cup ripe cherries, pitted
3/4 cup unsweetened almond milk
2 tablespoons full fat coconut milk
2 tablespoons raw walnuts, chopped
Instructions
Put it all in a blender and blend until smooth.
Nutrition Information
Yield

1
Serving Size

1 Smoothie
Amount Per Serving
Calories

307
Total Fat

12g
Unsaturated Fat

0g
Carbohydrates

48g
Fiber

8g
Sugar

32g
Protein

6g