42 Healthy Breakfast Recipes to keep your breakfast game strong! Starting your day with a nourishing, satisfying meal sets the stage for the rest of the day. Try these healthy breakfast recipes to optimize your energy level and enjoy breaking that fast!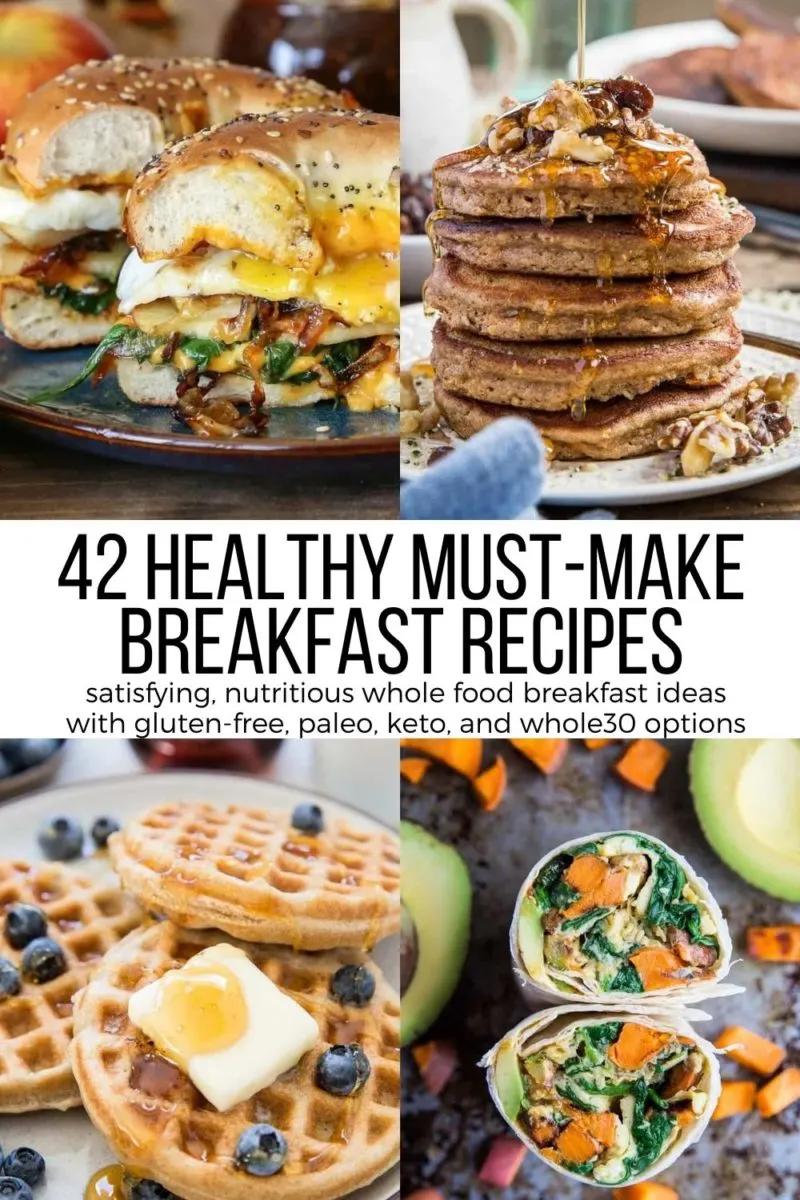 Breakfast, whether or not it happens first thing in the morning or later in the day, is the meal that primes your body for the rest of the day.
It kick starts the metabolism and gives your organism information as to what type of sustenance is available.
While it used to be common opinion in the health community that skipping breakfast meant ultimate doom, the general consensus now isn't whether or not you eat right away in the morning, but rather the contents of the first meal of the day is what matters, even if it happens at 1pm.
It is generally accepted that getting ample amount of protein for the first meal ensures you have plenty of amino acids for energy and repair.
For most individuals, a protein and fat-forward breakfast rather than carbohydrate-rich ensures our blood sugar doesn't spike and cause us to crave more carbohydrate throughout the day.
Prioritizing protein and minimizing carbohydrate for the first meal of the day prevents the brain fog and energy slump that comes with overdoing it on carbs and guarantees solid focus.
On the flip side, we are all more insulin sensitive in the morning (up until around 2pm in the afternoon), so some argue front-loading your carbohydrate in the first part of the day ensures your blood sugar stays regulated through the main part of the day and levels out toward the end of the day.
A counterargument to this concept is that carbohydrates help calm the nervous system and help us sleep in the evening. In this sense, taking in the majority of your carbohydrate at night ensures your mind and body stay sharp and energetic throughout the day but allows you to get a restful night of sleep.
Me? I stick with the protein-forward approach and eat my carbohydrate at dinner. I'm much more productive during the day when my blood sugar is under control and I sleep much better with carbs in my system at night.
In this sense, I'm pretty low-carb during the day then round out the day to be overall moderate carb based on my intake at night.
Regardless of your breakfast theory, I have included every possible type of deliciousness so you can start your day however you see fit. From breakfast burritos, scrambles, and casseroles, to the BEST waffles, pancakes, muffins, crepes, and more, this roundup has both sweet and savory fare.
So let's get to it already! Here is everything you need to get the most out of your first meal of the day!
42 Healthy Breakfast Recipes
Savory Breakfast Ideas:
Pear Apple Cheddar Caramelized Onion Grilled Cheese Bagel Sandwich – Scrumptious grilled cheese bagel breakfast sandwich with sliced apple, pear, cheddar cheese, caramelized onions, arugula, and sunny-side up egg – a melt-in-your-mouth experience for any meal of the day.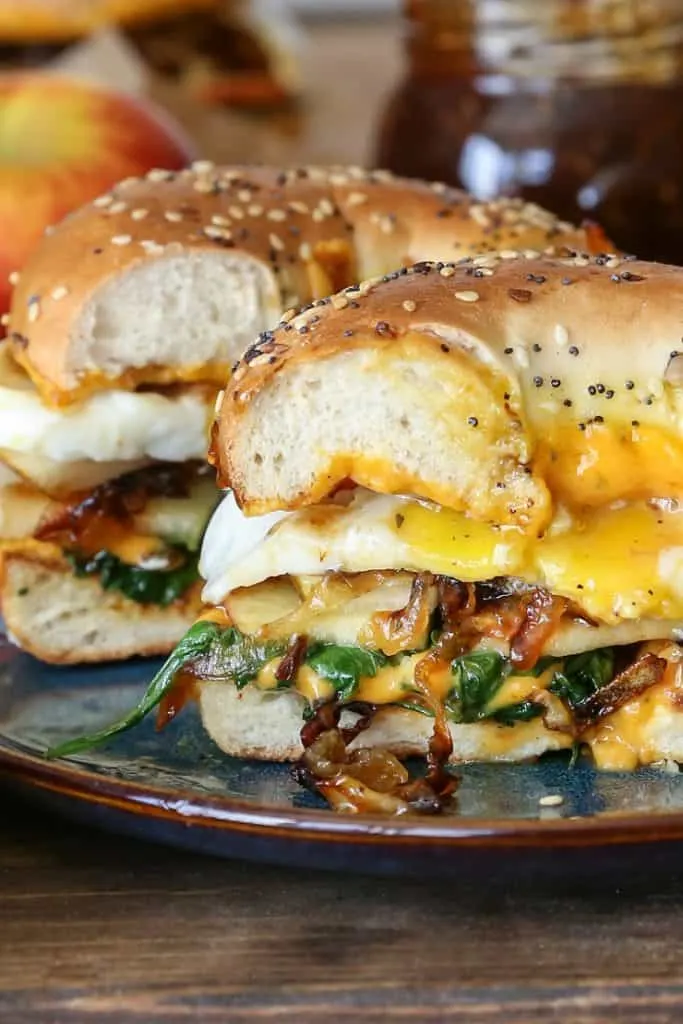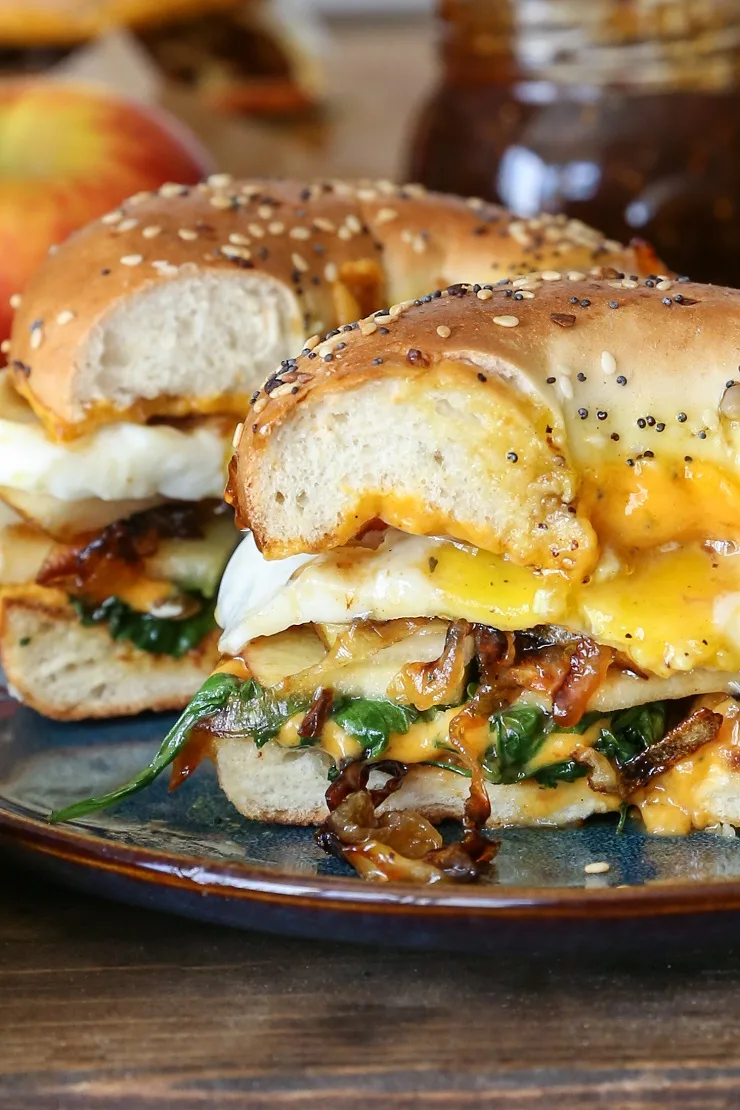 Roasted Veggie and Avocado Breakfast Burritos – Vegetable-packed breakfast burritos with roasted sweet potato, zucchini, spinach, and avocado. These filling and delicious breakfast burritos are easy to customize and are the perfect way to start the day.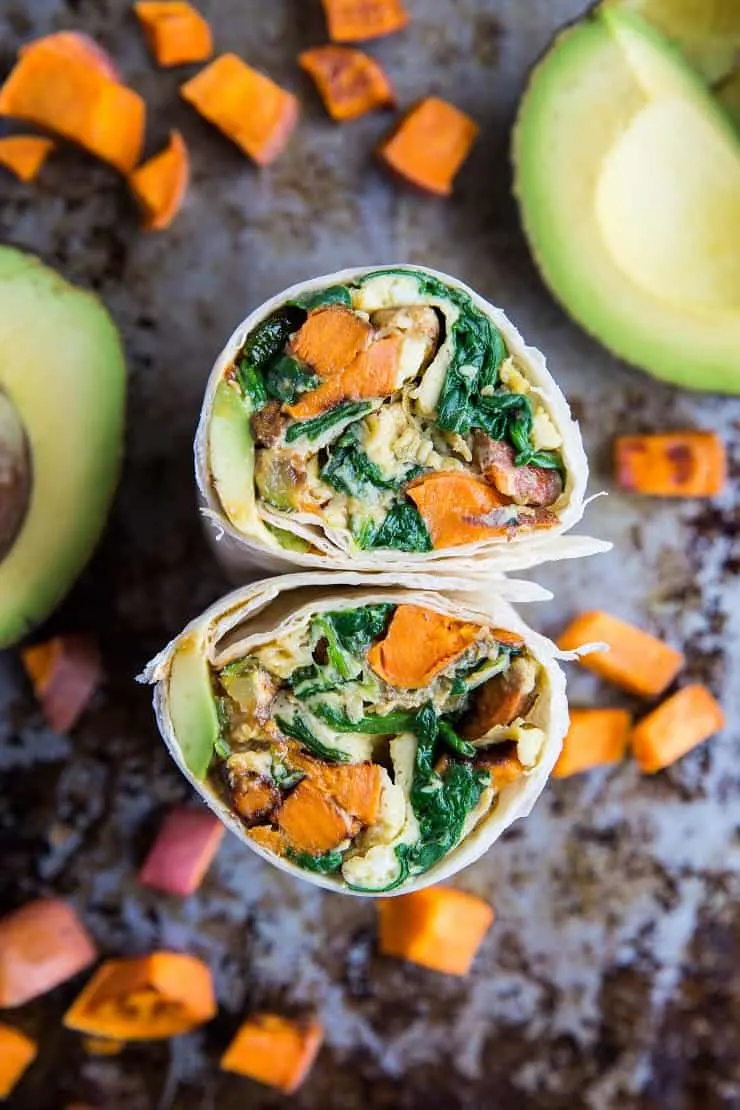 Mediterranean Breakfast Casserole – Mediterranean Breakfast Casserole with chicken sausage, kale, tomatoes, and feta cheese. This easy egg casserole requires only 5 ingredients, is easy to put together and is BIG on flavor! A low-carb, keto rustic breakfast perfect for sharing with family or meal prepping for the week.
Pesto Chicken Omelette – Pesto Chicken Omelette with spinach and feta makes for an amazingly flavorful and delicious breakfast. Whip it up over the weekend for a lovely relaxing morning.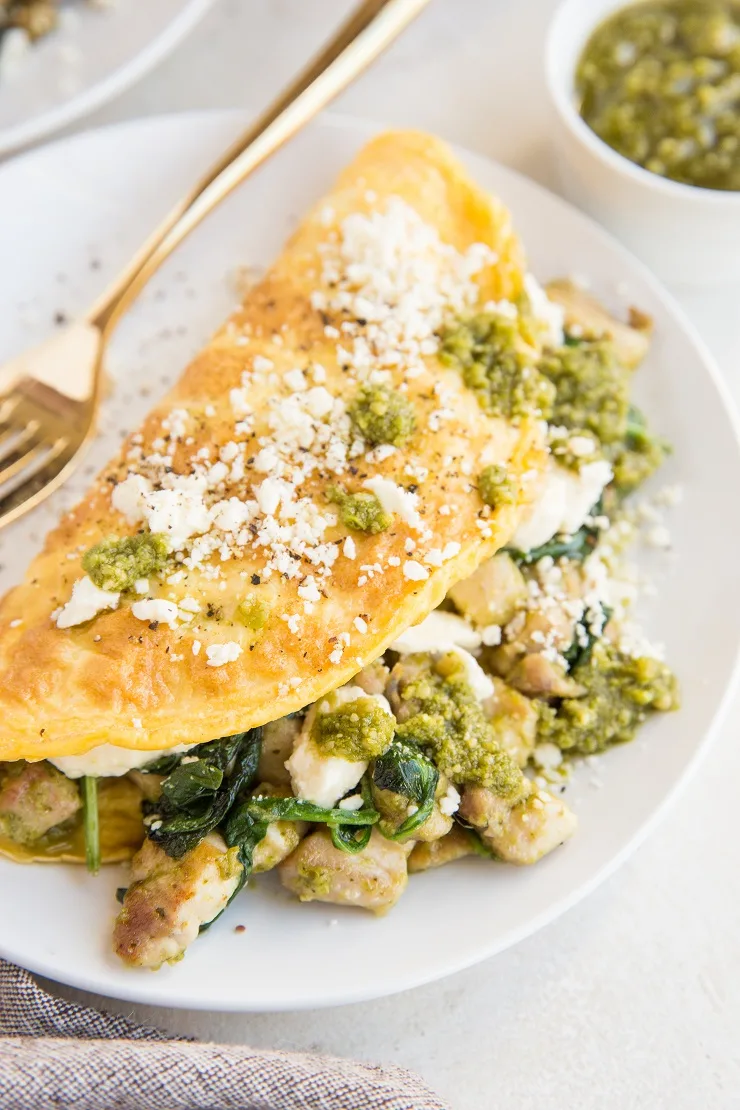 Sweet Potato Sausage and Kale Breakfast Casserole – A healthy breakfast casserole with sweet potatoes, sausage, and kale. This simple, clean recipe is perfect for feeding the whole family!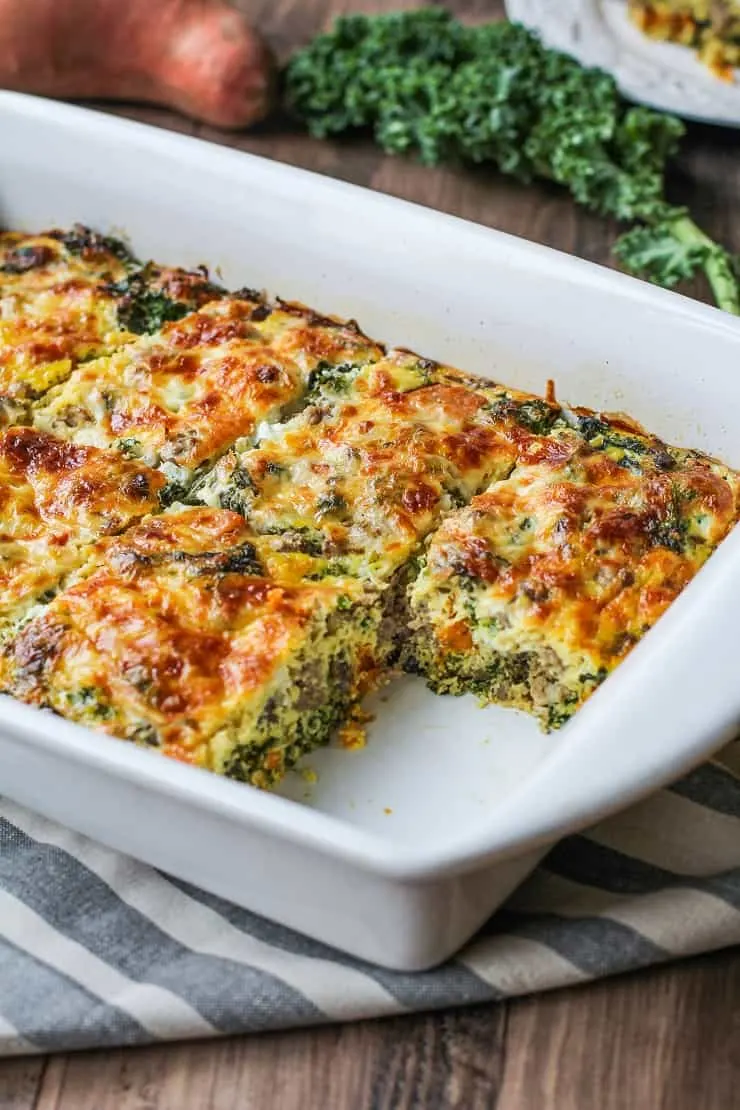 Crispy Avocado Breakfast Tacos – Veggie-packed crispy avocado breakfast tacos with black beans, roasted sweet potato, cauliflower, eggs, and chipotle sauce. This nutritious breakfast taco recipe is perfect for brunch season!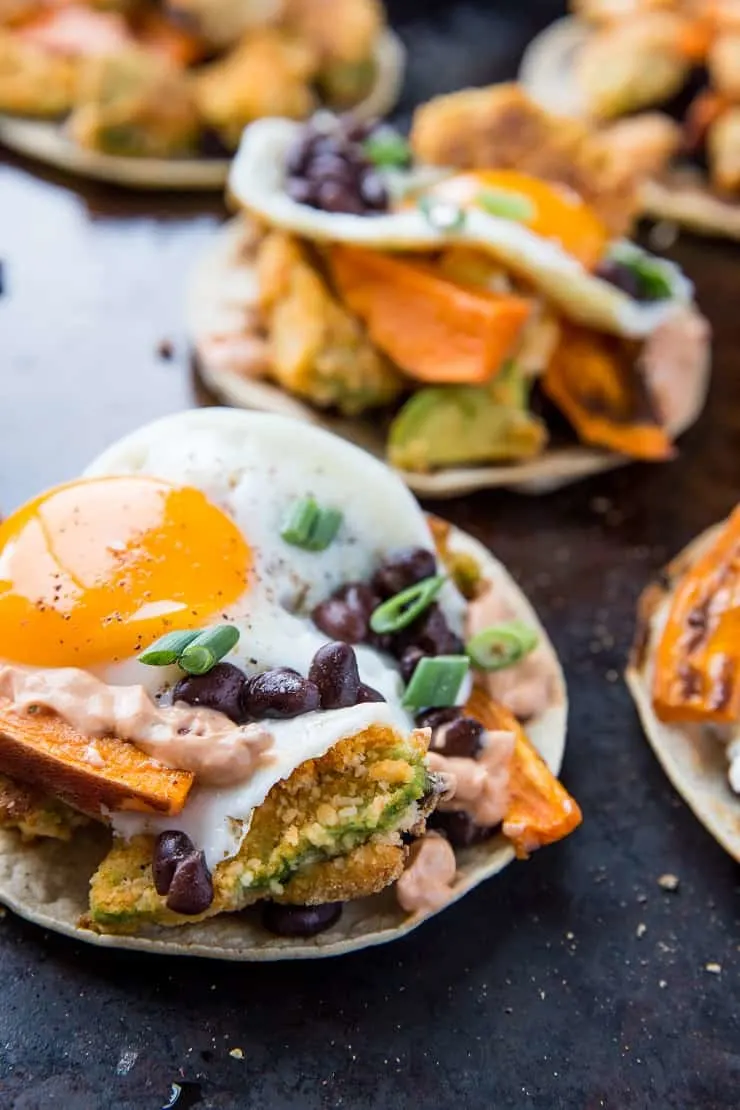 Spaghetti Squash Egg Nests – Spaghetti Squash Egg Nests are an easy, fun, and clean breakfast! Low-carb, paleo, keto, and whole30, this winning breakfast is fun for the whole family!
Spinach Frittata with Zucchini Sun-Dried Tomatoes and Goat Cheese – Spinach Frittata with sun-dried tomatoes, zucchini, and goat cheese is a wickedly flavorful breakfast, perfect for sharing with friends and family!
Sweet Potato Hash with Bacon and Spinach – Sweet Potato Hash with Bacon and Spinach makes for an amazing side dish for breakfast! Serve it up with your favorite egg scramble, omelette, or frittata for a drool-worthy way to start the day. Only four ingredients needed for this tasty treat!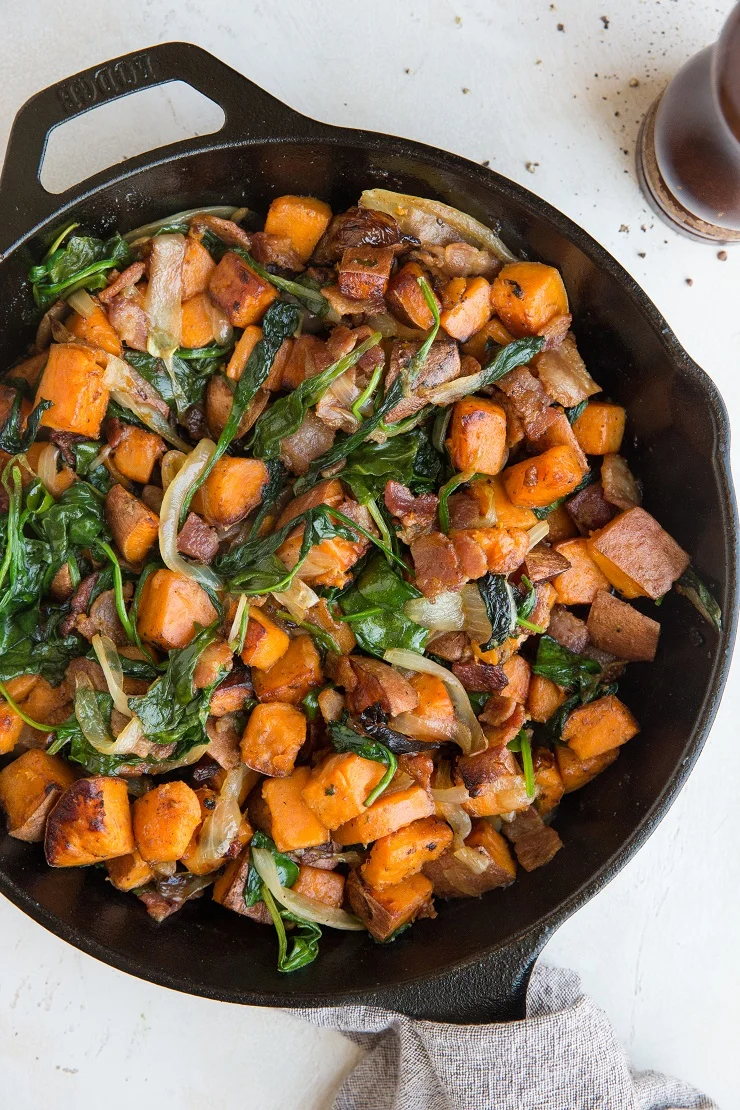 Keto Everything Bagels – Low-carb keto everything bagels made with almond flour. These tasty bagels are grain-free and so easy to bake!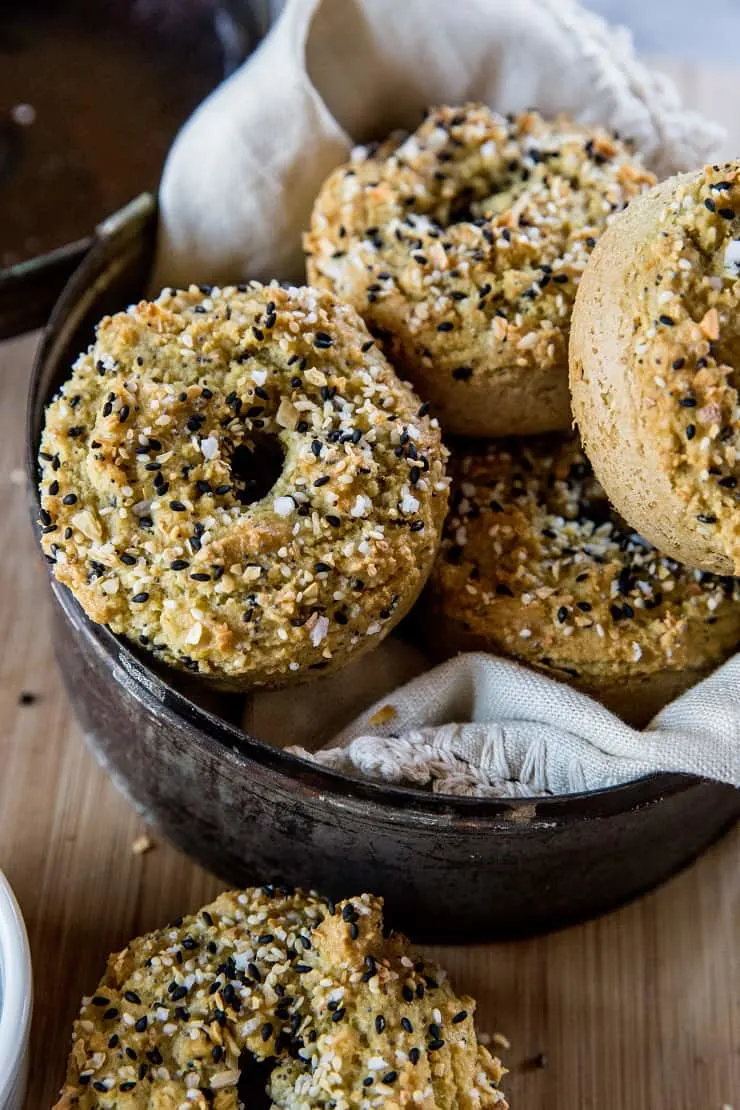 Pesto Sun-Dried Tomato Breakfast Scramble – Spinach, Pesto, Sun-Dried Tomato Breakfast Scramble with Fingerling Potatoes is a flavorful, healthful way to start the day! A paleo, lower carbohydrate vegetarian breakfast recipe.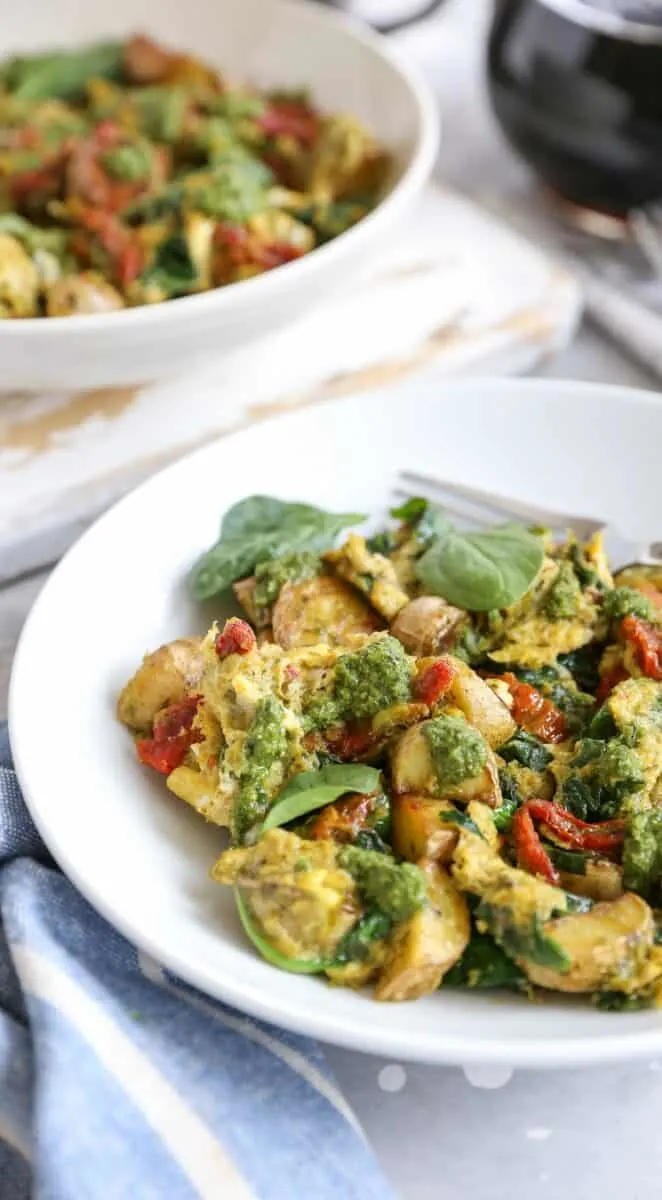 Broccoli Cheddar Egg Hashbrown Casserole – Broccoli Cheddar Egg and Hashbrown Casserole is an amazing indulgent breakfast recipe to share with family. This easy hashbrown casserole can be made ahead of time, and is a great meal prep recipe too!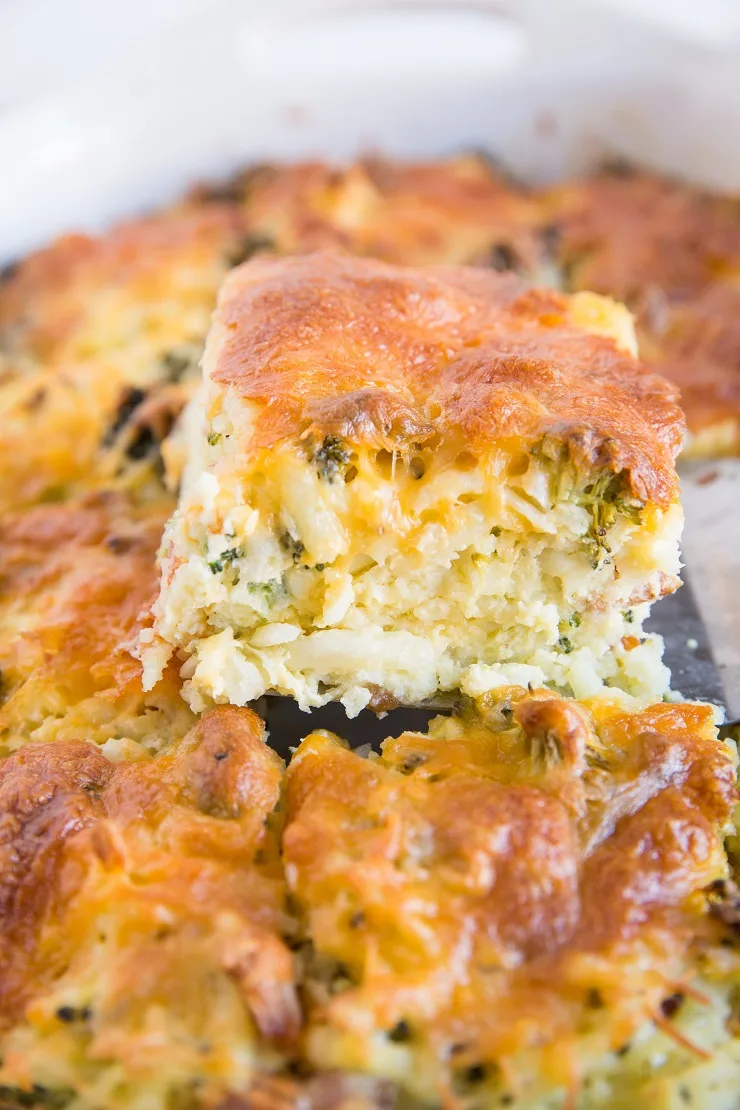 Roasted Vegetable Scramble – Roasted zucchini, yellow squash, and carrots take your breakfast scramble to the next level! This nutritious breakfast is easy to prepare and perfect for make-ahead breakfasts to eat throughout the week.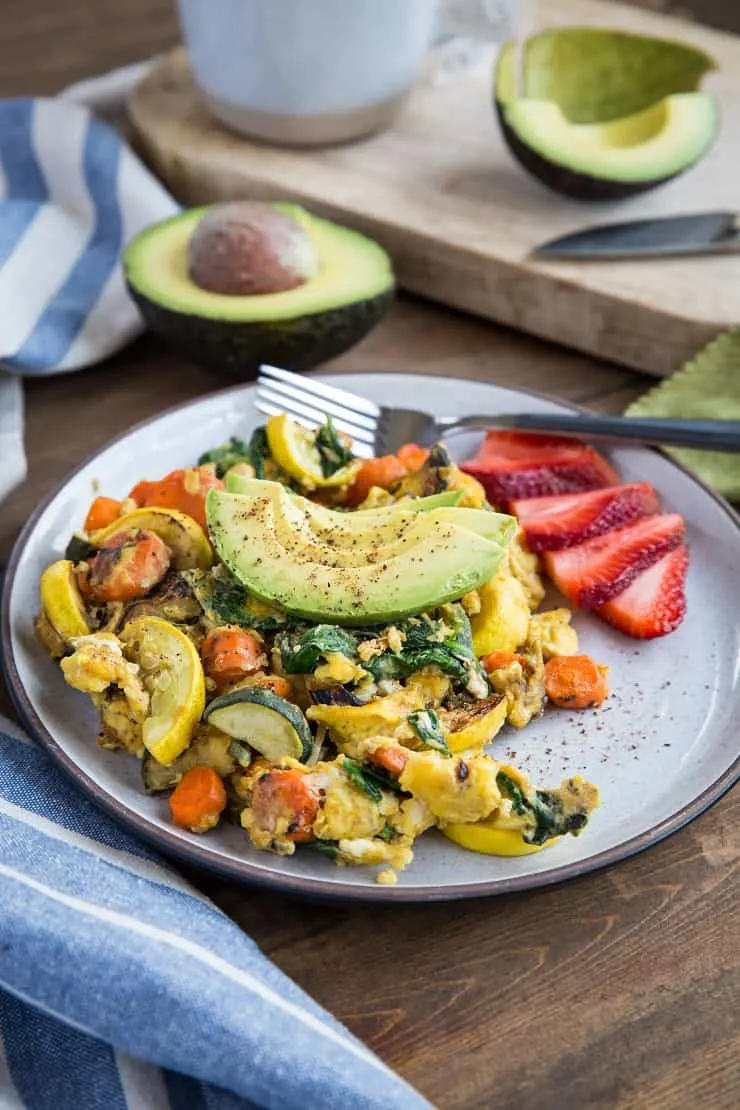 Maple Bacon Butternut Squash Hash with Spinach – This breakfast (or lunch or dinner!) of champions includes thick-cut bacon, butternut squash, apples, spinach, and spices for a clean and easy meal.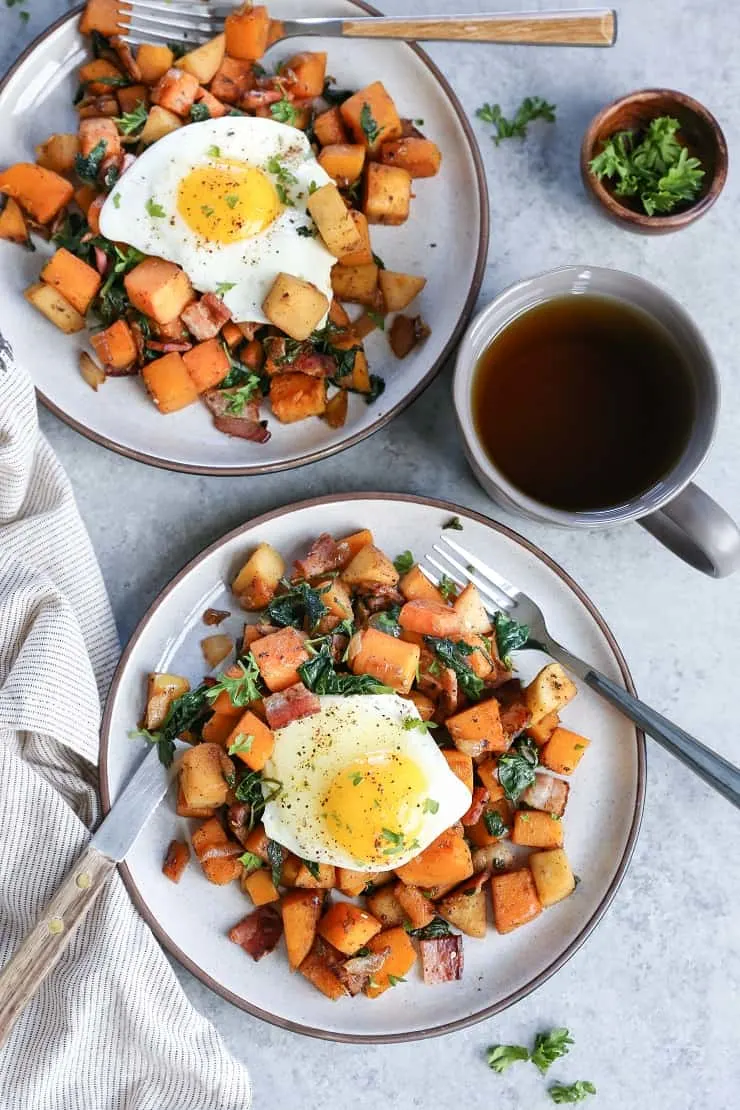 Butternut Squash Mushroom Bacon Frittata – Butternut squash, mushroom, and bacon frittata with spinach and fresh oregano – a flavorful paleo and whole30 breakfast recipe perfect for sharing with family.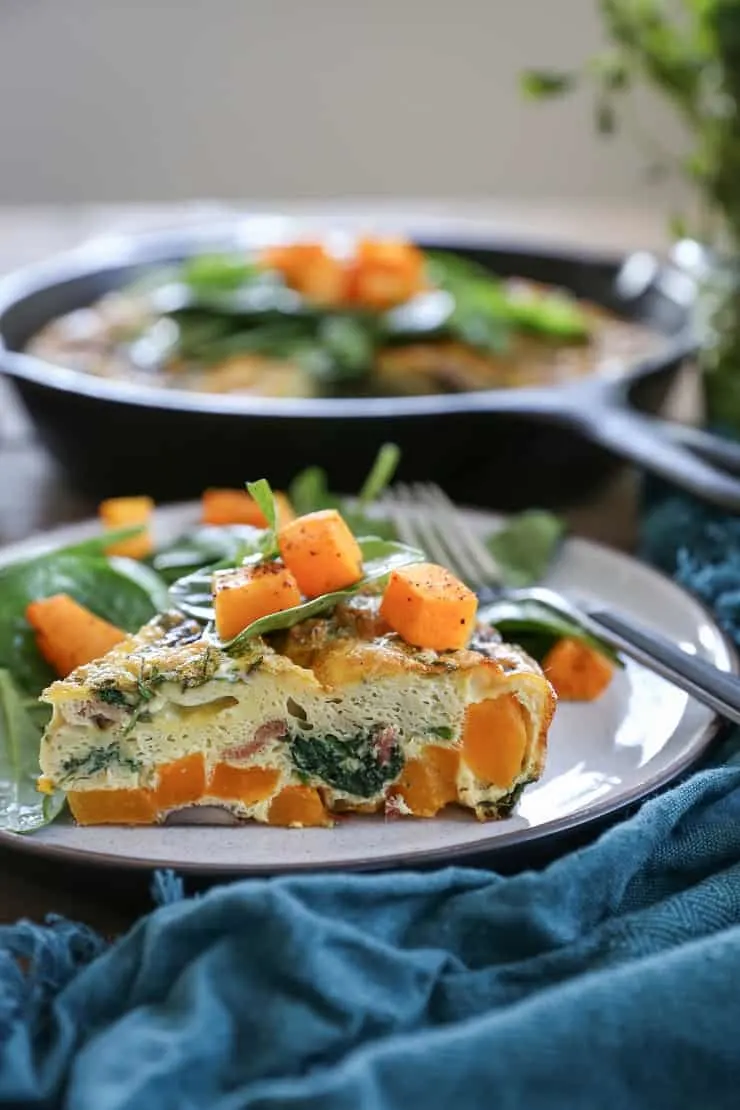 Crustless Quiche – Crustless Quiche with bacon, spinach, onions, garlic and feta cheese is a lovely breakfast or brunch. Make it to enjoy with friends and family or as a meal prep recipe!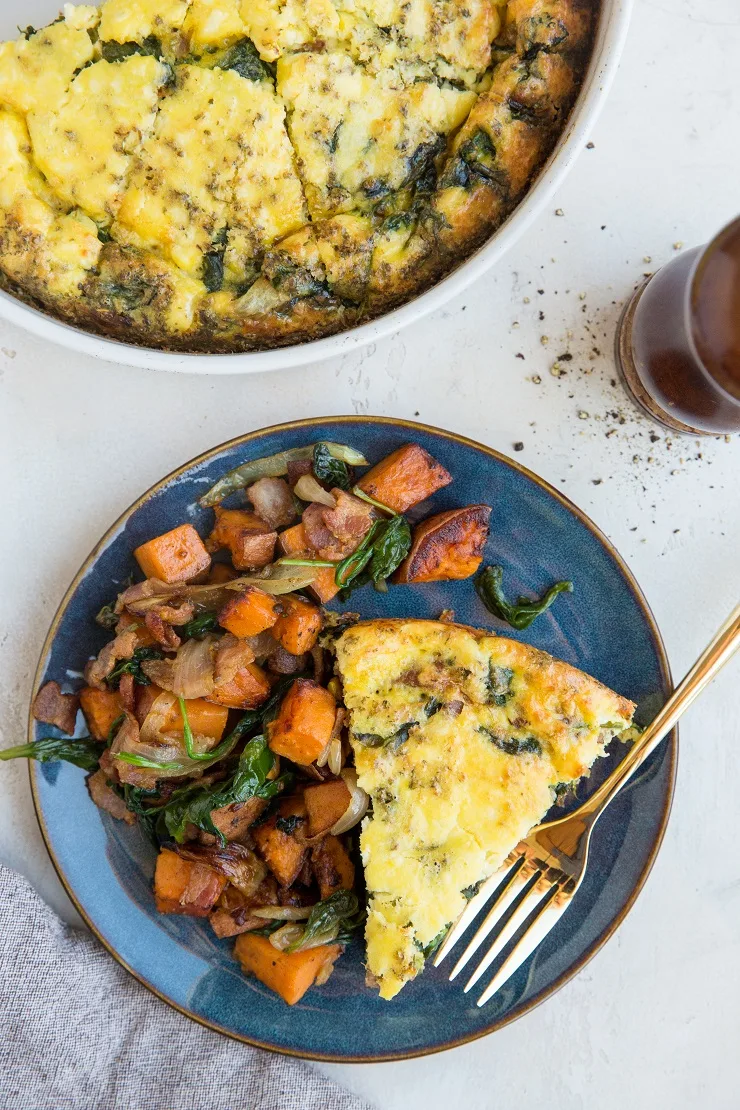 Savory Paleo Crepes with Roasted Asparagus and Feta – Paleo crepes made easily in your blender! This quick recipe requires only 5 minutes of prep (no refrigeration time!). Serve them up with roasted and/or sautéed vegetables for a savory crepe experience.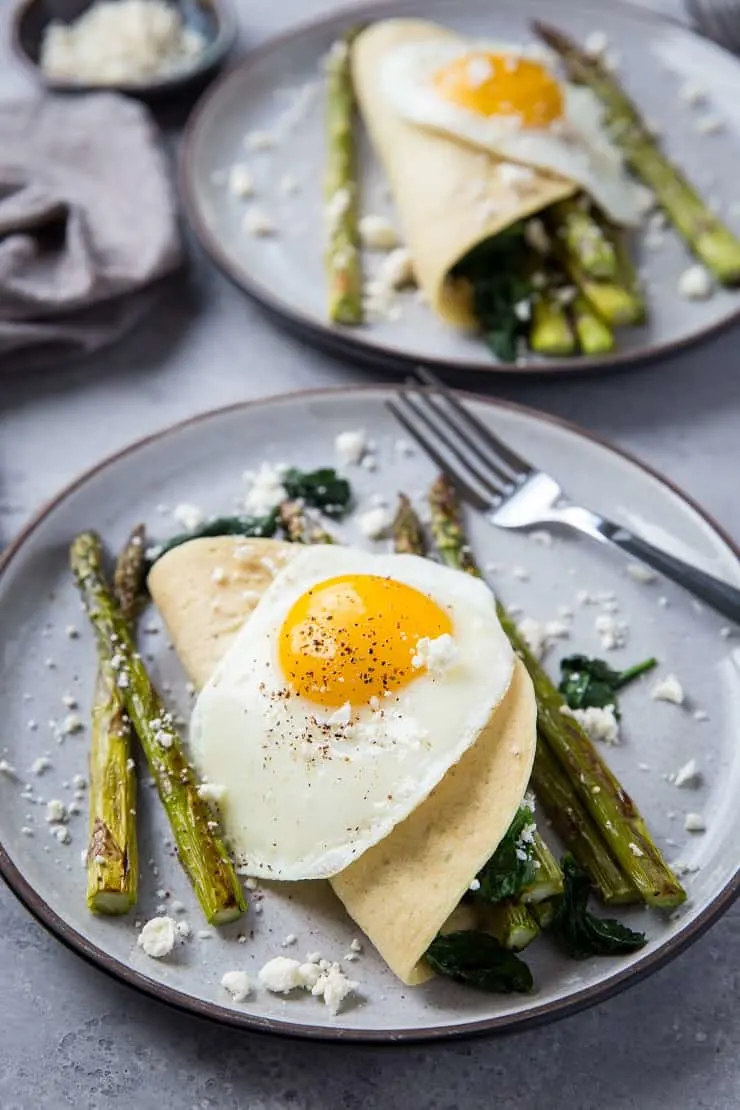 Pesto Eggs Breakfast Bowls with Sweet Potatoes and Greens – Pesto Eggs Breakfast Bowls with sweet potatoes, greens, cherry tomatoes, and feta is a nourishing, balanced meal – a beautiful way to start the day! Crispy pesto eggs make these breakfast bowls an absolute dream.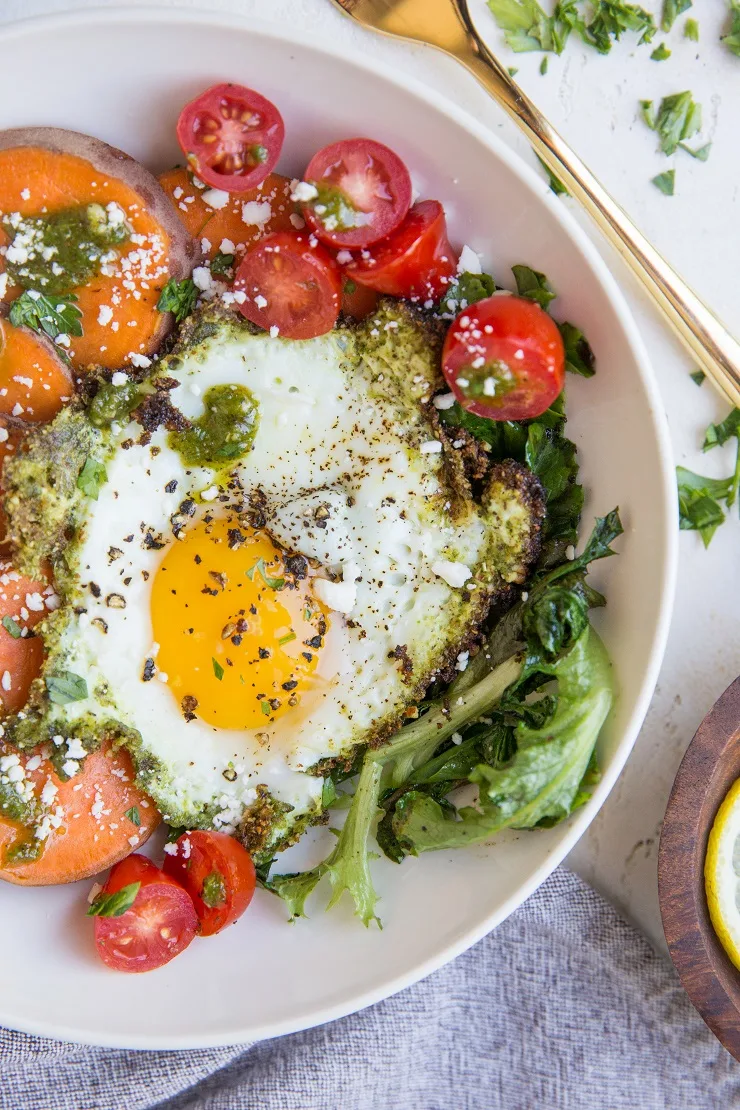 Zucchini Arugula Feta Frittata – Super green zucchini, arugula, and feta frittata with fresh herbs – a flavorful breakfast packed with health benefits!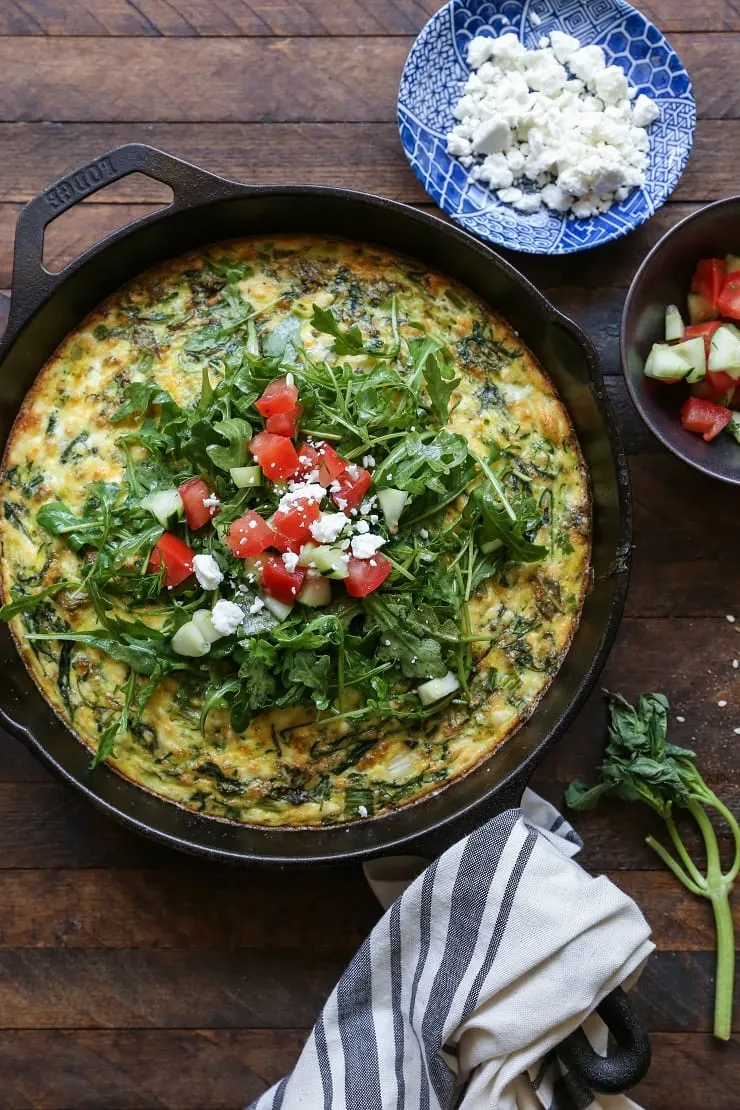 Sweet Breakfast Recipes:
Paleo Blueberry Coffee Cake – Moist, fluffy, cinnamony paleo blueberry coffee cake made with coconut flour, almond flour, and pure maple syrup. This flavorful cake is perfectly healthy for breakfast, yet sinfully taste enough to enjoy as dessert!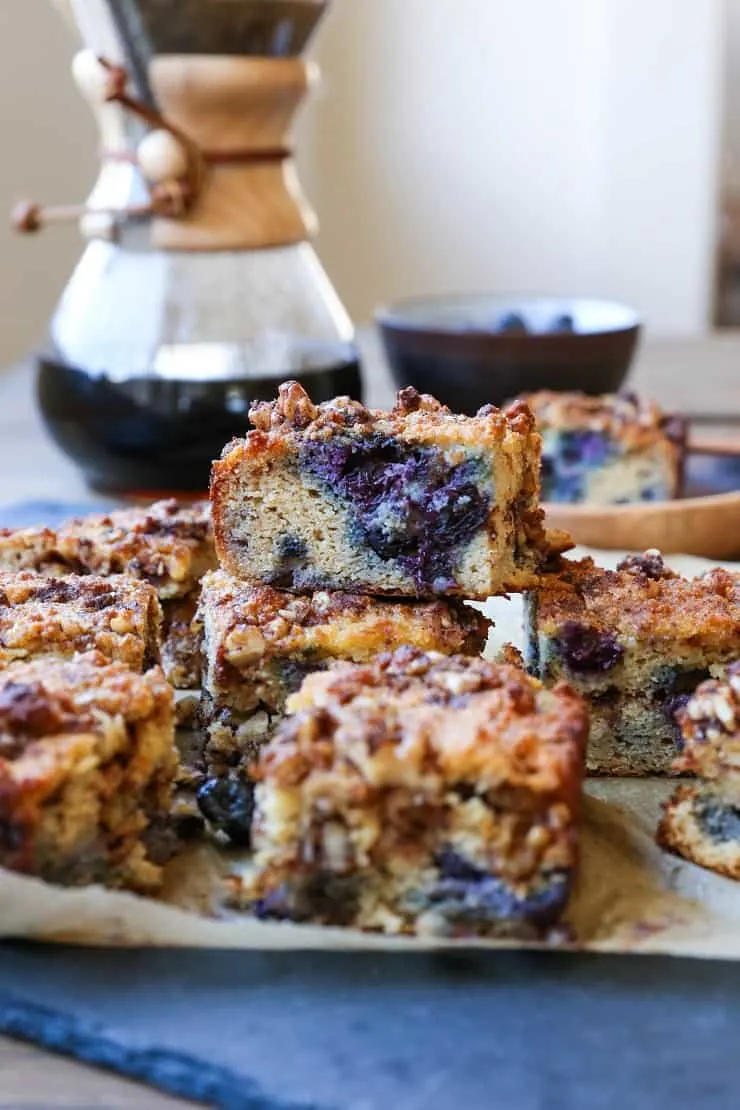 The BEST Gluten-Free Banana Bread – The BEST gluten-free banana bread recipe made with gluten-free flour blend and sweetened with coconut sugar. Add chocolate chips and/or chopped nuts to level up this already moist and fluffy dream bread.
Sweet Potato Rolled Oat Protein Pancakes – Gluten-Free Sweet Potato Rolled Oat Protein Pancakes are a nutritious low-fat, high protein, moderate carb pancake recipe. Geared for those targeting specific macros and/or anyone who loves a great pancake.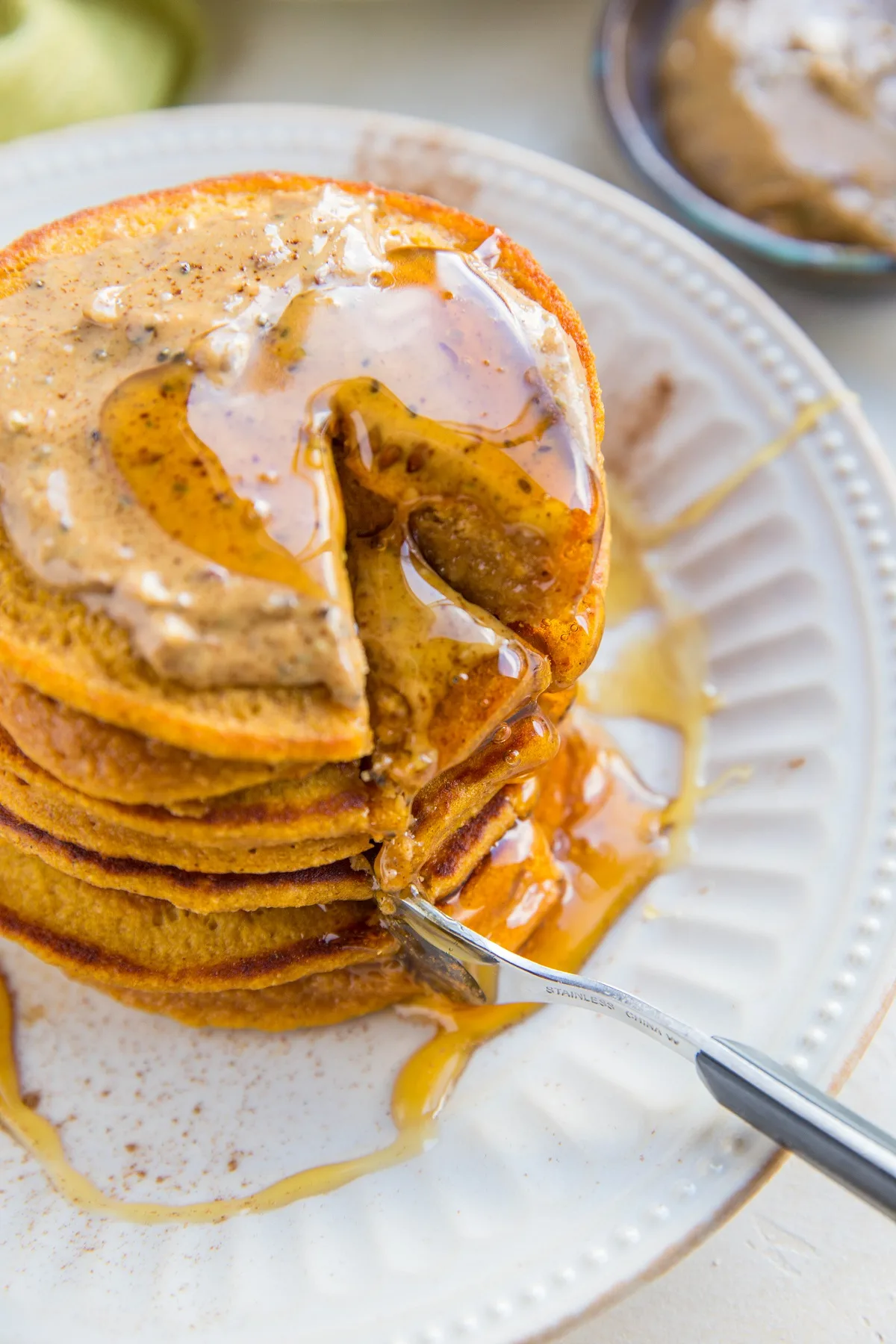 The Best Gluten-Free Waffles Recipe – The BEST gluten-free waffles recipe made with basic pantry ingredients. This easy and amazing recipe yields perfectly crispy yet moist and fluffy waffles!
Paleo Morning Glory Quick Bread – Quick bread made grain-free, refined sugar-free, dairy-free and paleo – this morning glory quick bread includes all the flavors of morning glory muffins, and easily prepared in your blender, this quick bread is a marvelous go-to treat.
Almond Flour Pancakes – Grain-free, gluten-free refined sugar-free almond flour pancakes. This easy and delicious paleo pancake recipe is sure to please the whole family!
Paleo Banana Bread Mug Cake – Paleo Banana Bread Mug Cake is a single-serve grain-free, refined sugar-free dessert (or breakfast) in a mug! This recipe post includes an option using almond flour and an option using coconut flour.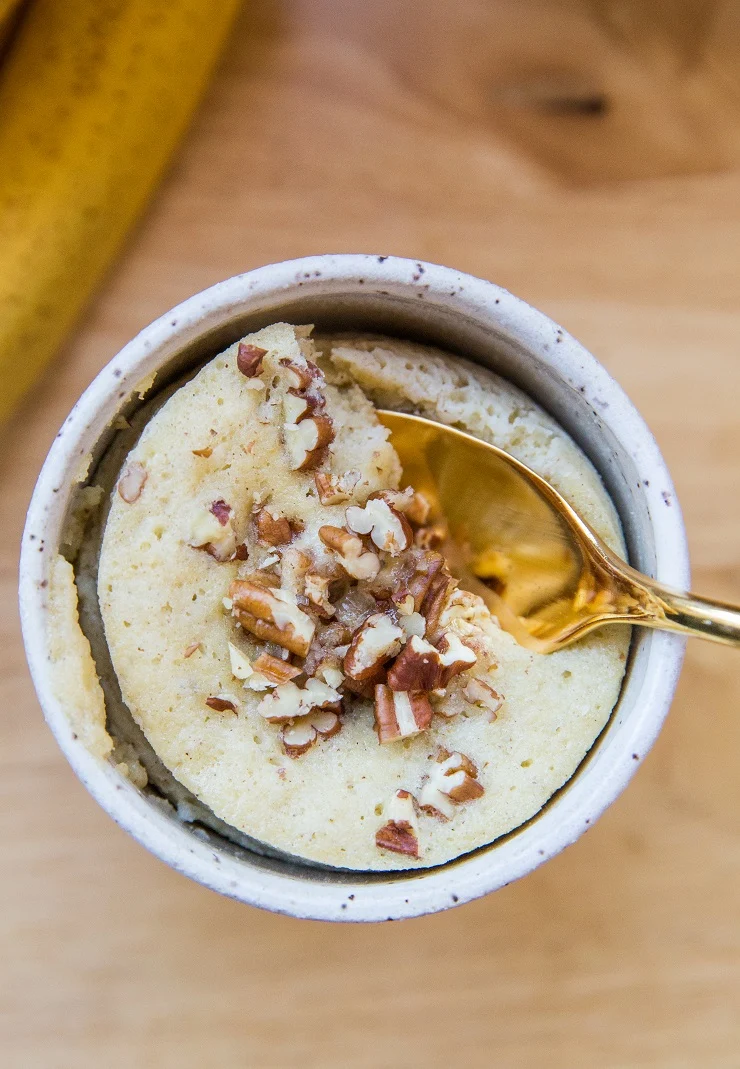 Cauliflower Breakfast Porridge – Cauliflower Breakfast Porridge is a delicious breakfast porridge made grain-free and dairy-free. This easy recipe is vegan, paleo, whole30, and plant-based for a healthful way to start the day. Use your favorite sugar-free sweetener to make this recipe keto!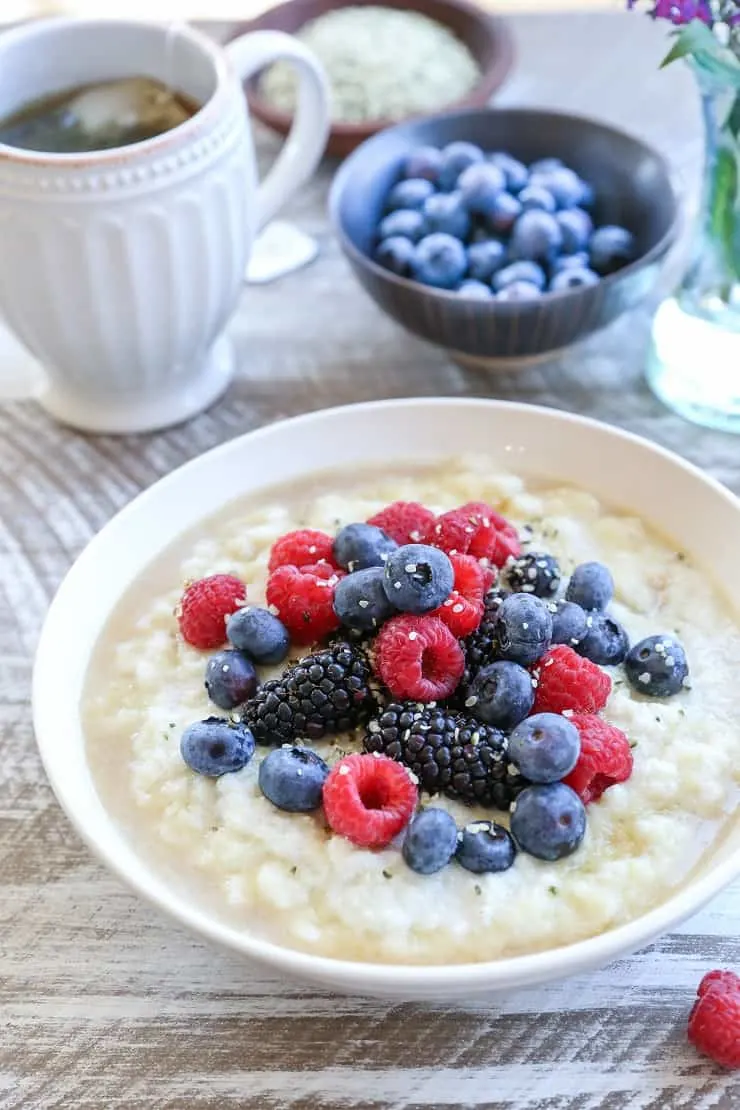 Healthy Apple Muffins (Paleo with No Added Sweetener) – Healthy Apple Muffins are grain-free and naturally sweetened with fruit. This paleo apple muffin recipe is grain-free, oil-free, dairy-free and contains no added sweeteners!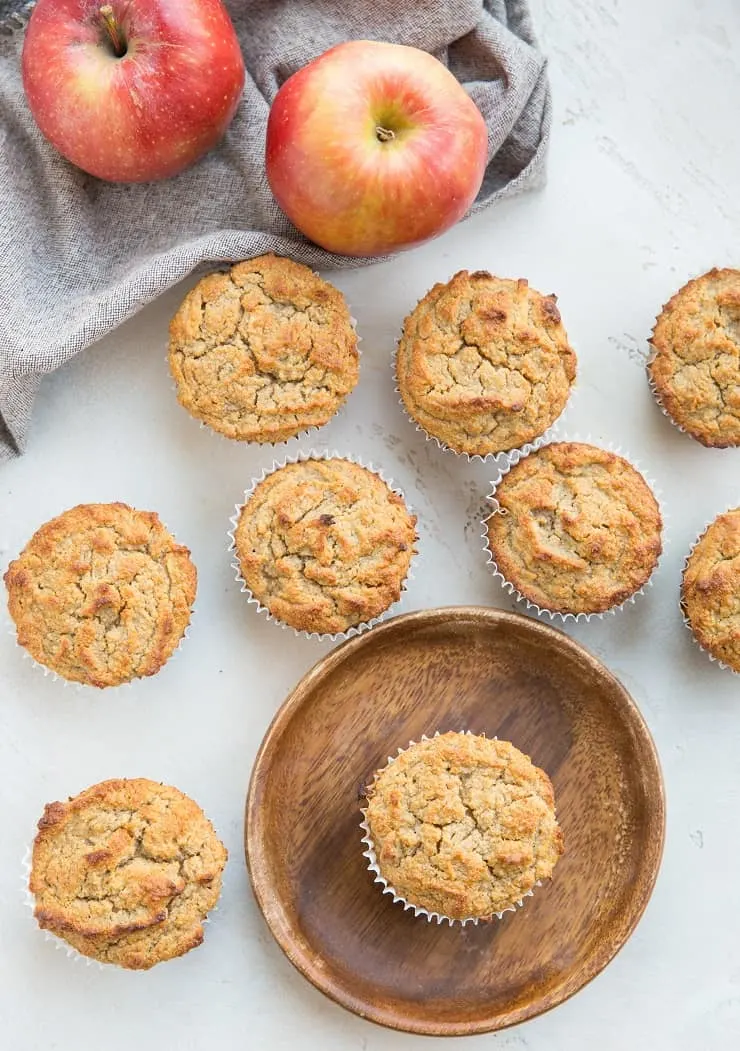 Paleo Carrot Cake Pancakes – Moist and fluffy coconut flour paleo carrot cake pancakes made with coconut flour, coconut milk, and pure maple syrup. These flavor-infused carrot cake pancakes are perfect for a slow weekend breakfast, or double as a healthy snack.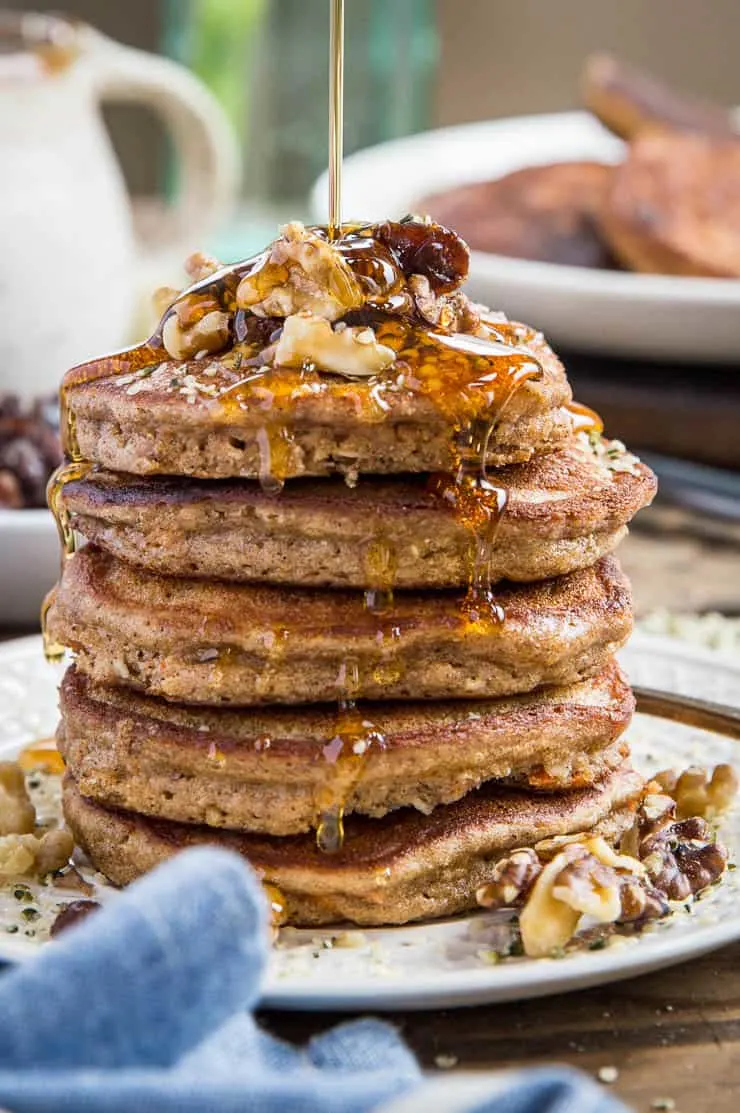 Paleo Chocolate Pecan Waffles – A sinfully amazing waffle recipe for my fellow chocolate lovers, these grain-free waffles are studded with pure deliciousness and are topped with pecans topped with almond butter, coconut butter, and more pecans and chocolate. This easy recipe may appear to be decadent, but it is indeed healthful!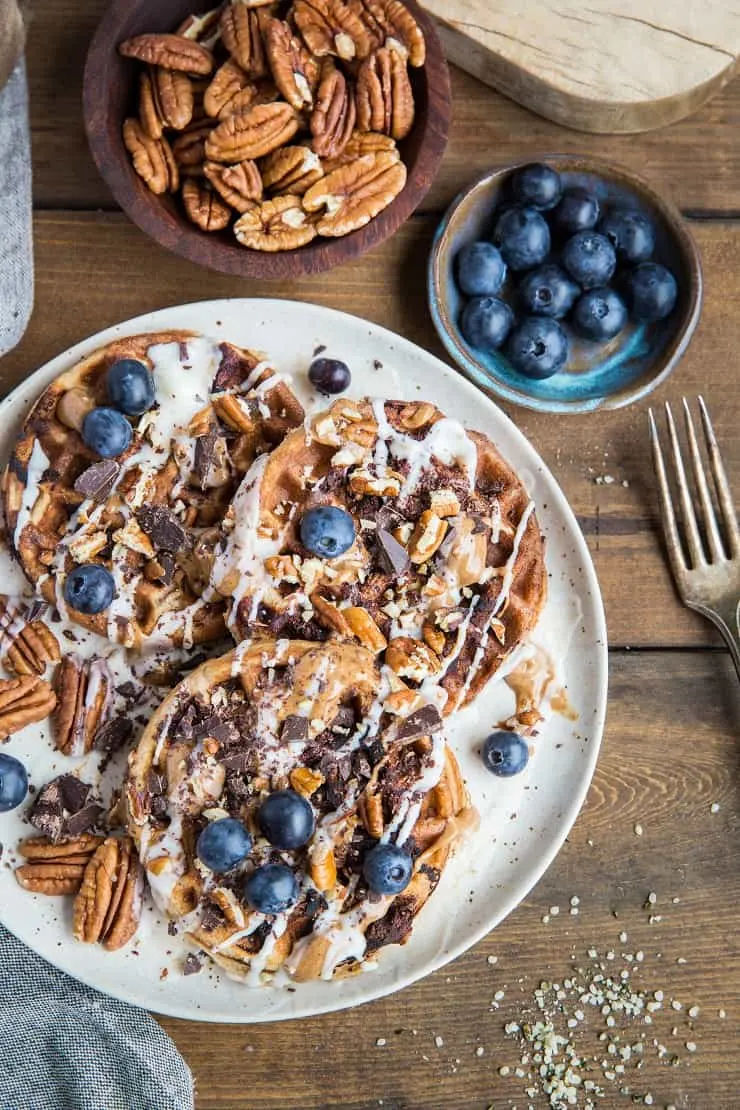 Flourless Oatmeal Banana Pancakes – Made with only 6 ingredients, these moist, fluffy, sweet and cinnamon pancakes make a delicious healthy gluten-free breakfast and are awesome for serving kids and guests of all ages. Banana bread lovers, you'll get a kick out of these easy pancakes!
Sweet Potato Breakfast Bake (Paleo) – Sweet potato breakfast bake made with only a few basic ingredients! This easy-to-make comforting breakfast recipe is clean and delicious for the whole family.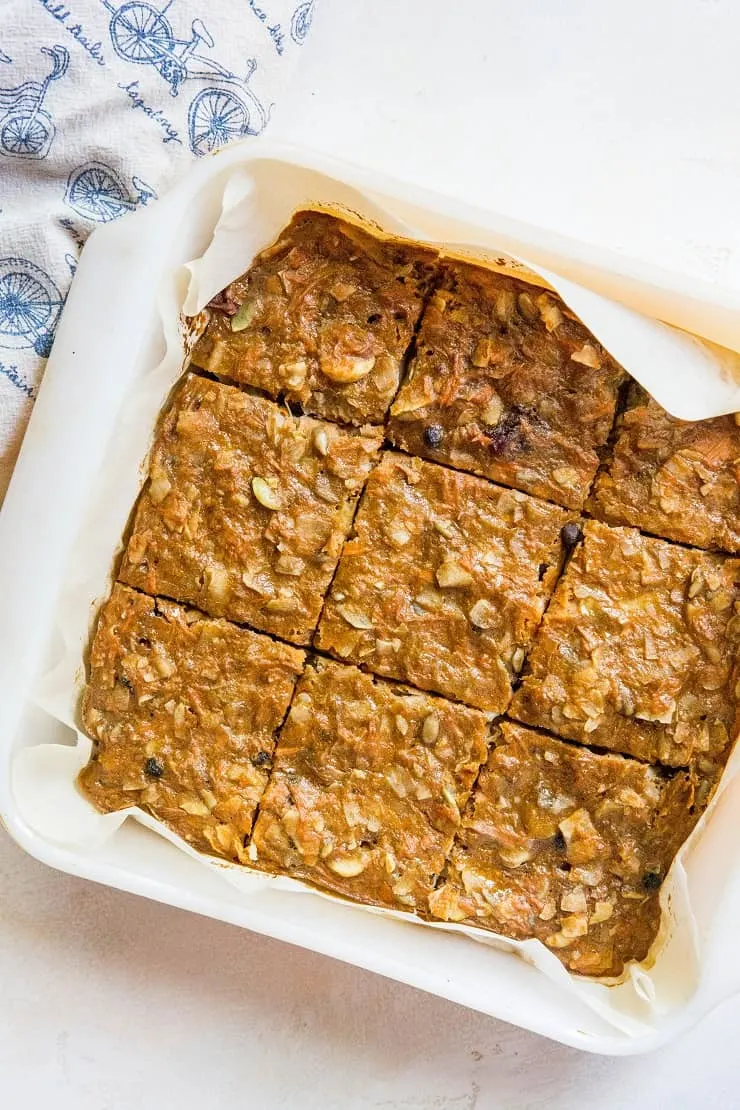 Low-Carb Lemon Poppy Seed Blueberry Muffins – Brighten your day with these fresh and zesty Low-Carb Lemon Poppy Seed Blueberry Muffins! This simple low-carb muffin recipe makes for a lovely breakfast or snack that is keto-friendly.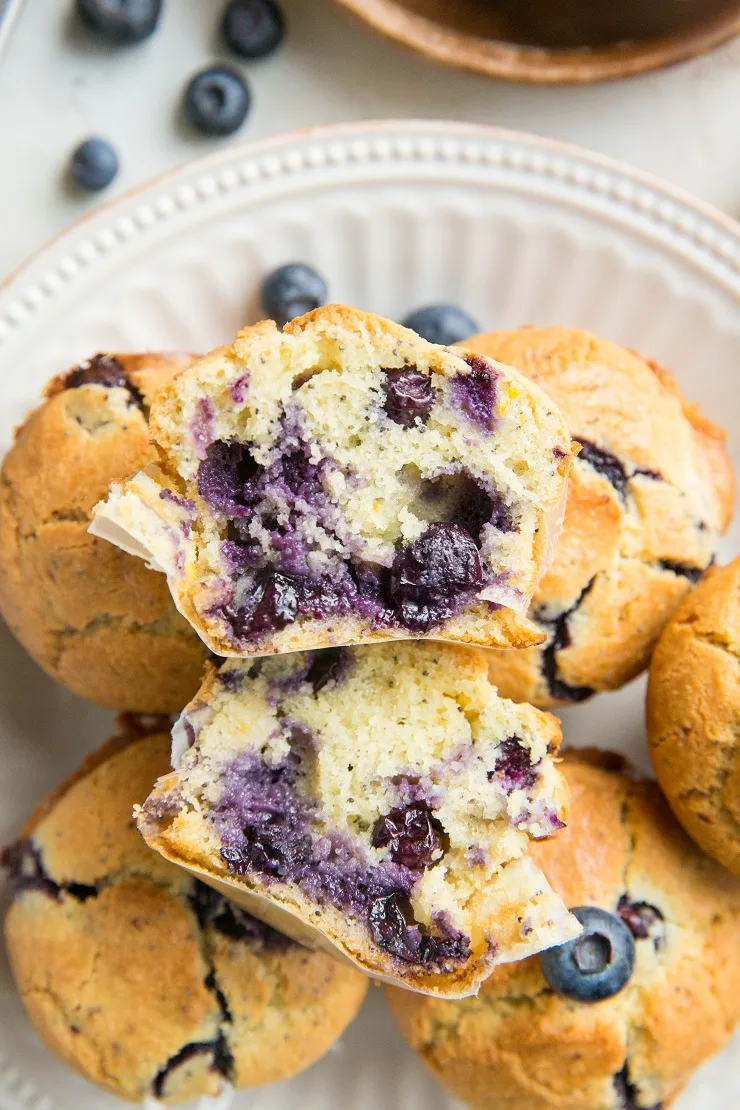 Paleo Sheet Pan Pancakes – This paleo sheet pan pancake turns out so light, fluffy, and buttery in flavor that you'd never be able to guess it's grain-free and dairy-free.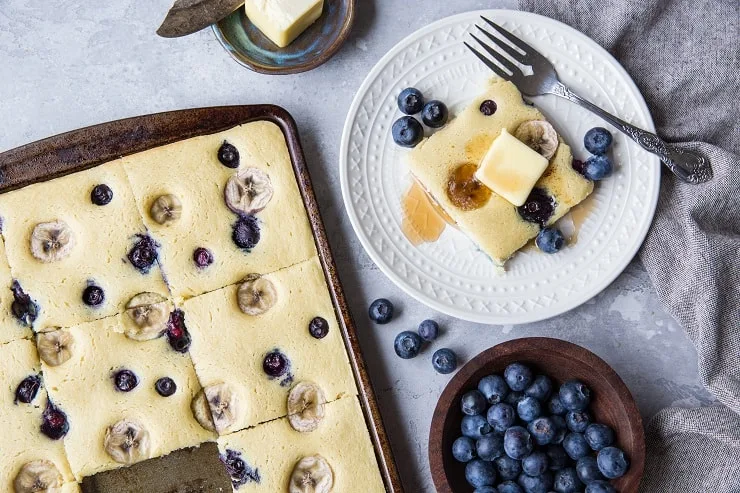 Avocado Chocolate Muffins (Paleo) – Rich, moist, decadent yet healthy grain-free chocolate muffins made with coconut flour. These beauties are refined sugar-free, dairy-free, easy to make, and fudgy! Recipe includes a keto option!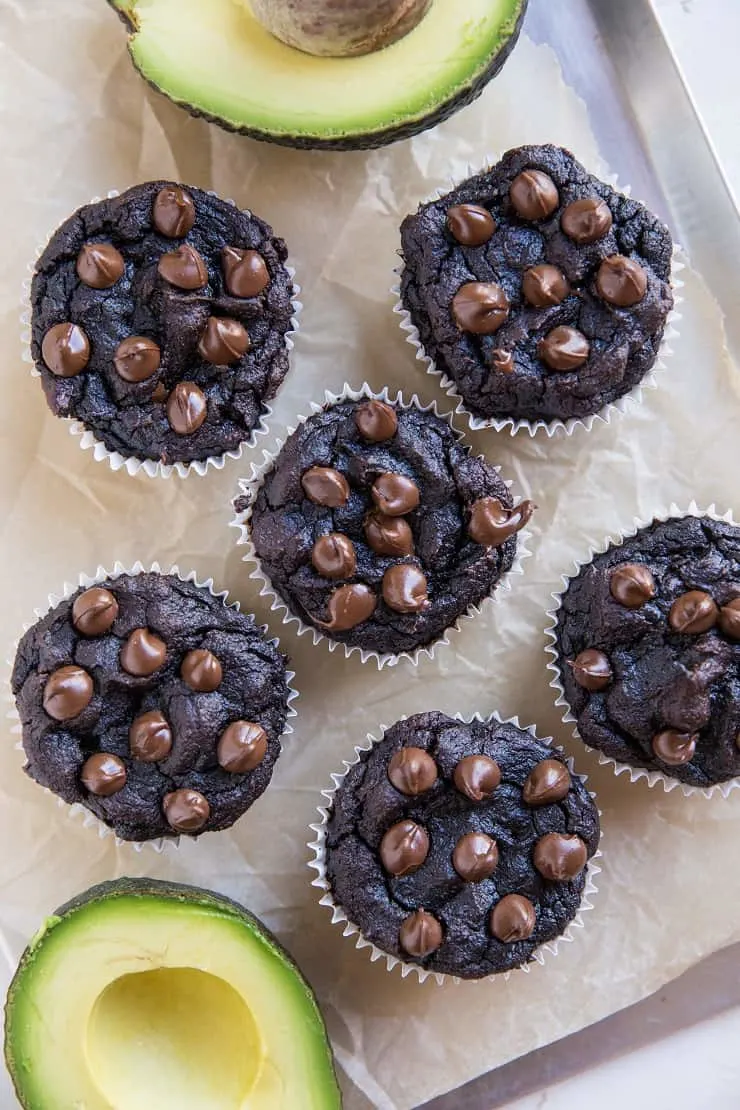 Banana Walnut Waffles with Cinnamon Bourbon Syrup (Gluten-Free) – My personal favorite waffle recipe on my site! Banana walnut waffles with cinnamon bourbon maple syrup. Because sometimes you need straight carbs and a stiff drink for breakfast.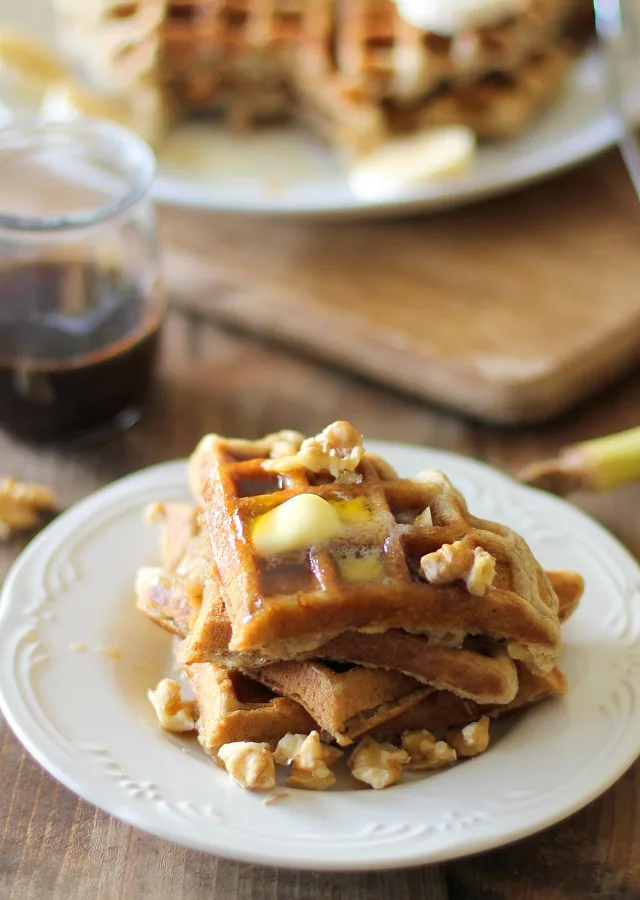 Sweet Potato Porridge Breakfast Bowls – Sweet potato porridge breakfast bowls with chia seeds, almond milk, pure maple syrup, banana, blueberries, almond butter, pecans, and hemp seeds. These well-rounded bowls are packed with plant-based nutrients and are ultra comforting and delicious.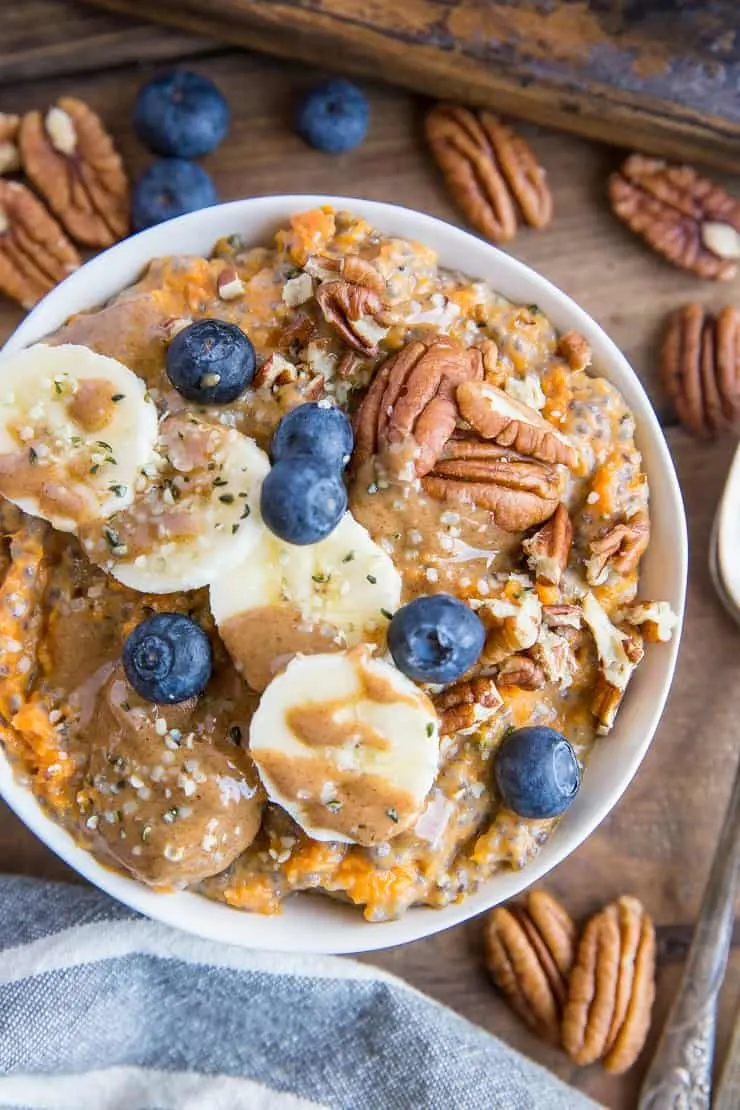 Nut and Seed Overnight N'Oatmeal – Breakfast porridge made with nuts and seeds for a grain-free, protein packed way to fuel your day. This recipe requires only a handful of ingredients and a few minutes to prepare! Oat-free porridge is nutritious and delicious! Use your favorite sugar-free sweetener to make the recipe low-carb.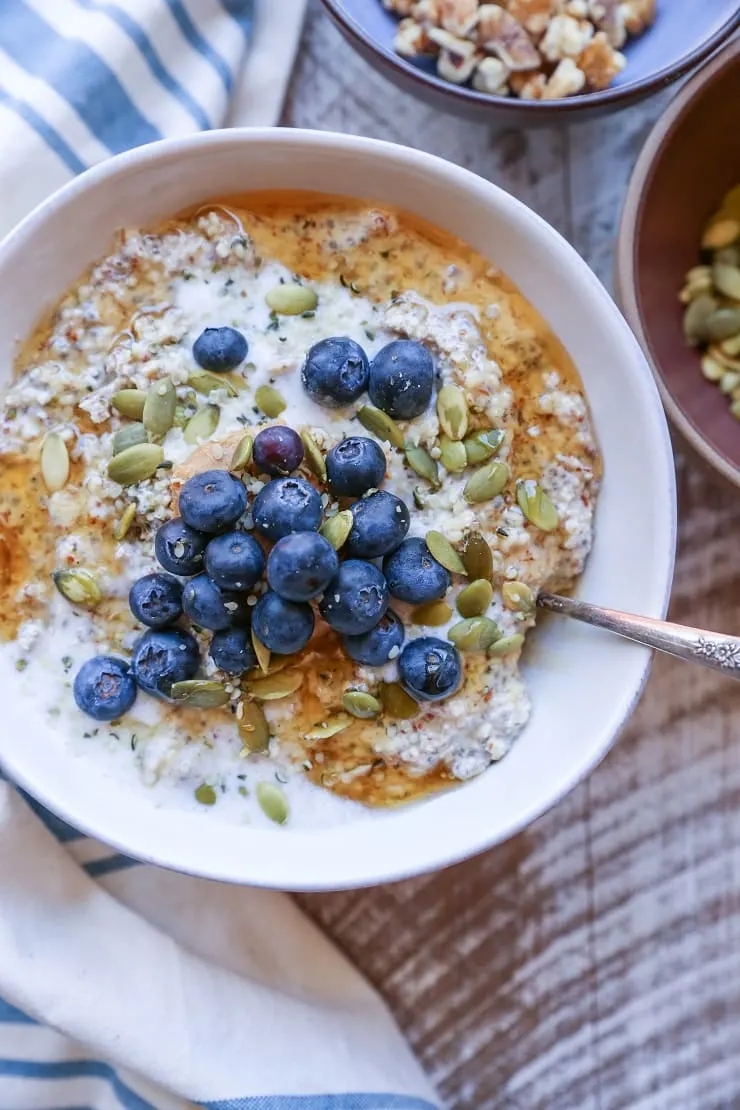 Almond Flour Gluten-Free Zucchini Muffins – Grain-free gluten-free zucchini muffins with coconut flour, almond flour, and Greek yogurt. These healthy gluten-free zucchini muffins have amazing texture and are incredibly healthy!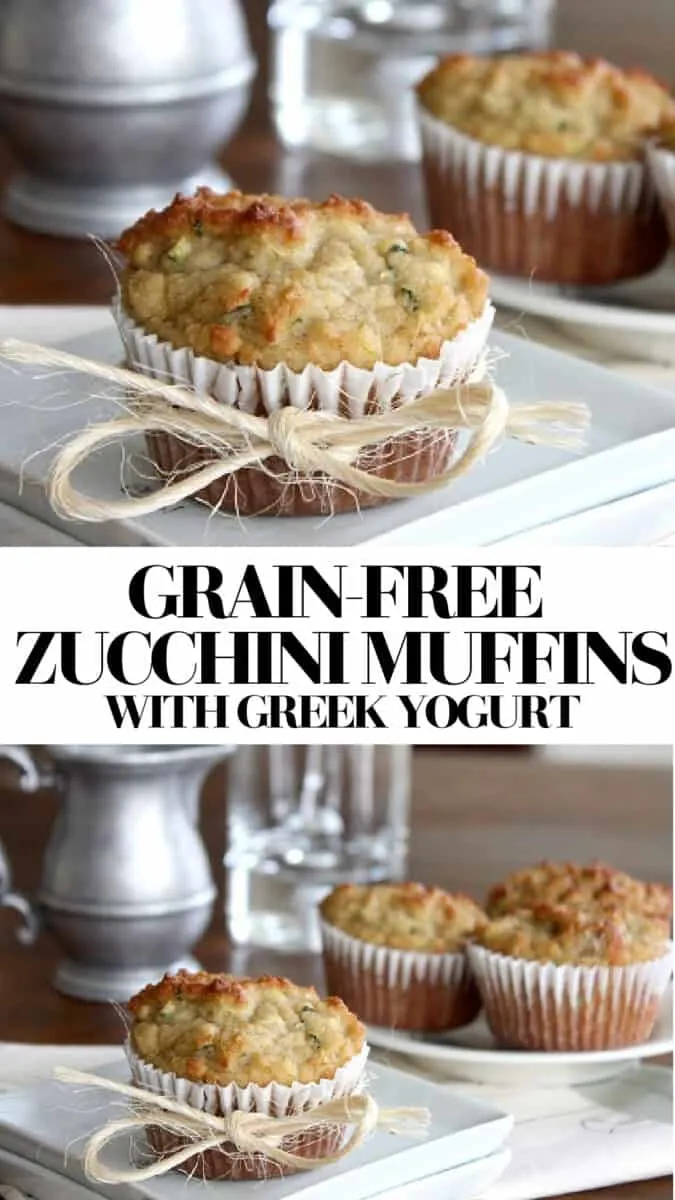 Paleo Crepes – Grain-free paleo crepes made with almond flour and tapioca flour that have an identical texture to regular crepes! Top these amazing crepes with fresh fruit, almond butter, jam, or pure maple syrup for an amazing breakfast or brunch!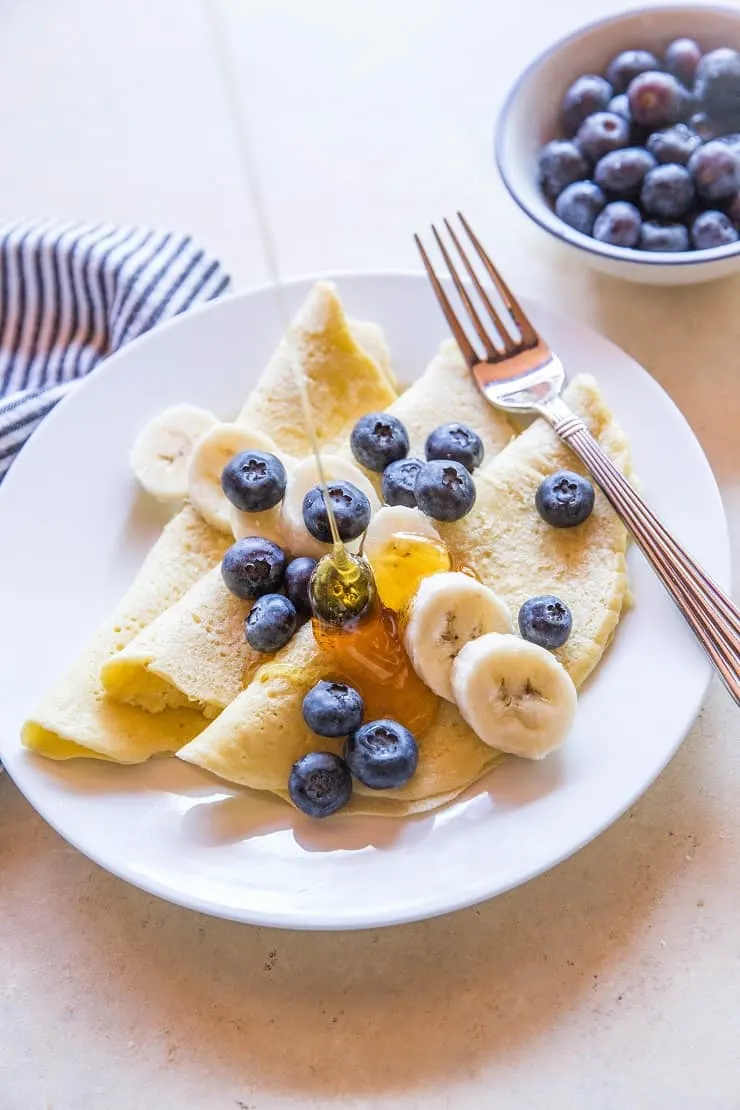 Fluffy Gluten-Free Sourdough Pancakes – Ultra moist and fluffy gluten-free sourdough pancakes made dairy-free! These delightful pancakes have that unique sourdough flavor and are fun for the whole family! Make the batter the night before for an amazing breakfast or brunch the next day!
Paleo Hummingbird Muffins – Hummingbird muffins include pineapple, banana, and pecans. While they traditionally are made with all-purpose flour and sugar, I replace the wheat with almond flour and simply omit the sugar. Moist, fluffy, grain-free and naturally sweet delicious muffins that make for an amazing breakfast or snack.
Paleo Pumpkin Waffles with Caramelized Pears – Grain-free, dairy-free, naturally sweetened paleo pumpkin waffles topped with maple cinnamon caramelized pears makes for an incredibly flavorful and healthful breakfast!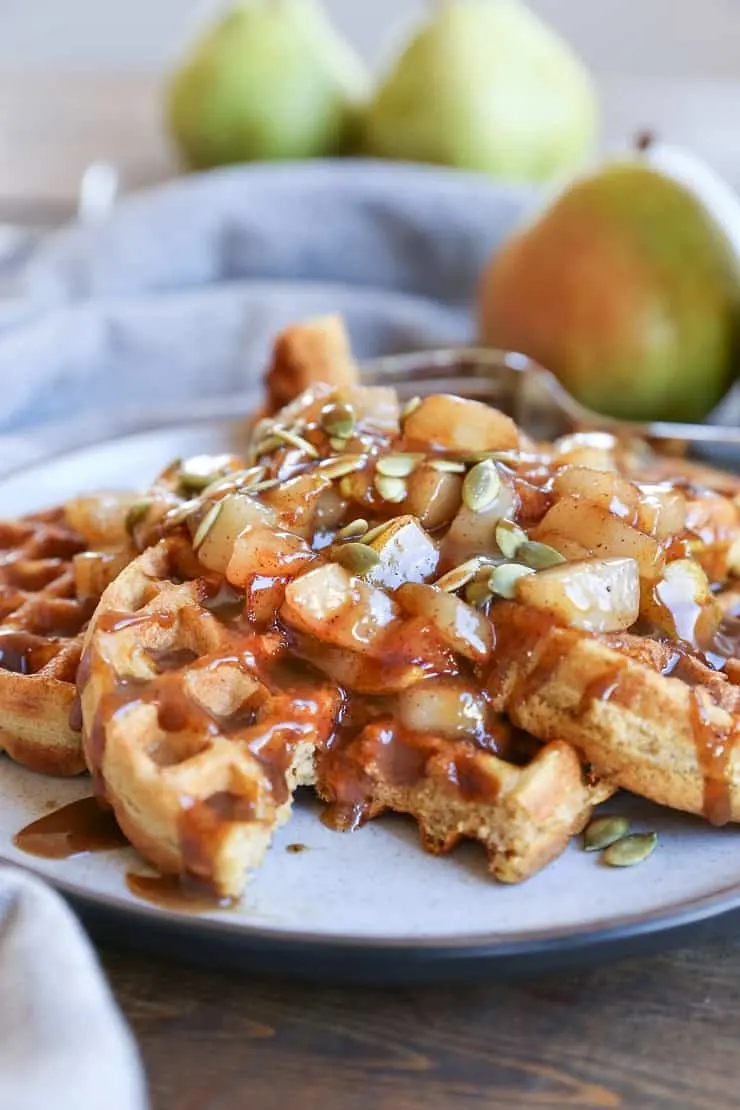 That's it! Where will you start??
If you're more into smoothie vibes, check out my smoothie and smoothie bowl recipes.
Let me know what you try!
Enjoy!