Moist, fluffy, cinnamony paleo blueberry coffee cake made with coconut flour, almond flour, and pure maple syrup. This flavorful cake is perfectly healthy for breakfast, yet sinfully taste enough to enjoy as dessert!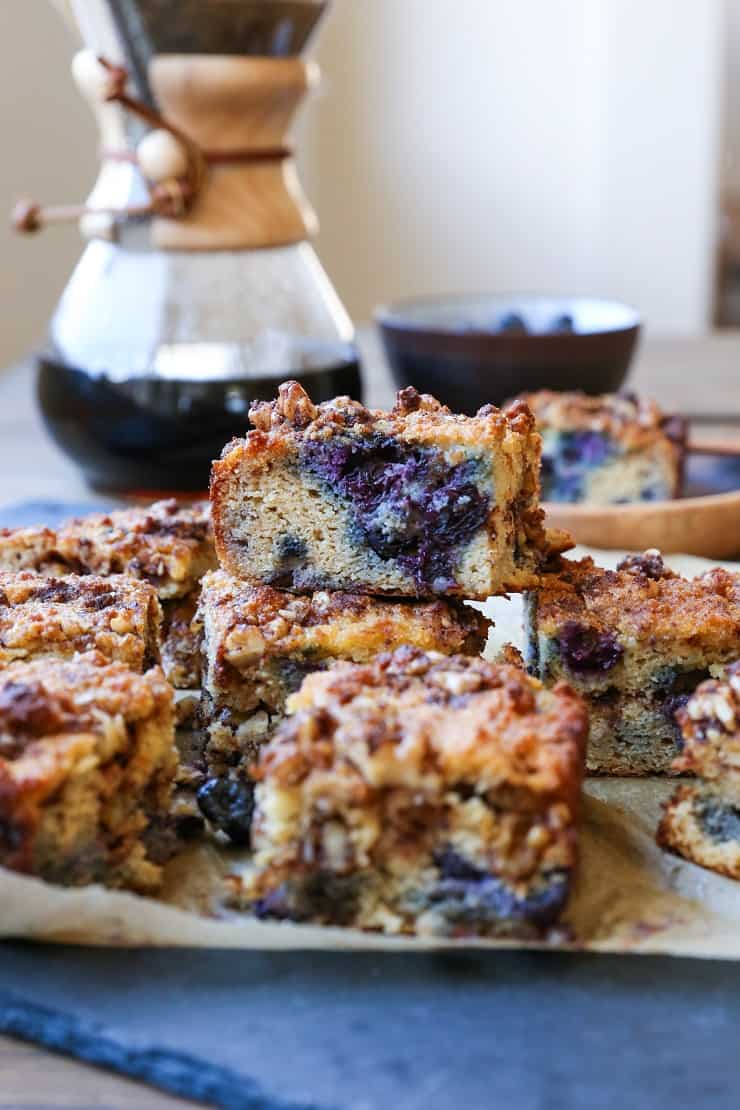 One of my favorite parts about summers in Reno is opening the windows at night to let the cool air in, then enjoying my steamy mug of bulletproof coffee in the morning with the desert breeze coming through the windows.
It's these little stolen moments that allow me to slow down and enjoy the feels, regardless of what's on my To Do list, or what's on my mind.
My latest favorite treats to join in those stolen moments are the Keto Fat Balls, Paleo Morning Glory Quick Bread, Vegan Strawberry Cheesecake, and most recently, this Paleo Blueberry Coffee Cake.
There's nothing like allowing yourself to indulge in something simple, healthful, yet gratifying.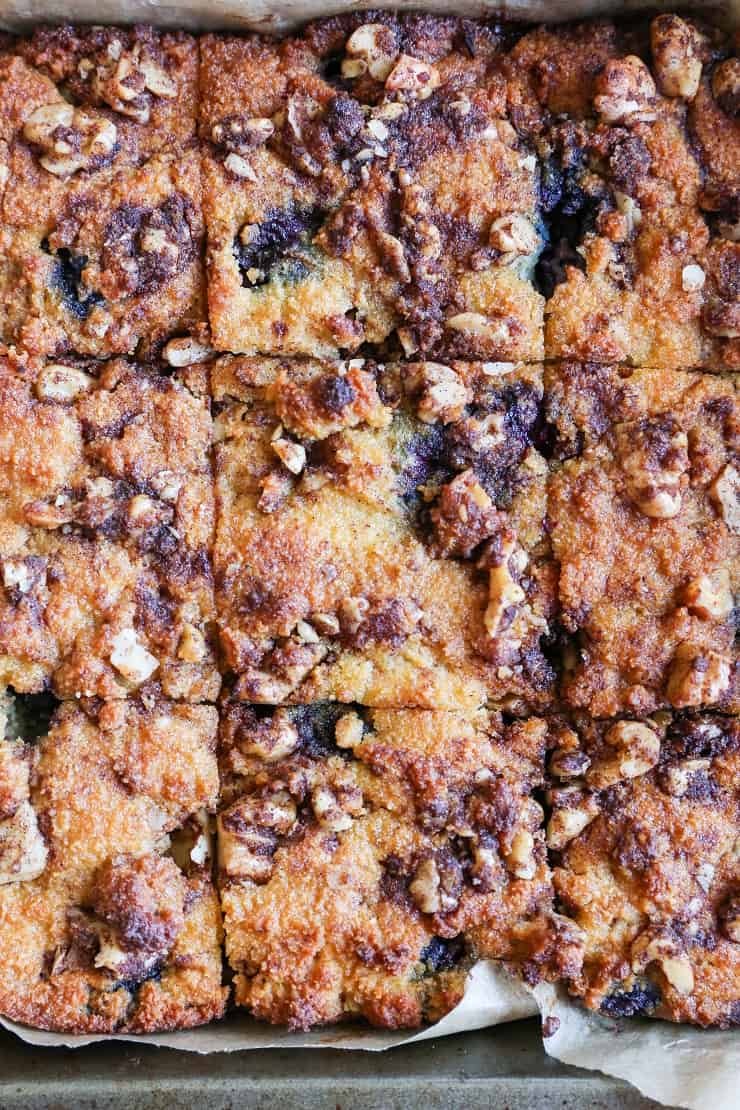 Every once in awhile, there will be a recipe that pops up in my head that I JUST HAVE TO MAKE.
For the most part, I plan recipes that go up on this site well in advance, and I base them off of special diets (vegan, vegetarian, or paleo) as well as what I'm craving, but from time to time, something will slam dunk me in the brain socket and stay at the forefront of my lobe until I up and make it.
This paleo blueberry coffee cake was definitely one of those!
You see, for whatever reason, I crave sugar like crazy during the summer, and I was experiencing an epic craving for the Paleo Coffee Cake I posted a few years back.
As luck would have it, I had a bunch of blueberries that needed to be used up…so I thought plunking them down in a cinnamon-swirly cake of bliss would be the perfect answer to the bloob dilemma.
And you know what? It was!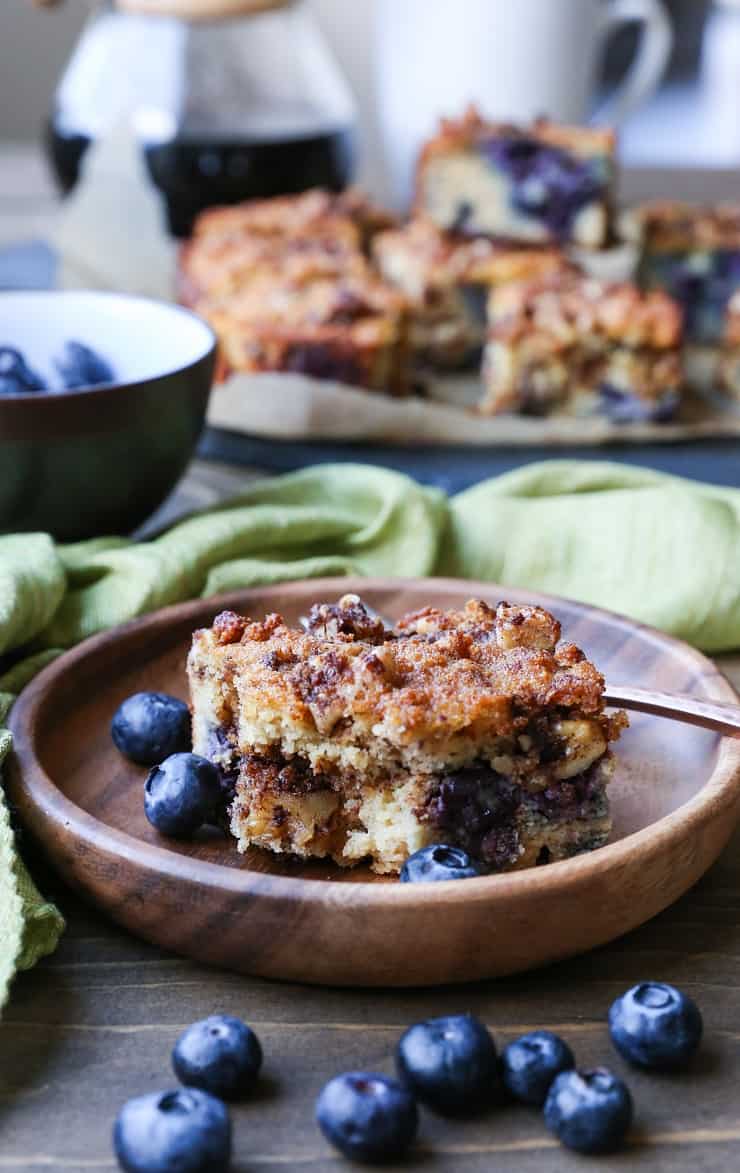 I based this paleo blueberry coffee cake off my original recipe, but took a different approach this time around. I used almond flour rather than arrowroot flour – initially, I was concerned the cake wouldn't turn out as fluffy, but the texture turned out phenomenally!
How to Make Paleo Blueberry Coffee Cake:
Prepare the coffee cake batter and the walnut cinnamon swirl topping mixture – I prepare the cake batter in a blender and the topping in a food processor, but you can do either/or.

Pour half to two-thirds of the coffee cake batter (which will be super thick) into a prepared 8" x 8" baking pan lined with parchment paper.

Spread half to two-thirds of the walnut cinnamon swirl mixture over the cake batter layer and use a butter knife to smear the two into a swirly concoction.

Repeat for the remaining coffee cake batter and the cinnamon topping mixture.

Bake!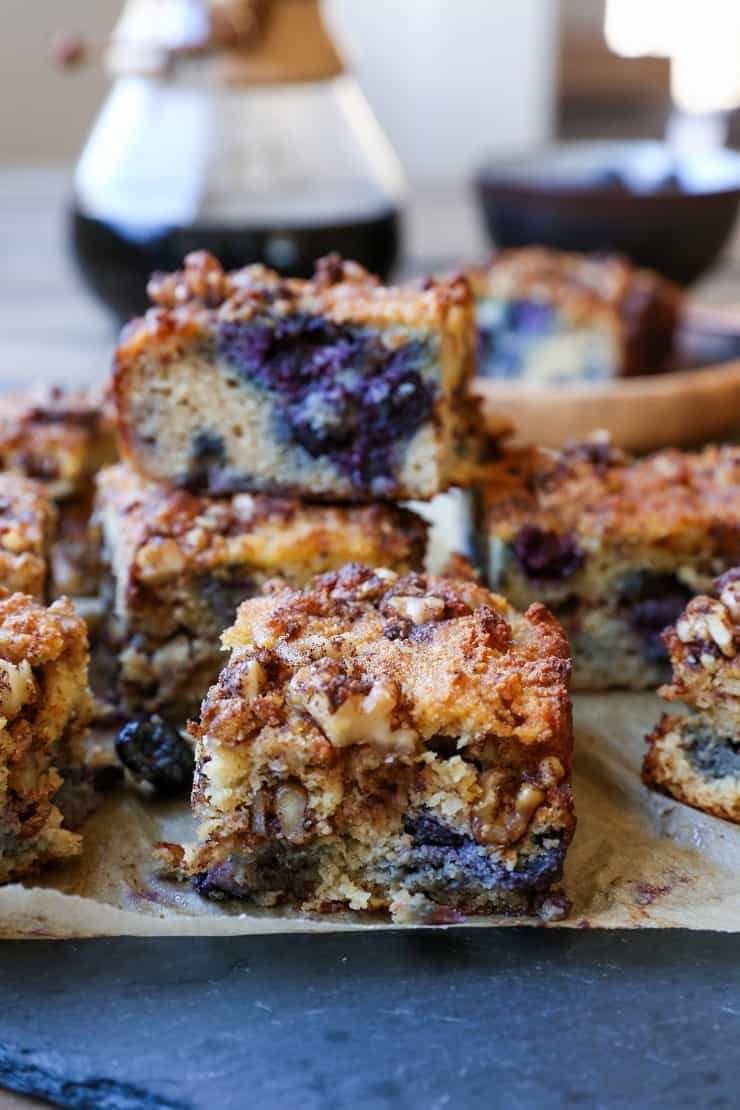 Word to the wise: Allow the coffee cake to sit until it cools all the way to room temperature once it's out of the oven. It will hold together much better after it sets up!
Of course, coffee cake is designed to be crumbly, so a little crumbliness is normal, but you want to make sure you can cut nice big hunks of the cake without it falling apart.
One quick note: In the past, when I've posted coffee cake recipes, I've gotten the question, "where's the coffee on the ingredient list?"
I figured I'd clarify: coffee cake doesn't traditionally include coffee (although, you can definitely add instant espresso if you wanted to give it a coffee flavor), but rather is designed to be a goody you enjoy alongside your coffee.
Just wanted to point that out to avoid any confusion when you take a gander at the Ingredients list 😉
Like always, there's room for changes/improvement/what have you's, so here are a few ideas for adaptations:
For a cake that's lighter in texture, replace the almond flour with tapioca flour.

Use raspberries or chopped strawberries in place of blueberries

Use any natural liquid sweetener you like, such as agave, pure maple syrup, or honey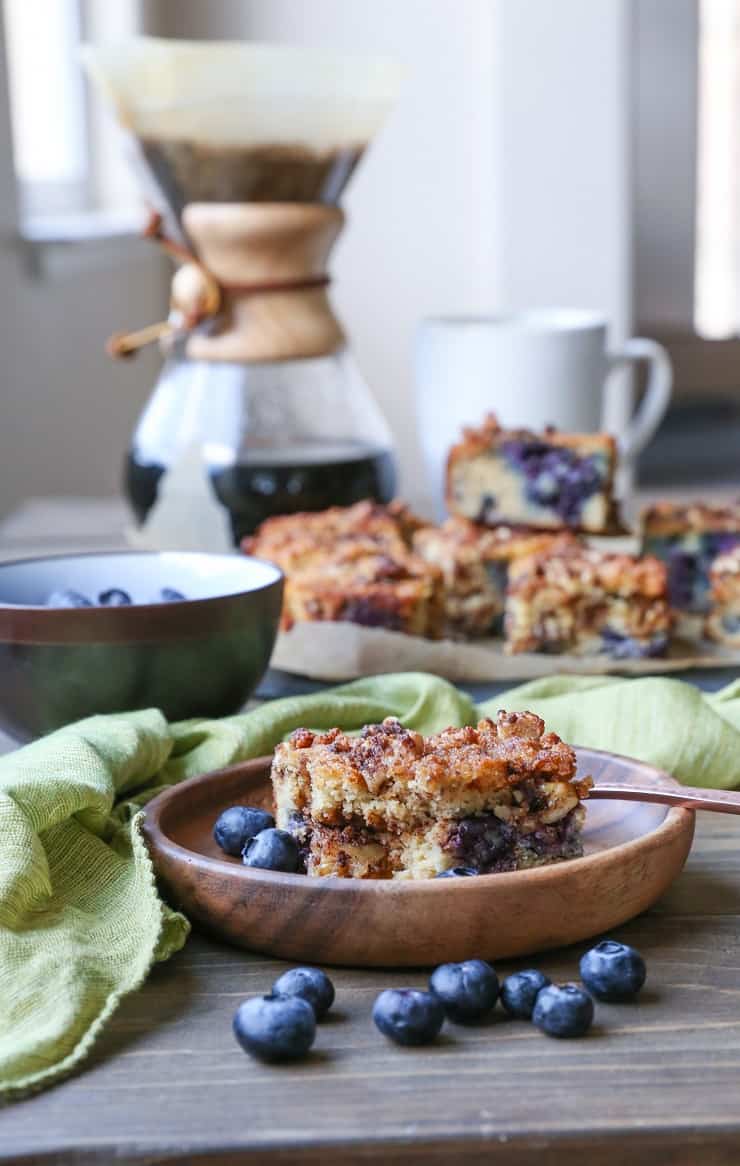 My favorite part about this coffee cake is it goes so well with life in general. I love eating it as an afternoon snack with tea, but it's also a great breakfast or brunch item. Dessert? You betcha! Make it a part of your stolen moment session!
More Coffee Cake Recipes:
My cookbook,
Paleo Power Bowls
, is now available! CLICK HERE to check it out. Thank you for your all your support!
If you make this Paleo Blueberry Coffee Cake, please feel free to share a photo and tag@The.Roasted.Root on Instagram!
Paleo Blueberry Coffee Cake
Blueberry-studded grain-free coffee cake that will give you all the coffee shop vibes and put a smile on your face 😉
Servings:
9
slices of cake
Ingredients
Walnut Cinnamon Swirl Topping
Instructions
Preheat the oven to 350 degrees F and line an 8" x 8" cake pan with parchment paper.

Add the ingredients for the coffee cake, except for the blueberries, to a blender. Blend until combined and smooth. Note: the cake batter will be very thick – this is normal.

Toss the blueberries with 1 tsp coconut flour in a small bowl to ensure they won't all sink to the bottom of the coffee cake. Fold the blueberries into the coffee cake mixture.

Stir the ingredients for the walnut cinnamon swirl topping in a small bowl until well-combined.

Pour 1/2 to 2/3 of the cake batter into the prepared cake pan and smooth into an even layer. Evenly spread 1/2 to 2/3 of the walnut topping mixture on top of the cake batter and use a knife to swirl it into the batter.

Repeat for remaining cake batter and walnut topping.

Cover the coffee cake with foil and bake on the center rack of the preheated oven for 30 minutes. Remove the foil then bake for another 15 to 20 minutes, or until the cake has set up in the center and the edges are golden-brown.

Remove cake from the oven and allow it to cool at least 30 minutes (the longer the better) before cutting into it. Enjoy!
Nutrition
Serving:
1
of 9
|
Calories:
335
kcal
|
Carbohydrates:
21
g
|
Protein:
9
g
|
Fat:
25
g
|
Sugar:
11
g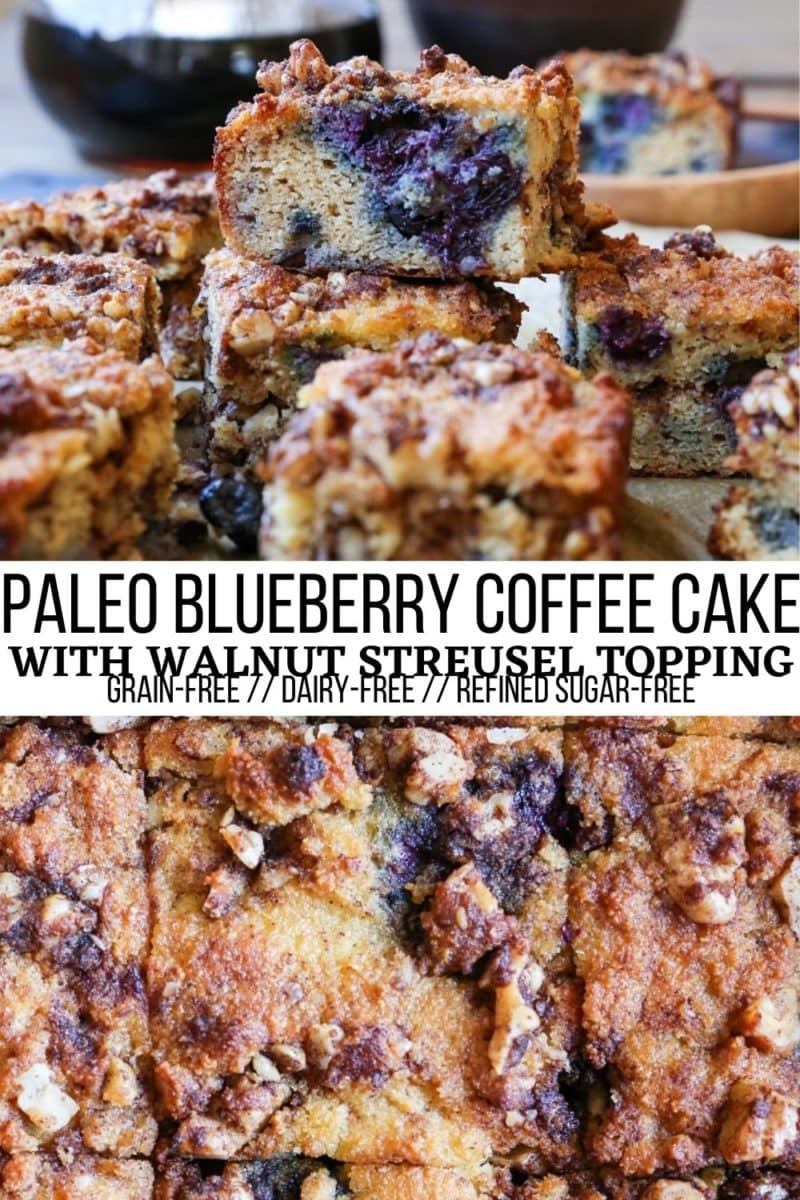 This post contains affiliate links, which means I make a small commission off items you purchase at no additional cost to you.