Grain-free, dairy-free, naturally sweetened paleo pumpkin waffles topped with maple cinnamon caramelized pears makes for an incredibly flavorful and healthful breakfast!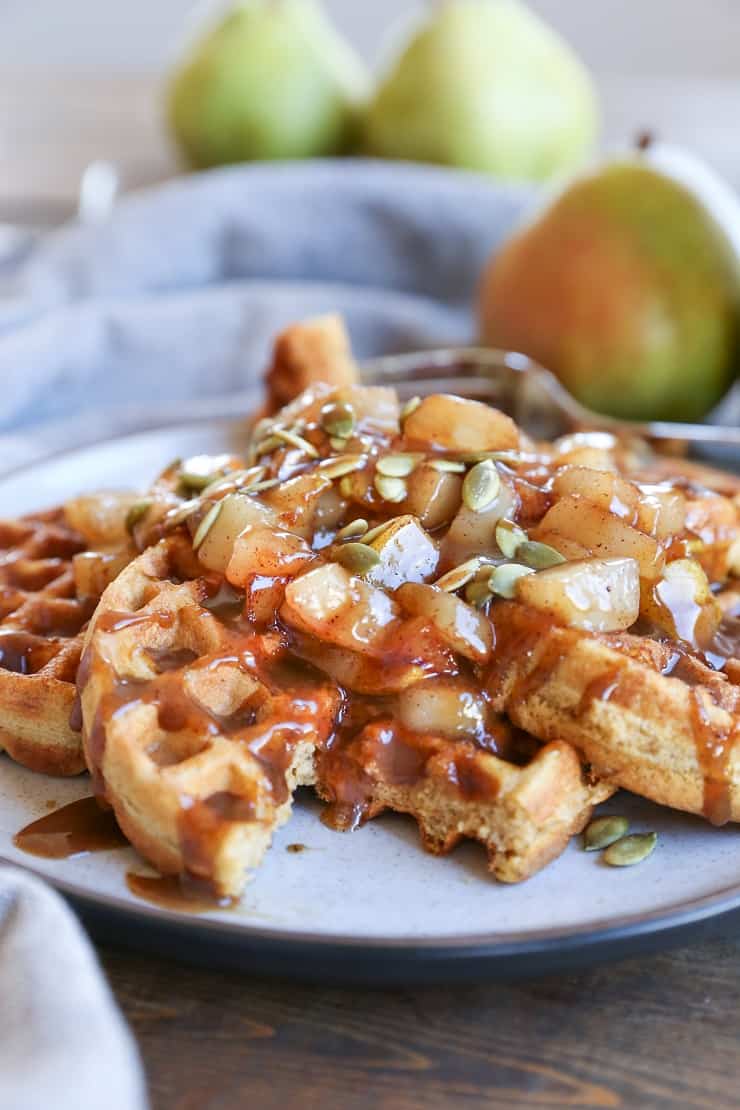 Where do I even begin?
I've made these waffles three times in the last month, which for me is BIG NEWS, because I typically only eat eggs and vegetables for breakfast. < – creature of habit, I am.
The waffles haven't changed my breakfast routine per se, as I just fold them up and eat them for snack. And dessert. At any time and any place, because baby gets what baby wants, amIright? Such a rebel.
This to say, these pumpkin waffles are a specimen after my own heart.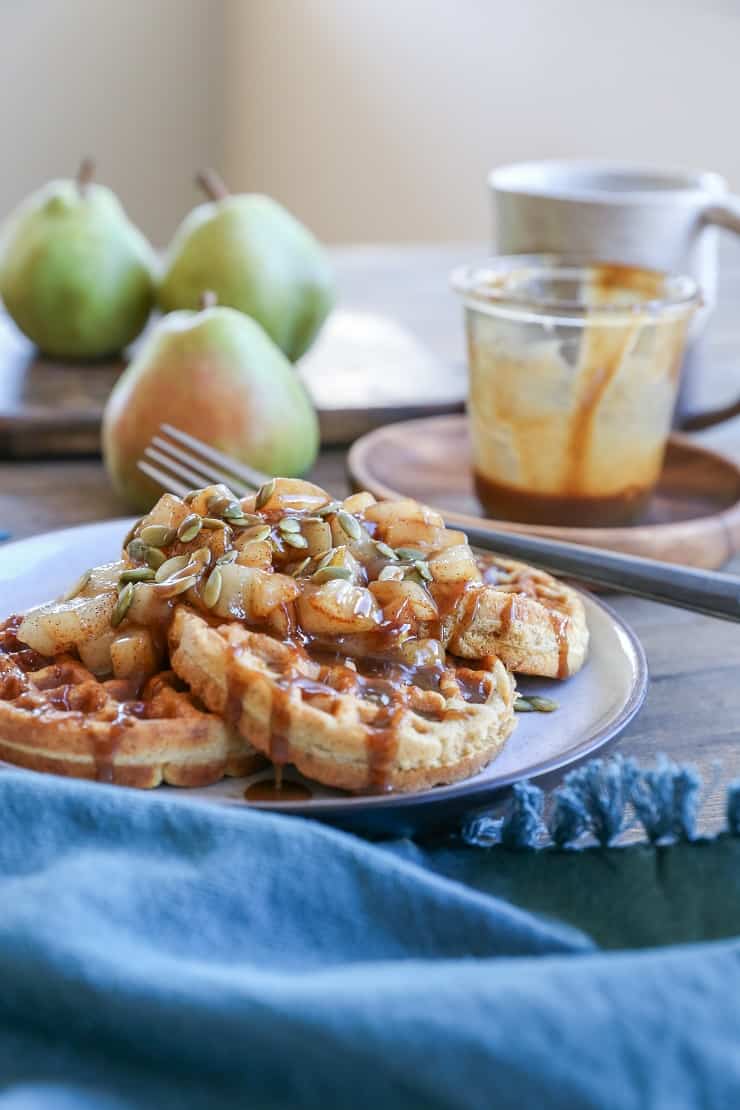 All things considered, everything about this experience is:
Grain-free

Refined sugar-free

Fluffy

Buttery

Warm & inviting

A spa day for your mouth and body-soul

Essential to living a beautiful life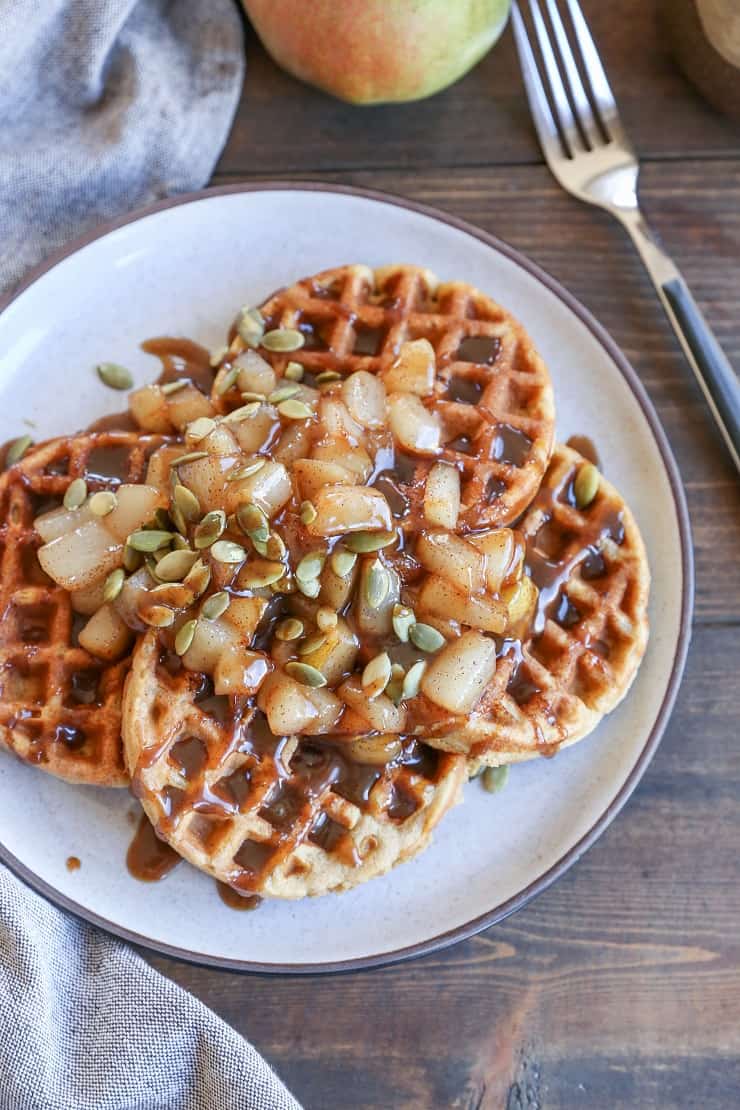 I topped the waffles with spiced caramelized pears and that Chai-Spiced Paleo Salted Caramel I showed you a few weeks ago, which basically tastes like you're consuming a stick of butter. Sweet, sweet, cinnamon-spiced buttaaaah! I tell you what, the combination of the three together (pumpkin waffles + spiced pears + homemade caramel) sends the most fascinating pleasure signals to your medula oblongata…or whatever part of the brain that handles feelings of ultimate bliss, I'm no scientist, people.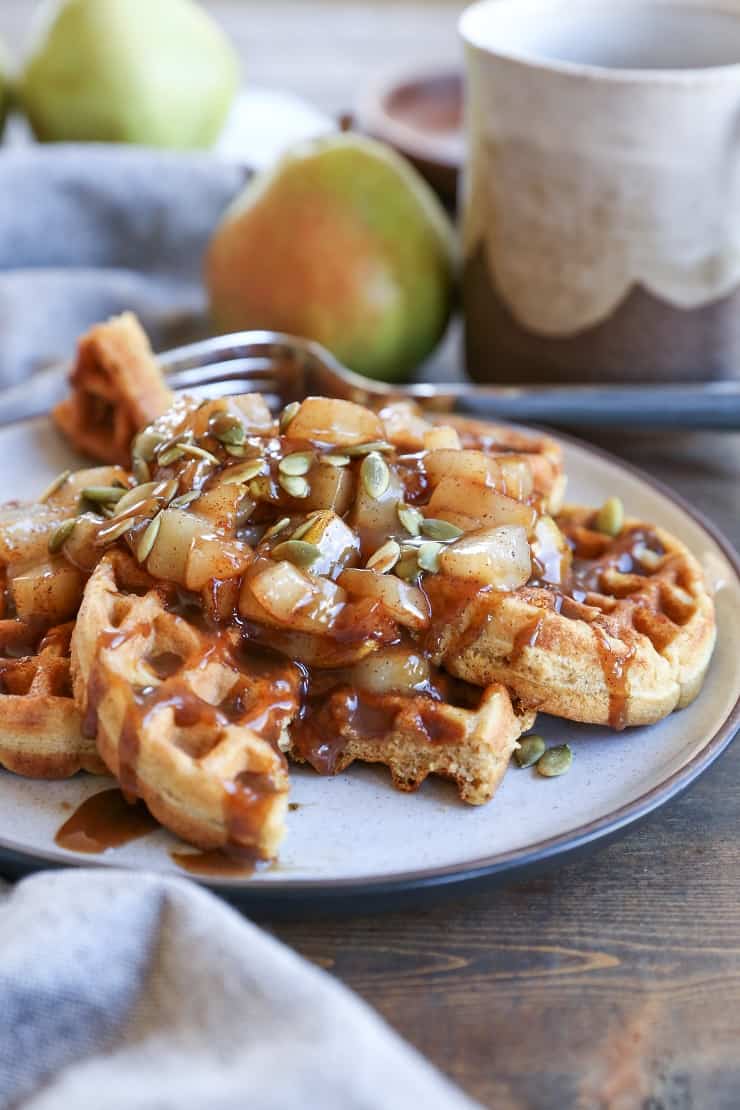 You can 200% consume the pumpkin waffles with the standard butter + pure maple syrup situation, but if you're looking for a completely badass experience, the spiced pear and caramel topping situation will get the job done with flying colors.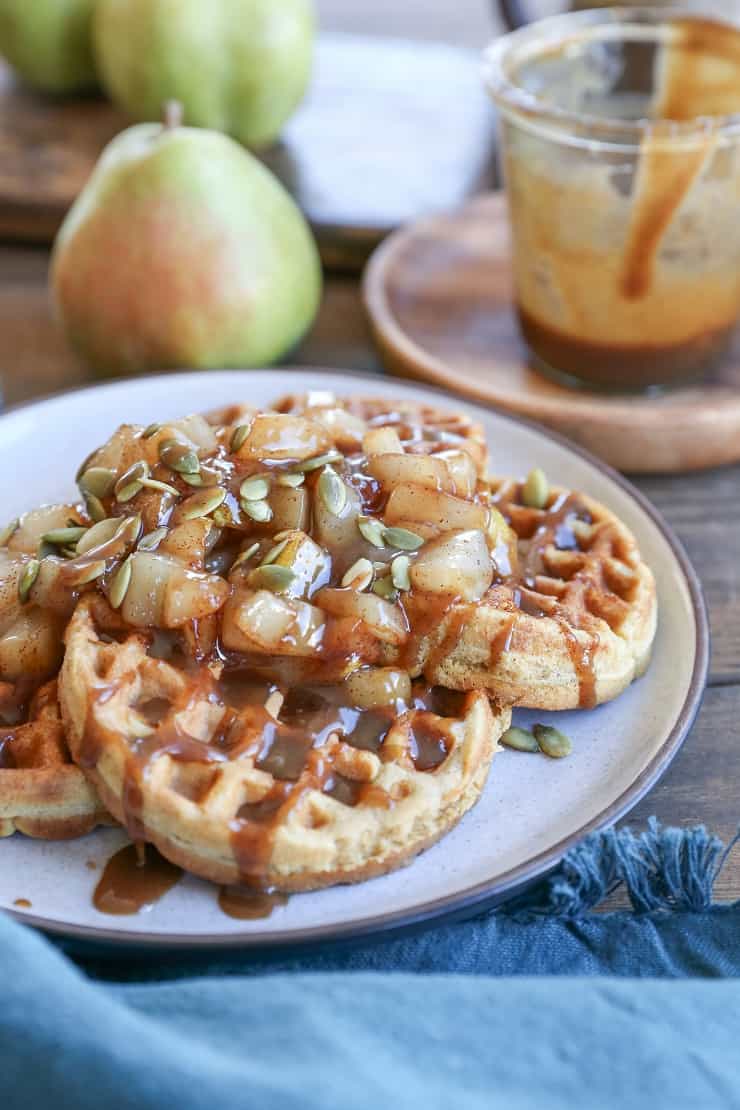 The best part about this apparatus is nothing about it is rocket science (or long division as I like to say). All you do is prepare the waffle batter in your blender and as they're cooking on your waffle iron, you can whip out the spiced pears lickety split.
Pumpkin thy waffles!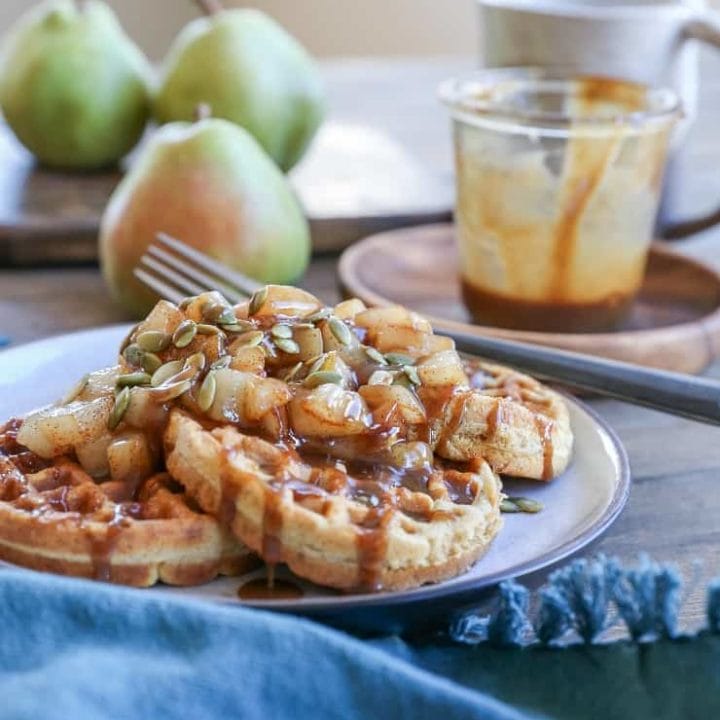 Paleo Pumpkin Waffles with Caramelized Pears
All the best parts about fall wrapped up into one delicious breakfast! Grain-free pumpkin waffles with spiced pears and homemade caramel sauce is a unique and inviting breakfast!
Ingredients
Paleo Pumpkin Waffles:
3 large eggs
1/4 teaspoon baking soda
Spiced Caramelized Pears:
1 large comice pear, peeled, cored and chopped
1 tablespoon pumpkin seeds, optional
Instructions
Make the Waffles:
Add the ingredients for the waffles to a blender. Blend until completely smooth. Allow the batter to sit for 10 minutes.
Preheat your waffle iron. Pour batter onto the center of the preheated waffle iron and secure the lid. Cook for 1 to 3 minutes, or until the light on the waffle iron signals it's finished (or cook longer for a crispier waffle).
Top waffles with homemade paleo salted caramel and spiced caramelized pears.
Make the Caramelized Pears:
Add the ingredients for the caramelized pears to a small skillet and heat over medium-high. Bring the mixture to a full boil and cook, stirring frequently, until the pears have softened and the liquid is very thick and sticky, about 15 to 20 minutes.
Notes
*You can also use grapeseed oil or oil of choice. Note if you use extra virgin olive oil, you may be able to taste the oil.
Nutrition Information
Yield

6
Serving Size

1 grams
Amount Per Serving
Unsaturated Fat

0g