This breakfast (or lunch or dinner!) of champions includes thick-cut bacon, butternut squash, apples, spinach, and spices for a clean and easy meal.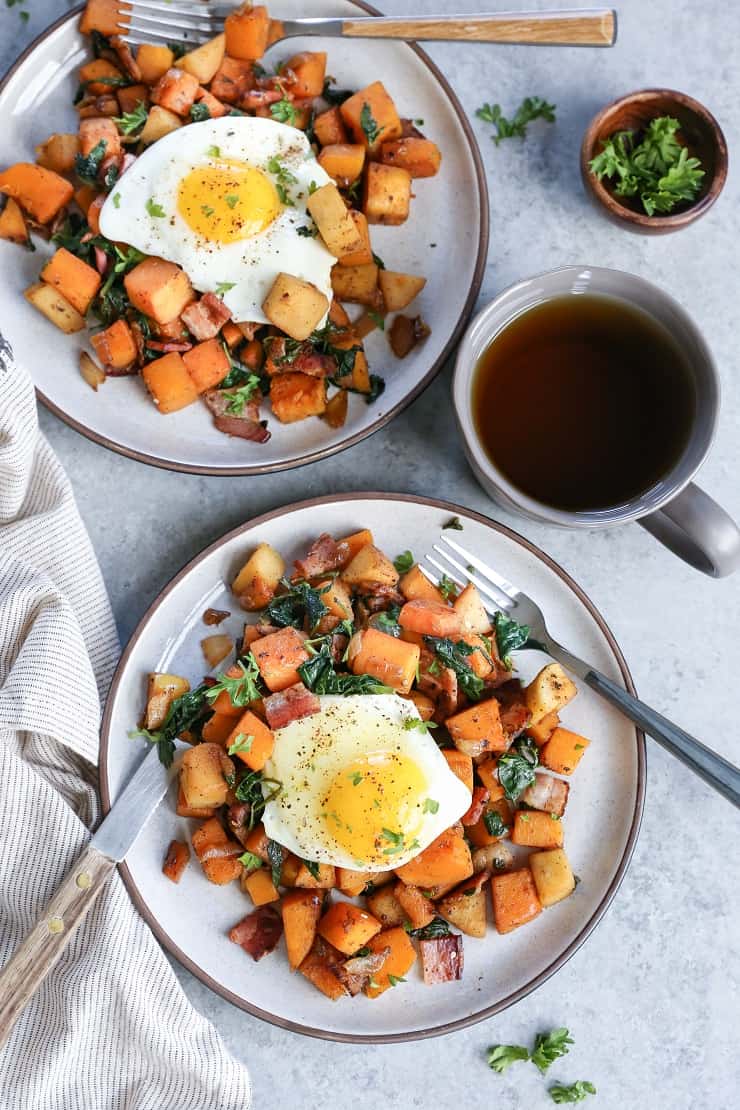 If you've been around TRR a while, you know learning about gut health is my jam. Some women read celebrity gossip magazines…I read about poo. As it turns out, gut health is strongly linked to hormones, and vice versa, which means if you're on a journey to balance your hormones, you'll likely need to work on your gut health and diet; in the same regard, if you struggle with maintaining a healthy GI tract, you might need to be attentive to your hormones.
I bring up the hormone-gut dichotomy for one simple reason: In all my research on both hormones and digestion, there is an overall consensus that diet is key in stabilizing and optimizing both, and breakfast is a daily must.
Butternut squash, apples, bacon, and spinach make this fall-inspired breakfast all-things filling, nutritious, and pleasing on the palate. You may wonder if you can hack apples in a savory application…I assure you, they just work! We add a drizzle of pure maple syrup and a sprinkle of cinnamon to infuse this hash with fall flavors and give it that je ne sais quois to change up your breakfast game.
Stick a sunny side up, poached, fried or scrambled egg on top of this hash for a meal that will keep you fueled yet still feeling light and spry. If there's one thing I try to avoid first thing in the morning, it's a breakfast that will put me back to sleep. The quality carb-protein-fiber-fat ratio here does your body good, giving you energy and keeping you feeling full for hours.
If you're looking to customize this butternut squash hash, you can add or substitute chorizo or breakfast sausage for the bacon. You can also incorporate sweet potato, parsnips (or any other root vegetable), and/or chard or kale to your liking. Sliced avocado, guacamole, or salsa for serving? Get on it!
Interested in a hash-for-dinner situation? I'm a firm believer that a hash like this can be eaten at all times of the day, and doesn't need to be bound to breakfast. I've been known to turn this hash into a breakfast burrito situation, and I've also added it to stir fry, because why not?
Squatternut bosh for breakfast (<- Friends reference? Anyone? Anyone? Bueller?)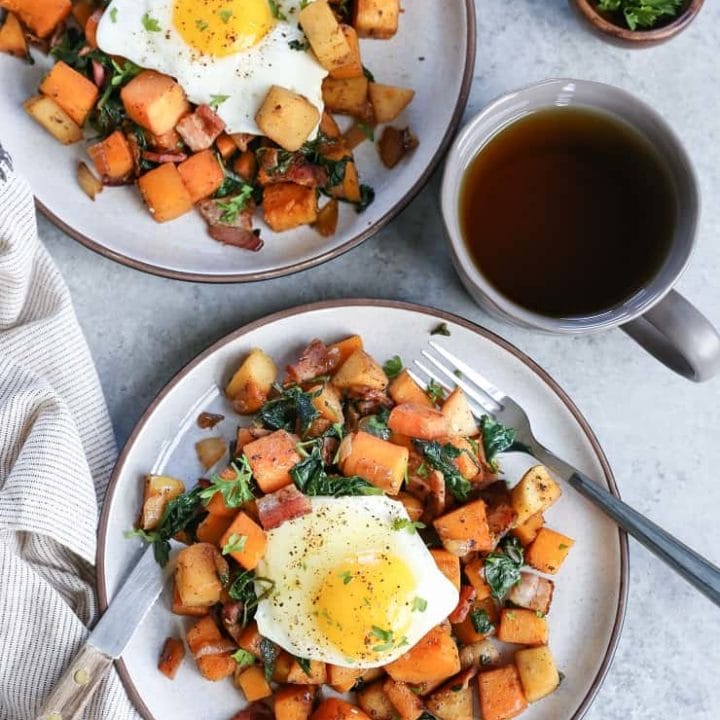 Maple Bacon Butternut Squash Hash with Spinach
The most amazing fall breakfast right here! Maple Bacon Butternut Squash Hash with greens is a fabulous way to kick off the day!
Ingredients
4 slices thick cut bacon, see note*
1 small yellow onion, diced**
1 small butternut squash, peeled and chopped, about 6 cups
1 large apple, peeled, cored, and chopped
1 teaspoon dried oregano
1 teaspoon dried thyme
5 ounces baby spinach
4 to 6 eggs, for serving
Instructions
Heat a large (12-inch) cast iron or non-stick skillet to medium-high heat. Place the bacon on the hot skillet and cook 2 to 3 minutes. Flip and continue cooking until bacon is golden-brown and crispy, about another 1 to 2 minutes. Transfer the bacon to a cutting board. Allow it to cool, then chop and set aside.
Add the diced onion to the hot skillet with the bacon drippings. Cook, stirring occasionally, until onion begins to brown, about 5 to 8 minutes. Note: if onion begins sticking to the pan at any point, add 1 tablespoon olive oil to the skillet.
Add butternut squash, apple, cinnamon, oregano, thyme, red pepper flakes, and sea salt. Stir well and cover. Cook, stirring occasionally, until butternut squash reaches desired doneness, about 10 to 15 minutes.
Remove lid, add the spinach, and re-place the lid. Cook until spinach has wilted, about 1 to 2 minutes.
Add the pure maple syrup and stir well. Taste hash for flavor and add more sea salt to taste.
Serve butternut squash hash with sunny side up, fried, poached, or scrambled eggs (for AIP, omit eggs).
Notes
*Most bacon contains sugar. Scan the package read the package to ensure you're using a no-nitrate, antibiotic-free, sugar-free product.
**Omit the onion to make this recipe Low-FODMAP
Nutrition Information
Yield

4
Serving Size

1 grams
Amount Per Serving
Unsaturated Fat

0g