Sweet potato porridge breakfast bowls with chia seeds, almond milk, pure maple syrup, banana, blueberries, almond butter, pecans, and hemp seeds. These well-rounded bowls are packed with plant-based nutrients and are ultra comforting and delicious.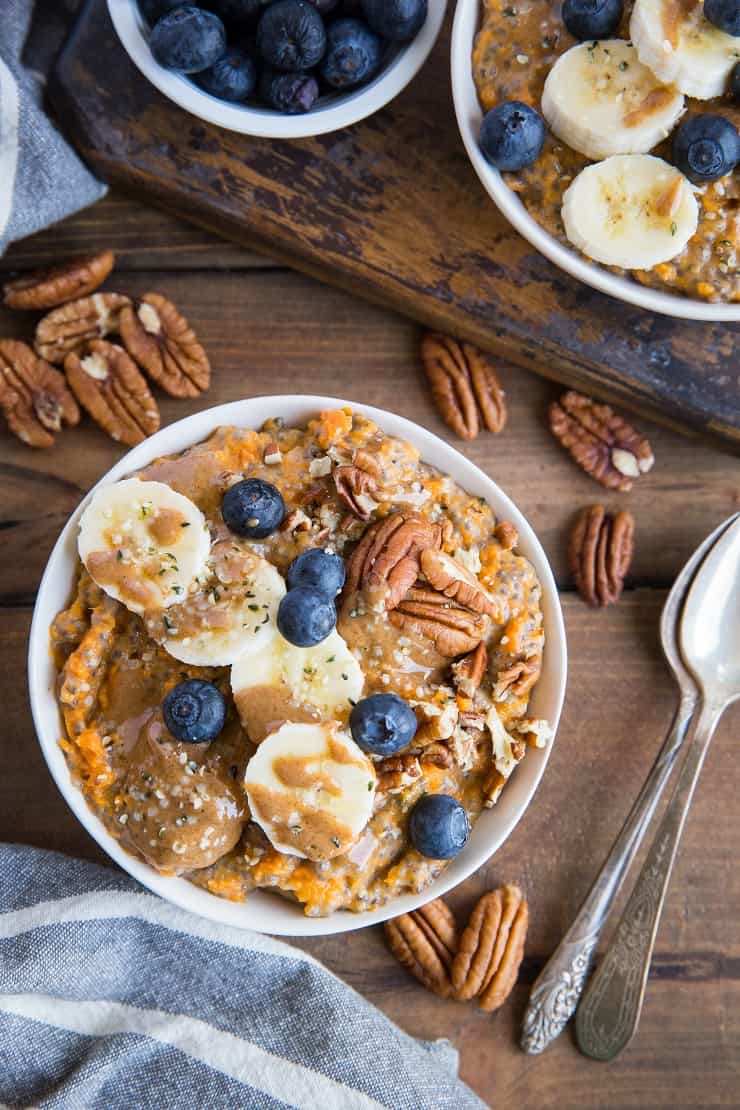 That time we mashed up sweet potato and chia seed pudding and called it porridge. And breakfast. BOOM! All your dreams come true.
If you like your breakfast on the sweet end of the spectrum versus savory, or if you enjoy a healthier dessert or snack that's all natural and plant based, I have THE bowls for you! These sweet potato breakfast porridge bowls are one of those something-for-everyone-in-all-situations situations.
With the weather heating up, I've had a hankering for the chillier foods, and chia seed pudding is one of my all-time favorite cold treats. It's one of those recipes that can be tossed together at a moment's notice, and it can be enjoyed for breakfast, snack, or dessert. It's also marvelous as a grab-and-go staple to have on hand during those busy workweeks.
Although it requires several hours of sit time, it's a super low-fuss approach to dessert or breakfast. It's also very versatile – I've been known to play with chia seed pudding flavors over the years. Pumpkin Spice Chia Seed Pudding, Blackberry Smoothie Chia Seed Pudding Parfaits, Caramelized Pear Chia Seed Pudding, Matcha Chia Seed Pudding Apricot Smoothie Parfaits and Bananas Foster Chia Seed Pudding are some of my favorites (you can tell I've chia-ed quite a bit in my day).
I used my classic Chia Seed Pudding recipe as the base for the sweet potato chia seed pudding. I simply roast a large sweet potato, mash it up, add some ground cinnamon and vanilla extract to make for a super comforting paleo breakfast porridge that will set your soul on fire.
What I love about these breakfast bowls is they incorporate hearty sweet potato (complex carbs) with thick, creamy, and poppy chia seed pudding to create a filling dish that wows your palate. When you scoop some of the porridgy sweet potato essence onto your spoon with the various toppings, this perfect bite situation occurs which will surely make you swoon.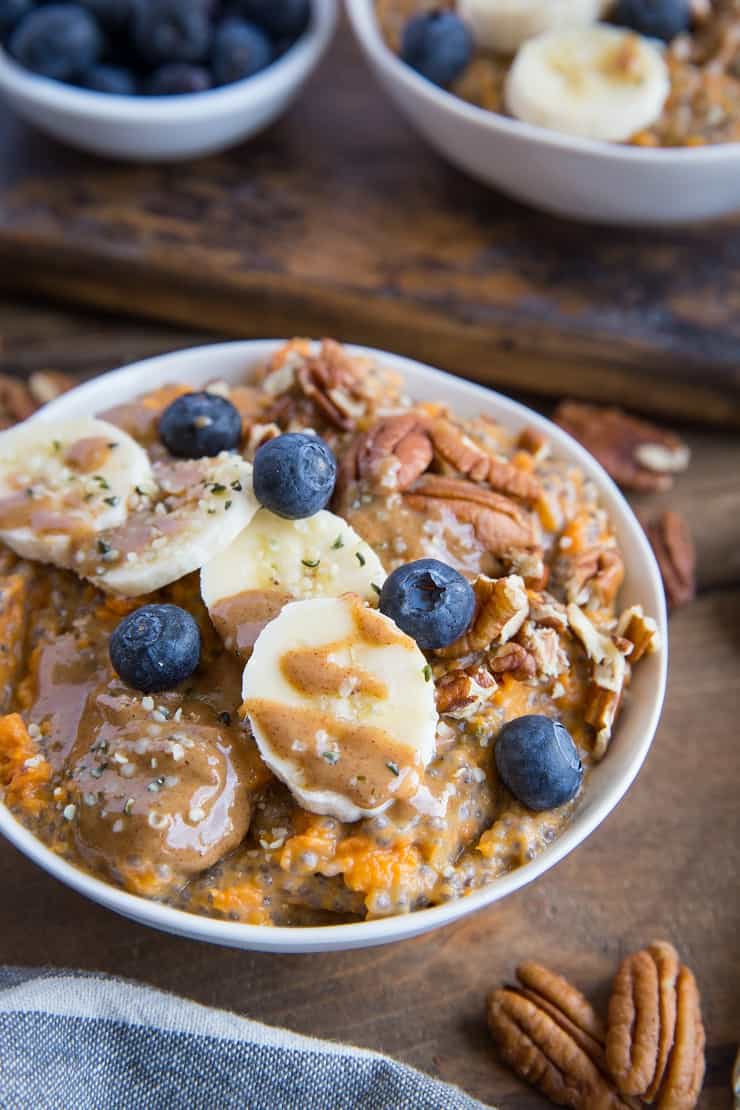 Let's talk toppings. I love topping the sweet potato chia seed pudding with almond butter, chopped pecans (insert your favorite nut or seed here), blueberries, sliced banana, and hemp seeds. You can absolutely mix and match your favorite toppings, incorporating yogurt, coconut milk, fresh seasonal fruit, cacao nibs, goji berries, homemade or store-bought jam, and more.
Recipe Adaptations:
Use any non-dairy milk you'd like in place of the unsweetened almond milk.
Substitute honey or coconut palm syrup the pure maple syrup.
Add 1 tbsp orange zest for a tangy pop of flavor
Add 2 tablespoons of bourbon or whiskey to the porridge for a boozy deliciousness.
You can absolutely make this recipe in parts to make the process even more simple! Roast the sweet potato and/or make the chia seed pudding up to 4 days ahead of time.
To serve hot or cold?
This time of year, I like eating the porridge cold – I allow the roasted sweet potato to cool all the way in the refrigerator before mashing and mixing it with the chia seed pudding. If you're looking for a hot porridge, simply heat it on the stove top and add more almond milk or coconut milk for creamier consistency.
Go get your puddin!
Sweet Potato Porridge Breakfast Bowls
Change up your breakfast routine with these delicious and nutritious sweet potato porridge bowls! It's all about the toppings!
Instructions
Prepare the Sweet Potato Porridge
Add the almond milk, pure maple syrup, vanilla extract, ground cinnamon, and sea salt to a blender and blend until combined. Pour mixture into a large jar, followed by the chia seeds. Stir well until combined and refrigerate at least 4 hours or overnight. If possible, stir the chia seed pudding a few times as it sits.

Preheat the oven to 415 degrees F. Poke several holes in the sweet potato and wrap in foil. Roast 45 to 60 minutes, or until sweet potato is very tender when poked with a fork. Remove from oven and allow sweet potato to cool enough to handle. Peel the skin off the sweet potato and discard. Mash the flesh in a bowl.

After the chia seed pudding has finished setting up, add the mashed sweet potato to the jar of chia seed pudding and stir well until combined. Taste mixture for flavor and add more pure maple syrup to taste.
Prepare the Bowls:
Divide the sweet potato porridge between 4 bowls. Top with sliced banana, blueberries, pecans, almond butter, and hemp seeds and serve.
Notes
Nutrition facts calculated for the porridge only (without toppings)
Nutrition
Serving:
1
of 4
|
Calories:
353
kcal
|
Carbohydrates:
43
g
|
Protein:
8
g
|
Fat:
17
g
|
Fiber:
16
g
|
Sugar:
14
g