Paleo Morning Glory Quick bread made grain-free, refined sugar-free, and dairy-free – this flavorful, healthful bread includes all the flavors of morning glory muffins, and easily prepared in your blender, this quick bread is a marvelous go-to treat.
The older I get, the more importance I attach to life's little comforts…
Whether it be relishing my steamy morning beverage, sweating it out in a hot yoga class, or setting aside a moment to enjoy a slice of quick bread alongside a good read, these are the little "me" sessions that, while small and seemingly insignificant, make waves in helping me stay relaxed and focused.
Everyone has their own approach to treating him or herself, but the key for me is to keep my daily comforts well-conceived, uplifting, strengthening, or healthful…
Wise indulgences, as I like to think of them.
In my late twenties, I would have needed to justify or earn any of these little pleasures before slowing down and taking a breather.
You know, because: guilt, self-loathing, self-imposed pressure to embody perfection while still remaining cool, but not displaying any of the effort that goes into it.
Ohhh momma has that changed.
Being human is challenging enough as it is…we deserve to throw ourselves a bone.
Enter: Dis bone.
All the trappings of a morning glory muffin, but in the form of a loaf.
What is "Morning Glory" Quick Bread?:
What exactly is a Morning Glory Muffin (or in this case, Morning Glory Quickbread)? It's a sweet baked treat filled with grated carrots, applesauce, walnuts, shredded coconut, sometimes raisins, and sometimes pineapple?
Quite honestly, morning glory baked goods are very similar to carrot cake!
Depending on your approach to either, the two can be one and the same. Which quite honestly is fine by me, because I love both so dearly. Way I see it, whatever adventure you choose, you're bound to end up with a comforting result.
You'll observe the recipe here is similar to the Paleo Carrot Cake I showed you last week.
Same awesome concept, just a few minor tweaks, and in the form of a quick bread rather than a tiered cake.
Psst! If you want to frost this loaf to give it an extra pizzaz, I 200% recommend my Vegan Cream Cheese Frosting!
What Does This Bread Taste Like?:
This bread is everything a good quick bread should be: tender and moist, dense, but airy, sweet but not too sweet, fluffy, full of flavor, the perfect accompaniment to your mug of coffee or tea.
Just like carrot cake, there are plenty of ways you can make this recipe your own.
For me, breads like this are that slow morning or afternoon experience, where you cut off a thick slice, pair it with your favorite hot drink, and slowly savor each bite while surfing the internet for quality information or reading a great book, researching getaways, etc.
I've also been known to down a huge hunk lickety split after a sweaty hot yoga class, so there's always that option, too.
Recipe Adaptations:
Add applesauce, subtract oil

Incorporate up to 1/2 cup of crushed pineapple, subtract oil

Add 1 large ripe banana, subtract pure maple syrup

Hazelnut flour in place of almond flour? Sure, we can dig!

Pecans in place of walnuts, or go nut-free

Add raisins

Whip up that Vegan Cream Cheese Frosting I showed you last week and frost the dang thing!
Easily turn this bread into muffins by baking the batter in a muffin tray.
More Quick Bread Recipes:
Throw yourself a loaf of morning glory quick bread!
My cookbook,
Paleo Power Bowls
, is now available! CLICK HERE to check it out. Thank you for your all your support!
If you make this Paleo Morning Glory Quick Bread, please feel free to share a photo and tag me at @The.Roasted.Root on Instagram!
Paleo Morning Glory Quick Bread
Morning Glory Quick Bread with grated carrot, shredded coconut, nuts, and sweetened with pure maple syrup
Instructions
Preheat the oven to 375 degrees F and oil or spray a loaf pan.

Add the first 11 ingredients (eggs through salt) to a blender and blend until smooth. Stir in the remaining ingredients until the batter is well-combined.

Transfer the batter to the prepared loaf pan and bake on the center rack of the oven for 35 to 45 minutes, or until bread is golden-brown and firm in the center. Turn off the oven and allow the bread to sit in the hot oven for 5 more minutes. (note: If desired, sprinkle some shredded coconut and sunflower seeds on top of the bread during the last 5 to 10 minutes of baking for garnish.)

Remove the bread from the oven and allow it to cool 1 hour before cutting. When ready to cut, run a knife along the edge of the bread and turn it out onto a cutting board. Cut thick slices and enjoy!
Notes
*You can also use algae oil, grapeseed oil, almond oil, olive oil, melted coconut oil etc.
Nutrition
Serving:
1
of 10
|
Calories:
321
kcal
|
Carbohydrates:
17
g
|
Protein:
8
g
|
Fat:
24
g
|
Fiber:
4
g
|
Sugar:
10
g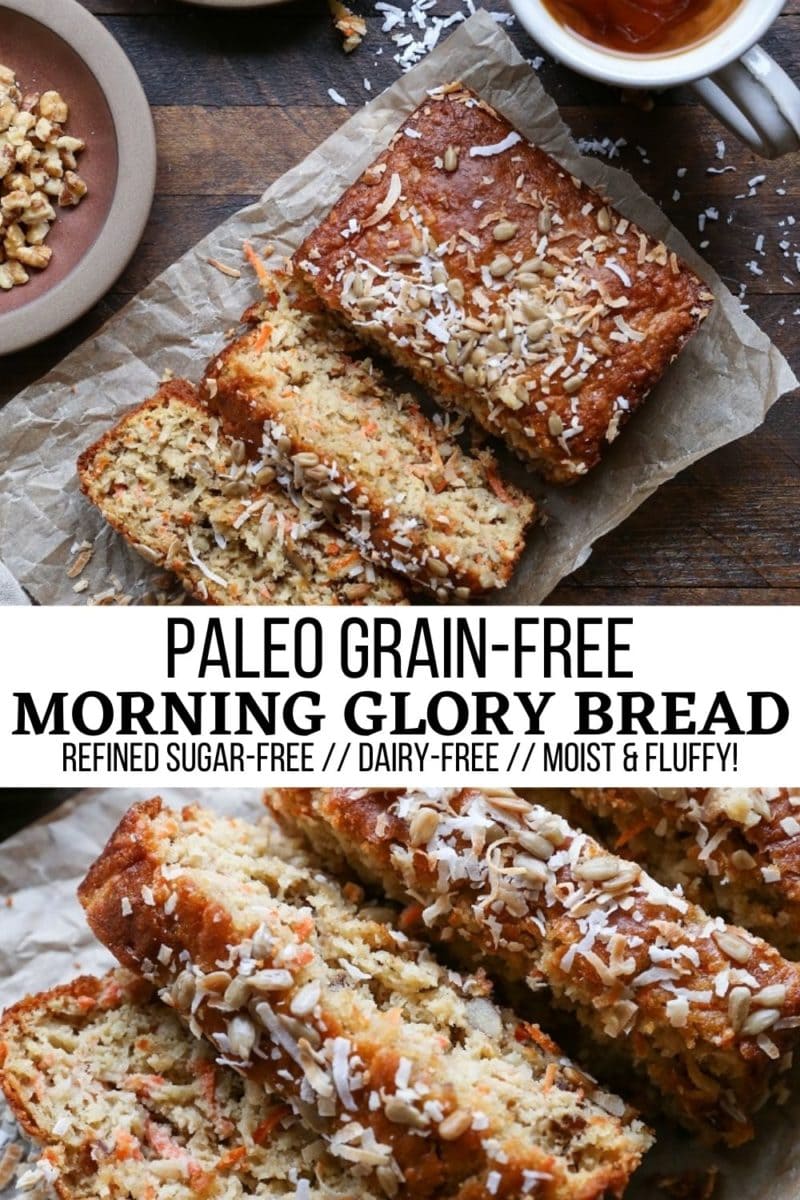 This post contains affiliate links, which means I make a small commission off items you purchase at no additional cost to you.