Overnight n'oatmeal breakfast porridge made with nuts and seeds for a grain-free, protein packed way to fuel your day. This recipe requires only a handful of ingredients and a few minutes to prepare! Oat-free porridge is nutritious and delicious!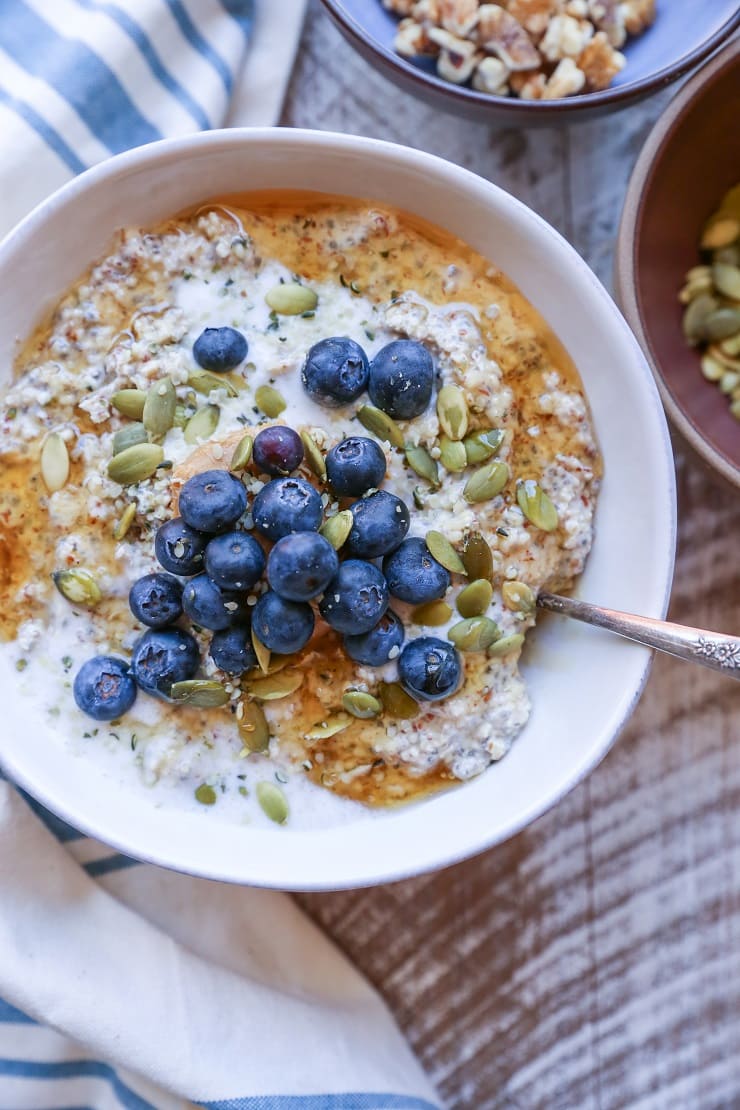 If you've been around the paleo block a time or two, you may be familiar with the concept of n'oatmeal – a no-oats grain-free version of the classic breakfast made primarily out of nuts.
This overnight porridge is a great option for those who have digestive ailments causing them to avoid inflammatory foods, such as oats and other grains.
Plus, in my humble opinion, n'oatmeal tastes great, is super versatile, and is a marvelous make-ahead breakfast!
In addition to using raw walnuts, I incorporated pumpkin seeds, flax seeds, and chia seeds for additional omega fatty acid benefits. Flax and chia seeds also act as thickening agents when soaked, giving this overnight n'oatmeal a creamy consistency without having to add dairy or eggs.
If you choose to make n'oatmeal without the flax or chia seeds, you'll want to use full-fat coconut milk to make up for the creaminess, and use 2 cups rather than 3.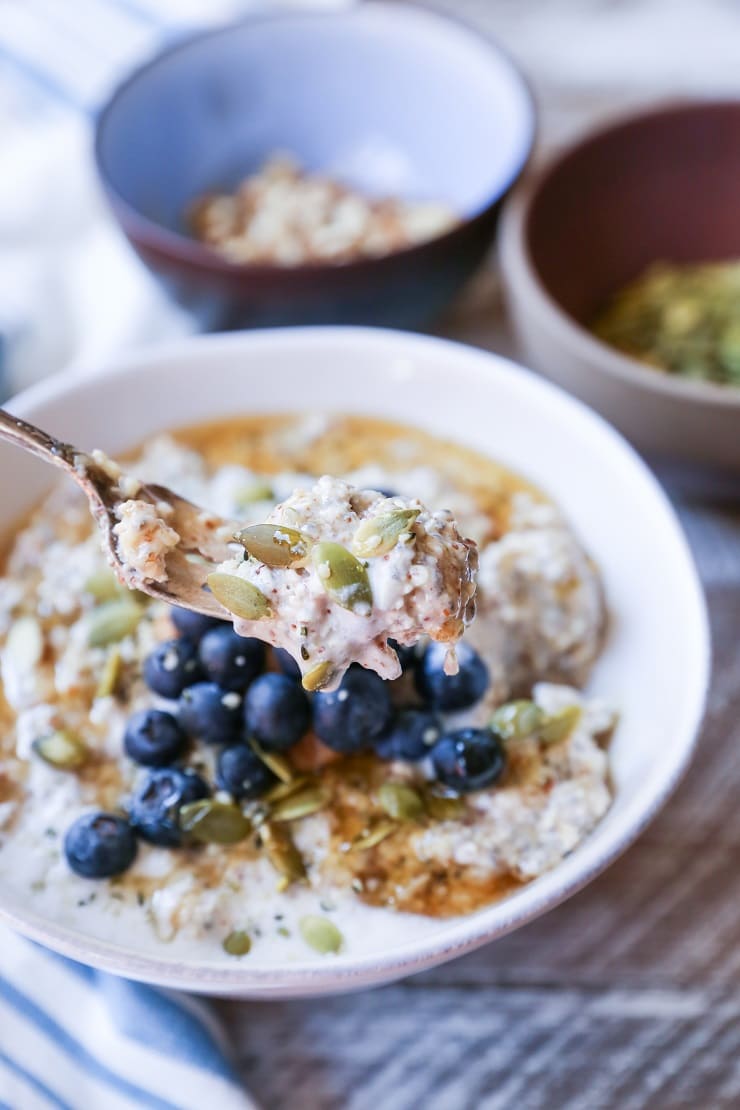 Does Soaking Nuts Get Rid of Phytic Acid?
If you'd like to take this breakfast a step farther and pre-soak your nuts and seeds before turning them into overnight n'oatmeal!
Soaking nuts and seeds helps decrease the enzyme inhibitors and phytic acid content (anti nutrients), makes the nutrients such as B Vitamins and protein more bio-available for absorption, and helps make them easier to digest.
If you've ever noticed an upset stomach after eating too many nuts or nut-based treats, consider soaking (followed by lightly roasting) your nuts prior to eating them. Learn more about soaking nuts from this article from Wellness Mama on The Importance of Soaking Nuts and Seeds
How to Soak Nuts and Seeds:
To soak nuts and seeds, simply put them in a large bowl or container and cover them with water. Allow them to soak at room temperature on the counter at least 8 hours (up to 24) before draining.
After soaking, you can dehydrate the nuts in the oven to remove any water if you're keeping some of the nuts for snacking. If not, proceed forth with the recipe!
Quick note about soaking: Sure, you'll be technically be soaking the nuts and seeds for the "overnight" action of this recipe, but to remove some of the phytic acid and release the health benefits of the nuts, you'd need to drain the water used for soaking.
If you're not concerned about it, or if you already buy sprouted nuts, you can skip the soaking process and move straight to the recipe – which literally requires pulsing the nuts in a food processor and sticking them in a jar with the seeds, nut milk and liquid sweetener.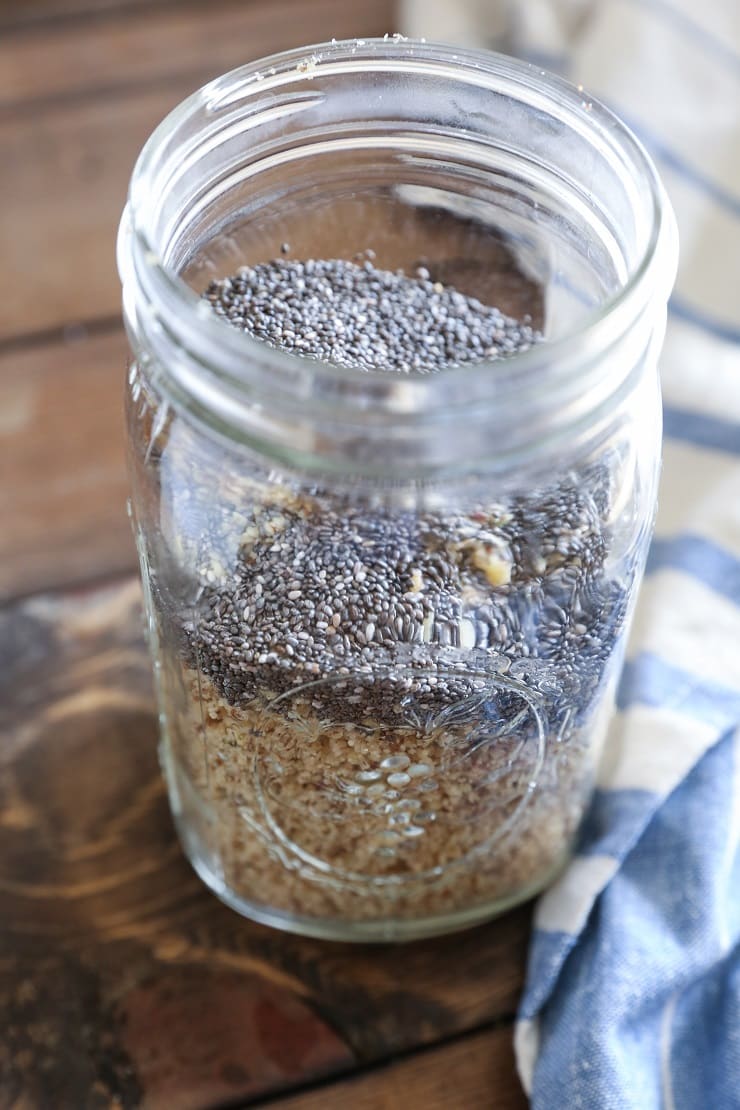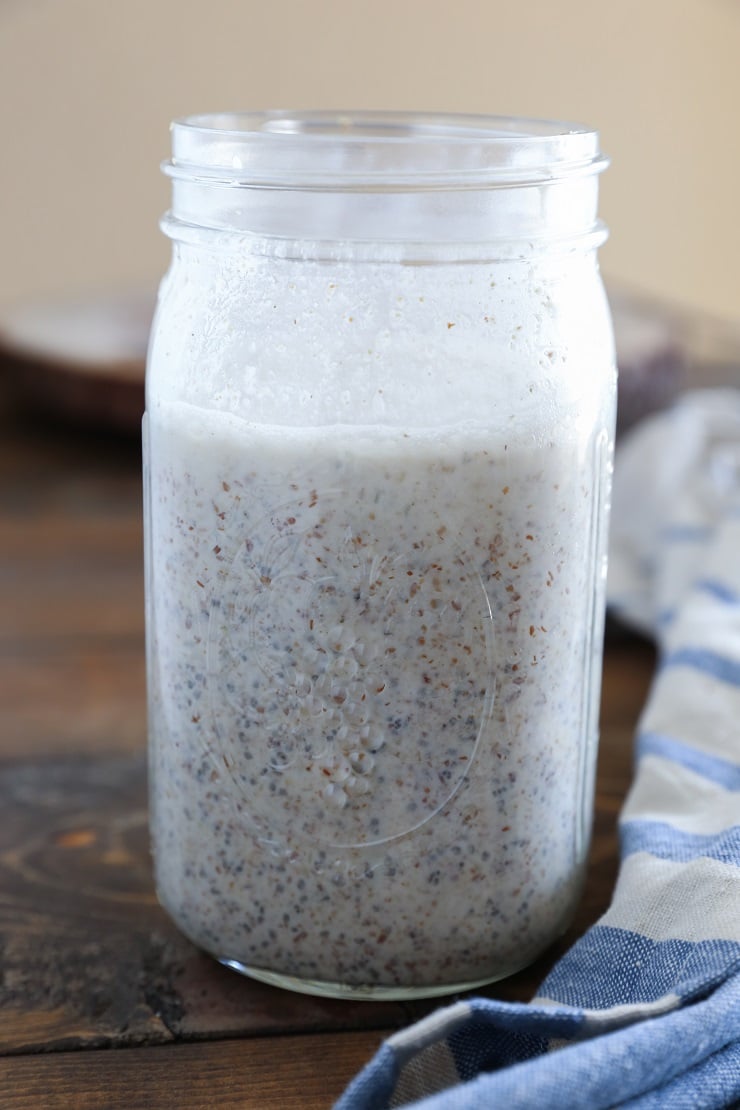 This n'oatmeal is best when eaten within a 2 to 3 days, so if you can't go through 4 servings in a few days, simply halve the recipe (you can also scale it down to personal-sized portions!). The n'oatmeal will begin fermenting after a few days if you keep it in a sealed jar.
Recipe Options:
Get creative with your n'oatmeal! I used walnuts, but you can use raw almonds or pecans, and you can mix and match the flax and chia seed content.
Use any nut milk you'd like, or go ultra creamy by using full-fat coconut milk!
You can also mash up a banana for a nice and sweet banana-cinnamon contraption, or add any nut butter, homemade strawberry chia seed jam, fresh seasonal fruit, you name it.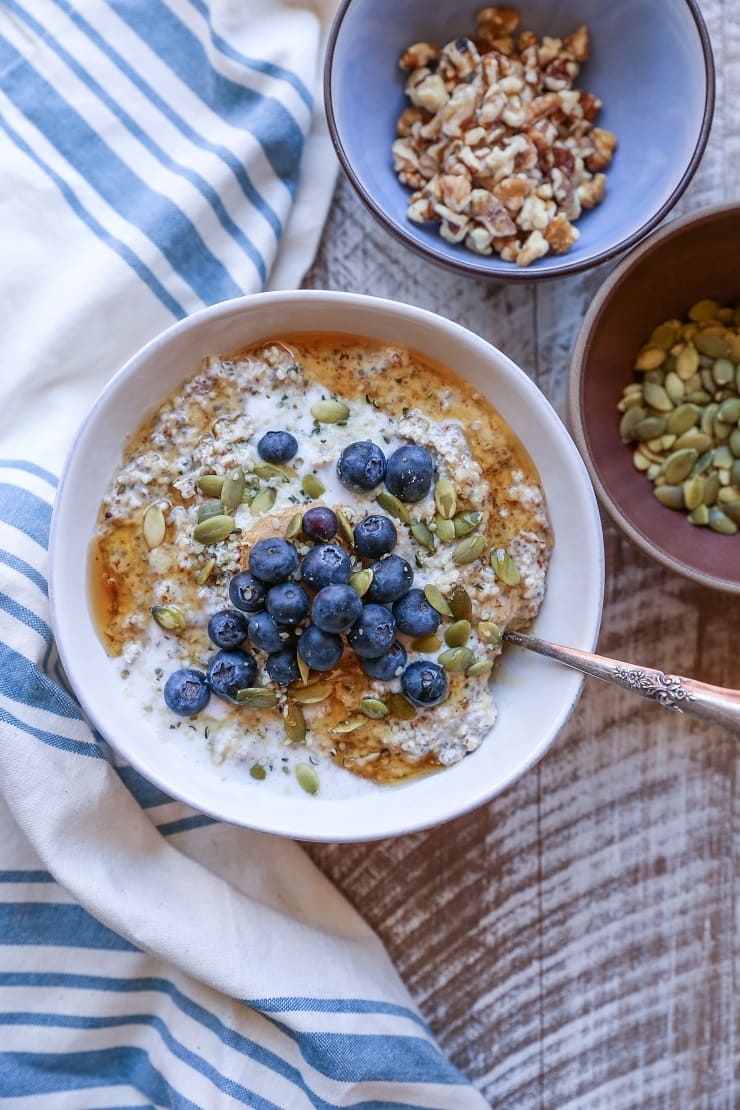 While overnight n'oatmeal is normally eaten cold, you can definitely heat this up on the stove top if you're looking for something steamy and comforting. Basically, this n'oatmeal's your canvas for breakfast creativity – go wild!
This recipe is calorie-dense and filling! If you're looking for something lighter and can tolerate oats, try out my Banana Bread Overnight Oatmeal, or my Vanilla Chai Overnight Oats.
My cookbook,
Paleo Power Bowls
, is now available! CLICK HERE to check it out. Thank you for your support!
If you make this recipe, please feel free to share a photo and tag @The.Roasted.Root on Instagram!
Nut and Seed Overnight N'Oatmeal
No-oat porridge made with nuts and seeds. An easy recipe for an overnight breakfast
Servings:
4
to 6 servings
Ingredients
For Serving:
fresh blueberries

pure maple syrup or honey
Instructions
Add the walnuts and pumpkin seeds to a food processor or blender and process until finely ground. Transfer the ground walnuts and pumpkin seeds to a jar along with the ground flax seed and chia seeds. Pour in the almond milk, vanilla, extract, pure maple syrup, and sea salt. Stir well to combine. Seal the jar and allow it to sit overnight in the refrigerator (or at least 3 hours).

When ready to serve, either heat the porridge on the stove top or leave it cold. Serve with desired fruit, nuts, seeds, liquid sweetener, and additional non-dairy milk. My personal favorite toppings are almond butter, blueberries, pumpkin seeds, hemp seeds, honey, and full-fat coconut milk.
Notes
*Use any nut milk you'd like. For a creamier consistency, use equal-parts almond milk and full-fat canned coconut milk.
Nutrition
Serving:
1
of 4
|
Calories:
604
kcal
|
Carbohydrates:
26
g
|
Protein:
17
g
|
Fat:
53
g
|
Fiber:
8
g
|
Sugar:
11
g