Super green Zucchini Arugula and Feta Frittata with fresh herbs – a flavorful breakfast packed with health benefits!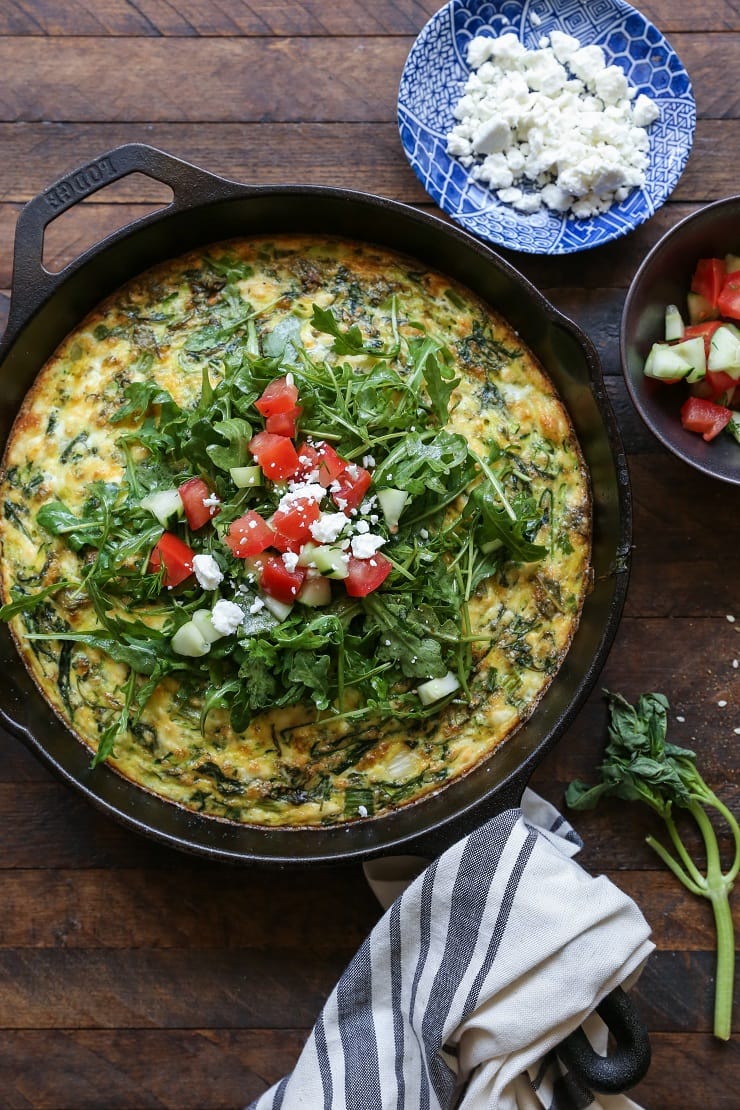 This frittata reminds me of Chris Tucker's character, Ruby Rhod, in The Fifth Element.
Because it is SUPER GREEN! Super green! <- said like Ruby Rhod.
I really do love that movie.
Gary Oldman? Amazing performance.
Milla Jovovich? Top 10 Sexiest Women Alive. Bruce Willis? Always a classic.
Chris Tucker? SUPER GREEN!
You guys, this frittata's the shiz.
Packed with baby arugula, green onion, zucchini, feta cheese and fresh basil and sage, this healthy breakfast is packed with flavor.
So much so that the bacon-eating BF was impressed by the flavor punch.
We ate this on the couch over the weekend and were dead silent except for faint whisperings of, "sssspspspspspss so much flavor. Sssssppspspspspssss tastes like there's meat. Sssspspspspssss never would've guessed it. Sssspspspsps I'll stop."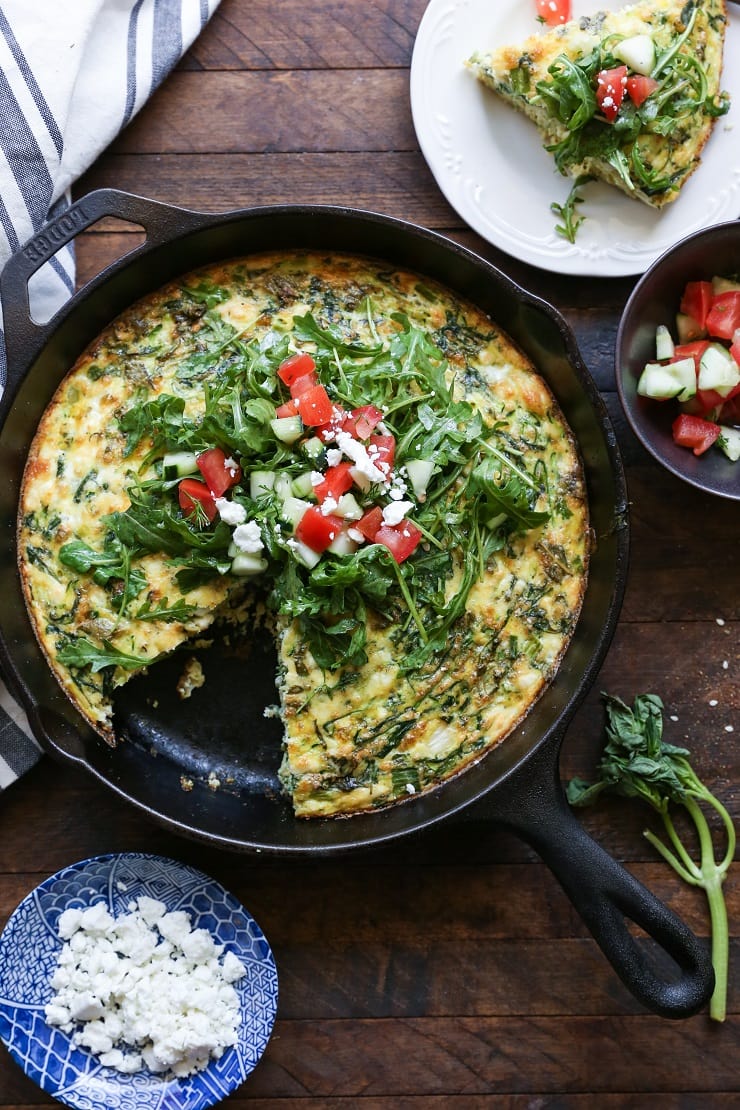 Recipe Adaptations:
If you aren't cool with arugula, you can easily replace it with any hearty leafy green, such as kale, chard, or spinach. Not into feta? Swap it out for grated cheddar cheese, gruyere, or even slice up some brie and lay the slices on top. Make it dairy-free by omitting cheese altogether.
Recipe Tip:
I will say, there is one extra step here to make this frittata turn out perfectly. You'll need to drain the water from the zucchini. To do so, I grated the zucchini, put the shreds in a colander, sprinkled them with salt, and let them sit for an hour.
I then squeezed the water out with my hands. This way you don't have to worry about your frittata getting whacked out with liquid.
You can also skip the water drainage step and roast the zucchini – 6 and one half dozen the other.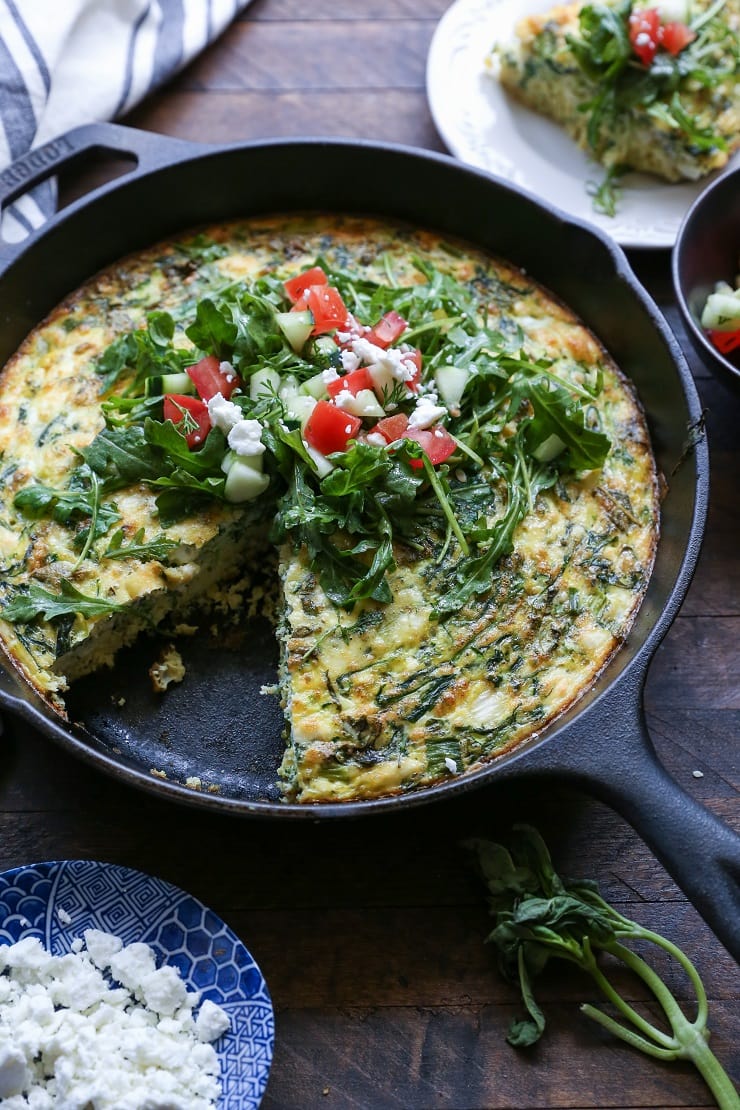 With Easter around the corner, I'm thinking this frittata is the perfect shareable meal for breakfast or brunch.
It's unique yet classic, healthful yet comforting, hip but unpretentious, green, but not too green.
Also try my Mediterranean Breakfast Casserole and serve it up with Sweet Potato Home Fries!
We green?
Zucchini, Arugula, and Feta Frittata
A healthy veggie-packed frittata with zucchini, arugula, and feta cheese. Easy to make and delicious!
Ingredients
Instructions
Grate the zucchini and transfer it to a colander. Sprinkle with sea salt and allow zucchini to sit at least 1 hour (up to 3) to allow it to drain. Squeeze any remaining water out of the zucchini

Preheat the oven to 375 degrees F, and add the oil to a 10-inch cast iron skillet. Spread the oil around the full surface and sides of the skillet (I use a paper towel). Place skillet on the stove top over medium heat.

Place the arugula in the heated skillet and cover. Cook, stirring occasionally just until wilted, about 1 to 2 minutes. Remove from heat and allow arugula to cool.

Whisk the eggs, feta, and sea salt together in a mixing bowl. Add the grated zucchini, arugula, and chopped fresh herbs. Stir together until everything is well combined. Pour the egg and veggie mixture into the cast iron skillet and place on the center rack of the preheated oven. Bake 25 to 30 minutes, or until the center has set up and the top is beginning to turn golden-brown. Remove from the oven and allow frittata to rest 10 minutes before cutting and serving.
Nutrition
Serving:
1
of 4
|
Calories:
307
kcal
|
Carbohydrates:
5
g
|
Protein:
23
g
|
Fat:
22
g
|
Fiber:
2
g
|
Sugar:
3
g