Gluten-Free Banana Walnut Waffles with amazing cinnamon bourbon maple syrup makes for an incredible breakfast! Because sometimes you need straight carbs and a stiff drink for breakfast.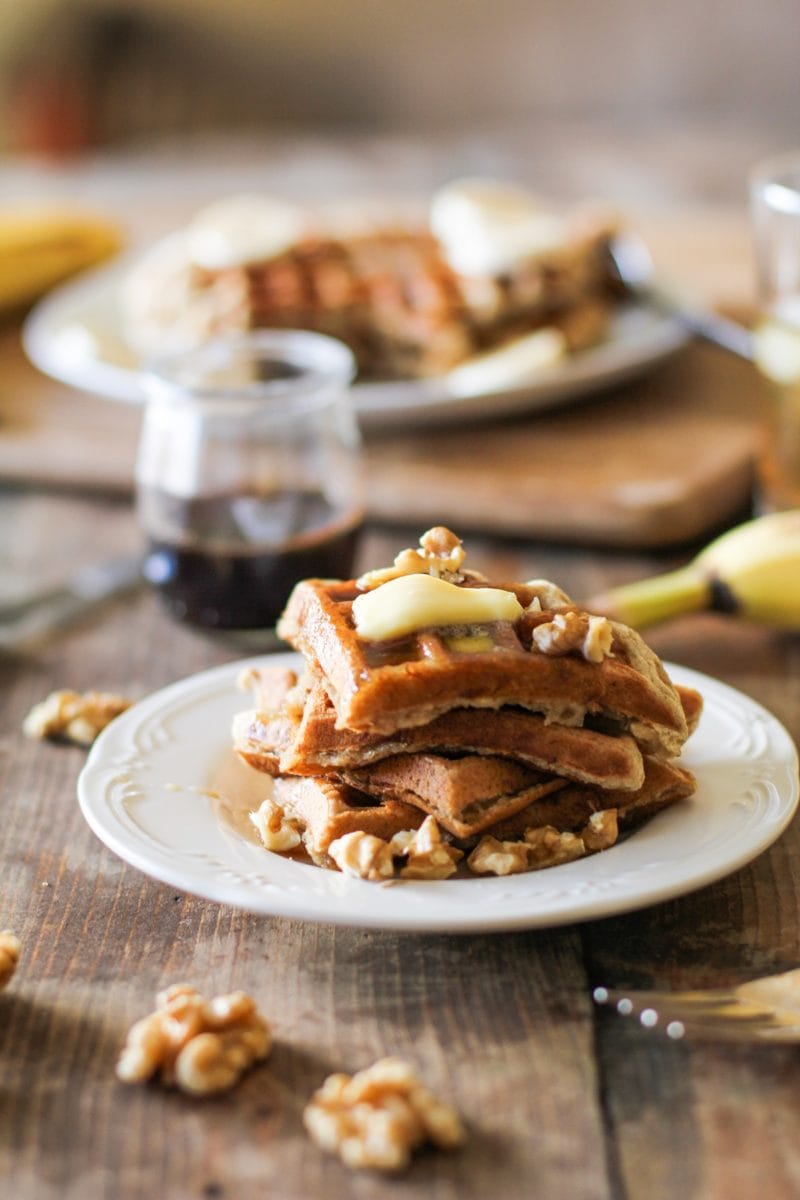 These might just be the best dang waffles I've ever made.
Jam packed with banana bread flavor, complimented by chopped walnuts and cinnamon, these gluten-free waffles are amazingly soft and moist yet crispy around the edges.
They're everything a perfect waffle should be!
These gluten-free banana walnut waffles are serendipitous on their own so they don't actually need a fabulous topping. But we went ahead and made a fabulous boozy syrup anyway.
The bourbon cinnamon syrup comes from that dimension where the tooth fairy, Pegasus, centaurs, that cyclops from The Odyssey, and that dog from The Never Ending Story exist.
It's just that extra special. If you've never combined bourbon and maple in all your live long day, I recommend it!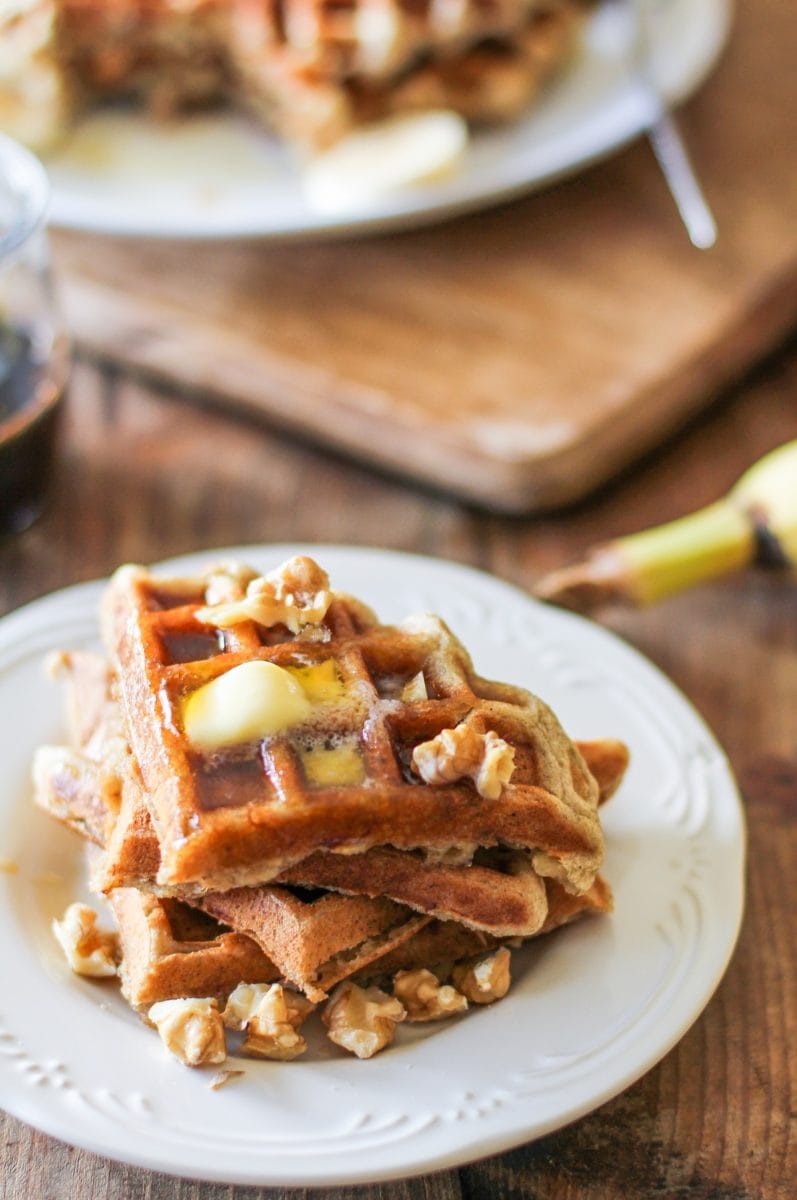 Ingredients for Gluten-Free Banana Waffles:
Ripe bananas, almond milk, coconut milk (or skip the coconut milk and use more almond milk), coconut oil (or avocado oil), gluten-free all-purpose flour, vanilla extract, eggs, cinnamon, sea salt, and baking powder.
For the optional syrup, we just need pure maple syrup, bourbon, and cinnamon.
You can top the waffles however you would like! In addition to the boozy syrup, I love serving the waffles with a smear of nut butter and some freshly chopped banana.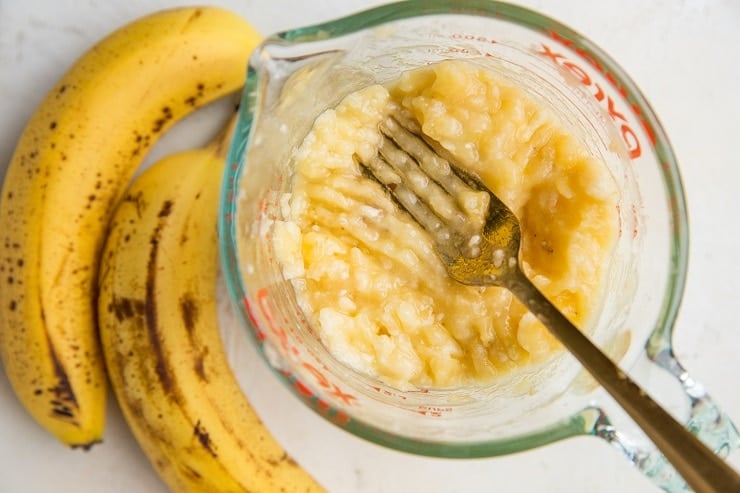 How to Make Gluten-Free Banana Walnut Waffles:
All you do to prepare these waffles is whisk up the wet ingredients in a mixing bowl, then stir in the dry ingredients. Mix well until all the lumps are out and a creamy batter forms.
When you're ready to cook, heat up your waffle iron and spray it with cooking oil. Give it 5 minutes or so to heat up completely.
Once hot, pour about 1/2 cup of batter on the center of the hot waffle iron and close the lid. Cook until the iron indicates that the waffles are cooked through. You can always cook them longer for crispier waffles.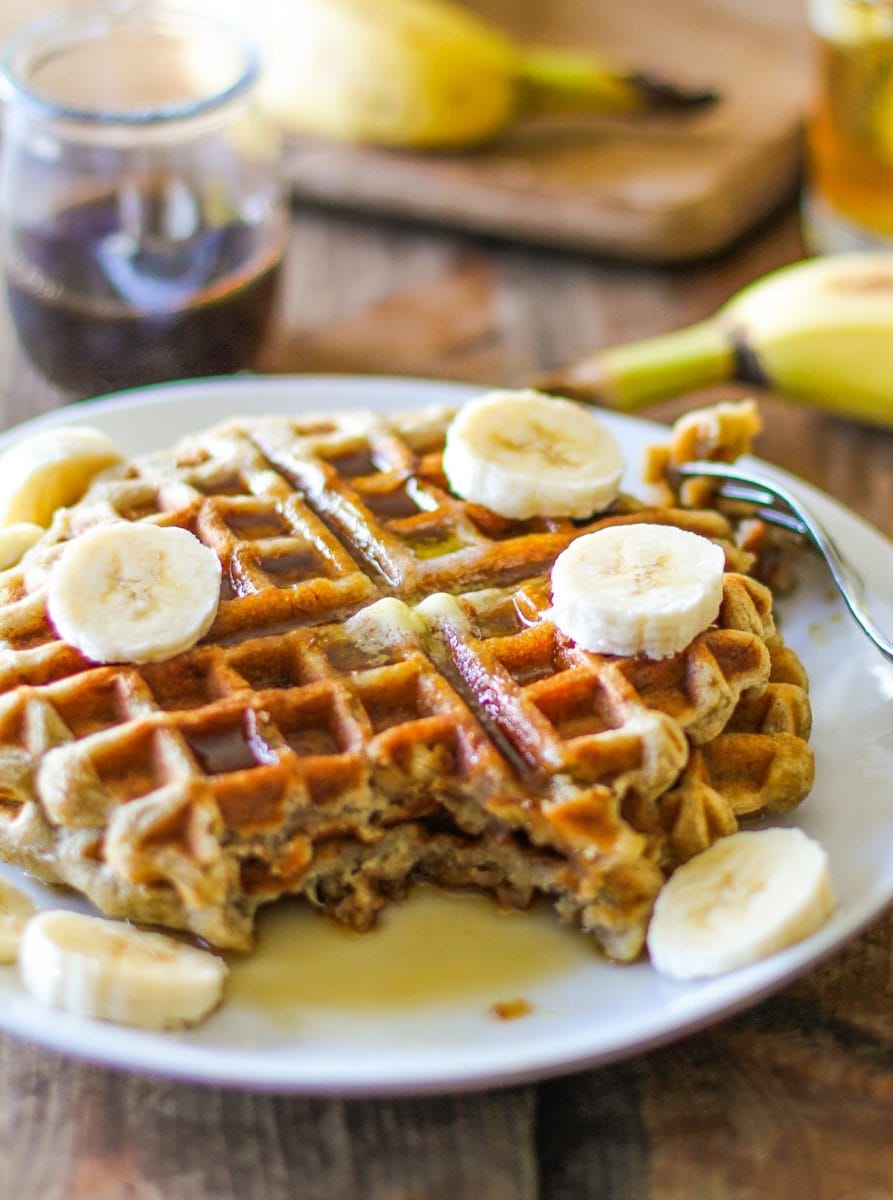 If you love waffles, also check out some of these reader favorites:
More Gluten-Free Waffle Recipes:
Enjoy this boozy waffle experience!
Gluten-Free Banana Walnut Waffles
Take brunch to a whole new level with these Banana Walnut Waffles with Cinnamon Bourbon Syrup. They're crispy, fluffy, loaded with banana flavor.
Servings:
6
large waffles
Ingredients
For the Cinnamon Bourbon Syrup:
Instructions
Make the Cinnamon Bourbon Maple Syrup:
Heat all ingredients in a small skillet and bring to a full boil. Cook at a boil for 2 minutes. Remove from heat and transfer to a jar or small pitcher and set aside until ready to use.
Make the Banana Walnut Waffles:
In a mixing bowl, whisk together the mashed bananas, eggs, coconut milk, almond milk, coconut oil, maple syrup, and vanilla extract (wet mixture).

In a seperate bowl, stir together the flour, baking powder, baking soda, cinnamon, salt, and walnuts (dry mixture).

Add the dry mixture to the bowl with the wet mixture and stir until well-combined. The batter will be very thick, so if necessary, add a small amount of additional almond milk.

Turn on your waffle iron and set it to a medium-low setting (I put my Cuisinart waffle iron on 3).

Measure out 1/2 cup of pancake batter and pour it on the center of the waffle iron. Close the lid and wait until your waffle iron indicates the waffle is done (I have a light that turns green. If you don't have a light, cook the waffle for about 1.5 to 2 minutes before checking to see if it's done).

Serve waffles with butter, sliced banana, and cinnamon bourbon syrup.
Notes
*You may need a small amount of additional almond milk in order to thin out your waffle batter if you think it's too thick.
Nutrition
Serving:
1
Waffle
|
Calories:
384
kcal
|
Carbohydrates:
48
g
|
Protein:
5
g
|
Fat:
19
g
|
Fiber:
5
g
|
Sugar:
10
g