Veggie-packed crispy avocado breakfast tacos with black beans, roasted sweet potato, cauliflower, eggs, and chipotle sauce. This nutritious breakfast taco recipe is perfect for brunch season!
This post is sponsored by the California Avocado Commission.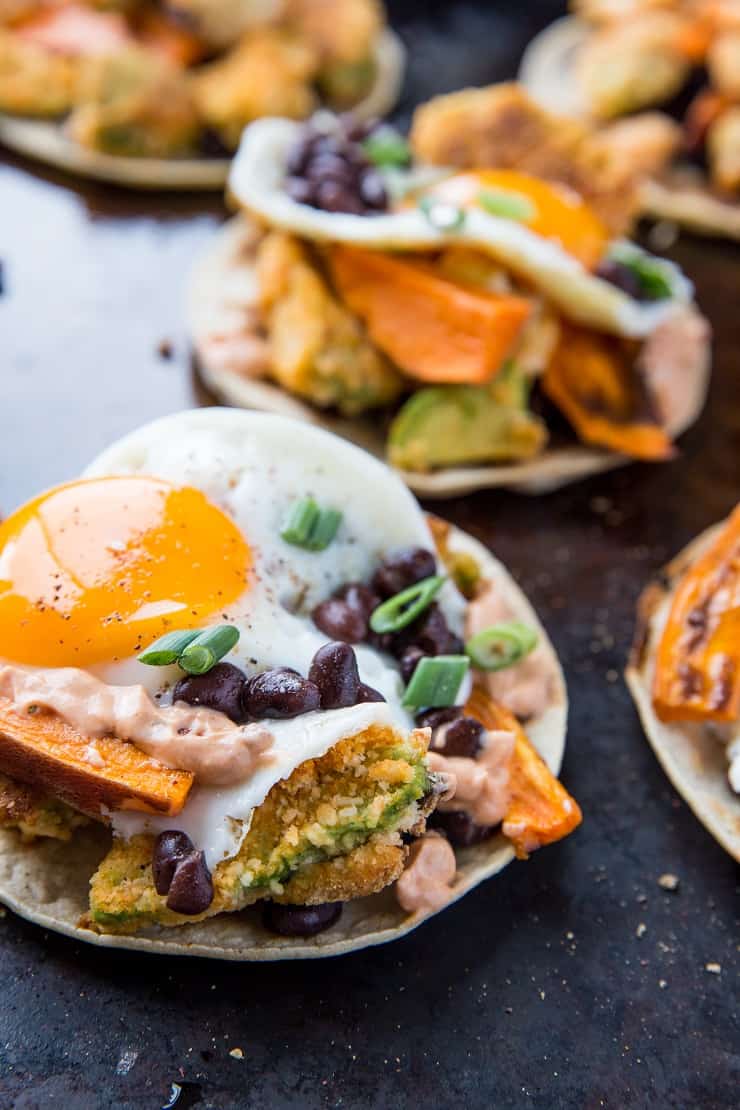 Allow me to introduce you to my latest food crush!: Breakfast tacos filled with crispy baked avocado, roasted sweet potato and cauliflower, black beans, chipotle sauce, and of course: eggs.
Superfood Breakfast Tacos were a regular staple in my life for years. For reasons unbeknownst to me, I took a break from them but have since rekindled my breakfast taco flame with these gems.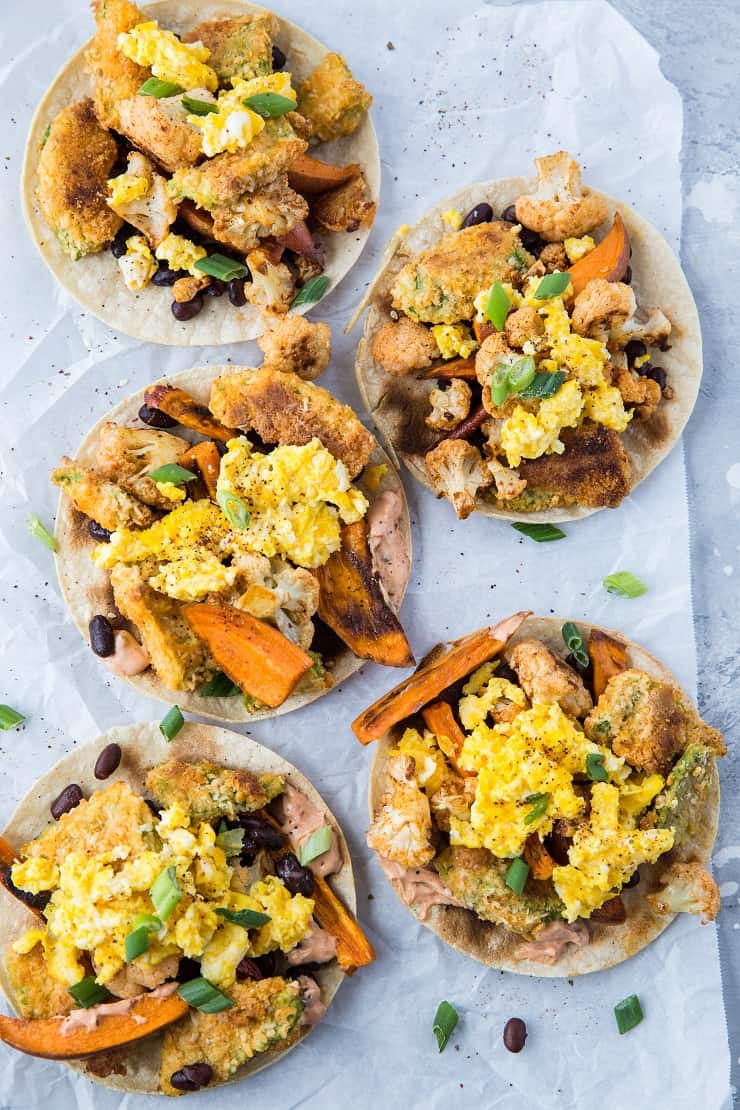 If you saw my post on How to Make Crispy Baked Avocado "Fries" last week, you're already familiar with this concept of crispy avo. It's seriously the bee's knees. Plus, as it turned out, it makes for one wicked delicious taco!
This post is well-timed as we head into avocado season! Made using California Avocados, these mouth-watering tacos are your gateway to lovely weekend brunch with friends on repeat.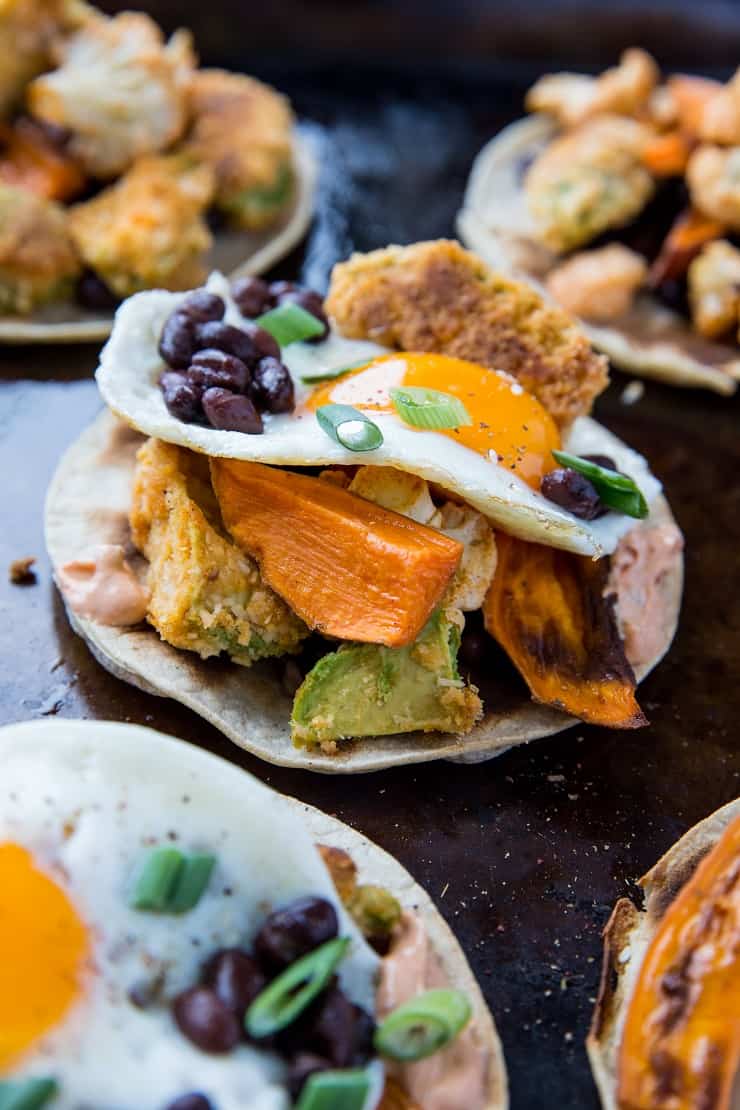 How to Make Crispy Avocado Breakfast Tacos:
We start by roasting up all the vegetables. Whip up a batch of Crispy Baked Avocado, and roast the cauliflower and sweet potato.
While the vegetables are roasting, stir up the chipotle sauce, heat the black beans, and cook the eggs however you'd like. I prefer either scrambled or sunny side up eggs because they take hardly any time to make, but you can also go for soft boiled or poached!
Crisp up the tortillas, assemble your tacos, badda bing badda boom, BRUNCH!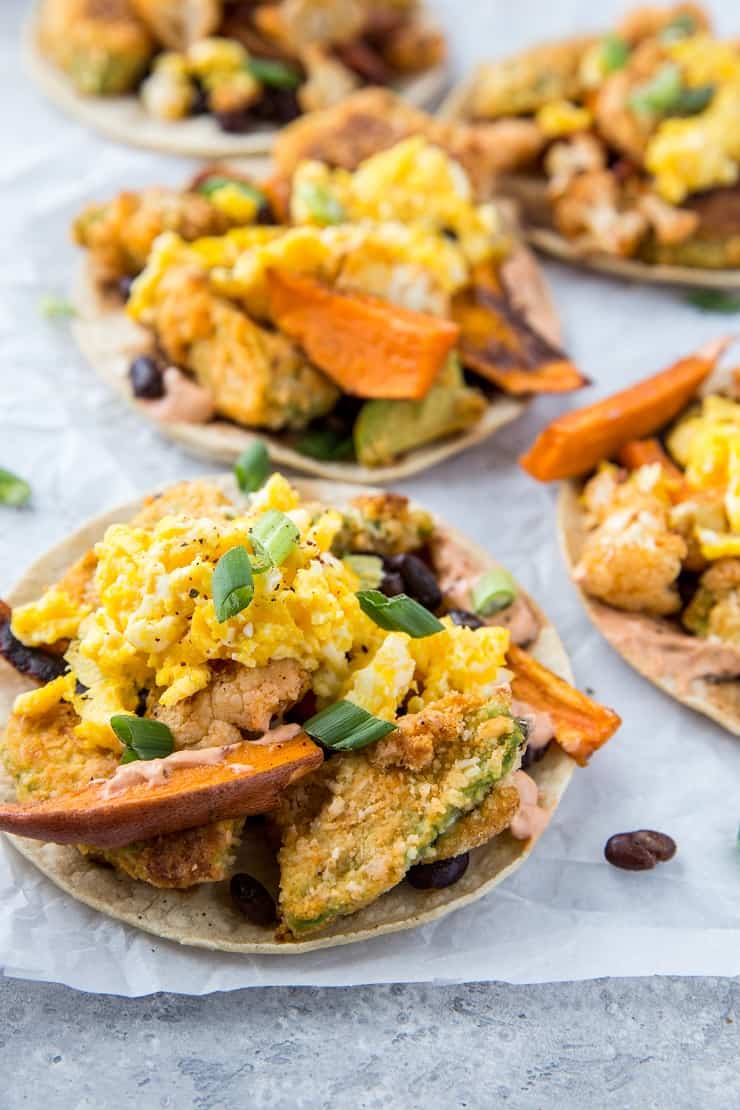 Recipe Adaptations:
Swap the cauliflower and sweet potato for any vegetables you like – carrot, butternut squash, onion, or bell pepper would be awesome!

Substitute any of your favorite homemade taco sauces for the chipotle sauce.

Add your favorite breakfast meat, like bacon, chorizo or sausage.

Use your favorite tortilla for the tacos – I went with corn this time around, but you can use store-bought grain-free tortillas, flour tortillas, or make a batch of Cassava Flour Tortillas.
Who would have thought vegetables could be so fun?!
Crispy Avocado Breakfast Tacos
Breakfast never tasted so good with these incredibly unique breakfast tacos!
Servings:
8
to 10 breakfast tacos
Ingredients
For Serving:
corn tortillas

eggs

1

15-ounce can black beans, drained

1

bunch green onion

chopped
Chipotle Sauce:
8

ounces

plain Greek yogurt

2

tsp

lime juice

1

pinch

sea salt

to taste
Instructions
Preheat the oven to 425 degrees F.

Prepare a batch of Crispy Baked Avocado "Fries." Spread the chopped cauliflower and sweet potato on a baking sheet. Drizzle with avocado oil, sprinkle with sea salt, and paprika. Use your hands to toss the cauliflower and sweet potato until everything is well coated in oil and seasoning.

Place both of the baking sheets with avocado and cauliflower and sweet potato in the preheated oven. Bake 15 minutes. Remove the avocado and set aside. Give the cauliflower and sweet potatoes a shake and place sheet back in the oven to roast another 8 to 10 minutes, until vegetables have reached desired doneness.

While the vegetables are roasting, cook the eggs using your preferred method, heat the black beans, and stir together the ingredients for the chipotle sauce in a bowl.

Heat the corn tortillas in the oven or microwave. Assemble breakfast tacos by spreading a layer of chipotle sauce on each tortilla and top with crispy avocado, roasted vegetables, black beans, and eggs. Sprinkle with green onion and serve.
Nutrition